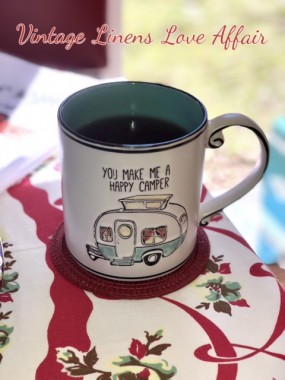 Ahhh! It's happened…we are finally THAWING OUT here in New England. I tell you, dear readers, it was a L-O-N-G winter for us! Spring makes me think of freshly-laundered linens gently swaying in a soft breeze, flowers covering vintage floral hankies, soft cotton, embellished pillowcases and lovely linen vintage tablecloths, painstakingly embroidered by hand. Linens of yesteryear still bring on the charm today; they are "spring" on fabric. April's blog is dedicated to vintage linens: tablecloths, hankies, afghans…OH MY!
One of the most fun finds at antique stores, tag sales, and flea markets is a bunch of vintage hankies. There's so many colors and shapes, some with beautiful edging or lace. Prices range from a few dollars for a "lot" to a few dollars a piece. I love sharing vintage hankies – one tucked into the envelope of a card doesn't require more postage, and makes a card extra-special!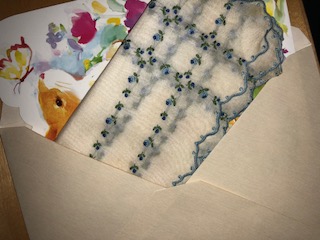 Vintage hankies and scarves are also one of the easiest things to repurpose. I like to tie one on my purse handles as a nod to vintage and a pop of color, or onto the handle of things like baskets, luggage, and coolers.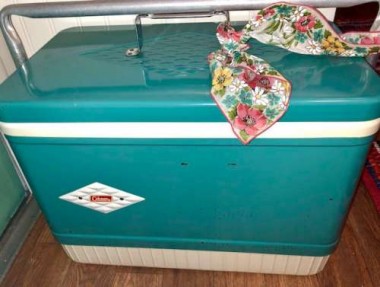 Long before the days of Pinterest, I moved from Pennsylvania to Connecticut over twenty years ago. As a going away present, a friend made me beautiful framed vintage hankies. I've also seen hankies turned into curtains, pillows, and bunting! (Then of course, there is the "tissue" use- they are softer, gentler and better for the planet than paper disposable tissues, if you can get over the "ick" factor).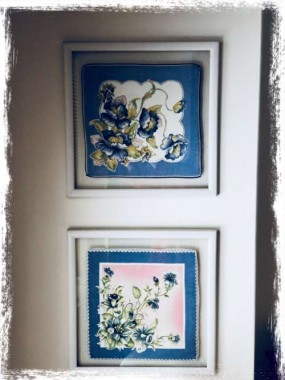 I use vintage hankies as "dresser scarves" or to highlight the color of a decorative piece, and I love putting them under my vintage sewing machine collection. A hankie under a sewing machine not only looks quaint but protects surfaces from being scratched by the metal under the machines.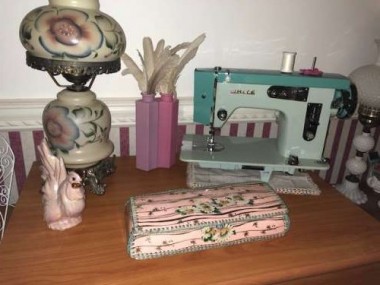 My husband bought me the VSM I had long been hunting for: a White brand model 1265…the same model my daddy bought my mama in the 1960's that she taught me to sew on as a child. I love it's "camper colors", don't you? The little box that perfectly matches sitting in front of the machine was a Christmas gift from a friend… a vintage hanky box!
"Hanky boxes" were typically made from repurposed greeting cards, (similar to greeting card bowls), but laminated. Sewn with embroidery floss or thread, in interesting shapes, they were meant to hold a lady's hankies. So sweet! In all my junktiquing, I've only seen a couple!
Vintage tablecloths and table runners are another favorite. They can run from a few dollars to quite expensive, but certainly bring charm to any table, as well as are fun to repurpose.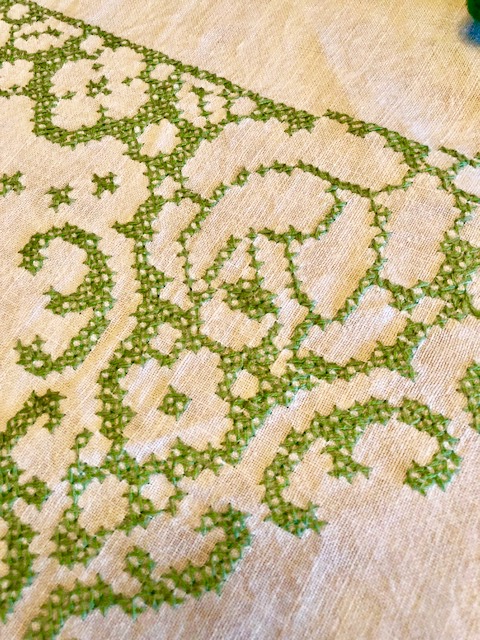 Sometimes aged linens yellow or have darkened fold marks. Don't pass up something you love because it is has been previously "well loved".
My fellow farmgirl and dear friend, Linda Weston, has been collecting vintage linen tablecloths for years, and swears by Biz as the best soak for vintage linens. (Biz can sometimes be hard to find. Linda found hers in Target). I've also used OxyClean.
To clean spots on things like tablecloths and napkins, I do several steps. First, I use a homemade spray directly on any spots I see. Mix one cup each of vinegar and blue, original Dawn dish liquid in a bowl. Microwave on high for one minute and put in a spray bottle. This works great to clean dirty showers or oven doors, but it's also the best fabric stain remover! Spray directly on any spots and let sit. Rinse well…making sure to get all of the soap out before going to the next step.
If you need whitening, soak your the piece in cold water with a scoop of either Biz or Oxy Clean. You might need to soak overnight, and more than once to get the whiteness/brightness/stain removal that you want. I use a vintage enamel baby tub, but you can use your bathtub or kitchen sink. Never put linen or embroidered pieces in a modern washer or dryer!
Finally, I hang to dry. If there are stubborn spots, I will use a tiny bit of bleach on a cotton swab, and simply touch the spot (only if it is on a white background). I despise bleach, and do not use it in washing. I use other, environmentally safer and green cleaners when cleaning, but learned to keep a small bottle of bleach on hand in the house a few years ago when we had a rabid raccoon on our porch. He was very sick, and drooled all over everything before Animal Control arrived. Bleach to the rescue! For spot removal, only dab on white, and rinse. You may have to repeat this a couple of times. Last Christmas, I saved a beautiful napkin from a set that had been used to "mop up" red wine. It took repeated tries, but now you can't pick out the napkin that was once a complete dark red wine mess from the other pristine, white background printed napkins.
For washing and whitening whole loads, I love to use old fashioned bluing in my wash cycle.
Linen calendar towels are fun finds! They can range in price from $2.00 to $10+, depending on the shape and where you find them. They make great birthday gifts with the recipient's birth year.
Another great find are vintage blankets and afghans. I teach knitting and crochet classes, but also specialize in repairing and restoring vintage pieces like sweaters and afghans. I love that I can save something with a history or sentiment.
Some pieces might be too far gone to repair, and are referred to on sites like Etsy as "cutters"…good for making into things like pillows, quilts or bags.
The vintage stadium blanket from 1969 that my friend Andrea gifted me was perfect for my Glamper. I easily repaired a few holes, but could not get the heavy grease stains from the wool.
Sometimes set in, old stains can be "hidden" with fabric markers or even paint. When all stain removal methods for wool failed on the greasy spots on the stadium blanket, I  "hid" the spots using fabric markers and acrylic paint. Dab carefully…small dabs. SMALL! 😉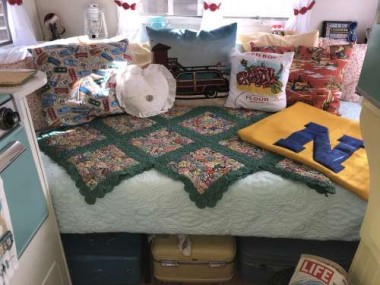 The result is beautiful. The spots are barely noticeable. The vintage yo-yo quilt is a recent thrift store find. The beauty of vintage linens is also in how they "layer" so deliciously!
There's just something about vintage linens, with many people collecting them. Their designs are happy and many show true handiwork. Bursting with color, they ooze charm, sweetness, and warmth…not bad qualities at all!
*Do you collect vintage linens, or have some pointers to add? Leave me a comment, or just say "hi" so I know you stopped by!
Until Next Time…Farmgirl Hugs, Nicole