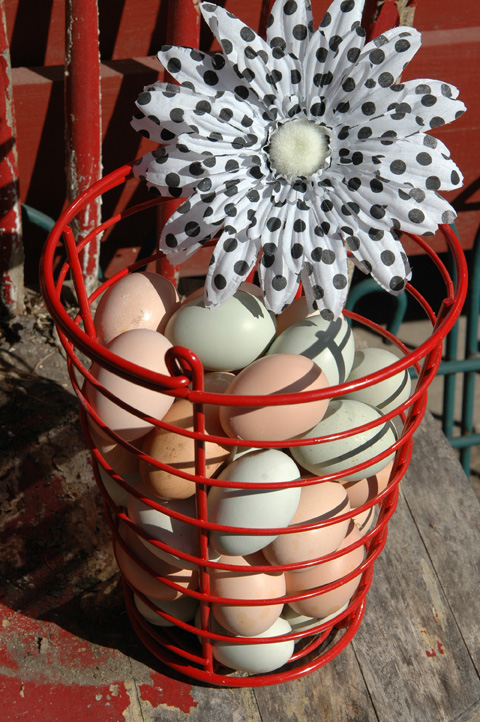 Spring is nature's way of saying, "Let's party!" ~Robin Williams
I'm feeling especially rejuvenated with the arrival of spring this year. Maybe it was the record breaking warming trend (before the actual first day of spring) that put me in such an excited state! I'm sure that has a lot to do with it! Even more so, I think it's the promise of new beginnings that spring brings each year. Come on in and find out "what's new" in our little corner of the world and check out some inspiring farmgirl sister "UP-DO'S "inside and out!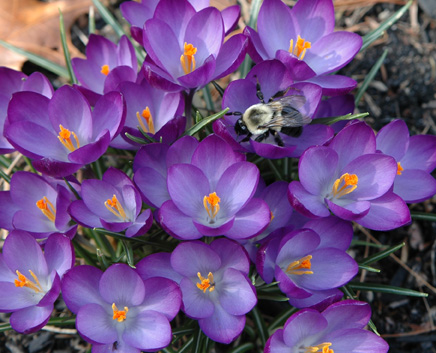 Just in our little household alone spring changes abound. My husband was laid off in December which gave us some UN-expected but welcomed family time over the holidays. It also gave him a lot of time with his mother (who turns 90 April 9th) during her hip surgery recovery in the hospital and the nursing home which we are happy to say she graduated from! Interviewing for several jobs at once is a juggling act no doubt about it, but we are staying positive and holding out for a good fit! Any and all farmgirl prayers are welcome and appreciated! Do you plan for rainy days like this? We planned ahead in case something might happen with his job. So many companies have been unstable since the bottom fell out of the financial world a few years back we figured we'd better plan for the best and prepare for the worst.
Often, the worst is really the "best "disguised as the worst don't ya think?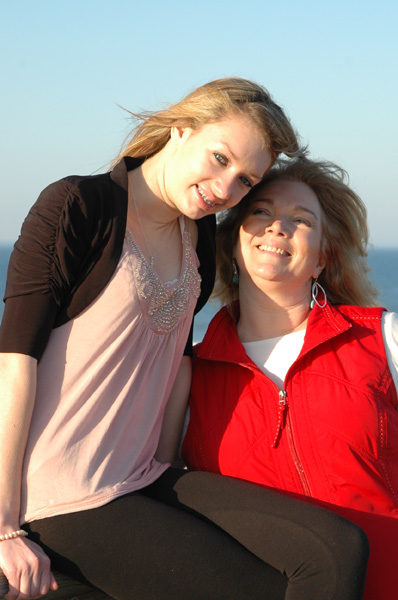 Another "new" thing that's happening is that our "always homeschooled " daughter who will be a freshmen next year has been accepted to a local Charter High School! This is new for me too sisters! I suddenly feel like a mom who is about to put her kindergartener on the bus for the first time only she's 14 and ready to conquer the world! I'm as excited for her as she is. I know in my heart she is ready for this change and I can hardly wait to watch her life unfold next year. I know it won't be "all rosy ". It can't be. I mean, we are talking about teenaged girls, teenaged boys, teen DRAMA! I'm as ready as I can be for that! However, I'm not quite ready to hang up my homeschooling hat for good! Our 16 year old son wants to continue homeschooling through high school so I've got a couple more years of "service "before I can retire from that profession completely!
So, what do I do when the DRAMA level rises in our house?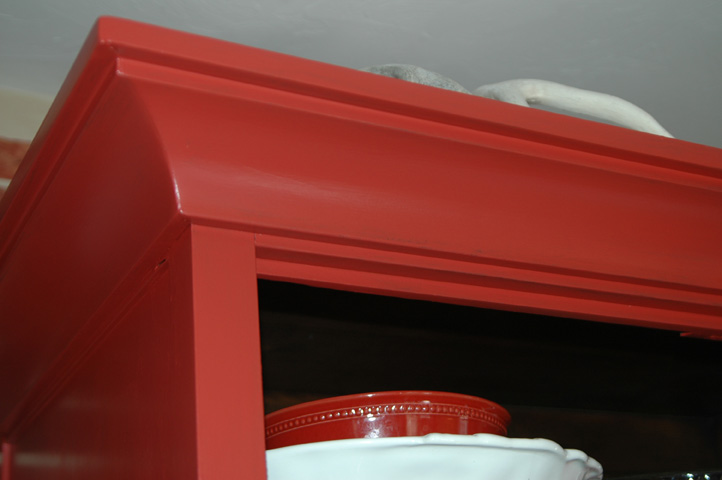 I CREATE!I gave our old Pottery Barn T.V. Amour an UP DO! It's now my Modern Day FARM Pantry! To coax it into its next ten years of service I gave it a fresh coat of "farmgirl red" (Ralph Lauren Chimaya Red). Ever since I began cooking with more wholesome ingredients I've felt I needed to address the lack of storage in our kitchen. I had a buffet in our dining room that stored large serving trays, linens, candles, and misc. mismatched dishes but we don't entertain that often and what I really needed was dry goods storage and a place to store my every day baking and serving dishes with-in easy reach!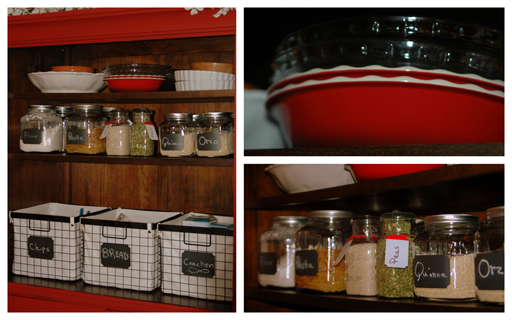 I LOVE Anchor Hocking's glass storage jars. If you're an impatient farmgirl like me and you don't want to wait to find vintage or antique jars you can find them at Target, Walmart and Kmart very reasonably priced. Or, you can order online directly from Anchor Hocking. I was also lucky to be able gather some of the taller Ball storage jars with lids from my mother in laws farmhouse and put them to use again!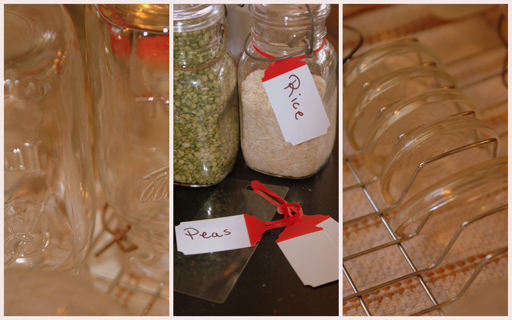 The "Vintage Milk Crates" aren't really vintage they are from Target but they were the perfect size and price for what I needed. You can remove the liners for washing too! Our teens are tall. We all agree that this system is much easier than rummaging around the deep, dark recesses of a lower kitchen cabinet for a snack! The chalkboard and ball jar labels are Martha Stewart and are available at Staples.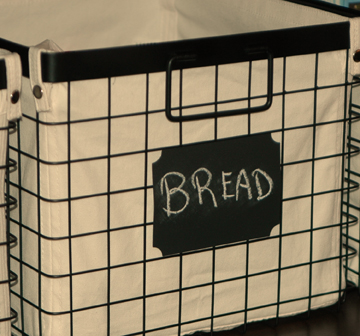 You know how much
I LOVE
re-purposing but I'm not the only farmgirl who's been busy in the
UP-DO
department!
I'm excited to share two fantastic re-purposing projects with you that were shared with me via email and the Farmgirl Friday blog hop I host at Dandelion House each Friday. The first one is from sister Brenda of Ladybug Dreams. She has been making over a craft room in her home and posting her progress along the way on her blog. She entered her darling Gun Case re-do on last weeks hop! I left her a comment asking if she would allow me to share it with you and she kindly said YES! Here's the before with the door open. There's even a little drop down drawer on the bottom!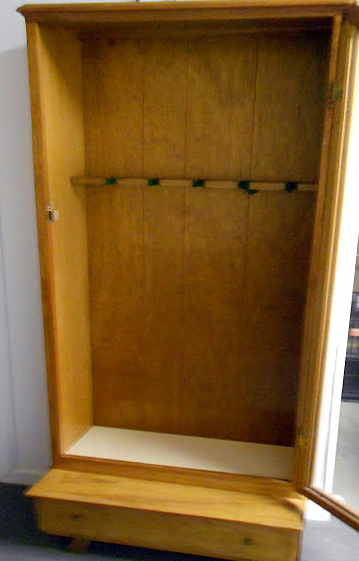 And the AFTER!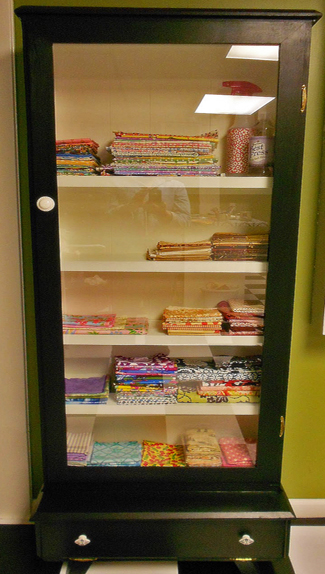 The crisp black and white looks so fresh and clean against the bright
SPRING
green wall and all those colors in her quilt fabric just sing inside their new home! Great work Brenda!
Vivian Netris (Neta) ( and her hubby too ) is another farmgirl at heart who has a knack for re-purposing. After I blogged about my future " backyard flower farm " and " one day " garden room made from salvaged windows and wood Neta sent me an email with images of her " garden room " and chicken coop made from " pieces of the past "! She too has given me permission to share them here with you! Cuz, well that's just how we farmgirls are!
I am so inspired by what Neta and her husband have created in their backyard. It's truly a work of garden art!
Here's the long view of Neta's Garden Room created with salvaged windows and wood.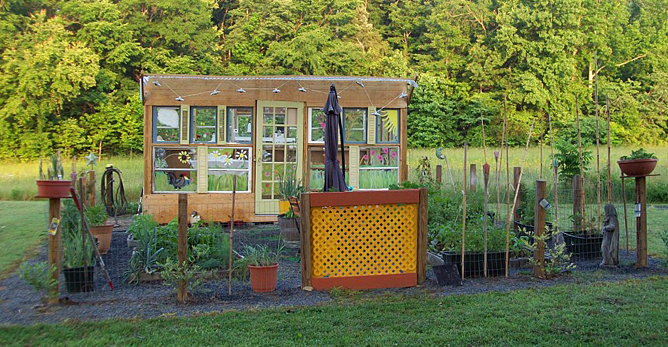 A closer look inside the " walls " of this open air dining room has me wanting to get inside to see what other treasures await!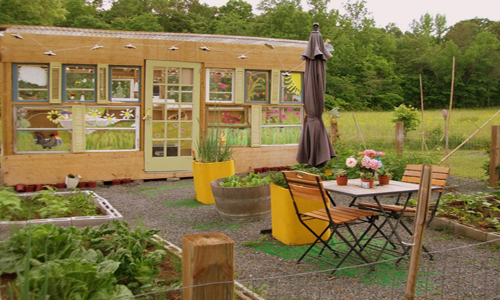 Neta's love of the outdoors and her appreciation for nature are evident on each hand painted window.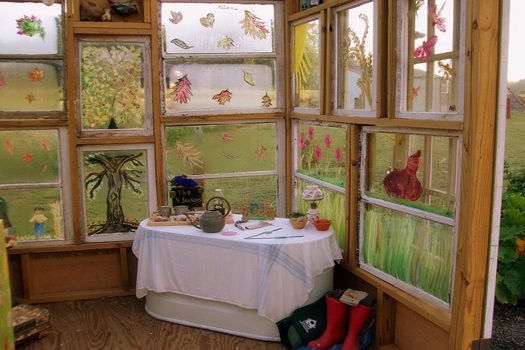 Her creativity just brims inside this re-purposed garden shed doesn't it?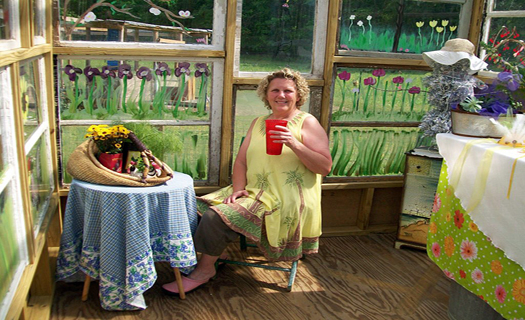 Neta told me this image of her was taken after celebrating a friend's birthday in the "garden room ".  Her cleverness doesn't stop here. In fact I have a hunch that this is the place she dreams up all of her creative ideas while watching her chickens hunt and peck in their darling coop and run!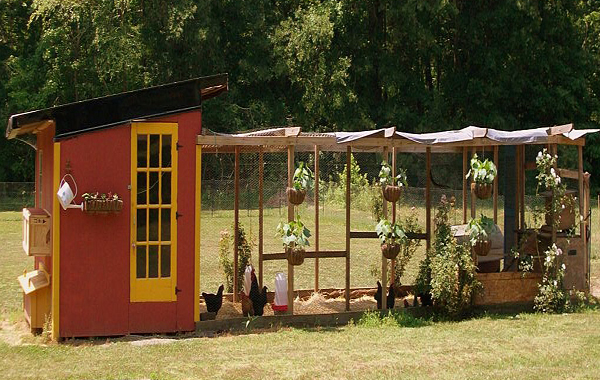 Neta is not only resourceful and talented, she's also generous! Just look at these tote bags she makes from chicken feed sacks! She sells them at her local farmer's market. All proceeds go to the local homeless shelter.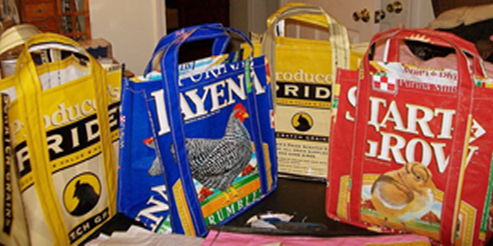 How could anyone of us NOT be having a " fling with spring " after soaking up all these lovely inspirations? Big thanks to Brenda and Neta for sharing their projects with us!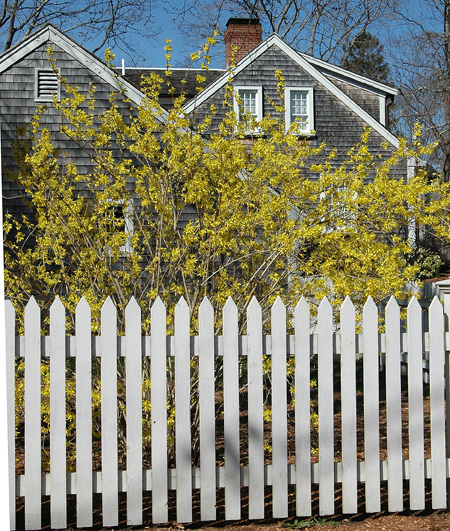 If you're like most farmgirls, you have your hands in a lot of things and spring can send you into a tailspin pretty quick. After all, there's so much we WANT to do and we've been waiting all darned winter to do it! But…spring is a time for hope and renewal and remembering and honoring the gifts we have been given. Life can be challenging for us all at times. One way to help you "make it through "a hard time is to get outside and let nature do her magic on your soul! Take off your I-pod and listen to the birds sing. They make a wonderful quoir! As you putter around your yard or farm (unless you are Rebekah our city farmgirl who is deathly afraid of snakes and spiders) relax and breathe in the fresh scent of the warming earth. Get up close and re-discover your plants and shrubs as they re-emerge for another season. Give thanks for these (not so small) daily miracles. Let them soothe your soul. Then smile~ you'll just feel better! I promise!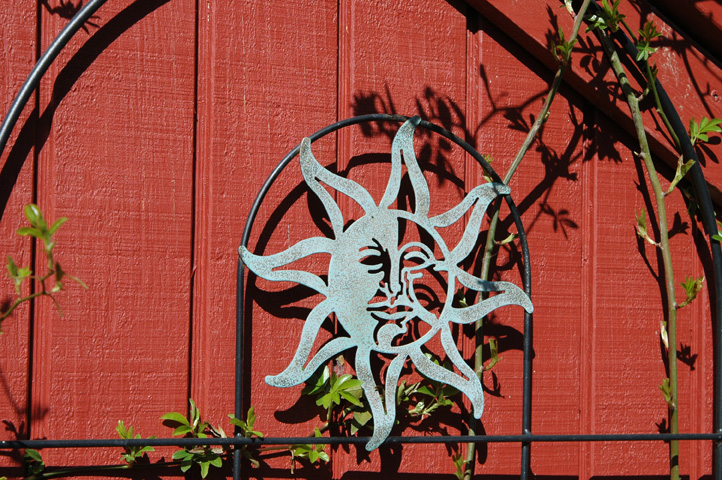 Until our nest shoreline visit~
Much love and BEACH BLESSINGS
Deb
P.S. What can we do to help our fellow sister Rebekah? She's about to move to a Farm for heavens sakes!

I always get such a chuckle out of her posts!