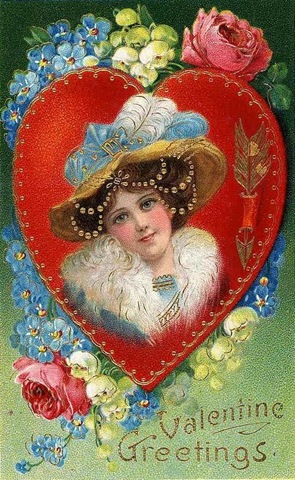 February Greetings Farmgirls! Valentine's Day is just around the corner and I'm feeling a tad bit guilty that I haven't come up with just the right gift for my sweet yankee for * love day * yet. Instead, my heart is all a flutter over my newfound love interest *PINTEREST* and my passion for the color RED!  I promise by the end of this post you'll be " FIRED UP " for the color RED too!
WARNING… Readers BEWARE! You might end up a " pinner " too!
Do you Pin? Shery J. ( our Ranch FG blogger ) got me going on it a couple weeks ago and MaryJane pins too! I'll admit, I resisted it for a while because I feared it would just suck up more of my precious time and I was right! It's and endless universe of charming ideas for the home, garden and beyond. It's pure heaven I tell ya! Once you've signed up all YOU have to do is SEARCH it, FIND it and PIN it!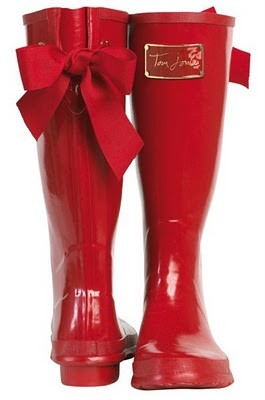 I pinned this pair of red Wellies on the spot!
It's amazing how many reds there are. There's convertable car red, retro red, rural and rustic red, romantic red, regal red, chinese red, beet red, tomato red, barn red, lipstick red, cherry red, and Christmas red and this is just the tip of the RED iceburg. I'd like to add one more RED to the list. How about Farmgirl Red? It wouldn't be too brown or blue, it would have just the right amount of pink in it to make it feminine and a tinge of orange to warm it up to an almost coral red but not quite.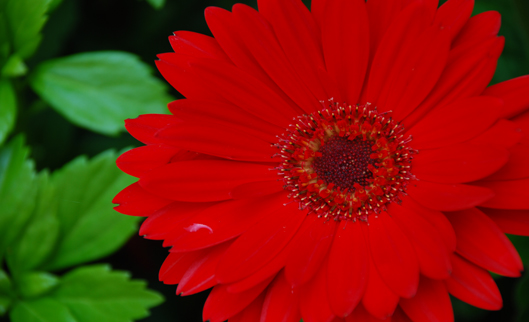 My love affair with red began in my teen years with my first car. I'd always wanted a horse of my own and I guess I sort of got one when my parents helped me find and purchase my first set of wheels. It was a 1966 RED Ford Mustang with black leather interior, wing windows and plenty of giddy up and go horse power! It was love at first sight!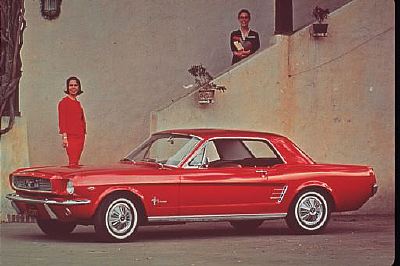 The message you send by driving a vehicle that is Vibrant Red: Sexy, speedy,
high-energy, and dynamic.
On our wedding day in 1991 we had a daytime wedding in the small town of Genoa, NV. Our ride to the church was a horse and carriage with red wheels and red velvet interior! Good boy Ace delivered us to the church in true Victorian style on our special day.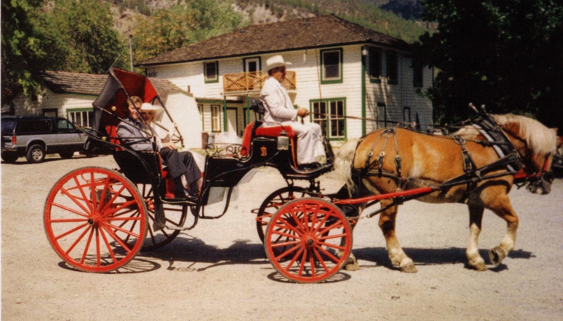 The center of my bridal bouquet was stuffed with none other than RED ROSES!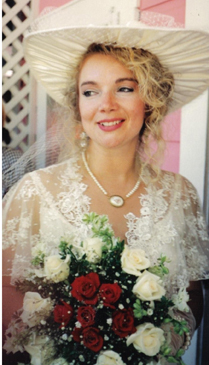 In Chinese culture Red is the color for good luck.
Red, corresponding with fire, symbolizes good fortune and joy. ( I LIKE THAT ) Red is found everywhere during Chinese New Year and other holidays and family gatherings. A red envelope ( Pictured above ) is a monetary gift which is given in Chinese society during holiday or special occasions. The red color of the packet symbolizes good luck. Red is strictly forbidden at funerals as it is a traditionally symbolic color of happiness.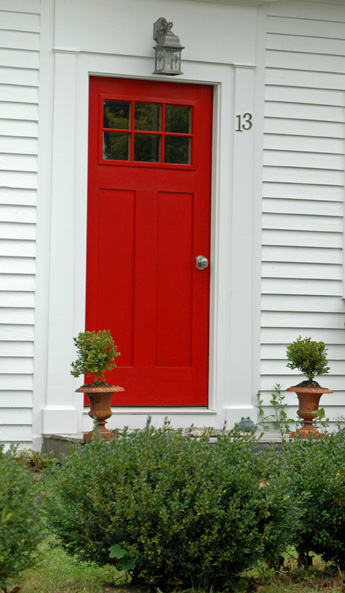 The above image is one I took on Cape Cod. Do you suppose the owners of # 13 are superstitious and that's why they went with this bold chinese red on their front door?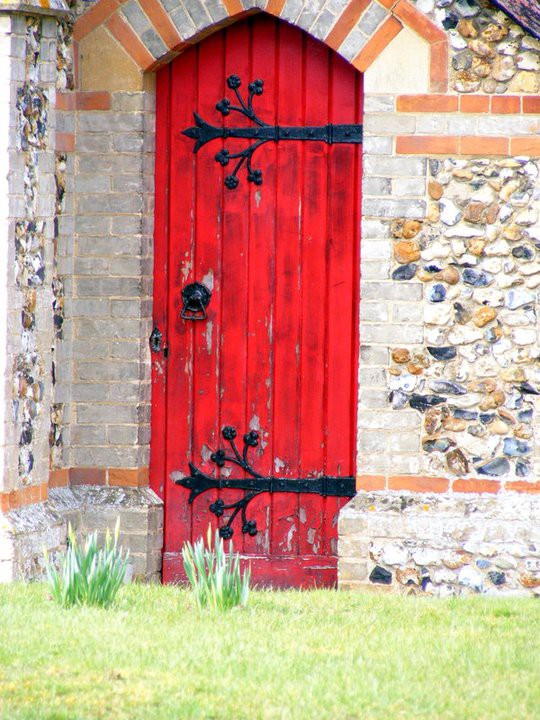 These gothic beauties are from over the pond in England. Can you stand those iron door straps? Another one of my favorite combinations is black and red as seen on the doors here.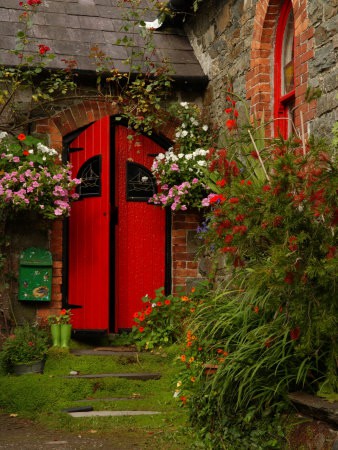 I simply adore red in the garden! I love the energy pops of red bring to the landscape in all seasons wether it be something planted in the garden or garden goodies.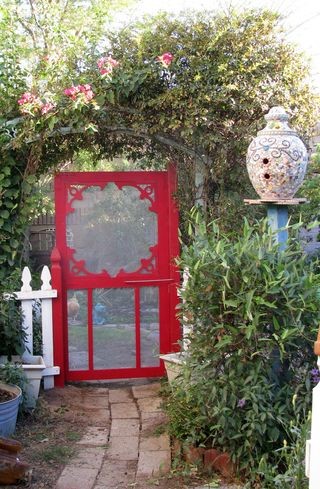 Red's complimentary color in the garden is green.  Red is the exact opposite of green on the color wheel. When placed next to eachother they create a pleasing juxtaposition. In otherwords, they were made for eachother!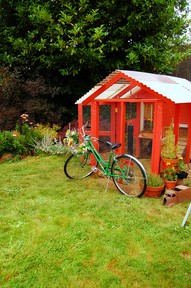 Love this red chicken coop placed in the midst of a large grassy area.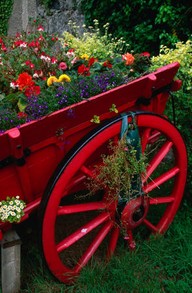 This Cherry red wheelbarrow brimming with all the colors of summer is PURE joy! If I could give summer a color it would be Red because it reminds me of picnics  with red and white checked tablecloths resting on cool green grass under the dappled shade of a big cottonwood tree.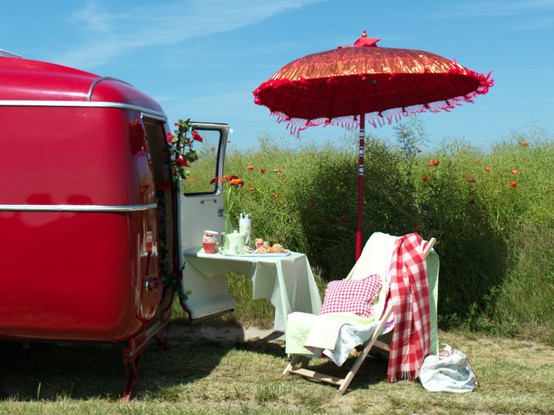 If you're a farmgirl with a hankering for a trip to the countryside you can hitch up your red airstreem and head out on the open road in true farmgirl fashion.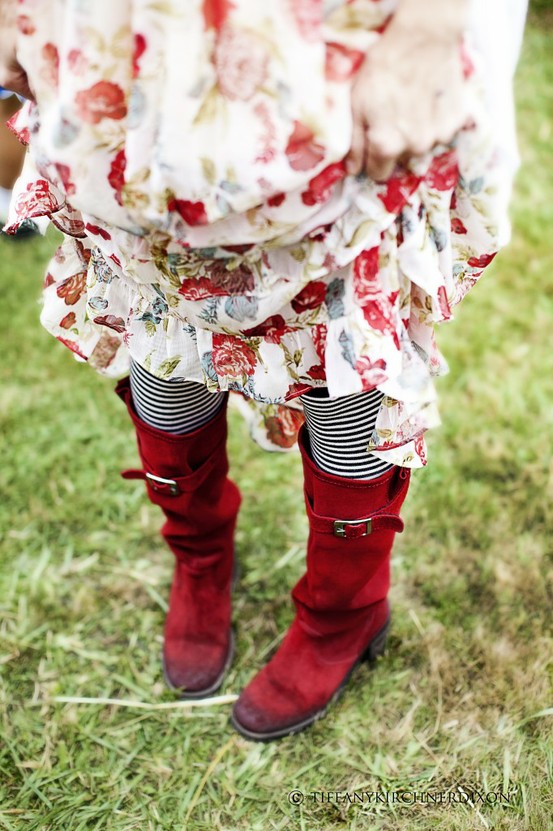 Photo credit: The Fancy Farmgirl blog.
Is this not the perfect dress to wear on such a day? Just kick off those boots and tights, paint your toenails farmgirl red so you can wiggle them dry in the warm summer air and you've got yourself one heck of a farmgirl picnic!
When you are a true lover of red you never have to worry what pull out of your closet! Wear red when you feel blue! You'll feel happier instantly!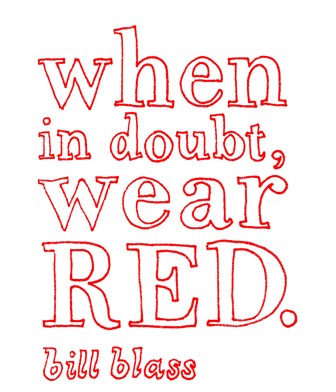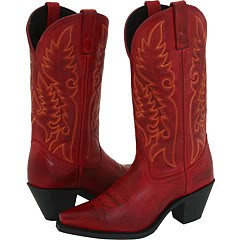 Have you ever wondered why old barns are mostly red in color? I was excited to learn in Farmer's Almanac Trivia that many years ago the choices for paint, sealers and other building materials either didn't exist or were in short supply. Farmers had to be resourceful in finding ways to protect their barns. Hundreds of years ago in England farmers would seal their barns with linseed oil, which is an orange-colored oil derived from the seeds of the flax plant. They would then add the additional ingredients of milk and lime, and also ferrous oxide or rust. Rust was plentiful on farms and it killed fungi and mosses that might grow on barns so it was a very effective sealant and it turned the mixture red in color. Today, many people choose red for their barns in honor of tradition or because they wish to create a nostalgic feeling around their farm or homestead.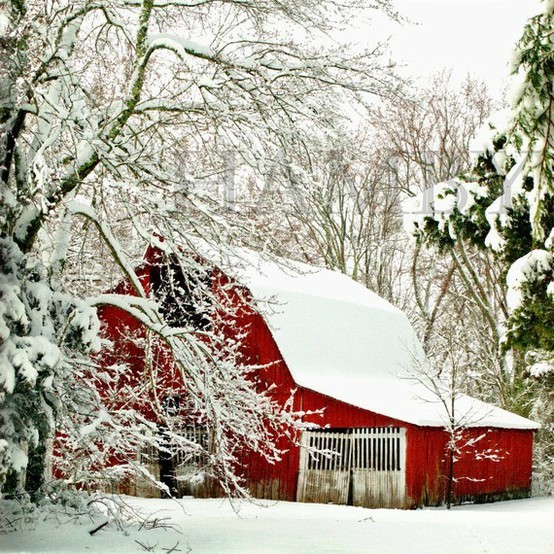 The rural and rustic reds of America hold a very special place in my patirotic heart. I don't know about you, but when ever I see a big ole' Red Barn my heart skips a beat or two!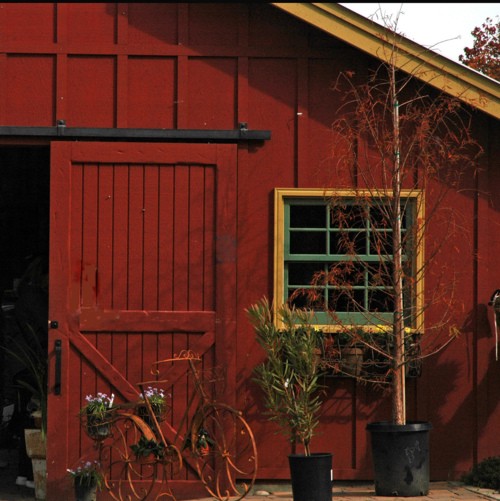 I shared the image below from my backyard farmyard on my facebook and MaryJanes last week!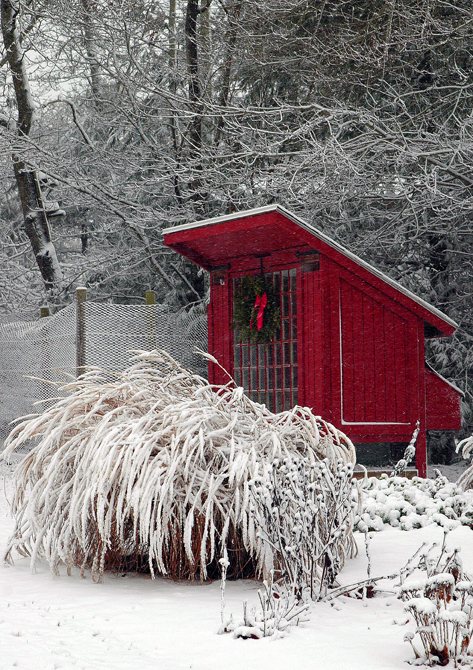 The Little Red Hen House in winter.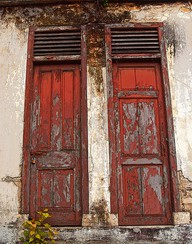 Red and weathered floats my boat too!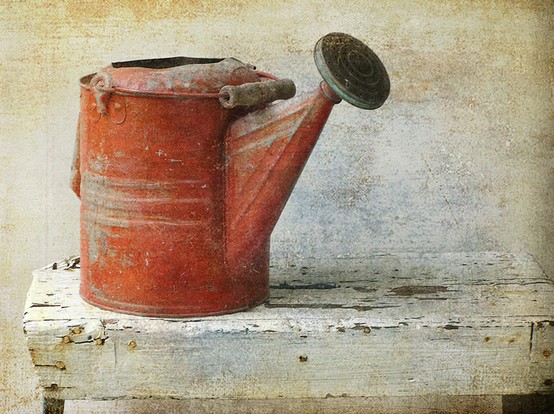 And retro red makes my heart sing! If you think your tractor is sexy, just look at this RED reproduction Singer Sewing Machine!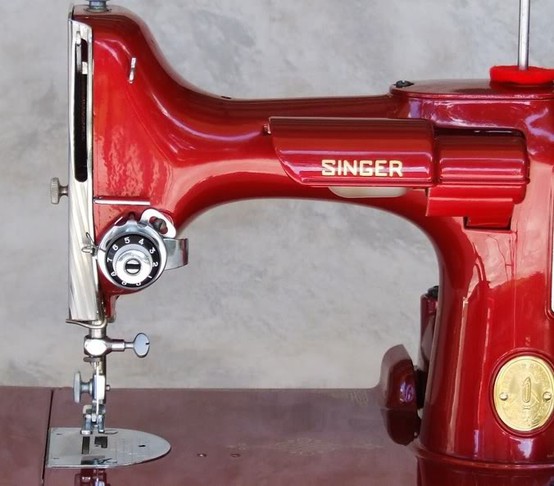 Imagine the kinds of aprons you might whip up on this * classic * beauty! I think some Buddy Holly or Elvis playing in the background while you're reving up the foot petal would be perfect, don't you?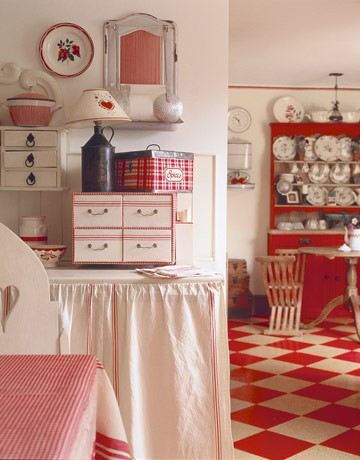 It's the floor that did me in in this image! I've seen plenty of black and white checked floors over the years but very few RED and white ones. LOVE!!! But wait…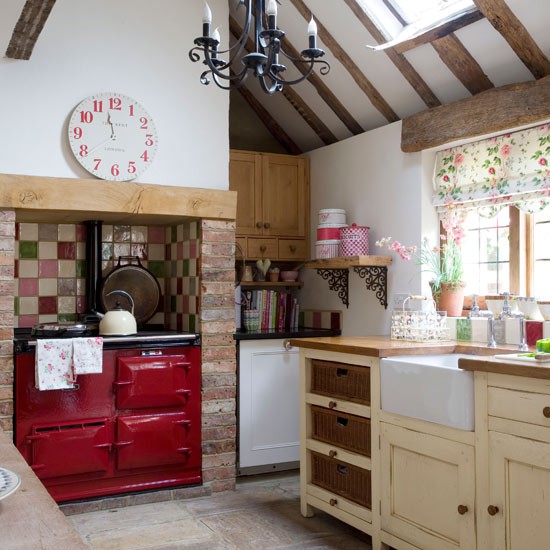 What farmgirl wouldn't LOVE to have a RED stove? This one makes me "week in the knees "! Did you know they sell red stove paint? Uh huh… they sure do.! You can bet I've been giving my almond colored stove " the eye" after finding that out.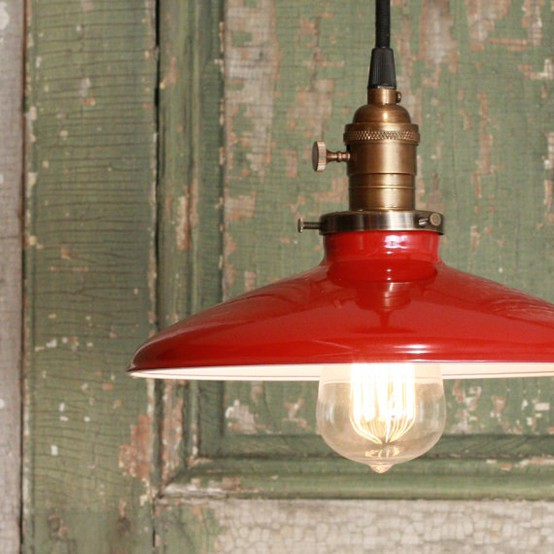 I think every home needs a little red. Why not add a snazzy RED light fixture just for fun? Did you see MaryJanes' collander pendent lights in the last issue?
A DOR A BLE!!!!!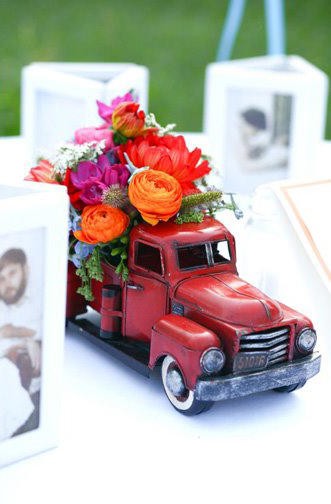 I've started a floral arrangement pinboard too! I fell for this blossoming truckbed immediately! I believe they were centerpieces for a wedding. Another GREAT idea!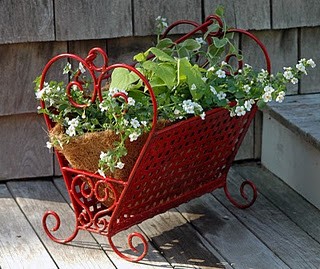 This planter used to be a brown magazine rack until I spray painted it apple red and added some pretty plants to it last spring.
In todays modern America, Red symbolizes excitement, energy, passion, love, desire, speed, strength, power, heat, aggression, danger, fire, blood, war, violence, all things intense and passionate and just plain FUN!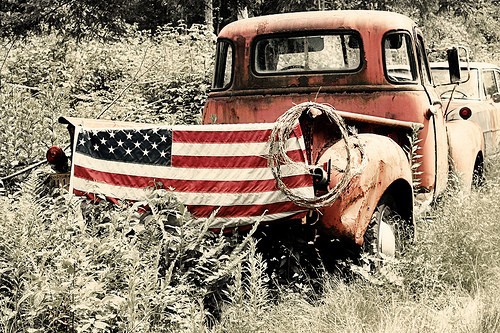 My passion for red is burning hot and I don't see things " cooling off " in the near future, if ever! If you're hearts not pitter patterin' away after seeing all this red you best get yourself to the nearest Dr. for a look- see at your ticker!
Well sisters, I guess that's enough gabbing and gushing about my LOVE of RED for one day.
You know about MaryJanes new site right? It's called girlgab.com. The Place Where Girlfriends Gather to gabble, gush and gadabout! You'll find all of MaryJanes Gabbers and Gushers there ( us farmgirl bloggers) plus, you can sign up for daily email alerts, add your name to the farmgirl blog roster and you may even be featured someday! Go check it out! You'll love it!
Oh, one more thing before you go. I HAVE to know… do you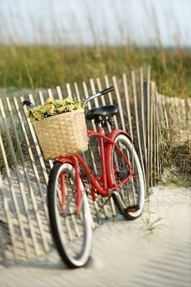 Until our next shoreline visit~
BEACH BLESSINGS
 &
Happy Valentine's Day!
I'm wishing you and yours a RED LETTER DAY!
Love,
Deb
 * Many images in this post are " pins " from my Pinterest account and the others are from my home photo library. It's easy and fun to pin! Simply go to Pinterest.com , log in with your facebook information and start pinning away!
P.S. It's Farmgirl Friday at Dandelion House! Come by, link up and enjoy!