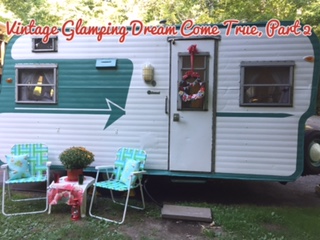 What a month it's been! We worked day and night to get our little camper ready for a Vintage Camper Roundup last weekend. (Check out the updates we've made to her since the last blog!) Being our maiden voyage, we weren't sure what to expect. Would we be comfortable sleeping in the camper? Would she travel well? After all the excitement, hard work and dreaming, would we even like camping??
Thanks to all for commenting last month! Congrats to Susan C., our random winner of Glamping With MaryJane! Enjoy!
We loved all the camper names everyone proposed. "Miss Daisy" was the most suggested, but we've "met" another camper with that moniker. Picking a name was a tough decision! We finally christened our 1966 Nomad "Gidget the Glamper". "Gidget" aired on TV in 1966. In high school, friends affectionately nicknamed me "Gidget", as well. (I loved "'vintage" even then!) We felt "Gidget" was fitting, fun, and true to our trailer's era!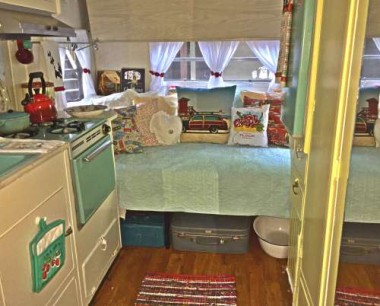 We adore natural wood, but the whitewash veneer in our camper wasn't in the best shape. The wood needed a boost to halt deterioration. We decide to paint- light, bright, shabby chic! The beadboard, dark trim, and cabinets are now a pretty pearl.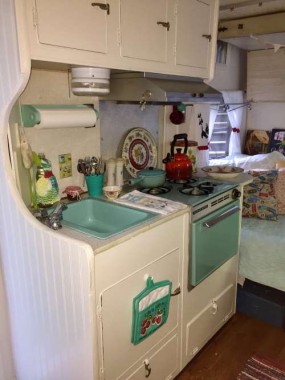 We brightened the beige wall with the bath and closet to a happy shade of sunny yellow.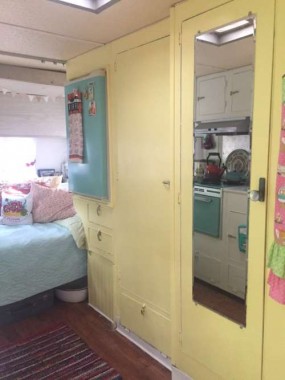 The new, white eyelet-ruffled curtains arrived, and I made tie backs from flowered trim, crocheting matching loops for easy opening and closing.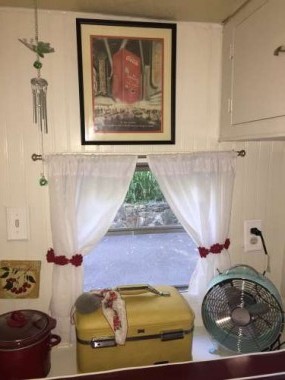 We love our new cushions! The old ones were nice looking, but were as comfortable as Wonder bread. The new cushions have the highest-grade foam, topped with a layer of batting. Outside, we picked strong marine-grade vinyl from Joann Fabric, recommended by the upholsterer, with contrasting white for the cording. The upholsterer used new-vintage, 60's seat grommets to allow air to escape when the cushions are compressed. The dinette closes to a full size bed, where my daughter and I comfortably slept, (but I'll add a mattress topper next time to keep the sheets from sliding).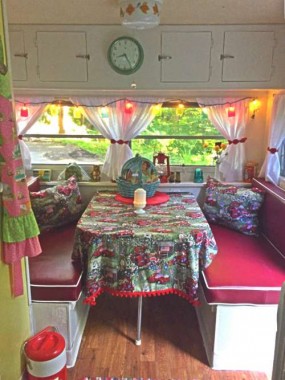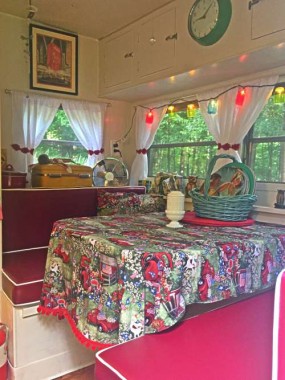 I created a new wreath for the door, using felt to make flowers and bunting, and added a few new finishing decorative touches.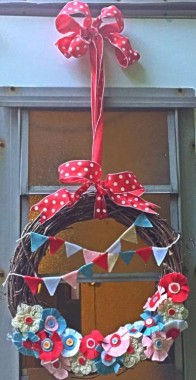 We took back roads for a breathtaking, farmland-packed view to Copake, NY. The trailer handled the hills and winding road beautifully.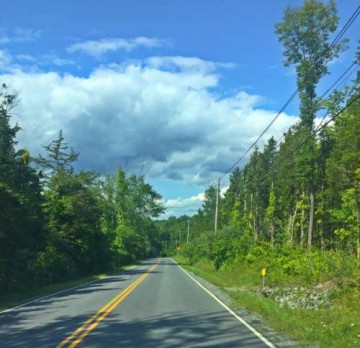 Once at  KOA Camp Copake, check-in was simple. Friendly staff members driving golf carts escort campers to the parking spots. Hooking up the electric and water was a snap.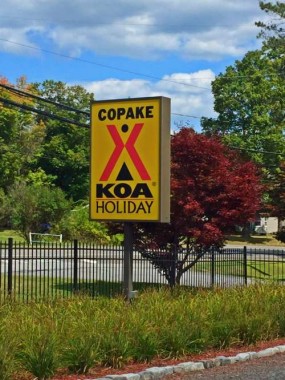 There was vintage-camper-eye-candy galore at the rally! Thirty-seven vintage campers attended. We loved seeing the various makes, models and years, and how each camper's decor reflected the owner's individual personality. Each one was a unique and special piece of camping history!
The first night, we socialized at a campfire meet-and-greet. Saturday morning, everyone got busy getting their campers ready.
There was a fun parts swap (I picked up a vintage "Ice-O-Mat"- score!), followed by vintage camper tours. Votes would be cast with prizes awarded to the prettiest campers. We met so many nice people! We loved touring all the vintage campers, meeting new friends, getting suggestions and sharing ideas with others who share a same passion.
My favorite, a 1957 Shasta, won first place. Ed and Denise Enea pull their crimson-and-white beauty with a shiny, jaw-dropping 1957 Bel-Air affectionately called "Elvis".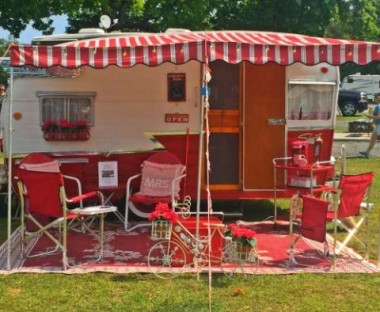 Restored and owned by Clete and Erica LaMere, another favorite was an adorable Scotty. From 1959, "Miss Daisy" was awarded second-place.
The friendliest family (and their basset hound, "Blue"), own a 1972 Winnebago- mint condition down to the original shag carpet! Another couple attended with five adorable little pooches in their camper. There were Hawaiian-themed trailers, teardrop trailers, pop up campers, and plenty of flamingoes!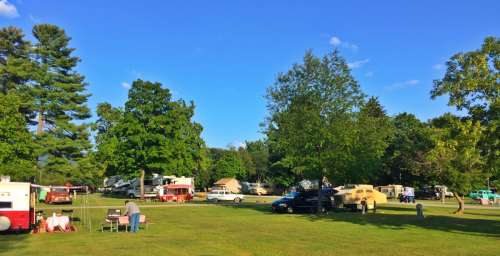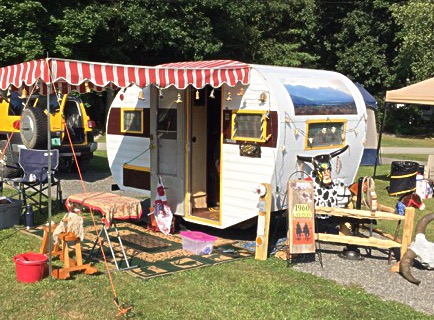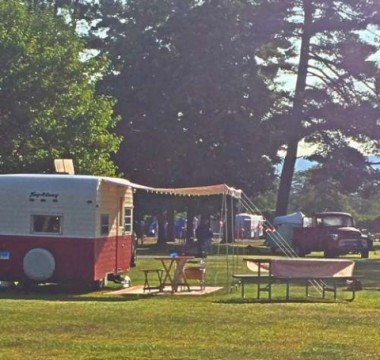 Among the attendance was an Airstream whose owner is just as adorable as her camper! Gail Buck's vintage decor inside includes a Linus figurine from her childhood and plenty of spunk! Gail's also a member of the group Sisters on the Fly.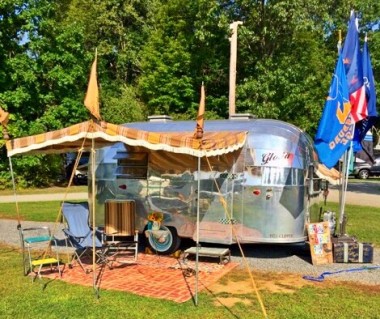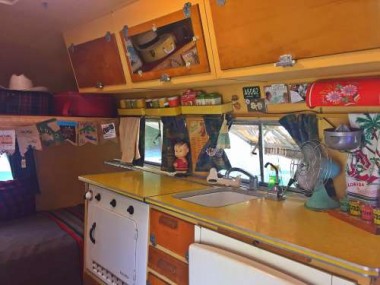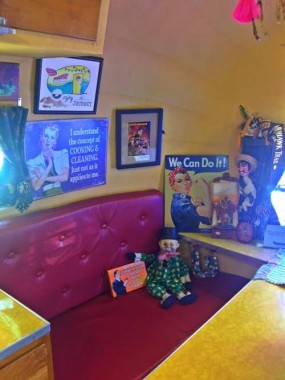 The gentleman who "rescued" his Burro model designed his own graphics and restored the trailer using mostly repurposed material. His dinette table was a stunner, found for only $10 at a tag sale!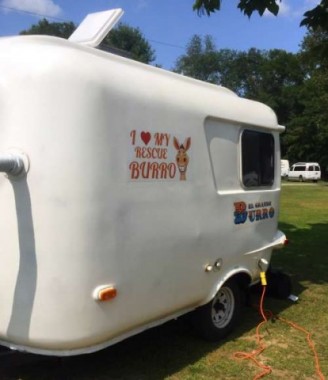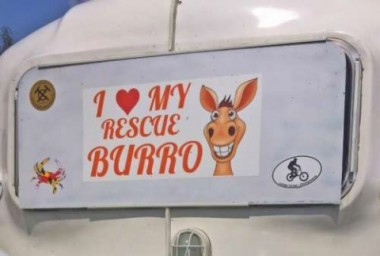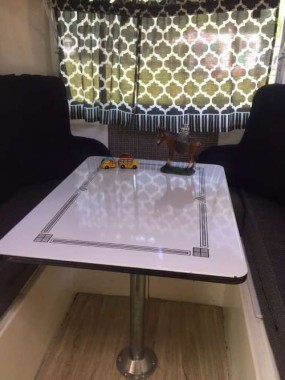 There were fun activities throughout the day, and a special potluck supper for the vintage camper owners. Saturday evening, a live band played, vintage campers sparkled with twinkling lights, and many a marshmallow roasted over glowing campfires.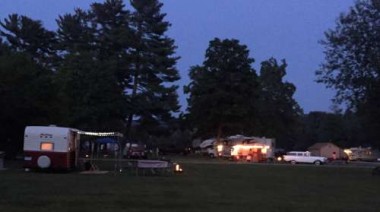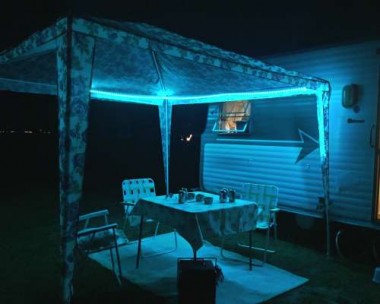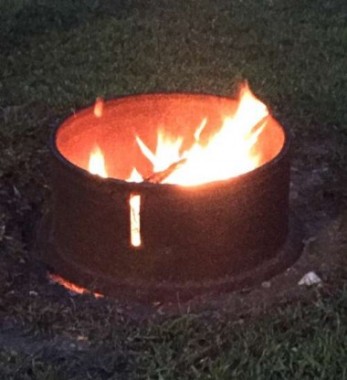 We had no trouble falling asleep after such fun and excitement. I loved peeking out of the camper in the early morning light, before everyone else was up and bustling. With the peaceful quiet and vintage trailers and cars, it didn't feel like 2017, but 1960-something!
On Sunday, we bid goodbye to our fellow campers. We opted for late checkout, taking a dip in the refreshing saltwater pool and grilling lunch one more time before heading for home. We couldn't have had more fun!
(Hope you all had a great summer, too! Thank you to everyone who inquired about my loved ones in Houston and the surrounding area. My family there is doing alright.  My heart is with my home state!)
Until Next Time…Farmgirl Hugs, Nicole