Texas, our hearts and minds and prayers are on you…we are with you and for you.
If my math is correct (and it may or may not be, quite frankly), I'll be in 49th grade this year. (I entered 12th grade in fall 1980, so…)
Anyway, I haven't received a syllabus yet, so I guess I have to write my own at this point. Let's see. What exactly should one learn in the 49th grade?
What about you? What grade are you in this year? And what's on your syllabus–what are you going to learn about this school year?
Before I hop right in about 49th grade, many of you have asked about my "snow beans" this year. So far, it's been pretty lame. I've got only 8 beans in the jar.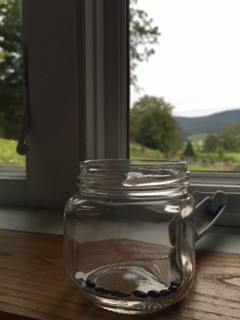 That means only 8 snow events this winter.
(For those who don't know. Here in the Appalachian Mountains we count the foggy mornings in August to predict the number of snow events for the upcoming winter. To keep count, folks put dried beans in a jar.)
Now, about that 49th grade. Well, the air was so invitingly autumn-like this morning, I couldn't help myself. I shut down my computer and headed out for a walk around the farm.
(That's a really cool thing about being in the 49th grade. You can follow your own schedule.)
As often happens, once I step outside in nature I find answers to whatever is swirling around in my head. While I was wandering around the farm, I realized the one BIG thing I need to put on my syllabus for this year.
Identify all the wildflowers, trees, plants, and living creatures on the farm.
What I'll do is wander around the farm all year and wonder what I'm seeing. Then I'll photograph it. And make notes about anything relevant. And then try to identify it. Yes! I like the sound of this!
So let's start with today. Late summer, early fall, when school begins.
These flowers grow by the mountain stream. You can't see it (because I wasn't about to step into those tall weeds–you know why–sssssss), but the fast moving water is behind these flowers.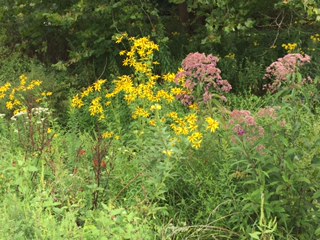 I know the pink-purple flower on the right to be Joe Pye Weed. Not sure about those yellow ones.
Here are some more flowers that grow on the creek side. Note the interesting little blue one to the bottom left of those white flowers.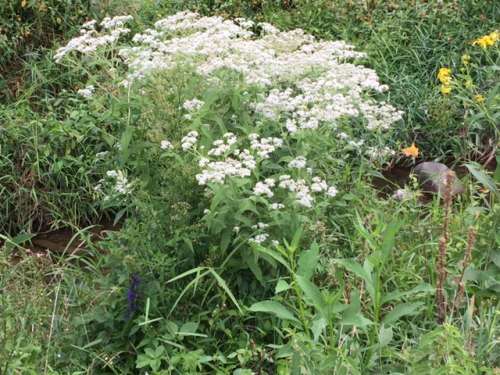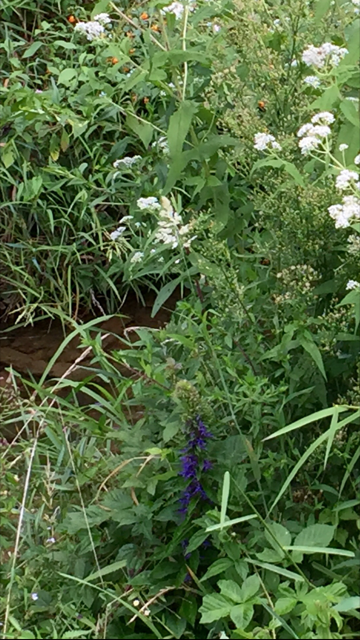 I think that might be Lobelia Blue Cardinal. (I will go out tomorrow and try to make a positive id.) Don't know the white one.
I just remembered that somewhere in my boxes and boxes of books that I packed up and moved here I've got a fantastic wildflower book. Where oh where is that box?? I used to have a library in my old house and had plenty of space for books. No more; not in this old farmhouse. I haven't unpacked them because they have no where to go. I miss my books….
Perhaps that should be a school project for my 49th year of school. Create a library! Boy, this is going to be a busy school year.
Walking on down the pasture, I find these hidden gems growing up the pasture fence. Grapes? (It's funny the things you can find when you are looking closely.)
I tasted them and they were sour. Maybe muscadines? Will they sweeten up?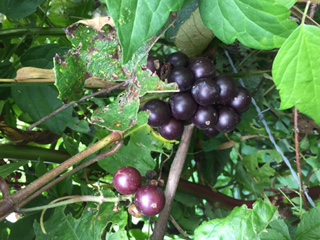 Now, let's talk about living creatures for a minute. After I found these grapes, I popped into the small horse shed at that end of the pasture. I have always had respect for other lives. When I saw this nest inside the shed, I knew it needed to be gone. I figured I could move it. I've always called the insects that build these "wasps." I don't actually know if that's the correct term. (But I WILL learn this year!)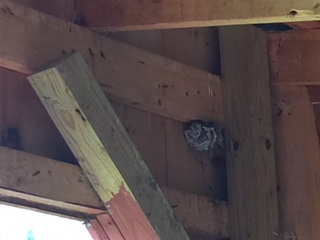 So I took the manure fork and pulled the nest down so I could take it somewhere out of the horse pasture and away from the horses. A peaceful relocation, I thought.
You know what happened, right?!
Even though I am zen with bees, these guys went after me. In a big, grand way. Attack! Attack! Attack!
I dropped the manure fork and ran as fast I as could OUTTA there. I swear, they chased me through that field. They stung me repeatedly. And Friends, it hurt. My husband went out and bought some wasp spray. Yep, I used chemicals to eradicate them. (Another thing I do not normally do, use chemicals.) But these guys refused to go peacefully. I had no choice.
They. Are. Now. Dead. And. Gone. RIP.
Once that drama was over and my stings were feeling better, I went back out for my nature walk.
Walking on down through the pasture I find this flower.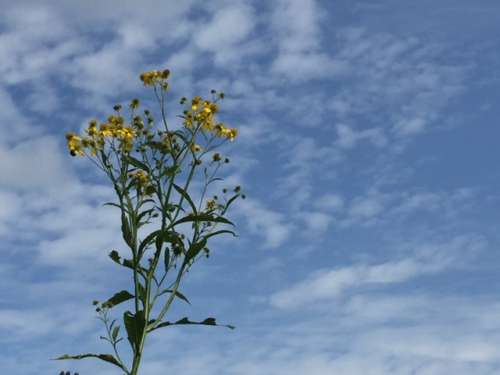 These grow taller than me. Are these and the previous yellow flowers (by the creek) the same? IDK. I've got yellow flowers all over the farm. And I didn't take close-ups. (note to self: take close-ups of what you need to identify!)
And here is another patch of yellow flowers. I did take a close photo of these.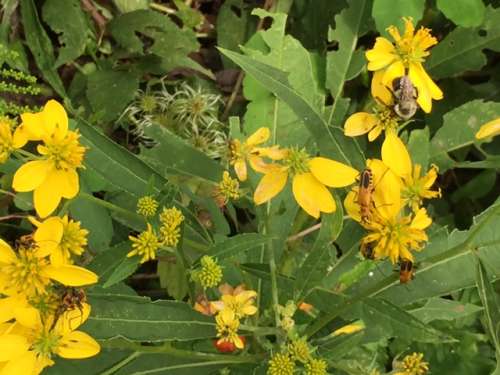 As I look closely at the flowers, I realize how active the insect population is right now.
Bugs in every photo!
Here are some yellow flowers growing on both sides of my walking path. This path used to be covered up in weeds. Several years ago I worked to make a trail through there for a horse path. Now I keep it mowed and it's a lovely walk. That's Blue, FarmDog styling in his orange jacket. (He's incredibly happy I finally let him off the leash when we walk. "I'm a FarmDog, Mom! FarmDogs don't do leashes!" It took awhile, but I finally listened.)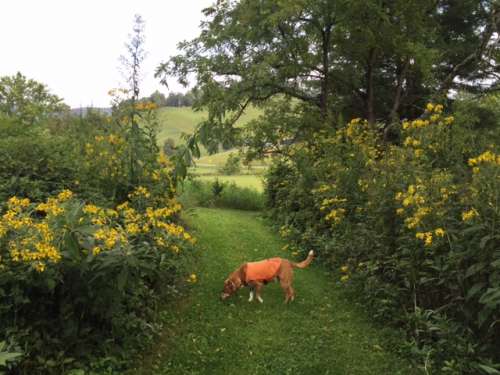 This is a side of my old wash house/office you've probably never seen. I usually show you the front. More yellow flowers. And some purples.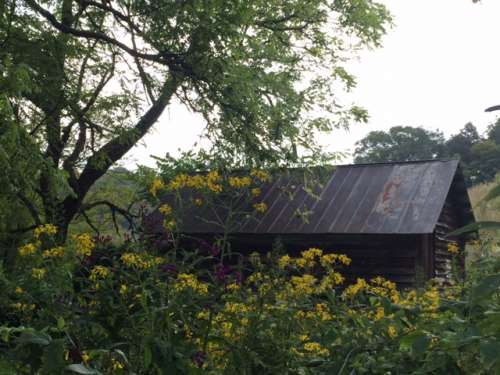 More of those yellow flowers, but these are hosting some jumpers. Grasshoppers? Crickets?

These particular yellow flowers might be something called Common Wingstem, verbesina alternifolia. Might be. I really need to go back out and study the yellow flowers on the farm more.
Now, this is a yellow flower I KNOW. Goldenrod. Enemy to the sinuses of many. (But not me, so yay.)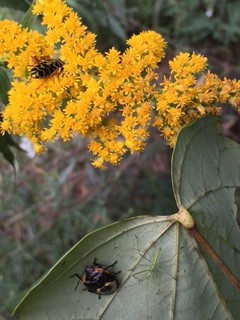 Three bugs in that pic! Can you see them all?
Walking on down the path, I see these two wildflowers. The white one is like Queen Anne's Lace, but isn't. It is something similar? Is it the same as the white flowers beside the creek?The tall purple one is gorgeous.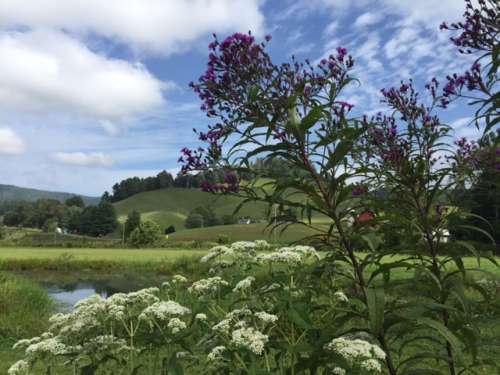 Here's another shot of the tall purple flowers. There are lots of these growing on roadsides all around here.
I do have plenty of Queen Anne's Lace.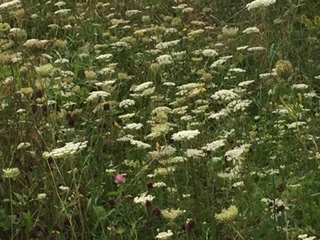 I also have several different vines that have little white flowers on it. I thought they were all Confederate Jasmine until I looked closer.
This one grows all over the place and I do believe it is Confederate Jasmine. It is very sweet smelling.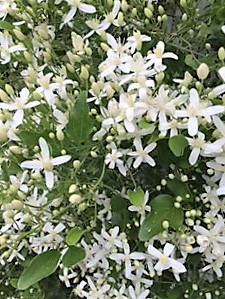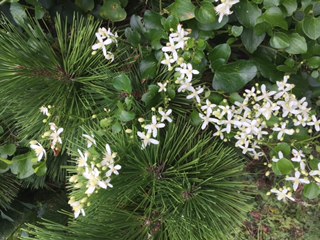 This one grew wild over my chicken run this summer. I almost cut it down when it started to grow. I'm glad I didn't because I think it looks pretty. And the chickens have enjoyed the shade it provides them. It does not smell sweet and the leaves are different. And yes, that's a paint brush and some paint. I'm finally re-painting my pickets.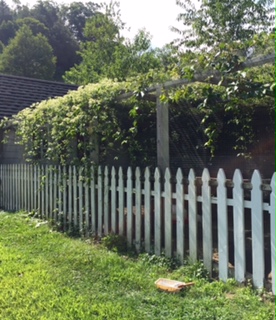 I think it might be Virgin's-bower, Clematis Virginiana.
And I know this one already. It's Milkweed. I keep a patch for monarch butterflies.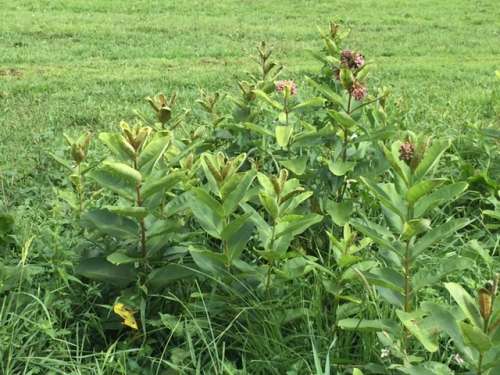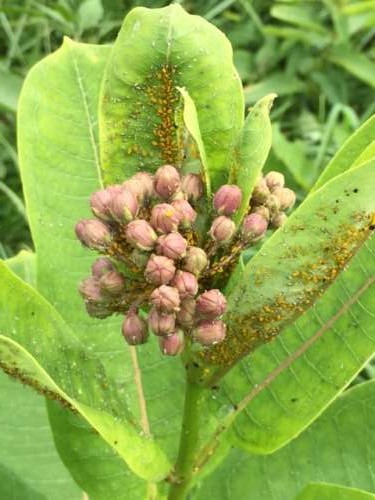 Milkweed buds, not in bloom yet.
I have no idea what those tiny yellow eggs are. I have my work cut out for me, don't I.
And here are two more. The one on the right is a wild Morning Glory. The one on the left is Orange Jewelweed, a wildflower in the impatiens family.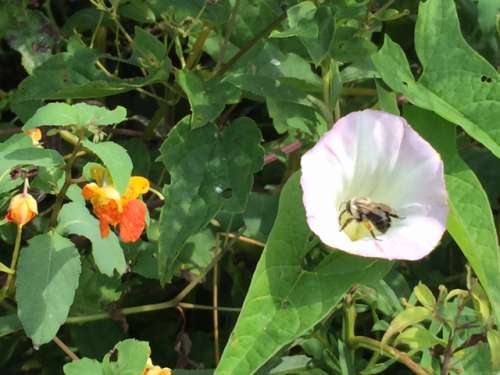 This plant confounds me every year. It produces gorgeous red berries. I also have some of these around the farm that have yellow berries. The leaf reminds me of a bay leaf.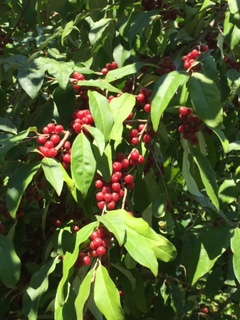 And here's an interesting little dude on an interesting tree. (note to self: learn to identify both)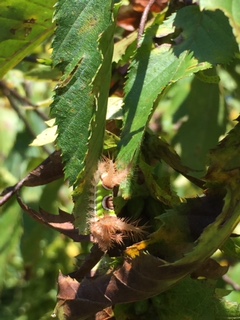 I also need to learn some grasses. These are tall and thick, with that lovely caterpillar-like seed-head.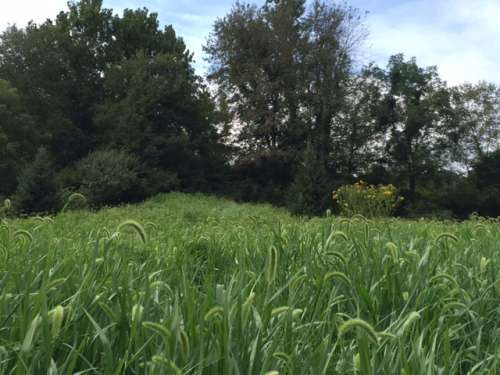 Okay, I guess that's enough for one short walk. There's plenty I still need to identify. This is a lot of work for 49th grade!
The good news is that I think this means I can legitimately cruise the school supply aisle now. I love that aisle. Sharp, new pencils. Composition notebooks.
Oh, I wanted to show you one more thing. I finally was able to get that gigantic barn quilt I made a while back hung on my barn. Wait, did I say "my" barn? I meant, MERLIN'S barn! (Sorry Merlin!) It was so HUGE I didn't know how to get it up. Recently I had some help and they got it up there while I supervised from the ground.
Now, isn't it strange? How it was SO HUGE before and now it is SO SMALL it looks like a postage stamp. You can't even see the hearts and Christmas trees. sigh.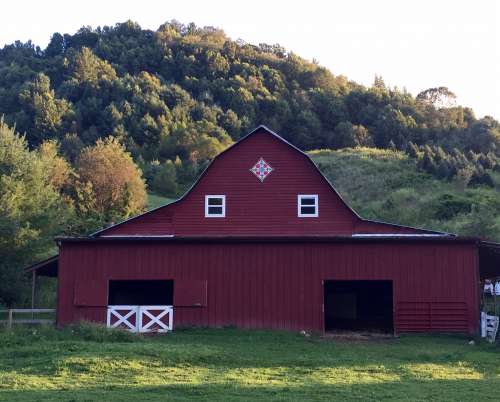 Until next time, Friends, savor the flavor of life!
Lots of love, The City Farmgirl in the Country, Rebekah