[Previous Suburban Farmgirl, October 2009 – October 2010]
It's the social grease of back fences, front porches, and stitching bees. Or, more locally, of book clubs, school parking lots, walking routes, and wherever else two or more women gather. Gossip: Automatic sin? Or one of the great grey zones of female communication, that dicey – but navigable — intersection of entertainment, information, and, sometimes, just plain mean injustice?
I ask as someone who's passed along her fair share of tidbittery about her fellow man (and, er, woman). And yet, now that I've recently been on the subject-matter end of some very snarky gossip of the worst kind – fiction – I'm feeling a little less cavalier about the topic.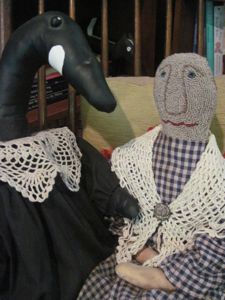 (How do you illustrate gossip? By posing your grown-up toys!)
Ugh, where to start? I certainly don't want to repeat the particulars starring yours truly, considering how hurtfully unfair and untrue they are. (And all the more hurtful because the buzz was started by the one person in the world who most should've known better.) But a kind neighbor who'd heard it third- or fourth-hand cued me in this week because, as she says, she'd have wanted to know if it were her. And, because the dirt dished on my fitness as a mother – mothering being a subject I've written about since my newly-minted 18-year-old was in utero – she was worried for me professionally. (Not that I can control what people think or say about me; but there's a difference between savaging my ideas about parenting, which readers routinely do, and which I accept with a wince because it goes with the territory of being a journalist / columnist, and savaging me as a parent with a distorted version of my life story.)
But what raised this neighbor's hackles most was the tone of the conversation. "Nobody should go into awful, horrible tirades about someone she doesn't even know, not in my house," she said indignantly. (The gossiper didn't know my neighbor knew me.) "It's just not something you do!"
Agreed. But is gossip ever okay? You might be surprised that I still think it is. Women who never ever gossip seem to me like unicorns, or like moms who say they've never ever raised either hand or voice to their kids – I've heard they exist, but I've never come across one yet.
Why there I was, just the other day, blithely informing an old friend about a mutual acquaintance's arrest. I was shocked and I knew she'd be concerned for him, but it was news I'd learned in the local paper, not idle speculation. Fact is fair game. Fact, after all, can be useful to survival. Women sharing info is a way we shape life, and help one another: So-and-so eloped, had a preemie, lost 30 pounds, is worried about her mom with Alzheimer's, sent her son to war, scored at a sale, discovered the secret to growing dream tomatoes. Not made-up lies, but well-informed truths — emphasis on the well-informed, which is why instead of believing fourth- and fifth-hand gossip you may as well buy a tabloid, same distance from reality.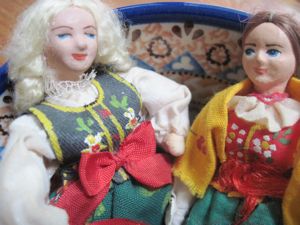 The intention helps color whether it's "bad" gossip or "good," too. Haven't we all (well, I have) talked about someone behind her back with envy or amazement: "What do you think Lulabelle puts in her pie crust that makes the men swoon?" "Is that her real hair color?" Not malicious, just curious. (What can I say? I'm a curious person!)
As Barbara Walters herself says, "Show me someone who never gossips, and I'll show you someone who isn't interested in people."
It's even on the fair side of the grey zone, I think, to speculate about somebody in order to try to make sense of behavior: "Why do you think AnnieMay stopped talking to us so abruptly back in 1992?" "Why do you think X stays married to Z?"
Talking about those out of earshot may be preached against in some Sunday Schools but I can't picture myself quitting the business. Done the nice way, it's a form of bonding. It's human. A book club where you just talked about the book? Sounds like a wine tasting without the wine!
But to lean in closer for the sotto-voiced whispers that titillate because they're so Brangelina-in-the-'burbs far-fetched? To assassinate a perfect stranger's character based on an angry, illogical rant someone overheard? Please. Promise me that before you pass the deep dish, you'll imagine how you'd feel if you were the main ingredient. Then imagine if your kids were to taste a morsel of it.
Ick.
If you can be certain your tasty dish contains what's purely innocuous, true, and available for general consumption, please pass it my way! But if you're not sure, I know we can find plenty enough other stuff to blab about: the weather, food, weight, bargain hunting, personal insecurities, favorite vacations, our very own life stories….
Here's one more thing we can talk about: My take on gossip. Hypocritical or realistic? What do you do when somebody's girl talk goes risky right in your kitchen? Or when you yourself are hankering to share a tantalizing crumb you've heard? It can be so tempting to  share….