[Previous Suburban Farmgirl, October 2009 – October 2010]
It's summer and I'm welcoming dinner guests who have just moved to my Southern town so – of course! — I decide to make peach-blackberry cobbler. I once had a whole peach tree in the yard to pull the sweet gold from, but now I have to hit the Farmer's Market and pay for them. Luckily I do own another key ingredient: a magical pink recipe card on which a friend's mother, a native North Carolinian, once wrote down for me the best fruit cobbler recipe ever.
My problem is that I am a slipshod follower of recipes and a hopeless improviser.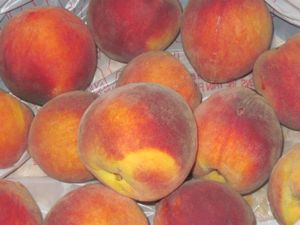 First, the peaches. I didn't think to bring my camera to the market (where I also nabbed the year's best heirloom tomatoes) but here's my market basket loaded with them: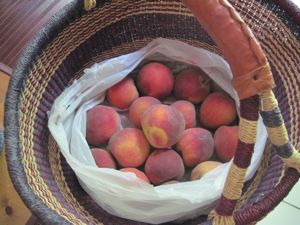 I was worried they wouldn't ripen in time (Saturday morning to Sunday afternoon) but the farmer assured me that these would be, especially if I chose the ones that were darker red. They did!
First let me walk you through the basic steps of the recipe. Then I'll tell you what went wrong…and right!
I call it a magic cobbler because I'd never mixed fruit-dessert ingredients in this order before. Being a native Michigander who knows her apples, I tend to make all my fruit cobblers the same way I whip up apple cobbler (which some folks call a crumble, I think). I pile fruit in a pan and then cobble together oats, nuts, spices, flour, brown sugar and butter to crumble on top. Not this cobbler.
For this Southern-style Fruit Cobbler, first you melt ¼ cup butter right in your baking pan. (Note: this recipe calls for an 8×8 pan but for my dinner guests, I doubled everything.)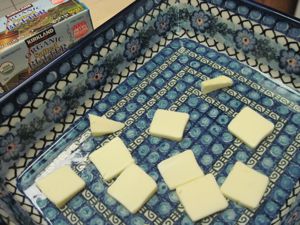 Then sift together ½ cup flour, ½ cup sugar, 1 tsp. baking powder.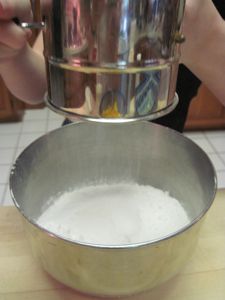 Add ½ cup milk. Stir. Batter will be thin. Pour batter into the pan with the butter.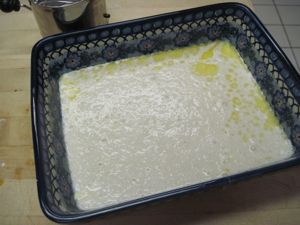 NOW add the fruit on top – two to three cups. Bake at 400 degrees for 30 to 45 minutes. As it bakes, the batter rises up over the fruit, which gives it a golden crust with luscious sneak peaks of fruit showing through. Yum!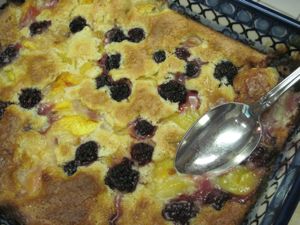 Except….While this foto shows a lovely crust, in close up, some parts also looked suspiciously whitish and doughy. "It's ruined! What did I do wrong?" I whined as I poked one end.
And now, true confession time: As my 13-year-old approached with a spoon to join me in what she mistook as demolishing a bomb, I shrieked. "Don't touch it! I have to make it look like it was a good cobbler, not a wreck, for my blog!" (See, I was intending to write about a success story…).
Where did I go wrong? Doubling the recipe? Using sugary peaches instead of sticking to the berries the actual recipe calls for, which make this dish impeccable? (I've never made peaches the main fruit. Then again, I never really measure the amount of berries, either.) Not bake it long enough? (I left it in an extra 15 or 20 minutes as is!)
At any rate, I had no time to whip up a replacement. Dessert was going to have to be ice cream with a few of the cut-up leftover peaches, and blueberries. Not a bad fallback, but not cobbler!
After serving up a satisfying summer dinner of green salad with chicken, fruit salad, and parmesan-tomato-basil pasta salad (basil being my other score from the Farmer's Market), I made a joke about my good intentions with the wouldabeen cobbler.
One of my guests – who grew up in the Peach State (Georgia) — took one look and firmly declared that her mom's peach cobbler always looks like that, and it would be fine to eat.
So…we did!
And 'twas tasty!
Today's cooking lesson:
·      Appearances can be deceiving
·      It is okay to improvise!
·      Don't ditch a failed dish until you've tasted it – or made a joke about it to your guests.
·      Don't lie in your blog. Telling the whole truth gave me lots more to say!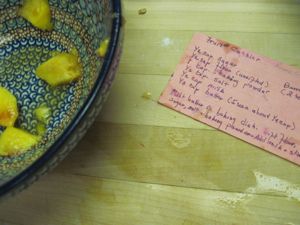 Thanks, Maura's mom!