[Previous Suburban Farmgirl, October 2009 – October 2010]
The best feature of my new rental house is one that didn't even appear on my list of search requirements. (That would be the list that consisted of exactly three items, none of them aesthetic: enough bedrooms, in current school district, and affordable.) The bonus feature I now can't live without?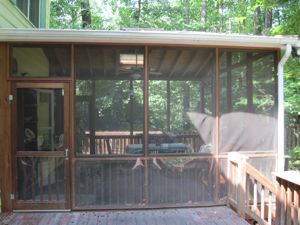 My back screened porch.
Let's pause here to remember this house is in North Carolina. Where the highs have been holding steady in the 90s. I love to be outside, but much beyond 82 degrees, I'm sorry but this native Michigander just isn't gonna do it.
On my porch, though, I can be surrounded by trees, feel the breeze, but also be shielded from the boiling temps – and the mosquitoes!
I'm a screened-porch newbie. My last two houses had back patios – perfectly fine concrete slabs, but not outdoor-rooms with greenery for walls and a tin roof to magnify the nonexistent rain and a wood door that makes a satisfying slam. I didn't grow up with a screen porch, either. (Though one magical summer, Dad set up a large screen tent in the backyard where I obsessively re-read Nancy Drew and played hours of Scrabble and a word game on scratch paper called "Pica Famma Zilch" — which I'd love a refresher on, if anybody else knows how?) (It's the first time Google has let me down!)
This house's owner sang the virtues of the screened porch when I inspected the place, and said his family spent all their time there. We signed the contract there, in fact. I could hardly pull myself away to go home and pack.
I've sat in my new living room exactly once, last night, to watch a movie. And I hang out in my bedroom for exactly seven hours a night, six and three-quarters of them horizontal. But the porch? Bliss!
In the morning, before anyone else is awake, I breakfast there: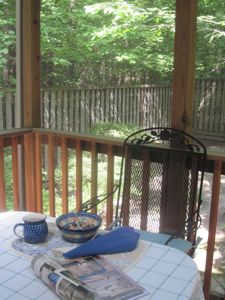 Then at midday, I break for my lunch. (Same scene, different food!)
Sometimes I work there to get a change of scenery from my desk; it picks up the wireless. (Arty shot by passing young photographer.)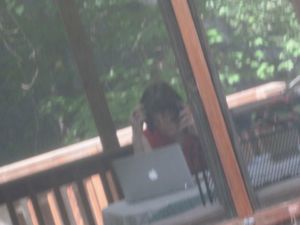 This being summer various children gravitate there all day. Even though it has no TV, videogame, or permanent computer! So far they've ignored the shelf I stocked with board games. (Pride and Prejudice: The Game or Pokemon Edition Monopoly, anyone?) But they hang with friends, play guitar, and making my heart sing, they actually…read!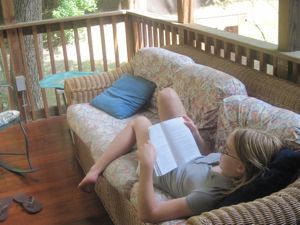 I haven't been in the house a month, but we've already had a birthday party here: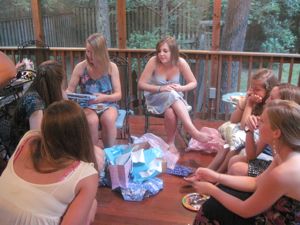 In this part of the Southeast, the big thing is decks. In other places, I know they love their patios or their balconies or their wrap-around porches. (That's my secret love, one of those wide porches with grey-painted floors and faded floral cushions, preferably with a water view!) I know MaryJane loves her outdoor room – literally outdoor, no floor, no walls – complete, when I saw it awhile back, with a bed, a big bathtub, table and chairs, and a few scene-stealing wandering chickens.
But I'm satisfied with my porch. Any suggestions on how to make it better? More plants? Rug or no rug? A bathtub and chickens might be a little much, but anything else, I'm open minded!