[Previous Suburban Farmgirl, October 2009 – October 2010]
Anybody remember Holly Hobbie? Not the annoying biker-capped cartoon reintroduced a few years ago that your daughters or granddaughters of 2010 might know. I mean the original, blue-bonneted American Greetings version, who was created in the 1970s by an artist actually named Holly Hobbie.
While my friends were grooving to eight-tracks of Andy Gibb, crushing on David Cassidy, and borrowing their big sisters' Lauren-Hutton-style Qiana shirts, one of my favorite pop-culture icons was a girl in a patchwork apron. Yes, that would place me a few bean rows beyond squareness. Call me a late bloomer. Decoupaged Holly Hobbie pictures (gifts made by my friend Jinny — there's a HHish name) hung on apple green walls of my bedroom, next to cornflower blue gingham curtains. There may have even been dried flowers in a jelly jar on my nightstand, where Tiger Beat or Seventeen should have been. I may not have been a hipster, but I was a farmgirl before my time!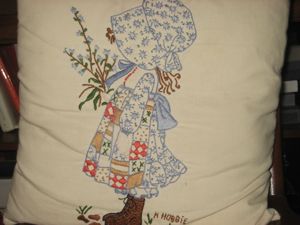 My mom embroidered a HH likeness onto this pillow for my daughter, Eleanor, seven years ago during her "Little House on the Prairie" phrase. When, lacking the attachment to the character that I had, she outgrew it, I snatched the prairie girl for prime display in my office.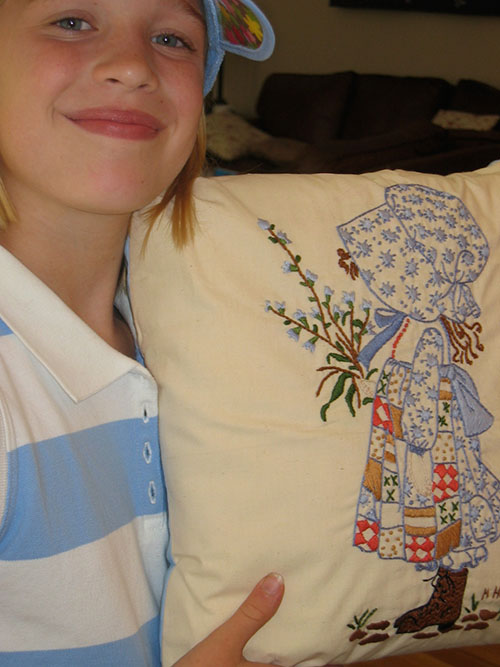 HH had captivated me from the minute she showed on cards, stationery, calendars. I even had the rag doll. (Though unlike my Barbie, Skipper, and Monkie, I lost her on the road to adulthood.)When I was in junior high school — junior high school! — my mom had embroidered the images on this muslin shirt she'd made me, which I wore constantly. Even then I knew the work was special enough to save, and when I unearthed it from my cedar chest a few years ago, I wore it again, equally pleased by the familiar old image, and simply that it fit.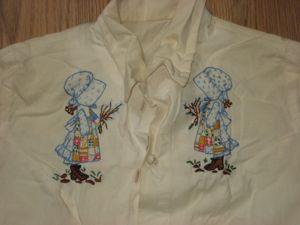 I was even HH for Halloween one year (holding that doll!):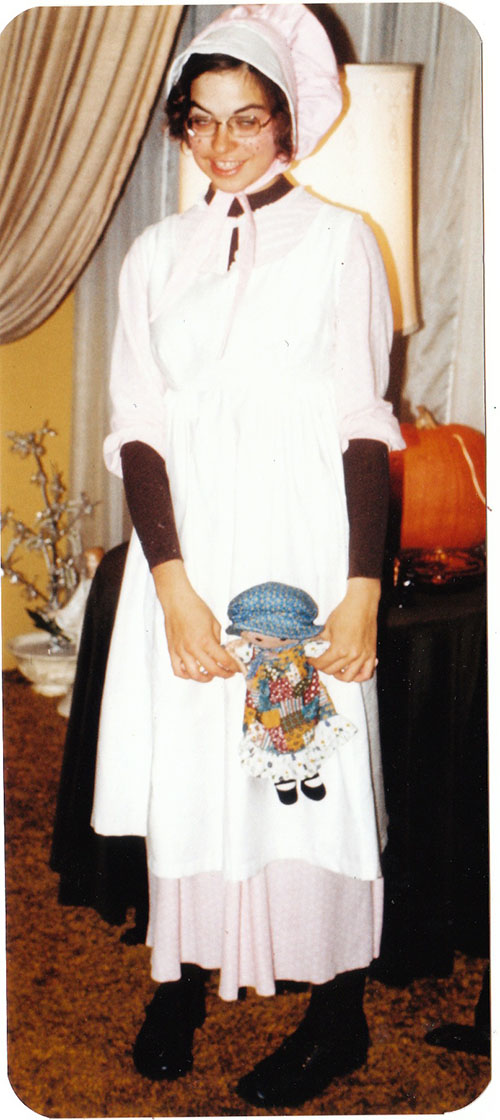 And decades later, here's my way cuter daughter, in another pioneer-girl costume made by our own personal Edith Head, a.k.a. my mom. (She probably used the same Butterick pattern although Eleanor was aiming for Laura Ingalls, not Holly Hobby. That circa-mid-70s shawl was crocheted by my Gram for my ninth-grade dinner-dance ensemble…still have that!)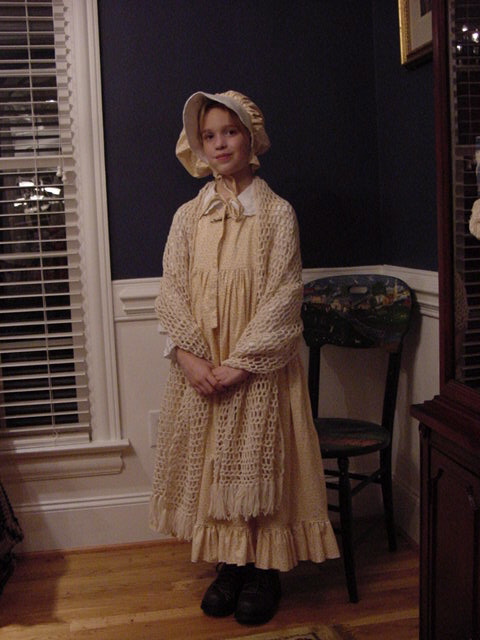 I'm not sure what enchanted me so much about Miss HH. She's an enigma, her face concealed by that bonnet. Could be anybody — even pedal-pusher-wearing, geeky moi — in there. She has that fresh simplicity vibe of the '70s, as if she plucked that sprig of cornflowers while thoughtfully traipsing the countryside. A lifelong fan of soothing blues (even though orange is my favorite color), I've always loved her color scheme as much as the tiny details in the sketch. The patchwork pinafore reminds me of the handiwork I grew up around. The apron itself signals work and purpose, as do those sturdy boots, a style I've always been fond of — fashion be danged. For awhile back in the '80s, during an early job, I took to wearing similar boots with long denim skirts, black opaque tights, and black sweaters (though skipping the bonnet!) maybe a subconscious reaching out for HH's calm fortitude, her pluckiness.
Pluck. There's a great word. Hobs looks a little shy, with her head slightly bowed, as covered-up as if in countrified chador, but you just know she could, with quiet deftness, nurse a lamb or a baby, stitch a wound and a quilt, build good fences and good neighbors, and make one heck of a daisy-chain besides. Looking at her image up on my 1975 wall calendar made me feel like I could do those things, too. Or anything.
Around that same time, in eighth-grade American History, I learned the concept of "manifest destiny" — Americans'  19th-century compulsion to propel ever Westward over the land. It struck a chord of recognition in me, this deep feeling that I, too, had a manifest destiny to keep pushing forward, that some preordained destiny was waiting to unfold for me. ("I can feel it…it's there, way in back," I remember thinking with perfect clarity, paraphrasing a commercial for, I dimly recall, Arm 'n Hammer baking soda used as refrigerator deodorant, of all unlikely images for so grand an idea! Meanwhile I'm sure most of my friends were sitting in the same classroom with Mr. Vandierdonck thinking stuff like, "Is this going to be on the test?" and "Did you see 'The Partridge Family' last night?")
I didn't come from West-settlin' pioneer stock. My genes arrived here by way of Ellis Island and Polish fields. But the can-do-ness and forward momentum of that era spoke to me. I think it speaks to a lot of us, growing up. Some of us are inspired by real relatives. For others, it's via the Little House books. For me (who didn't read Wilder until my oldest daughter was did), it was Holly Hobby.
Corny. But cornflower true.
(Next time I'll jump back to the present as I apply my modern-day can-do-ness to my new house…meanwhile, two sides of a vintage pillowcase from my younger days:)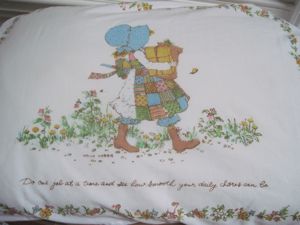 It says, "Do one job at a time and see how smooth your daily chores can be."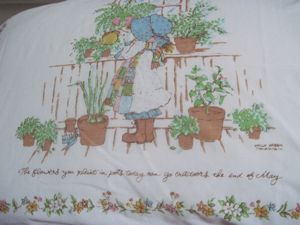 "A flower you plant in pots today can go outdoors at the end of May."
P.S. Happy June!