[Previous Suburban Farmgirl, October 2009 – October 2010]
What does it mean when we keep our old toys in plain view? I don't mean "toys" in the grown-up gadgets/cars/iPods/iPads sense of the word. I mean real toys, Barbie dolls and sock monkeys, right, um, on our office shelves. (Okay, home office.)
As you know, I'm moving. (Found a lovely, happy-yellow center hall colonial, with turquoise shutters and a screen porch — essential for North Carolina summers — on, yes, a quiet suburban cul de sac.) And moving involves lots of unearthing — excavating drawers and attic, seeing your whole life pass before your eyes. I'm now convinced everybody should move every five to 10 years, if only to sort through your worldly possessions and lighten, lighten your load! This, from someone who's truly change resistant.
My friend Alexis, a sociologist and psychologist, says that by getting rid of stuff, we make mental space for the new. Worrying about old possessions, freighting them around, sucks up mental energy. Fourteen trash bags out of my office alone and I can attest to that. Exciting.
But to reach midlife still clinging to your sock monkey? What's that about?!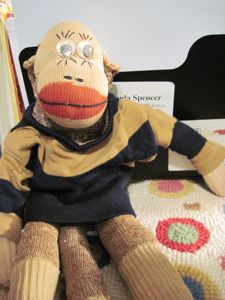 The place where insecurity and security meet, maybe. A reminder of how far you've come, and of what hasn't changed.
I'm no packrat. I've pretty ruthlessly thrown out my four kids' toys as they broke, as did my mother before me. Much of the other things have been cheerfully donated to Goodwill or church yard sales as the youngest outgrew them. The aforementioned Alexis, mother of two little ones, was the delighted recipient this week of the last of the board books and picture books that had hung around. (Goodbye, Who Is the Beast?, One is One by Tasha Tudor, and There Was an Old Lady Who Swallowed a Fly). Or most of the last children's books, I should say. My youngest daughter, Page, is keeping her Dr. Seuss and A.A. Milne collections, and each of the others have their own faves we've put away. Some of my daughter's I Can Read Books — like my favorite Ann Can Fly — have "Paula" carefully crayoned in curvy block letters on their inside covers.
Others in my saved library, like my vast Nancy Drew collection, have never interested any of my girls. (Heresy, I know!) But I display them because the mere sight of their familiar yellow spines (and lots of the older dark green ones) reminds me of my dreams of being big: Driving a speedy roadster, sleuthing with my chums, and having a loyal Ned Nickerson to escort me as needed.
(Alas, I packed those particular shelves before I thought to photograph them, but I know most of you can picture 'em! Here are some other oldies I've hung onto, some from my days playing school — a favorite game that we couldn't wait to play, ironically, on the first day of summer!)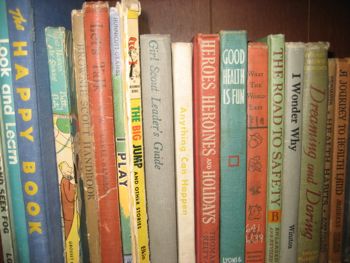 Then there's Monkie, that sock monkey. He's not actually my childhood "lovey." (That would be Tag, the itchy purple yarn dog who vanished in the 1970s.) My mom bought Monkie for me at a street sale in Iowa City, Iowa, during middle school, and when I later went to college there, she made him that snazzy black-and-gold shirt. Yes, ladies, I slept with this Monkie, for years. He knew me when I was the teenager and young adult who had not become anything close to the slim, intrepid, perfectly attired Nancy Drew. He knew me Ned Nickersonless. He reminds me to be grateful for who I've become.
And here's Barbie — a.k.a. June Peterson, my pre-digital avatar who ran a ranch stocked with Breyer horses (later given away to my equally horse-crazy cousin Terri) and published the Tinytown News (all the Patyk girls' doll news you cared to know!), and managed a dress shop (two upright plastic Barbie cases full of clothes made by my godmother, including this snazzy felt bonnet and gingham pinafore over snazzy silk petticoats). I always called her June Peterson, this being back in the day when you didn't buy a whole new doll with a readymade persona — Teacher Barbie, Rancher Barbie, Supreme Court Justice Barbie — just because you wanted a new outfit. She was always engaged, never married, to Brad Bradshaw, my sister's Ken doll with the black molded hair and hard-plastic-abs.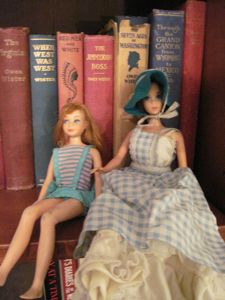 (That's her sister Skipper next to her; no idea why Skipper never got a new name, wardrobe, or identity beyond the one Mattel gave her; guess I only needed one alter ego.)
Talk about a Suburban Farmgirl! June represented the plucky Pernell-Roberts-lovin', Virginian-lovin' farmgirl wannabe inside me during my girlhood. (Note the Owen Wister books behind her.) I may have never become the slim, cool Nancy Drew, but I've come a bit closer with the industrious, country-lovin' June. She sits on my suburban bookshelf today as a kind of embodiment of that mindset, just as the milk pitchers of cut wildflowers on my table do. Just like my gingham tablecloth, my farmers-market tomatoes, my wicker basket of MaryJanes Farm back issues….
Which toys will my kids cling to? Which toys have been speaking to them in ways neither of us yet can fathom? Despite my constant winnowing, there are still mounds of candidates in their closets and under their beds. There are even a few picture books left around. (I have a soft spot for Beatrix Potter and Richard Scarry.)
Maybe this sock elephant, which I made for Page, will hang around another 40 years. (Hint: If you try this at home, use two or three entwined pipe cleaners to get a trunk that doesn't look so sorry!)