[Previous Suburban Farmgirl, October 2009 – October 2010]
…"The nicest thing about the promise of spring is that sooner or later, she'll have to keep it." That's what I write in a card to my old pal Kathleen every year about this time, between our birthdays – well, every year I remember, but it's the majority of the past near-thirty.
I don't even know how our tradition got started. (It's a quote we picked up somewhere.) But since I live in the South, it's a promise that's kept to me before Kathleen, who's lived in Iowa ever since we met there in college, so I figure she can use the sentiment. I heard Iowa had snow last week!
Over here in North Carolina, this first week of spring, I've got daffodils, Lenten roses (below), forsythia, redbud, and flowering trees galore. But it's my psychology, rather than my weather, that's really ready to "break into blossom," as another line of poetry stuck in my head goes.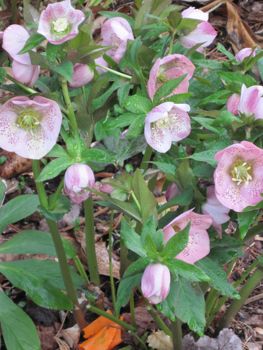 Sometime before the leaves turn brown again, I'll be divorced. I'll have divided household goods and moved households. And I'll have moved further down a professional transition from writing, editing, and speaking about kids and parenting and more toward other things that interest me, now that my four children are in double-digits. Oh and I just entered a mysterious new decade, to boot.
The full picture is still in bud-stage. But that "promise of spring" is definitely in the air.
Transitions — between was and will be — are hard. (And I'm not just talking about first-week-of-spring snows in Iowa.) They tend to be predated by a long, cold, hibernating season involving way more thinking than doing. And even by the tail end of that period…hey bud, not spring yet! That's transition. Transitions demand patience. And try patience. You see the light before you feel its full warmth. You run into a "blackberry winter" or two – a cold snap, after the initial spring warmth, that feels like a step backward but (you're hard pressed to remind yourself) is merely a natural glitch. More patience.
Transitions carry the promise of spring — you can visualize it, almost smell it, almost touch it — but before the new thing actually arrives, you have to content yourself with the frustrating abstraction of it. Think perusing the seed catalogs. Counting the calendar with an eye toward last frosts and your local zone considerations. Maybe buying a new trowel. (Seen those Liberty-print ones at Target from that new collection?!) Marking off that plot of blooms or berries in your mind's eye. Daring to imagine it. And, being no planter, I'm speaking metaphorically here.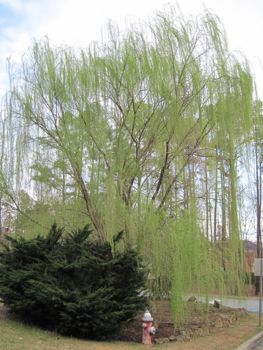 Check out these spring-green willow weeps from this morning's walk. (Isn't the fire hydrant, which I didn't even notice til later, an apt suburban touch?!) Alas my camera batteries went kaput the second I tried to snap an enormous pink saucer magnolia, in full glory. Might try again tomorrow.
Sigh. Must get better at this patience thing. Any tips from those of you in transition…weather-wise or otherwise?