[Previous Suburban Farmgirl, October 2009 – October 2010]
I was an Adam girl. Still am. Always will be, even though Pernell Roberts isn't with us any more. He died this week of pancreatic cancer at 81.
Anna Quindlen famously wrote how her fellow teenagers, circa 1964, were divided among "Paul girls," "John girls," "George girls," or "Ringo girls." The four "Bonanza" stars didn't define and consume my adolescence the way the Beatles did hers, not least because by the time I discovered the show, it was already just in endless re-runs. But among its loyal fans in any year – and I suspect there are fresh ones hatching — there's one Cartwright for whom your heart beats faster during the rotating horseback cameos in the opening credits. You're an Adam girl, a Little Joe girl, a Hoss girl, or a Pa girl.
Joe girls – the biggest group – are the ones who like 'em cute and flirtatious, usually because they're cute and flirtatious themselves. Hoss girls tend to be bold renegades making a statement (it's the equivalent of the "Ringo" pick). Pa girls are mostly grandmothers (mine, for instance).
We Adam girls are different. We long for…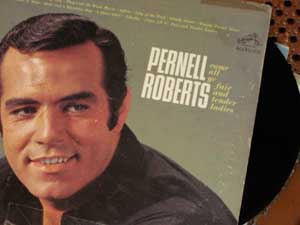 …intelligence and knowing sideways glances. We know a black hat doesn't always mean a bad guy; you have to check closely under the brim. It's a quiet, confident girl – at once old-fashioned and very modern — who's attracted to Adam's broody looks, courtly manners, and unfussy but swooningly sexy Johnny Cash wardrobe. We want that elusive combo, a thinker and a doer. We're not in need of rescue, thank you sir, but you can steal a looong kiss and build us a house any day. (Just don't fall off a ladder and get temporarily crippled so we have to marry your cousin Will instead.)
While other girls pined for Bobby Sherman and Shaun Cassidy, I only had eyes – and ears – for Pernell. That smooth, deep voice! Forget the Beatles. My first record album ever was "Come All Ye Fair and Tender Ladies" — his rendition of
"The Water Is Wide"
beats Bob Dylan's, Sheryl Crow's, James Taylor's, Charlotte Church's or
anybody
else who's ever tried to sing this classic. (It was my youngest child's favorite lullaby, the most surefire tune to lull her to sleep, and I learned it from Pernell — a whole other reason he holds an eternal place in my heart.) At one point, Pernell was a pitchman for Folonari Soave wine, a name that stays with me only because I trilled inside every time I heard the commercials: "If you like Chablis, you'll love Folonari Soave."
Oh yes, Adam, I'm sure I will!
Once, I even made a pilgrimage to Waycross, Georgia, his hometown at the edge of the Okefenokee swamp, about as far from Virginia City as you could imagine. Hot, flat…no wonder he headed West. I once hired a woman from Waycross – though I swear her Pernell connection wasn't the reason, even though her dad was in the same high school class as him!  She got a big promotion the day she brought me the cover of the Waycross phone book featuring their class reunion photo. (Just kidding on the last part; she was one of the more talented people I worked with and became a dear friend!)
"Bonanza" depicted a ranch, not a farm, I realize – and an idealized, cushy (and remarkably well lit for the 1860s!) ranch at that. But the outdoorsy scenery spoke to suburban teen me, writing my angry poems about sidewalks that went nowhere in a 'burb that had been carved out of farmland barely a decade before I got there. "Bonanza" was also my corny introduction to not-at-all-corny cowboy culture, the code of honor of the West, which attracted me like a fly to a horsetail. Rugged individualism. Manifest destiny. Your handshake is your word. For a high school misfit, an independent, romantic life Out West – even the TV Land version – looked like heaven.
Of course, each of us – Adam girls, Joe girls, Hoss girls, and Pa girls alike – was also spinning her own fantasy of being the lone exception there on the Ponderosa, the love who didn't move on with a passing wagon train, die of mysterious disease or arrow, or find a credulity-defying "better" man. Escapism at its finest.
It's such a delight and relief when your fantasy-from-afar turns out to be exactly the sort of fellow you'd hoped. Roberts, a serious actor, abandoned "Bonanza" at its Sierra-high peak because the character development he'd been promised had come to naught. They said it would kill his career but he seems to have stayed awfully busy taking guest-star and stage roles, and then of course starring in another TV hit, the sitcom "Trapper John, MD." He also fought for Civil Rights and cooked a legendary cioppino. He skipped the cheesy reunion shows. He was his own man.