.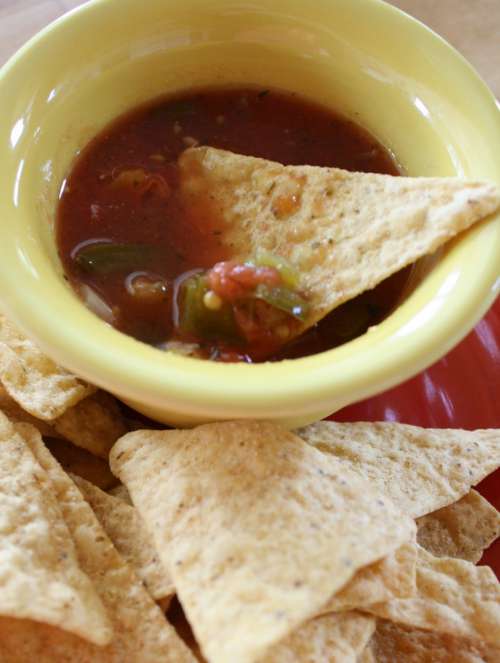 .
Happy Summer farmgirl friends!!
.
I am ridiculously crazy about salsa. I do not prize myself on being any kind of a salsa connoisseur, I just know that I love it.
.
And when you have ugly tomatoes and jalapeños ripening all at the same time in your garden…. you put up some salsa for the winter! Here are my step by step pictures with a printable recipe at the bottom of the post.
.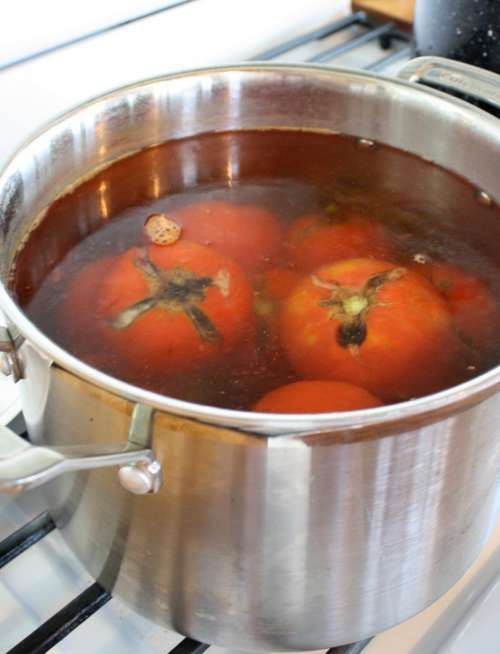 .
Use all your ugly, scraggly tomatoes and place them in a large pot of boiling water. Leave them for just a couple of minutes.
.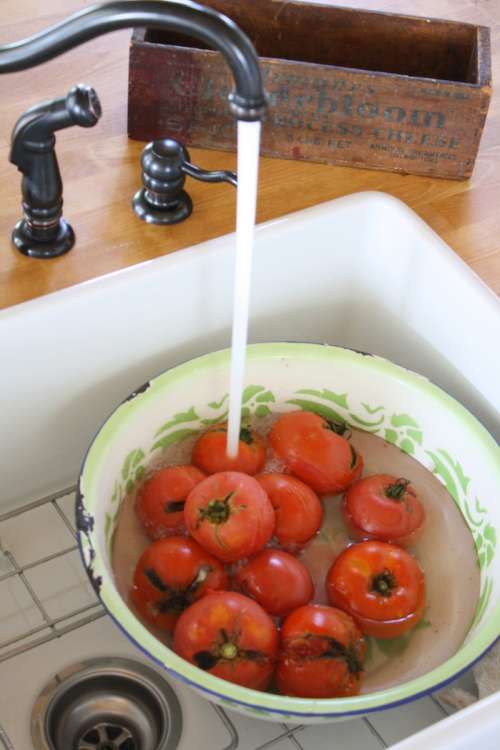 .
Remove them from the boiling water into a large bowl and immediately cover with cold tap water. Cut out the cores and ugly parts and the skin will just slide right off.
.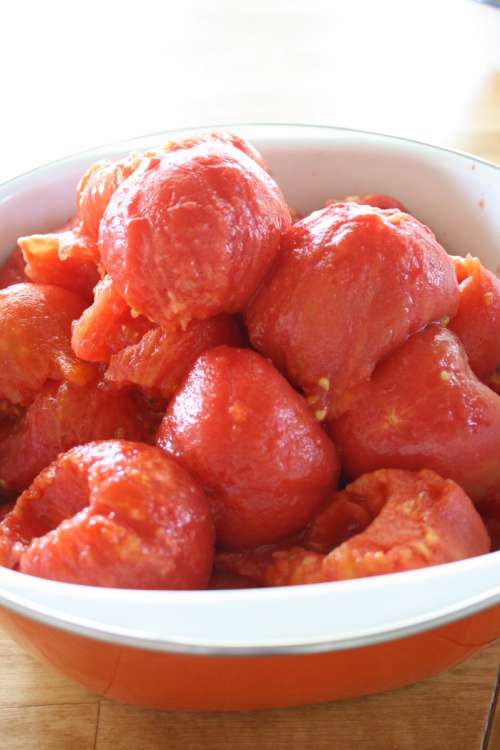 .
And now they don't look quite so ugly anymore!
.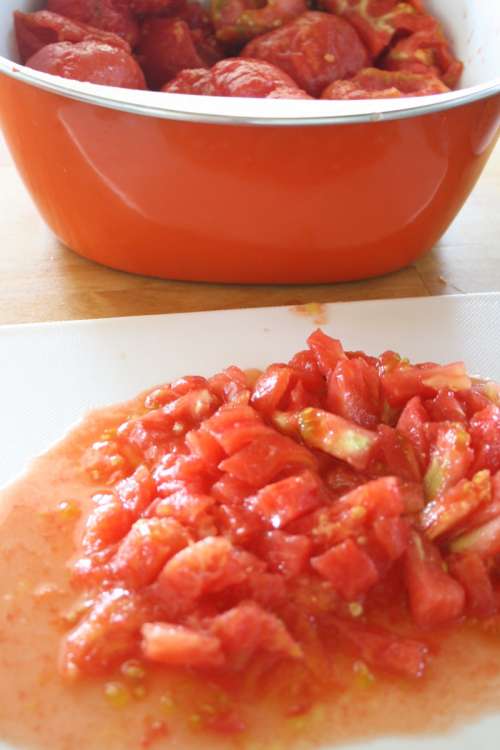 .
Chop them up to the size you'd like. I don't like my salsa to have huge tomato chunks, so I dice mine fairly small.
.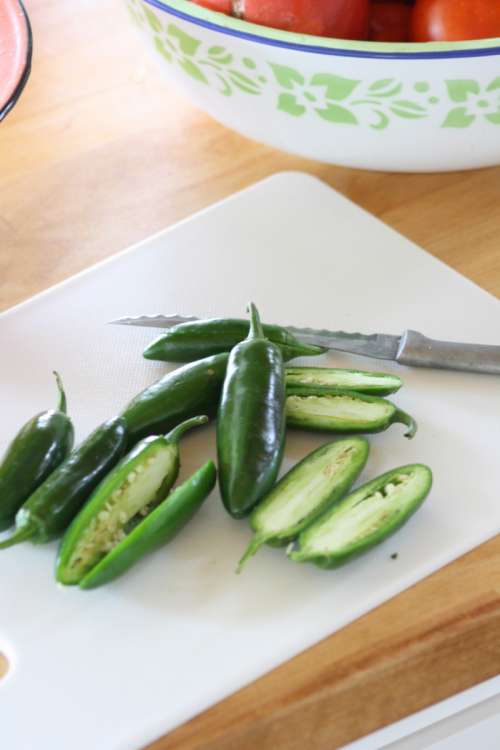 .
Cut your jalapeños in half and remove the seeds. It is the seeds that gives the heat to the salsa, so I leave quite a bit of them.
.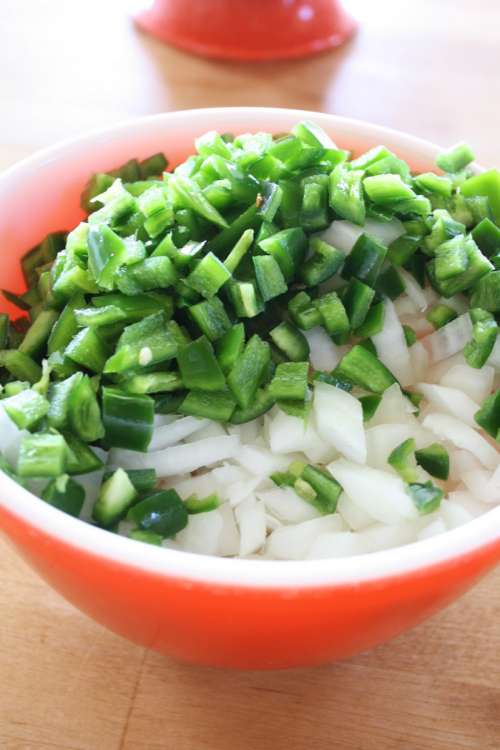 .
Chop them up into small chunks. I cut an onion up to about the same size chunks.
.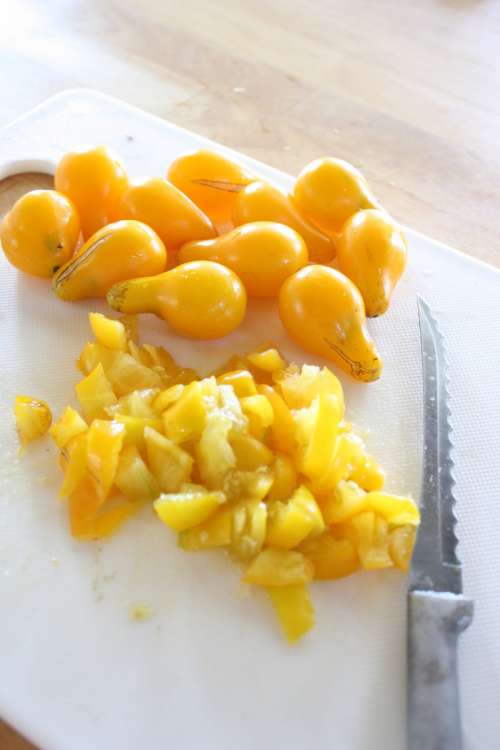 .
.
I had a bunch of these little yellow tomatoes in my garden so I chopped them up (peel and all) to give some color.
.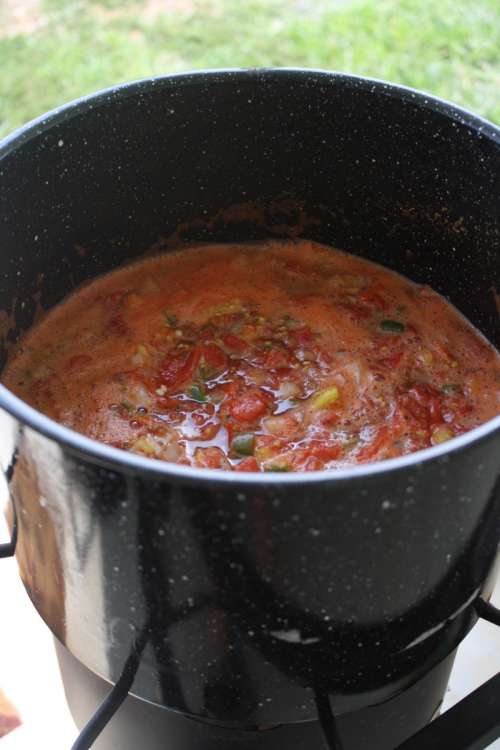 ..
Throw all your ingredients (including seasonings) into a large stock pot and bring to a boil. Simmer for 10 minutes. (I do this outside on my porch. I love setting up an outdoor canning area in the summer time. Keeps the mess and the heat out of the kitchen.)
.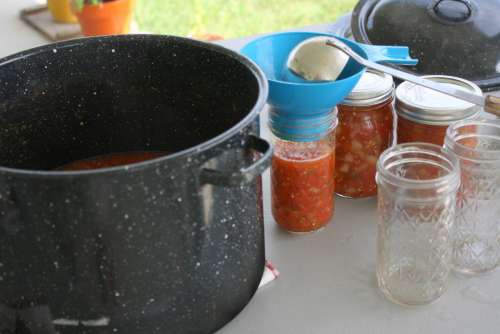 .
Ladle hot salsa into hot jars, leaving 1/2 inch headspace. Place the lids on tightly.
.
.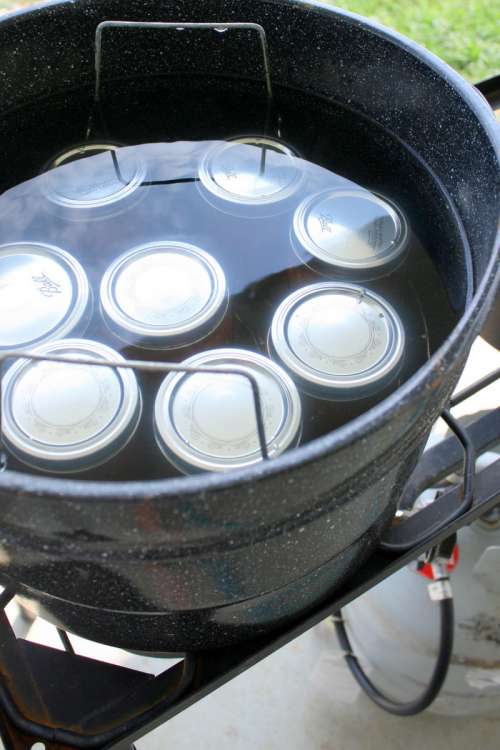 .
Place jars in large stock pot with boiling water. Process for 15 minutes.
.
.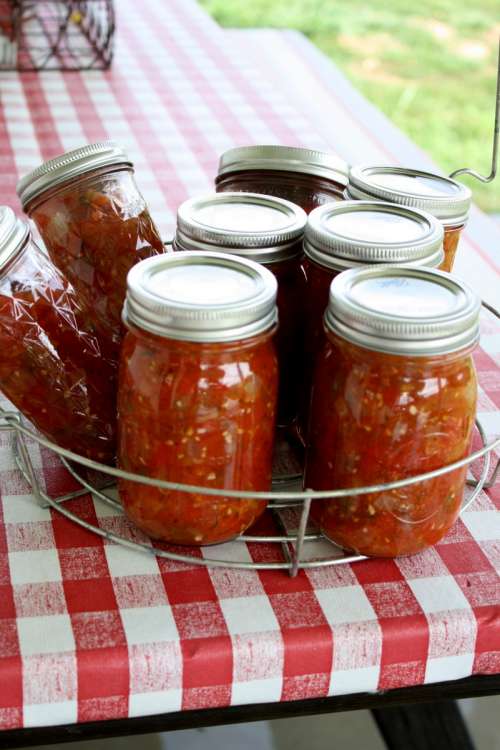 .
Remove from stock pot and let cool.
.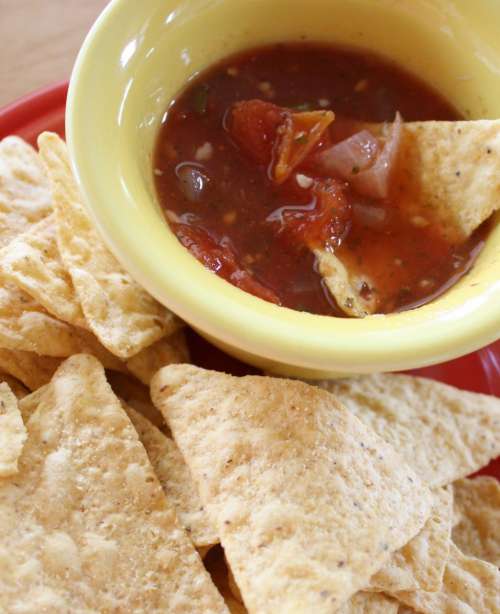 .
And then do what I do… sit down on the porch with a good book and some chips and salsa!
.
..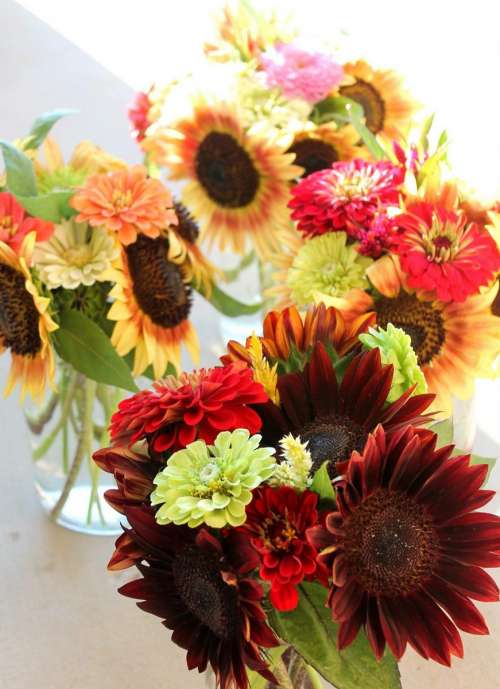 .
Our flower garden is blooming profusely and my daughter and I (and our customers) are loving all the gorgeous blooms!
.
I hope your summer is going well and your gardens are producing bountifully!  Until our gravel roads cross again… so long.
Dori
.
P.S. Printable salsa recipe below!
,
Jalapeño Salsa
Servings: 6-8 pints
Difficulty: intermediate
Ingredients
5 cups peeled, cored and chopped tomatoes
1 cup chopped jalapeño peppers
1 cup chopped onion
3 cloves minced garlic
2 tablespoons minced cilantro
2 teaspoons oregano
1 1/2 teaspoon salt
1/2 teaspoon cumin
1 cup cider vinegar
Directions
Combine all ingredients in a stock pot. Bring mixture to a boil. Reduce heat and simmer for 10 minutes. Ladle hot salsa into hot jars, leaving 1/2 inch headspace. Adjust two-piece caps. Process 15 minutes in a boiling water canner.
.