[Previous Suburban Farmgirl, October 2009 – October 2010]
I'm a sweater girl. Oh, I'm devoted to my sturdy, throw-it-on, functional fleece. But there's nothing like thick wool or supersoft cashmere to make me feel warm, cozy — and something extra. Classic, maybe? Distinct? Stylin'? Many of my sweaters were knit by my gifted late mom, adding a whole extra meaning to "warm-and-fuzzy."
What I really like about hand-knits: Their personality! Nobody else has a sweater, scarf, vest, etc. just like it. And when the knitter goes that extra level beyond basic to create something with a story — it's magic!
So now that the weather's cold and I've hauled out the woolies, it seems like a fitting time to share some standouts from my Witty Knit Hall of Fame: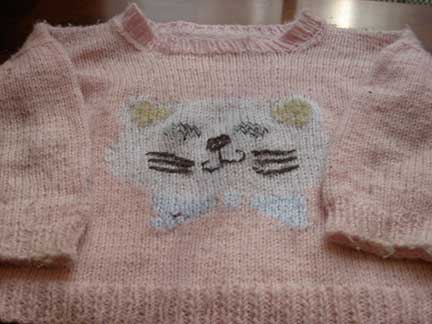 Animal faces!
The above sweater was knit for my daughter when she was in a big kitty-lovin' phase (we don't have any – I'm allergic!). It reminds me of the sweater I had in high school that featured the face of our dog, Butch. Mom used rabbit-hair-angora yarn for Butch's face, making it more realistic. My sister and I used to fight over that sweater. She must have won, because I can't find it anywhere! What a great way to commemorate a friend's favorite pet or horse!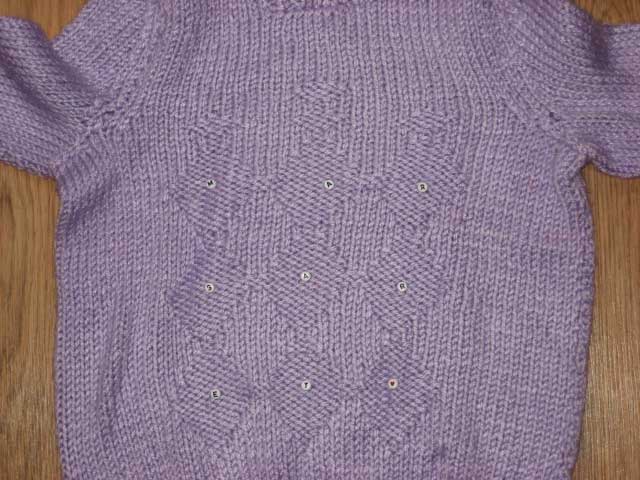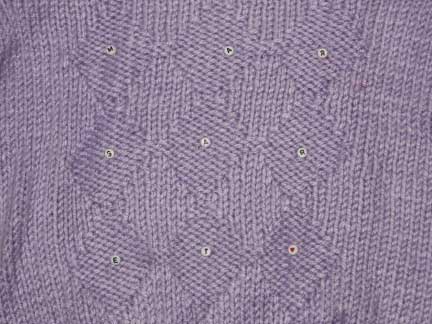 Personalized!
Don't know if you can really see, but the little decorative buttons in the above sweater actually spell out "Margaret," my daughter's name. Made it a little tough to hand down to her younger sister, but on the other hand, Margaret has a pristine keepsake.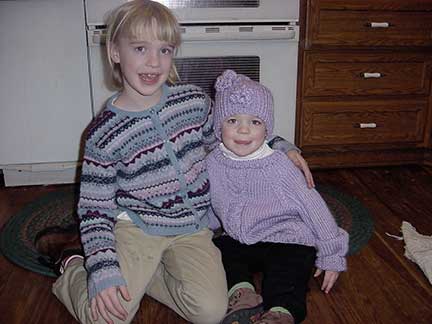 Matching sets!
Working in that same purple yarn, Grandma knit a matching sweater and hat for Margaret's little sister Page. One of the last sweaters Mom made for me, a big fuzzy blue pullover, had a long matching scarf. Her other trademark: mitten-hat-scarf sets. You could spend a fortune buying such a thing, and it probably still wouldn't coordinate with your coat as well. (Excellent Christmas present idea, o similarly talented farmgirls!)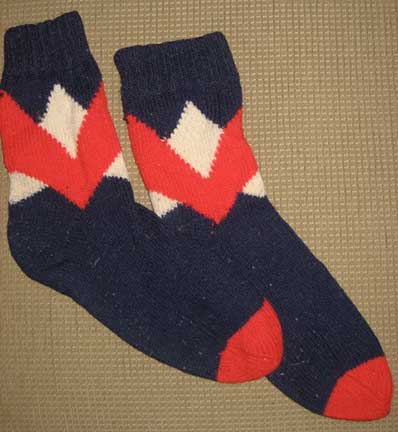 Romanced!
My mom knit these argyle socks for my dad when they were courting. The story goes that she knit him socks and a matching tie, I think for Christmas, and he promptly proposed. (Tie has vanished.) What man in 1949 could resist a woman who can knit argyle socks?! Snazzy!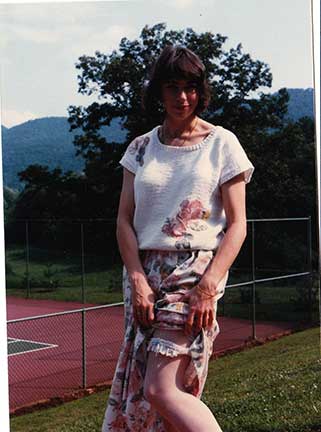 Appliqued!
Pardon the pose, but it's the only snap I could find of one of Mom's strokes of genius: My going-away outfit (1987), a cotton sweater adorned with flowers from the chintz that my countrified bridesmaids' dresses with a skirt of same fabric.
What I love about this is that the possibilities are endless in terms of what you can appliqué (or as mom also did, cross-stitch, embroider, or knit) on a plain surface to individualize it.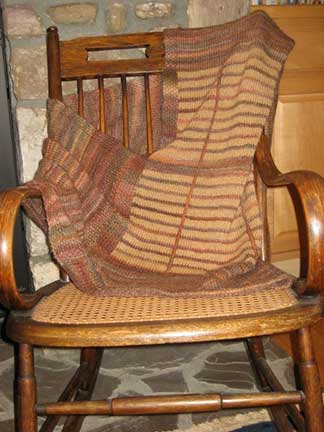 Clever shapes!
Before there was a Snuggie, there was this poncho-style wrap (above) Mom knit for me using this gorgeous yarn. I like to pop it on and wrap it around me when I sit and work in my chilly office.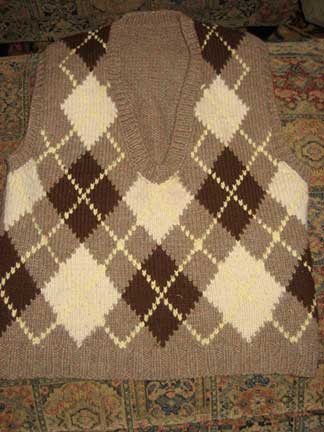 Snazzy patterns!
Believe it or not, this argyle vest dates to my college days! If you're an advanced knitter, why not show it off?! What amazes me about people who knit (or make anything, really) is how they can pour themselves into it for so many hours, and then just give it away!! My mom was famous for making sweaters or afghans to thank nurses in my grandmother's nursing home or the nice lady who helped them lease a car or neighbors or friends — or anybody!

Luckily, I managed to save a few!
Okay, here's where I have to admit…that I can't knit myself. I grew up among women who had needles clicking as they watched TV, played Scrabble, sat in the car, or just visited one another, and I confess I never paid one bit of close attention. Learning is on the top of my To Do list. Is it a hard skill to pick up? Has anybody taken it up late in life? Should I start with crochet and stick to bulky afghans? I appeal to your collective experience – and if you have a witty-knit Hall of Famer of your possession, please share a description of it: We're all ears! Click, click, click…