I knit, sew, and craft; I recycle, grow organic herbs and veggies, and flower garden. I do canning, bake bread and make just about everything from scratch. I crave the outdoors.  But there was something missing…something that would make me feel like a real farmgirl… having chickens!  Backyard chickens have been my dream forever, having even blogged about "chicken envy"! Now I'm crossing "chickens" off my bucket (pardon the pun) list.  As a new "chicken mom" of four adorable chicks, I'm elated. Feed stores in Connecticut don't sell chicks this time of year. How these chicks came to be is an interesting tale….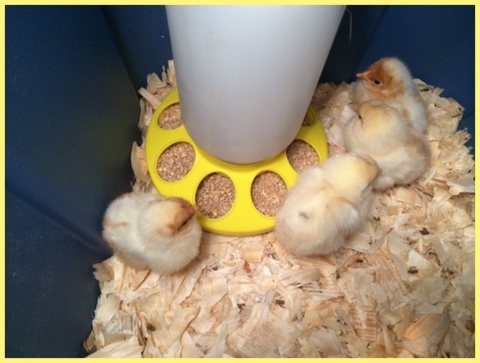 Recently, my friend and neighbor Susan called, urging me to phone our friend Giselle.  "She's got chicks!"  Susan's been teaching me about chickens for awhile, and I've read many chicken books, researched coops, and talked to my town to see what regulations, if any, exist.  I've dreamed of fresh eggs and sweet little hens purring around the yard while I pull weeds or tend my garden.  I was planning on chicks this spring…here was a chance to get started now!
I've known Giselle as long as I've lived in my neighborhood.  The Grahams are some of the nicest folks you'll ever meet.  She's a busy lady; having raised a beautiful family, she also gardens, cans, and is a very well-known and respected Golden Retriever breeder. Her dogs are some of the sweetest, most beautiful pups!  Jimmy Fallon's dog is one of Giselle's, and her pups have been featured on his show four times so far. She also has her own line of fresh organic dog food.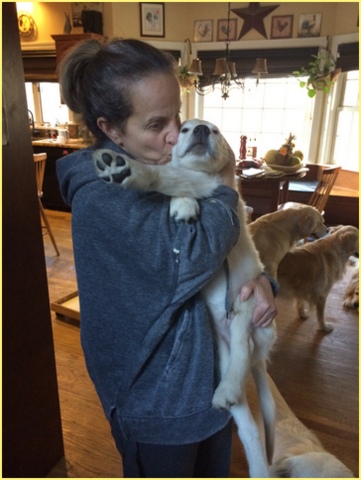 Giselle's had backyard chickens for almost four years.  Recently, her favorite hen disappeared. The family searched for several hours, to no avail.  They assumed a gate was inadvertently left open.  Giselle's lost chickens to hawks before, but not knowing what happened to her favorite hen was really upsetting.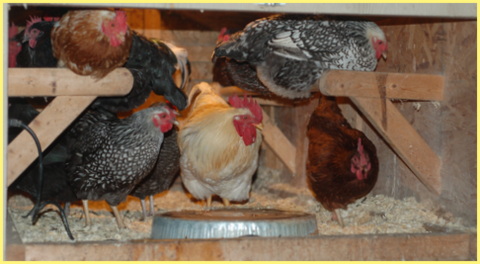 Giselle's flock, all cozy one evening in their coop.  (Photo courtesy of Giselle Graham).
One day, Giselle's daughter, Jennifer, noticed their dogs oddly barking at the chickens and running back and forth.  She thought she saw a small bird near a chicken. She quickly phoned her mom stating she thought she was seeing baby chickens! When Giselle's husband, John, was later mowing, he discovered their hen near the pool shed, sitting on thirteen little chicks.  She'd been missing twenty-one days!
The family learned that Mama Hen had built a nest under an overturned garden table. Blending in with her surroundings, she'd gone undetected when they searched.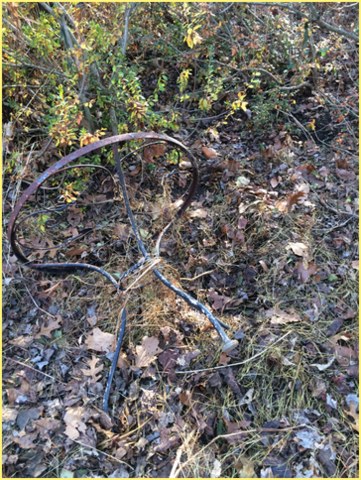 The Grahams found the nest here. (Notice the indentation in the grass).
There were fifteen eggs total. Miraculously, thirteen hatched, during some very cold Connecticut weather.  Mama Hen  was moving her babies to the coop, stopping halfway at the pool house to instinctively warm them up.  Nature is amazing!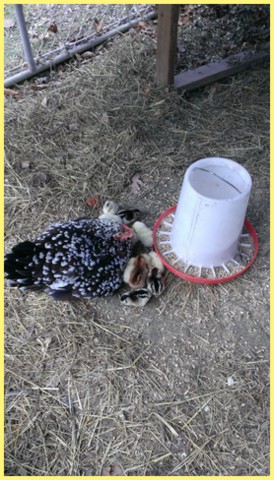 What a good mother! (Photo courtesy of Jennifer Graham).


The Grahams only discovered her nesting place after finding the hatchlings, when Mama Hen headed back to the nest to try to hatch the last two eggs.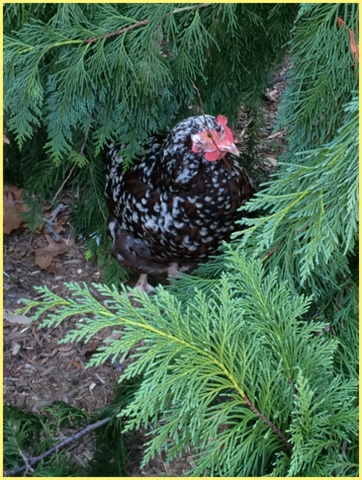 Mama Hen is a beautiful Speckled Sussex, a friendly and good-egg-laying breed.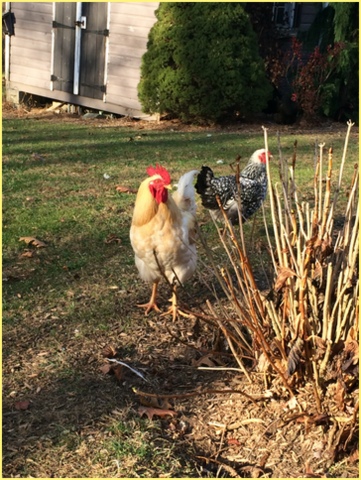 Papa Rooster is a Rhode Island Red/Leghorn cross, a good breed for egg production.

Giselle gave me four chicks, only two days old.  The most important thing at this stage is to keep them warm at all times.  Giselle and Susan recommend Medicated Chick Starter.  When the chickens are older, I'll feed them organic chicken feed.  To start, we placed them in our warm basement storage room, in a large plastic tub lined with fresh shaved pine, along with a heat lamp, feeder, and waterer.
I worried and fussed over them so much the first few days, I was rising in the middle of the night to check on them!  When the waterer malfunctioned, I panicked.  They'd gotten damp, and then into their chicken feed.  I phoned Susan,  "Help! I've got a chicken emergency!"  The chickens looked breaded!
Susan came over, loaning me a waterer until I got a new one. I find placing it on an inverted plate is helpful, as well.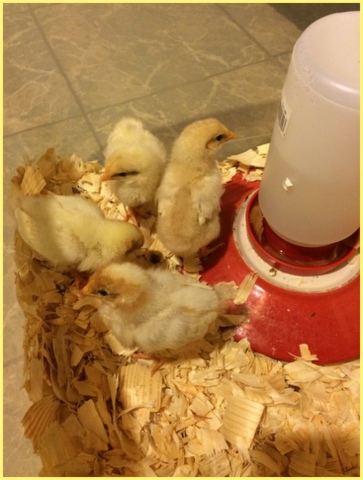 I've relaxed as the chicks have grown. When they first came to us, they were little balls of yellow fluff…sigh. Pure sweetness!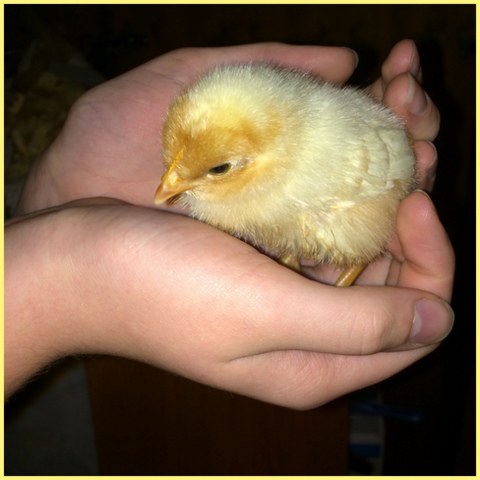 The day after I got my chickens, MaryJane blogged about eating a healthy breakfast of chopped veggies and  fresh eggs  from her hens.  I can't wait to get up and head outside to greet my girls everyday.  For now, they'll stay indoors until the spring thaw. When they get too big for the box, I have a large, converted dog crate until time to move outdoors to their new coop.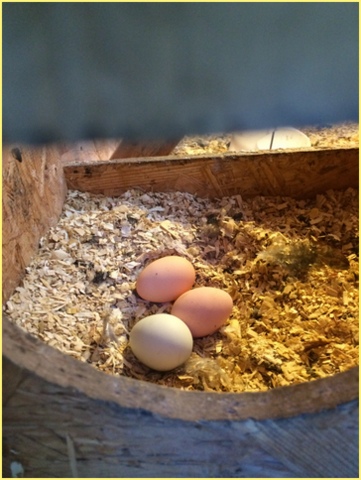 Giselle's flock is made up of different breeds of chicken.  The color of the egg is determined by the chicken.  The little blue egg is from an Araucana hen.
We delight in seeing how they change everyday. Wings and tail feathers are forming. We love their little noises and how they stretch and yawn.  Chicken antics are the best.  Now, I know most farmers don't name their livestock, but we couldn't help it.  Audrey named them Peep, Fluffy, Nugget, and Spot.  Each has it's own personality.  Kim checks on them before he even makes coffee each morning.  It's been a great learning experience for us all.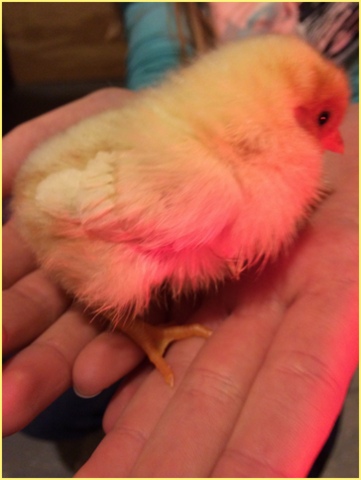 Baby Chicks grow fast!  First we started noticing wings forming. 
By one week, they had doubled in size!  Then we noticed tail feathers.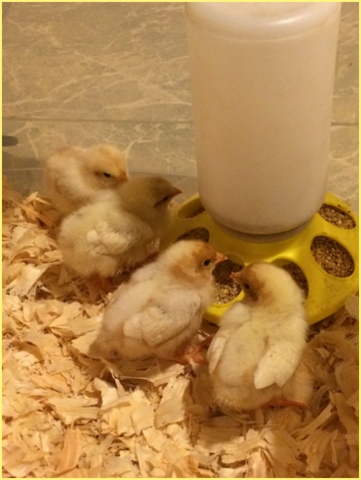 "Did you hear the one about the chicken that crossed the road?"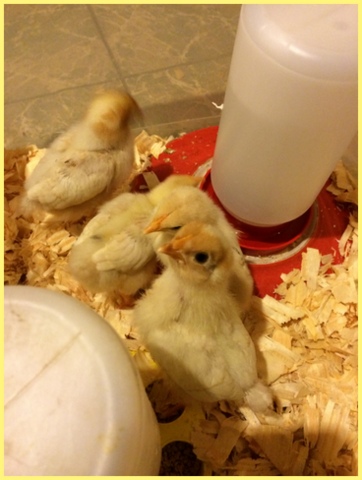 "Hey up there!"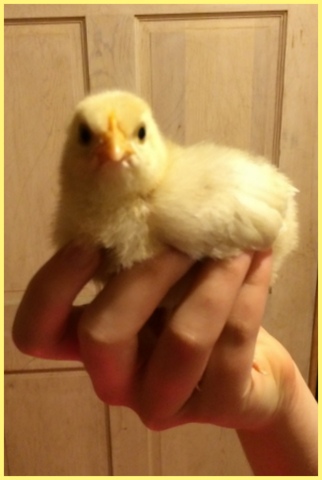 "Enough photos already!  I'm hungry!"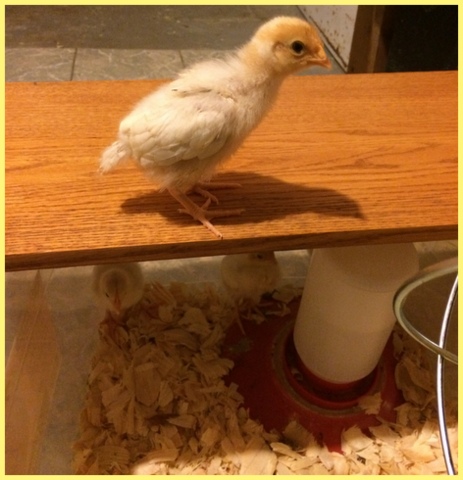 Uh-Oh…
I'm one happy Suburban Farmgirl!  Wishing you a Happy Thanksgiving! This year, I'm so thankful for my dear family, awesome friends, and for all the farmgirls and farmgirls-at-heart, inspiring and encouraging me always.
Until Next Time…Farmgirl Hugs, Nicole