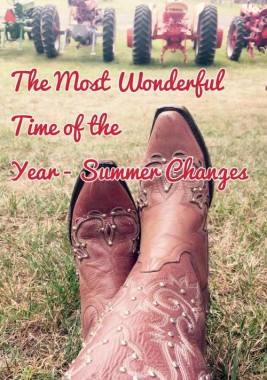 It's my favorite time of the year, as spring morphs into summer! Connecticut winters are often harsh, but summers are really pretty, full of changes! We've been busy bees ourselves making changes- sprucing up, cleaning up, and even adding a new family member!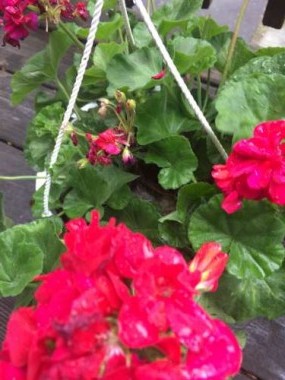 To me, geraniums say "summer" because my mother always had pots of geraniums when I was growing up. I love how low-maintenance geraniums are, with blooms lasting until time to switch them for fall mums. I recently put out three new bird houses, but within minutes of hanging up flowers, I noticed a little bird going in and out of the hanging basket. Sure enough, a mama house finch made a little nest in the middle of the flowers, and another bird created a nest right above the kitchen door, safe and dry in the crook of the drainpipe.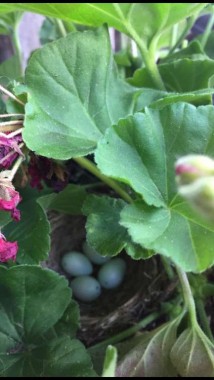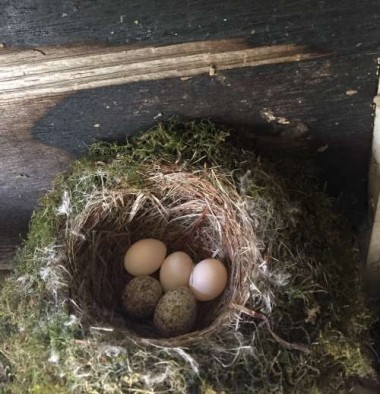 We could see the busy parent birds whenever we sat at the kitchen table.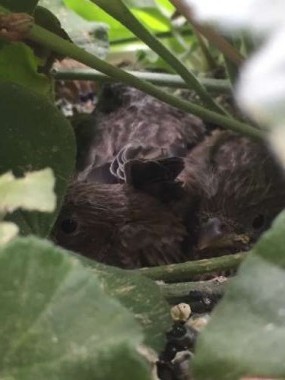 We delighted in watching both families care for their babies, seeing the babies grow and eventually fly away (which meant I could water my hanging plant again)! (Watch a video of mama bird feeding her brood on the Suburban Farmgirl Facebook page Here).
My own flock is happy in their new home. We updated "Foul Knox" after a bad winter storm knocked the covered top off the fencing, and something dug under the run and tore at the coop's roof. When I first got chickens, I didn't know how long I'd keep them. My "starter" coop was worn and no longer keeping the weather out. We bought a new Amish-made coop built like a "real" house, with a sturdy roof and fiberglass floor that makes cleaning the coop a snap! This time we used metal screen fencing on top of the run. Unfortunately I lost two of my hens this past winter (including my favorite, "Nugget"), but the new coop will now hold a larger flock. The chickens are happy and have more room inside and out.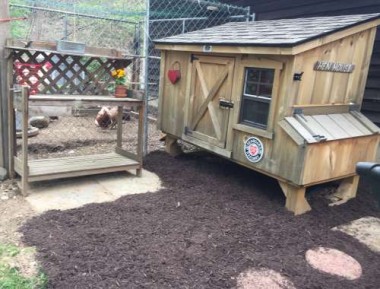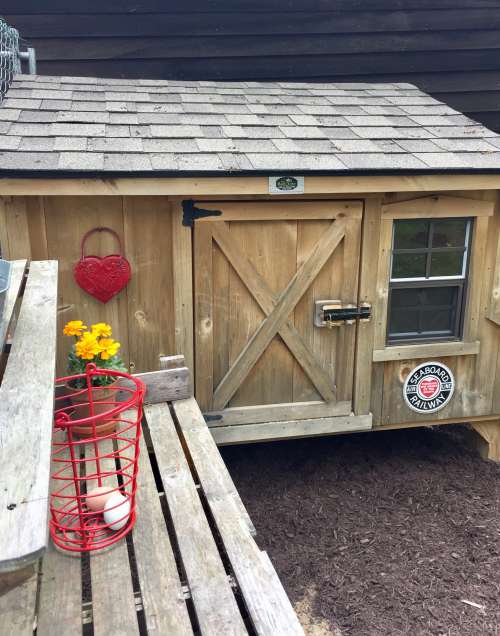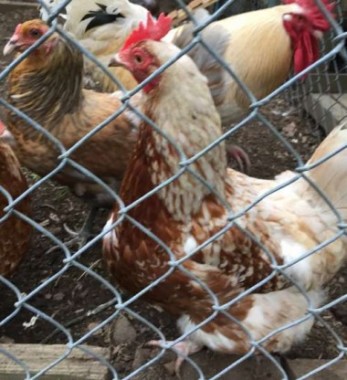 We made a larger, improved vegetable garden. My DH spent many days off building new raised beds, putting mulch down, and installing a new garden fence! He also surprised me with a Sun Joe tiller from Amazon. Connecticut has rocky, sandy loam, and that little electric tiller made light work of it. It wasn't too heavy for me to use, either.
Once the beds were ready, I planted lettuce, peas, heirloom tomatoes, radishes, eggplant, cabbage, peppers, cucumber, and squash, most from seed started indoors this winter. I also planted carrots using organic seed tape – so easy and virtually no thinning! Landscaping cloth and mulch between beds makes life much easier! Basil and marigolds between plants aid in natural IPM. I repurposed old bricks for showcasing potted plants and veggies. Now I just need sun!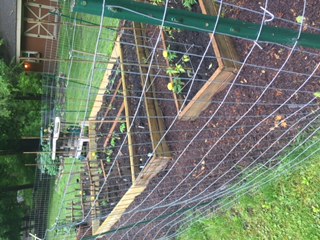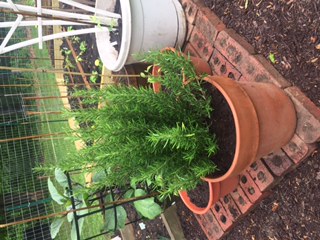 A cooler spring means pretty spring blooms. My lilacs were amazing, as were the bleeding hearts. The peonies have been teasing us with full plants, just waiting to open up. I can't wait for more blooms as the season changes!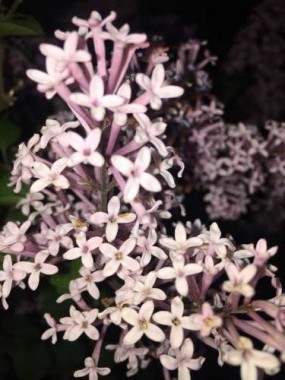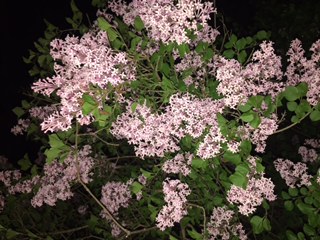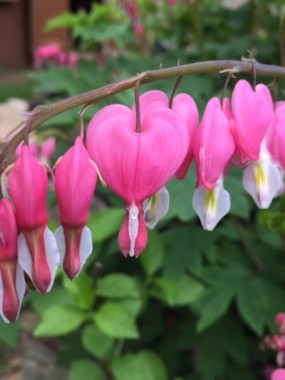 It's been a few years since we built our little fire pit, so I had to rearrange the rocks after the winter. We wanted better chairs than the tree stumps we were using (though cute, stumps aren't great for sitting too long). We found pretty chili-pepper red Adirondack chairs at Home Depot. Sturdy yet lightweight, they're easy to clean, weather-resistant, stackable for easy storage, and at under $20 a piece, a great summer bargain!
Patriotic decor is for summer! From Memorial through Labor Day, I decorate red-white-and-blue, indoors and out.
Patriotic decor looks especially great on our "shabby chic porch". It's my cozy, covered outdoor nook where we eat read, knit, play games, and eat meals al fresco. This year I added a strand of little twinkling lights with camping lanterns for a touch of whimsical warmth. I love morning coffee with my husband and dogs on the porch.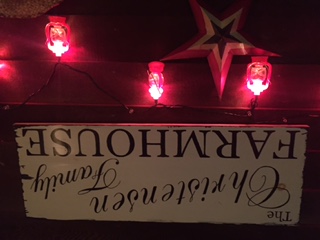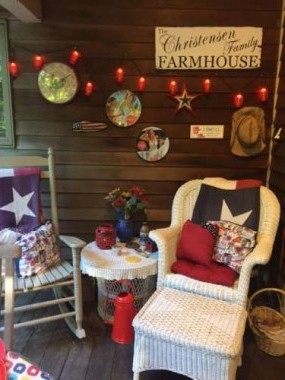 Speaking of dogs, we also recently added one to our little pack! After our Bonnie passed last fall, Scarlett was still missing her playmate (Pip's her buddy, but too tiny to play). After seeing a dog that sounded perfect on our favorite rescue site, we made an appointment to adopt him. Once at the shelter, however, the dog we went to see wasn't interested in us. He was very timid and shy, more interested in what the other dogs were doing then getting to know our family. We felt it wasn't a good match. While trying to spend one-on-one time with him, each of us were drawn to one little puppy in a corner kennel wanting our attention.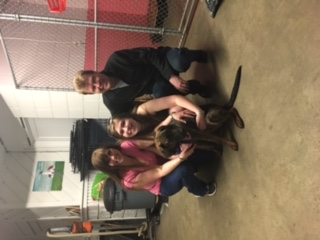 We three were instantly smitten, but Odin really picked us! He fit in perfectly. We love our little boy so much, and Odin and Scarlett are best buddies!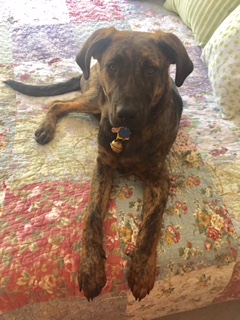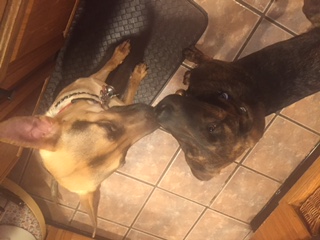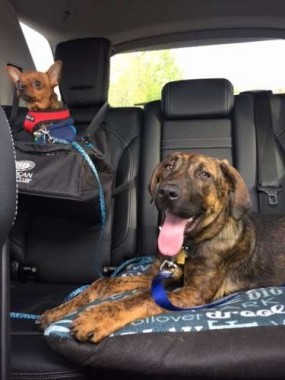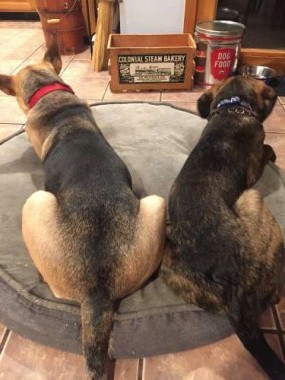 With a bigger garden, a new, six month-old puppy and my sweet daughter having finished her first year of high school (gulp!) now off for the summer, I'm looking forward to a busy farmgirl summer!
I'll be canning, going to county fairs, and relaxing with family and friends! What are you doing this summer? Leave me a comment and let me know you stopped by!
Until Next Time…Farmgirl Hugs, Nicole