Fall is such a cozy, beautiful season, and it's this time of year that New England is in all her glory! In late September, everyone starts setting out colorful mums and  hanging autumn wreaths tied with jewel-toned bows.  Spicy hot apple cider wafts through the air as changing leaves dress the trees in water-color shades of red, yellow, gold and brown.  But the star of fall for me is the pumpkin.  I love pumpkins!  I guess you could say I'm pumpkin-obsessed.  Those plump little orbs of orange, yellow and white make me grin like a jack-o-lantern on Halloween! This fall, I'm thrilled to add "Backyard-Pumpkin-Farmer" to my repertoire!  Come take a peek at my garden, then let's head to the kitchen for some tasty autumn goodies!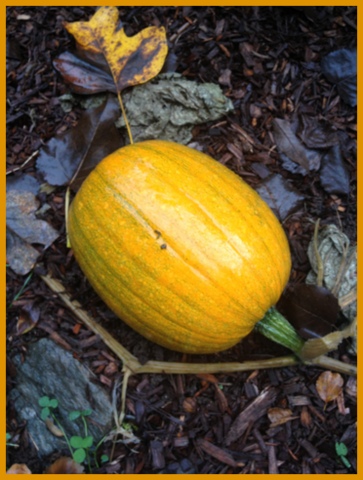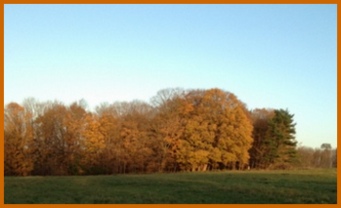 Fall colors in New England are so beautiful.
By  October first, my favorite fall element, pumpkins, start appearing everywhere – on front porches, in shoppers' grocery carts, and as props for every storefront.  Pumpkins are one of the easiest ways to gussy up your surroundings for fall – indoors and out.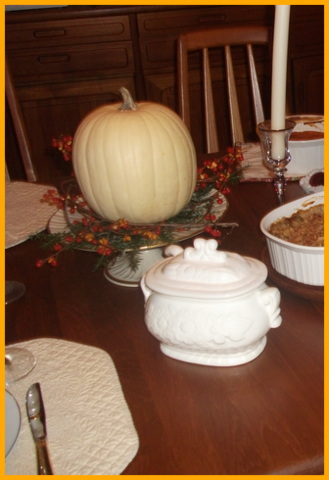 I especially love the white pumpkins for decorating.  Beautiful indoors as an elegant centerpiece at Thanksgiving, and as a porch decoration during the holidays with evergreens.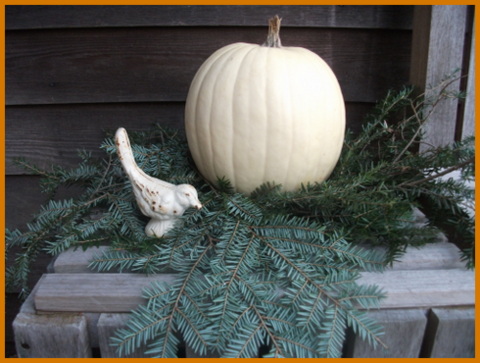 Here in Connecticut, there's several pick-your-own pumpkin patches, and every grocery store has bins bursting with all shapes and sizes. Fresh pumpkins can get pricey, especially when priced by-the-pound. This year, I was determined to grow my own. I bought "Halloween Mix" seeds, which would produce pumpkins in both white and orange.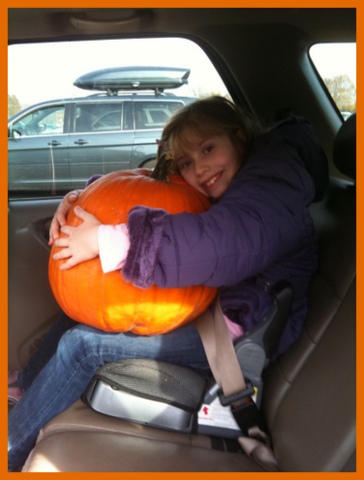 Since she was little, my daughter has adored picking out autumn pumpkins!
It's not the first time I've tried to plant pumpkins, but this is the first year I've had success.  Deer ate the baby pumpkins growing on my vines in years past, or the vines did not have enough room to spread. (I even heard of a man in Texas whose whole patch of pumpkins was eaten by very hungry coyotes)! This year, I planted the seeds directly in the ground in late May, this time in the front flower bed, where the vines could spread out and crawl up into some of the bushes.  Pumpkin seeds and seedlings should be planted on little "mounds", as opposed to flat on the ground.   Pumpkins are in the squash family, so if I saw signs of blight, I sprayed the plants with a mixture of 1 cup water, 1 cup sour milk, and  2 TBSP baking soda.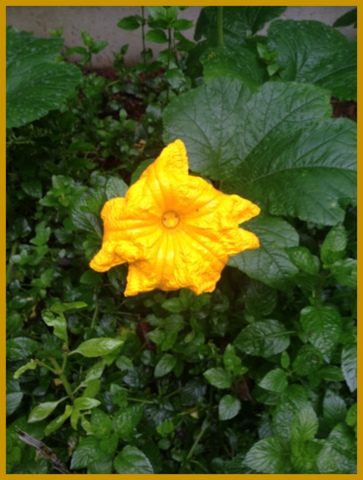 Pumpkin blossoms nestled amongst the mint.
Soon the vines were spreading and growing strong.  Big, beautiful blooms covered the plants, and shortly after we saw signs of baby pumpkins growing!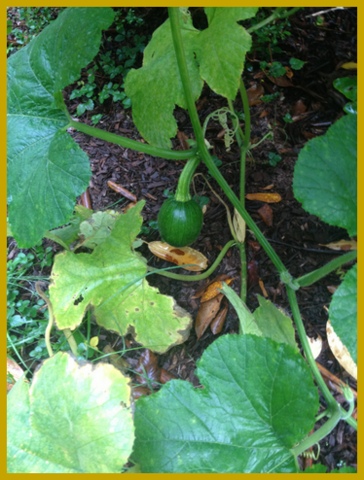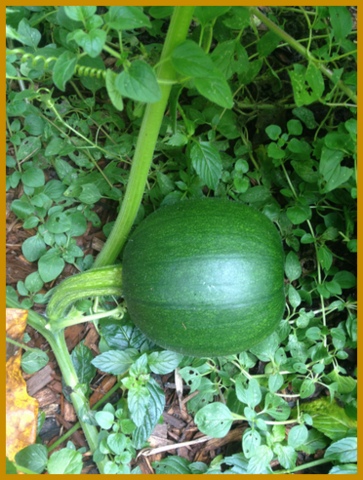 We watched and watered, and were treated to growing pumpkins of white and green.  The white ones, a color developed around 2005, began as white, while the pumpkins that turned orange started as green, then changed to orange as they ripened on the vine. Watching them grow and change each day was exciting.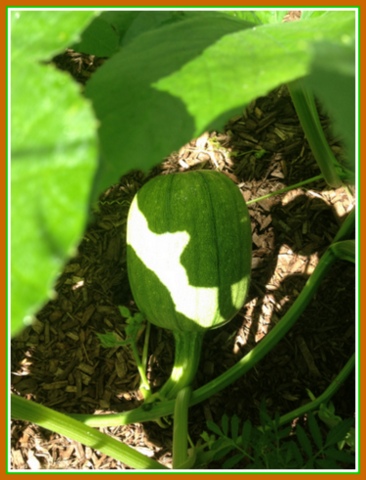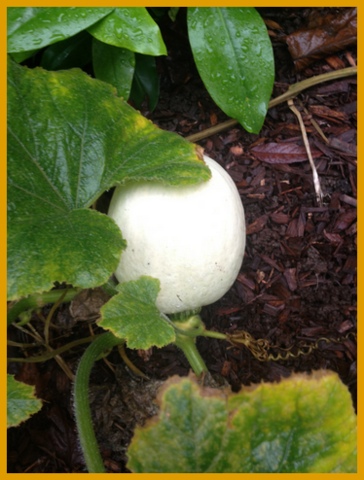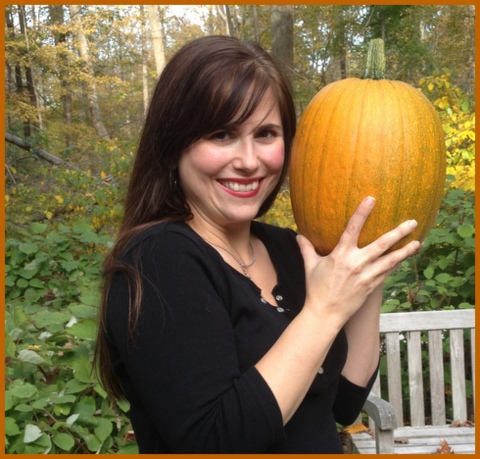 Woo-hoo! I'm with you, Linus.  I love pumpkins!
When it was time to harvest them, we were so proud!  We waited until the whole family was together.  We cut the stems from the vines and have decorated all around. Some pumpkins we will keep through to the holidays, others we will use as jack-o-lanterns and for roasted seeds in the oven.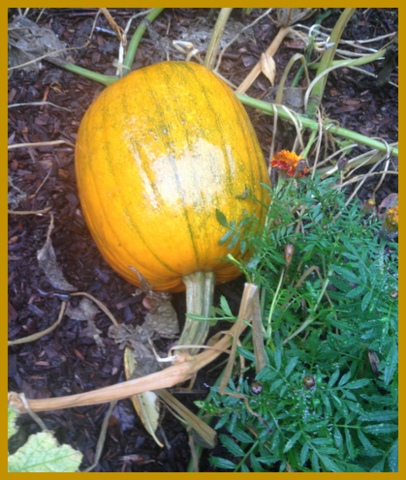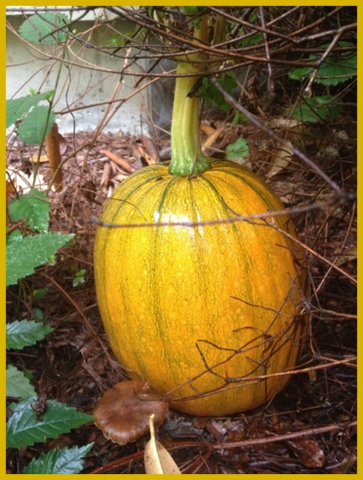 We found this one hiding underneath the azalea bushes!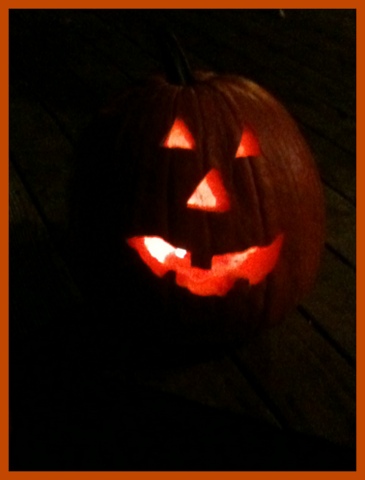 Not only do I love to look at the little round cuties, but I also could eat my weight in all things pumpkin! Pumpkin is my all-time favorite food…pumpkin soup, pumpkin ravioli, pumpkin pie… I love it all. Dirt could be mixed with pumpkin and I'd eat it, (well, not quite, but ya get the idea).
No fall would be complete without my "famous" pumpkin bread!  My favorite recipe makes two loaves, perfect for freezing or sharing with friends. I was even given a special loaf pan shaped like a pumpkin patch from a neighbor who loves my pumpkinbread so much.  As it bakes, I think  "That's what Heaven must smell like!"
Nicole's Famous Pumpkin Bread (Use all organic ingredients!)
3 cups sugar
1 cup vegetable oil OR ½ cup unsweetened applesauce*
4 eggs, lightly beaten
1 can solid pack pumpkin (16 oz)
3 ½ cups flour
1 tsp baking powder
2 tsp baking soda
1 tsp salt
1 tsp cinnamon
1 tsp nutmeg
½ tsp cloves
½ tsp allspice
½ cup water
Preheat oven to 350 degrees. Mix together sugar, applesauce OR oil, and eggs. Add pumpkin and mix well.  In another bowl, sift together flour, baking powder, soda, salt and spices.  Add dry mixture to the pumpkin mixture alternately with the water.  Pour into two greased loaf pans.  Bake for 1 hour, ten minutes.  Cool in loaf pans fifteen minutes before removing from pans.  Cool completely. *For a denser, lower-fat bread, use applesauce.  For a fluffier bread, use oil.
Another good recipe is one from my mom, Beverly.  This is perfect for when I entertain a large group, like my farmgirl sisterhood chapter.
Pumpkin Pie Cake with Cream Cheese Frosting
4 eggs
1 ⅔ cup sugar
1 cup vegetable oil
1 can pumpkin (16oz)
2 cups flour
2 tsp baking powder
2 tsp cinnamon
1 tsp salt
1 tsp soda
1 3-oz package of cream cheese (Horizon brand makes an organic one)
½ cup butter
1 tsp vanilla
2 cups powdered sugar (I have found organic powdered sugar in several stores)
Beat together eggs, sugar, oil and pumpkin until light and fluffy.  Stir together flour, baking powder, cinnamon, salt and soda.  Add to pumpkin mixture. 
Mix thoroughly.  Spread batter into ungreased 15 inch oblong pan. Bake at 350 for 30 minutes. Cool completely before frosting.
For frosting, cream together softened cream cheese, butter, and vanilla. Add powdered sugar a little at a time, and beat until smooth. Frost cake. Serves 25.
ENJOY!!
Tell me..are you a pumpkin fan, too, or not? Do you have a favorite recipe to share? What's your favorite part of fall? Let's chat in the comments section!
Until next time…Farmgirl Hugs, Nicole