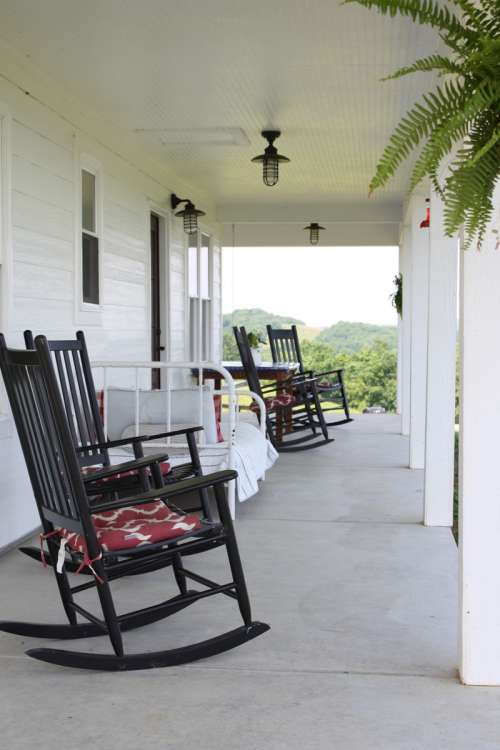 .
Hello friends!  This is my very favorite time of the year – I call it Porching Season!  It is the season that brings the perfect weather for being on the porch – and I love that the porching season here lasts about 6 months!  I made a promise to myself during the winter that I would do better about porch sitting when it got warm!  I'm not a very good sitter, so it is challenging to me!  So today I'd like to welcome you to my home on the hilltop where we can sit and do some serious porching!
.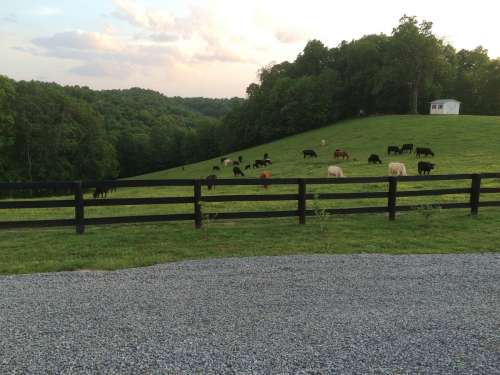 .
When my husband and I bought our farm here in Tennessee, there was no house on the land.  We spent several years (before retiring to our farm) poring over house plans.  There was one common denominator in every plan we contemplated… the house had to have a lot of porches.  We are so lucky to have a beautiful hilltop that has views every direction you look, so porches on all sides was a must.
.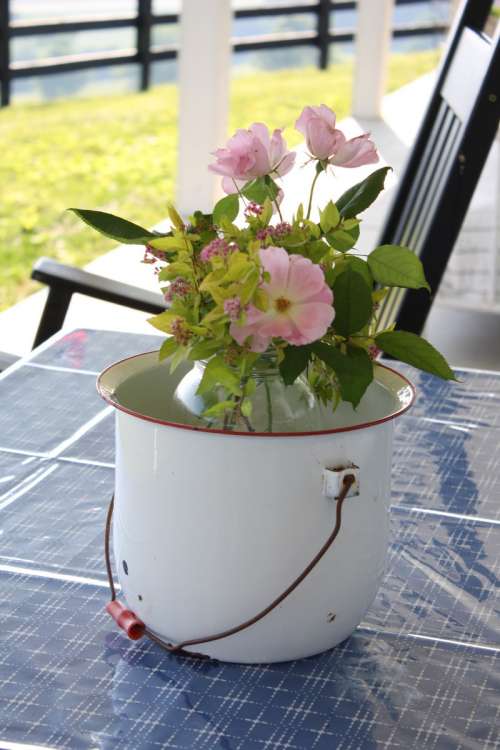 .
Not long after we finished our home and got everything settled the way I wanted it on the inside, I began to turn my attention to the porches.  By that time we had been in the house about 3 months and I became aware of a few very big things to consider in choosing how to furnish our porches.
.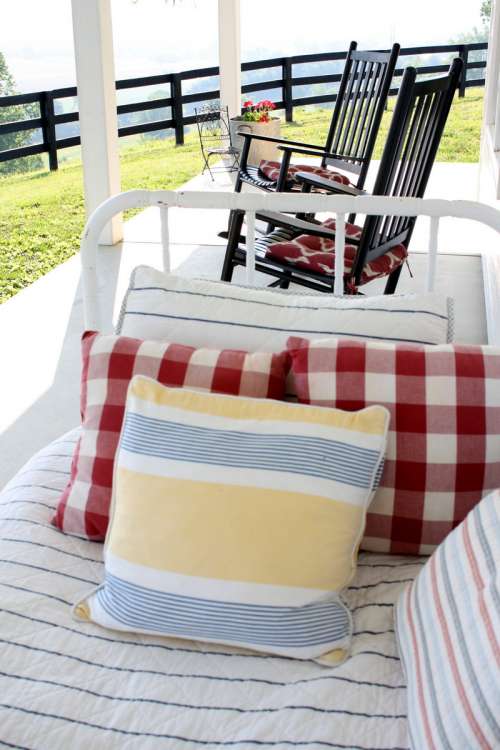 .
#1:  WIND!  We have the most amazing breeze on the hilltop.  It keeps bugs and humidity to a minimum.  But in any kind of a storm that breeze turns to a very heavy wind. The kind of wind that blows things off the porch and down the hill.  It was a shock to me the first time it happened.  So everything on my porch has to have some weight to it to keep it from taking off down the hill.  I do have pillows on my porch bed and on my rocking chairs but those aren't such a big deal to bring in the house when a storm is coming!
.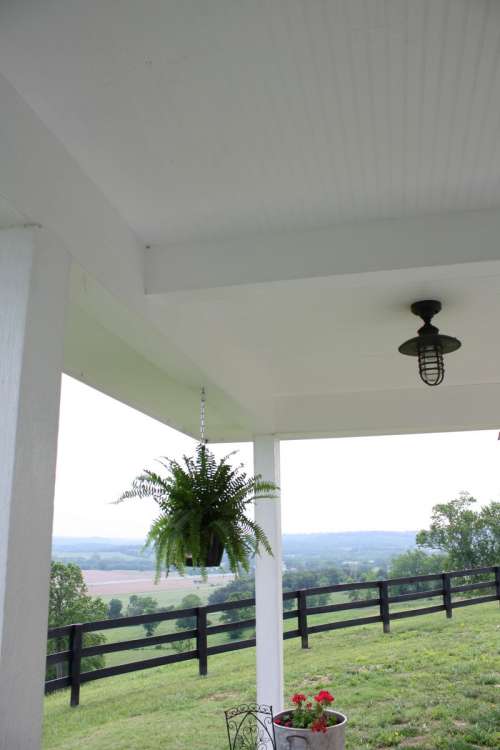 .
#2:  SPIDERS!  Luckily I am not afraid of spiders.  Because spiders love our porches.  I have tried numerous things to keep the spiders away and nothing works.  I've come to the conclusion that the best course of action is my nice old fashioned straw broom and once a week I quickly sweep down the ceiling corners where the spiders like to nest.  (You can see them in the above picture!)  I've gotten very good at it!  But with that in mind, I decided very quickly that cluttered porches would just create more places for spider webs!  So I've kept the furnishings on my porch to a minimum.  And this has taken some getting used to, because in my mind I pictured porches full of amazing vintage "junk"!
.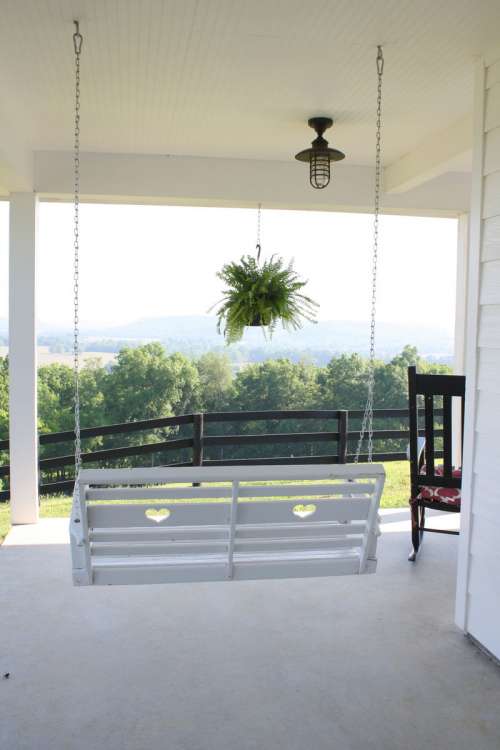 .
#3:  SQUARE FOOTAGE!  We wanted lots of porches!  Like all the way around the house porches.  And even though our porches aren't quite wrap around, they are 900 square feet total.  That is a lot of square footage to furnish in a porch!  Especially when you take #1 into consideration and everything blows off the hill!  So, I have two side porches that kind of sit empty.  The above swing is on one of the side porches and that is all I have there.  We keep throwing around the idea of enclosing the above side porch and making it an extension off the living room.  But for now, the swing is perfect there.
.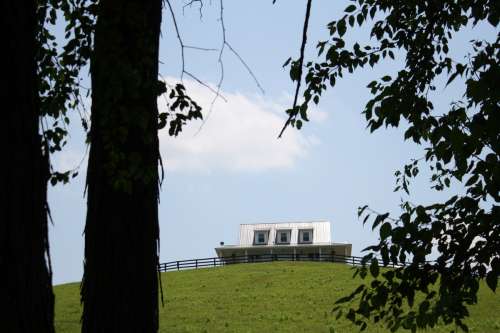 .
With all that said, I love my porches.  The very long front porch is the one with the best views of the valley below, and there is no better place to watch the sun set.
.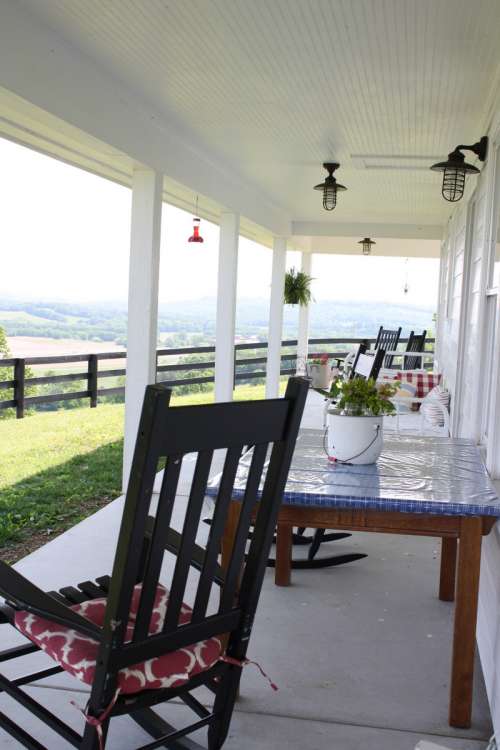 .
I have an old heavy dining room table on the front porch that I keep a tablecloth on.  I have been meaning to paint the table black to match my rockers, but I forgetting.  The above picture reminded me!
.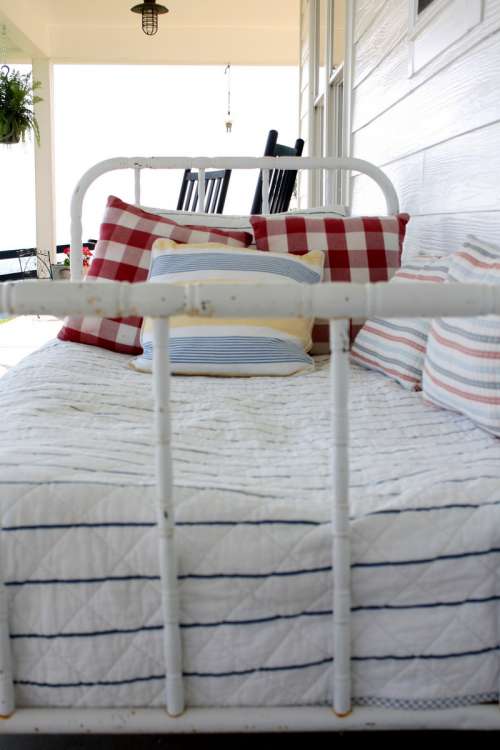 .
But my favorite thing on the front porch is the old iron bed.  I love this bed!  The nice thing is that it is a great napping bed, but even better than that it doubles as a kind of couch.  I've noticed lately that company seems to settle on the bed with their backs against the wall and it makes a super comfortable porching spot!
.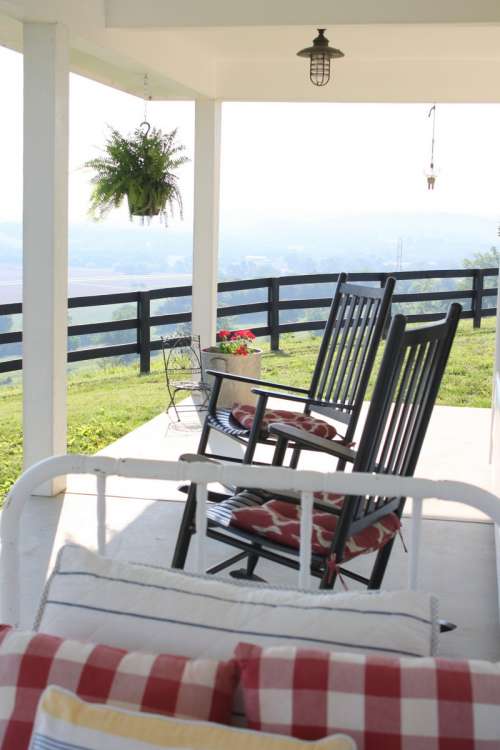 .
Even though I keep the furniture to a minimum, I  have tried to create little areas to sit and visit.  The rockers are great comfortable chairs that hold up to the wind!
.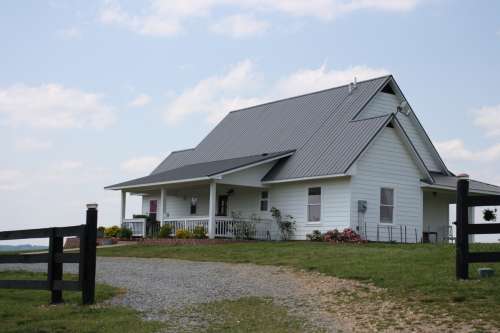 .
But I have to admit that my back porch is my favorite in a lot of ways.  This porch has railing around it to dress it up a bit since it is the part of the house you see when you come up the final hill into the yard.
.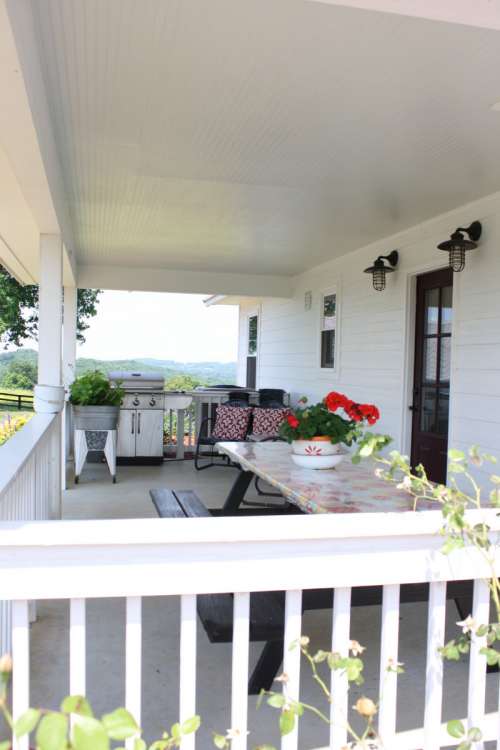 .
It is quite a bit shorter than the front porch, but it is wider.
.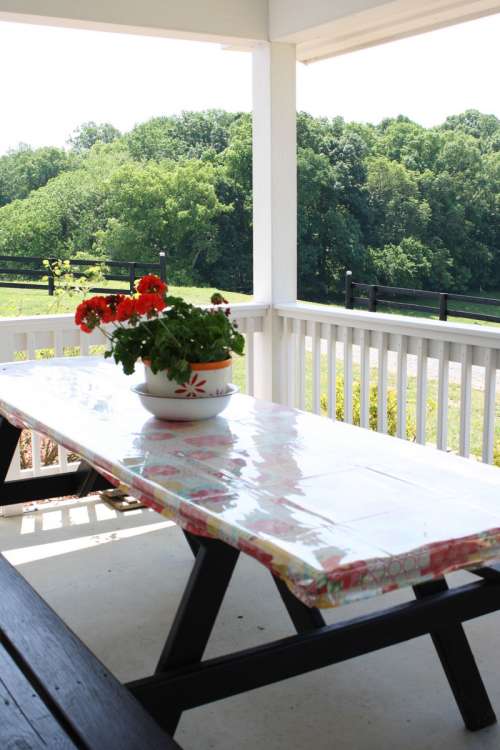 .
We have a large picnic table there that we use on a consistent basis all Porching Season long!  It is a long table that will seat 12 people so it is perfect for company!  I always keep a tablecloth on the table.  And this is how I do it:  I purchase a cloth tablecloth, staple it to the underside of the table and then cover with a piece of heavy clear plastic which I staple on also.  It wipes down nicely for eating and will last easily for six months.  And I never have to worry about it blowing off!  (I do the same on the table on the front porch.)
.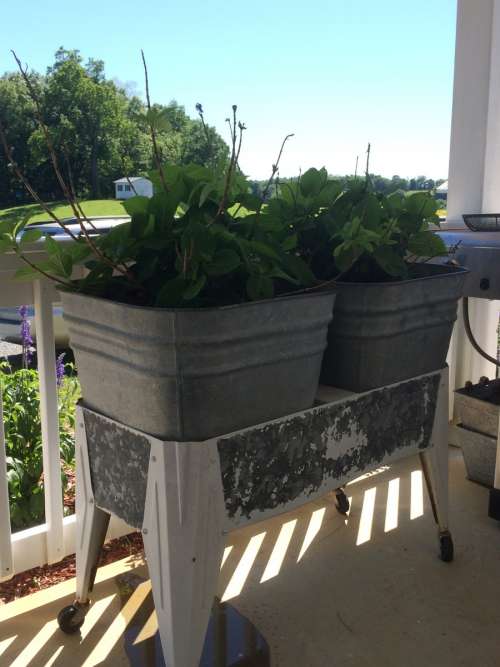 .
I love my old washtubs that I have Hydrangeas planted in.  They are so happy in this location.  Just enough sun and water!  They'll be blooming profusely soon!
.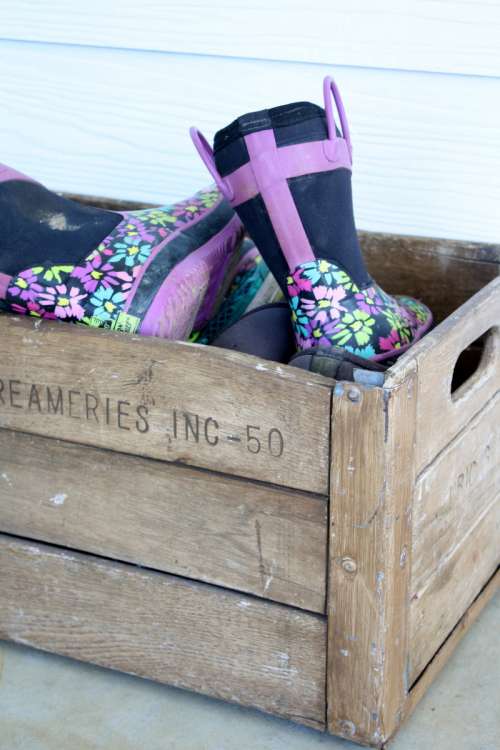 .
Since the back porch is the door that everyone comes in, I have an old wooden milk crate right next to the door and we drop our shoes and boots here.  I'm not an over fussy housekeeper but I do not like farm mud tracked in my house!  I've trained all my family well!
.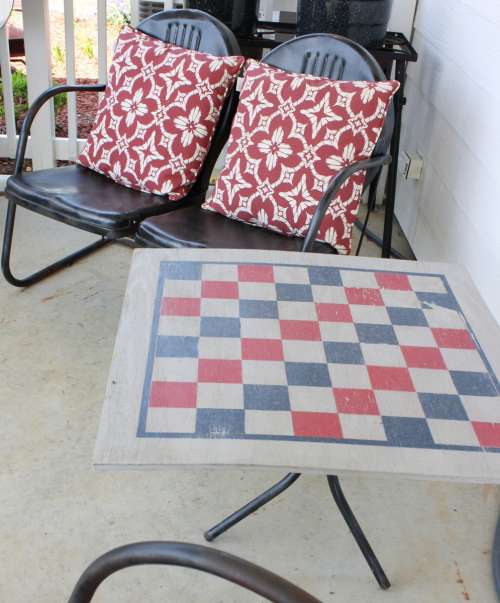 .
A few years ago a friend gave me this metal bench and matching chair.  They had been passed to her many, many years ago and she  wanted me to have them.  When she gave them to me, there were about 50 coats of different colors of paint and so I took them to a place and had them sand blasted and then I painted them black.  I love them!
.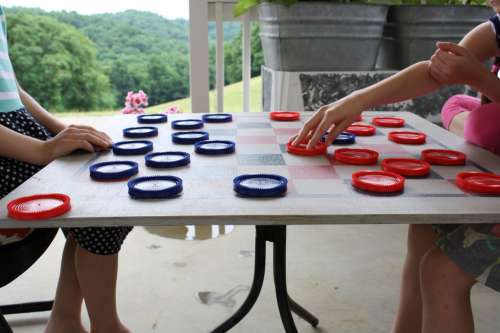 .
The grand-girls enjoy sitting on the porch and playing checkers on the checkerboard that I made.  We also have a corn hole game that my husband built and they play that on one of the side porches.   Porches are the best place for playing summer games!
.
I always hesitate to share things about my house.  Mainly because, although my house is special to me, it is just a house after all!  But because it is porching season, my very favorite season, I wanted to share my porches today.  What I wish is that all of my farmgirl friends here in this little corner of the Farmgirl Blog could come over and we could sit and get to know each other better.
.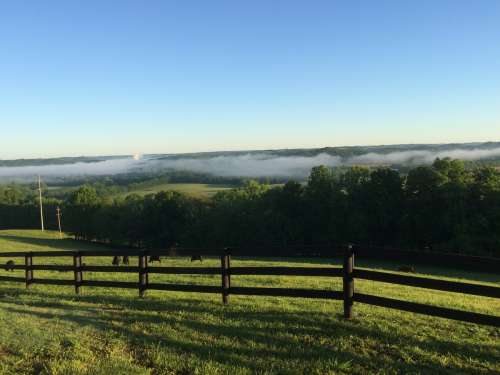 .
So to close out this post I'm inviting you to pretend you're here on my porch with me today… and if you were, what is the one thing you would like to talk about?  Let me know by leaving me a comment telling me… maybe I can turn your comments into a blog post conversation next month!  Let's get to know each other better!
.
Happy Porching to you dear friends!
.
Until our gravel roads cross again… so long.
.
Dori