Charming. Quaint. Historic... These words describe my favorite places.  We've recently spent a family day finding just that!   What do dinosaurs and heirloom seedshave in common? Both are found in New England! Come take a Suburban Farmgirl road trip with me to Hartford County, Connecticut!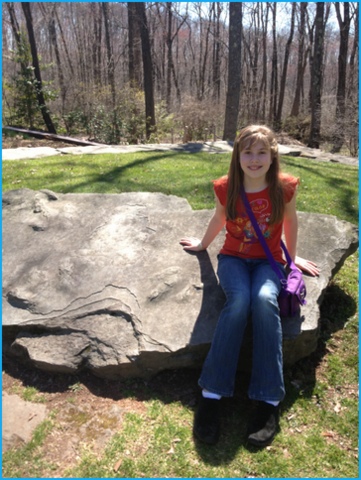 Graced with a beautiful day (finally) of sunshine, our family decided to get away for the day.  Our first stop was Rocky Hill, Connecticut, and a visit to the Dinosaur State museum and arboretum.  The museum may be smaller than some, but what's showcased is mighty…definitely worthy of a stop.
My daughter's held a fascination with dinosaurs since she was a tot, beginning with the cute, plush purple guy (I can still hear that little theme song in my head), and countless hours of dinosaur books and dino-toys. This stop would be exciting, for sure…what kid doesn't love dinosaurs?
Connecticut's Dinosaur State Park is home to one of the largest dinosaur track sites in North America, found in the late 1960's by a bulldozer operator who stumbled across the massive footprints while digging the area on a construction site.  Soon after, it was decided that the area was a treasure to be preserved.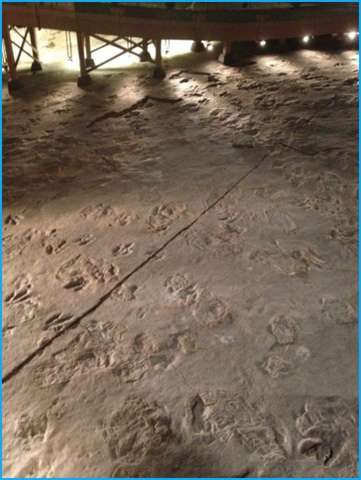 This is just a small sampling of the various tracks.
We spent the first part of our visit inside the dome-shaped museum.  I was amazed how many tracks are preserved and how detailed some of the fossils are, including a smaller, full-body dinosaur fossil.  A close-up look at another fossil gave a detailed impression of what the creature's skin looked like.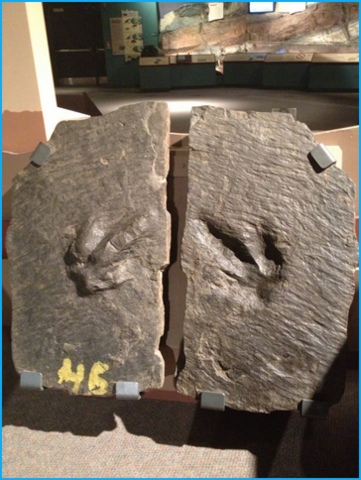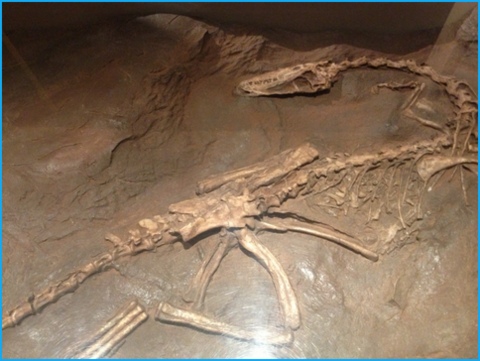 It was a fascinating and educational visit.  I thought I'd heard most of the dinosaur facts and theories, but learned some I had missed.  One funny theory was that one of the largest dinosaurs had two small brains…one the size of a kitten's in it's head, another near the tail, in the, ahem, rear-end region.  Go ahead, snicker.  I know what you are thinking. And have you ever heard the theory that chickens are descended from the fearful Tyrannosaurus Rex?  Somehow, I don't think the Farmgirl Sisterhood mascot, Henrietta, would be quite as charming as an apron-wearing T-Rex!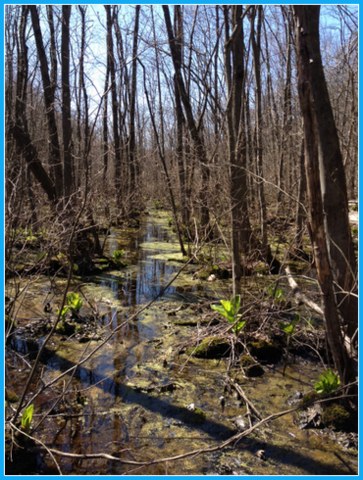 The trails are beautiful, and boast all sorts of natural habitats. I snapped this shot as we crossed over a wooden bridge.
We then walked around the beautiful state park and arboretum.  There's a picnic area, two miles of well-maintained walking trails, and habitats boasting all sorts of species of natural trees.

We can't wait to return in the summer season, when the natural beauty is in full bloom. If you have kids, it's a must-see place. For all the details, check out the website at http://www.dinosaurstatepark.org/.
Our next stop was about twenty minutes away to Wethersfield, Connecticut, Connecticut's oldest town! As soon as we turned on the historic Main Street, it was me who was now bouncing to get out of the car!
As a farmgirl, I've become a fan of heirloom seeds, and was thrilled to find out that New England's oldest seed company, Comstock-Ferre, is in Connecticut's oldest town! The brick building was beautiful on the outside, and brimming with charm on the inside.  It's a farmgirl's dream…seeds in vintage drawers, a few  antiquities to see, and a gift shop. Of course, I picked up some seeds!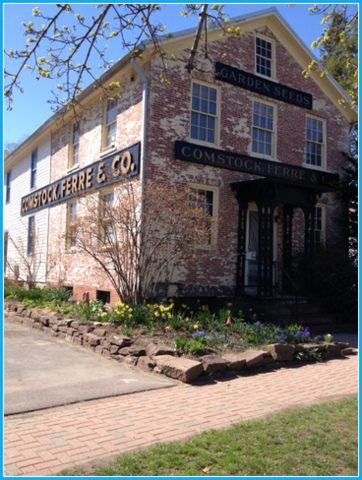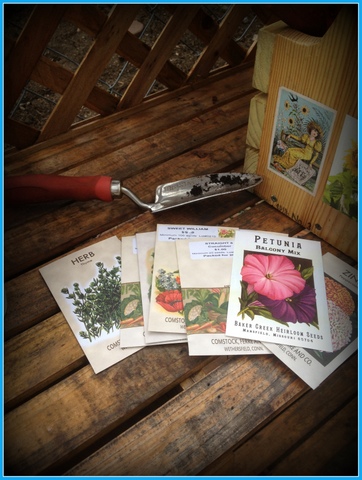 I couldn't wait to plant

my seeds

when I got home. Even the packets are so beautiful!  I'm dreaming of putting an empty packet onto a clay pot via decoupage. 
We enjoyed a relaxing stroll down Main Street, having an old-fashioned ice-cream cone, and browsing in some wonderful shops.  The proprietor of an antique shop told us of some of Wethersfield's history, including the fact that George Washington had stopped and stayed at an inn there.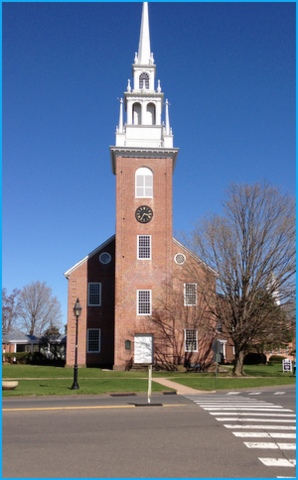 I found this large, old church with its steeple so beautiful.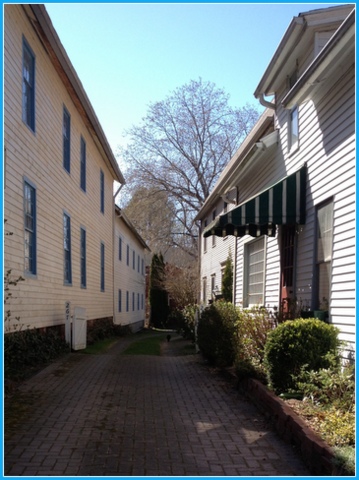 Alley cat, Wethersfield, Connecticut
Wethersfield, where red onions were first cultivated, also has the oldest chartered volunteer fire department in the United States, still in operation today.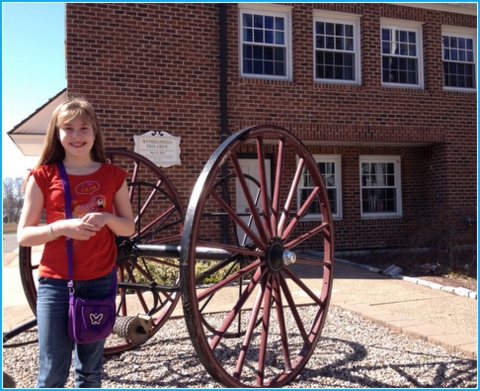 Wethersfield, CT volunteer fire department
It was a fun, spring family day. Hope you enjoyed our little road trip. Sometimes, nothing's more refreshing than to get away for a day! Remember to leave me a comment and let me know ya stopped by!
Until next time…Farmgirl Hugs, Nicole