Fall! The crisp air, foliage, pumpkins, and Halloween! Grab some cider and turn down the lights…if you dare! Let's do some farmgirl decorating and spin a spooky yarn or two. Did ya know Connecticut is chock-full of places supposedly haunted?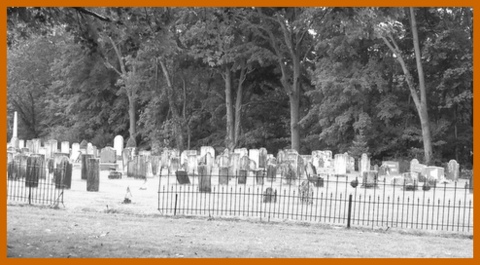 As soon as October  hits, out come the decorations.  I dislike gory, fake-blood-soaked ornamentation, preferring instead to create an ol'fashioned Halloween mood of days past, full of whimsy.  When it comes to Halloween, I'm still a farmgirl at heart!  Tucked all about the house, you'll find a country-style witch or a sweet Casper-like ghost.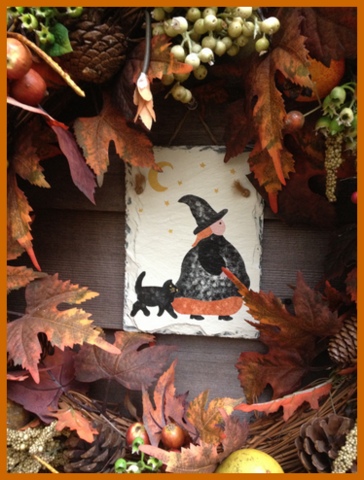 Halloween Front–Door-Decor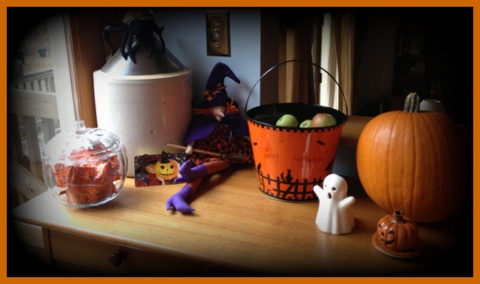 The kitchen is the "hub" of our home, and gets especially decked out.  The Anchor Hocking glass pumpkin jar is one of my favorite pieces.  My mom had one exactly like it in the 1970's.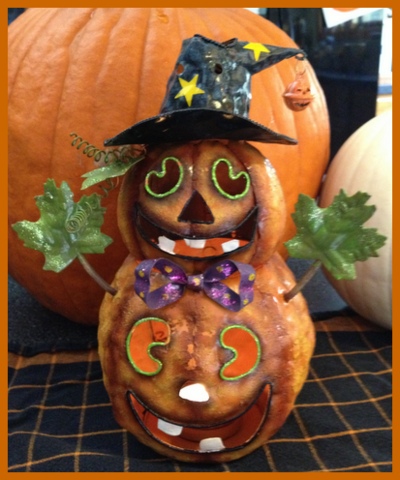 "Jack", a flea-market treasure, greets guests in the kitchen.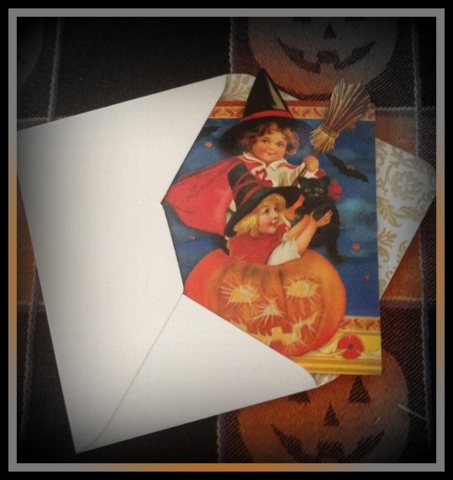 I love mailing vintage-inspired notecards to friends.  I found these at Barnes and Noble last year, keeping a few for myself as decorations around the house.
I've always loved Halloween, and good spooky tales. As a kid, my parents would host my Girl Scout troop to our ranch in the Texas hill country. We'd toast marshmallows in the old barbeque pit and tell ghost stories. Thirty years later, that pit itself looks spooky, now a small hole in the ground, old bricks, and a rusted grate.  Dad's got a modern smoker, but my brother and I can't bear him to remove the old pit…it's historical!
Remember boxed costumes from the five and dime? Me, aged two, dressed as Raggedy Ann...a farmgirl from the start!
Halloween isn't the same without watching "It's the Great Pumpkin, Charlie Brown".  My girl, age 2.
There's so much in life to really fear…(pesticides in our food, GMO's, rush hour traffic).  I think it's why I  enjoy the fun aspects of Halloween, especially a good ghost tale.  Connecticut's steeped like strong tea in old history, and rumors of haunted places fly about like dried leaves. Here's a few I've been to. How's about  a case of  the
According to legend, the "White Lady Ghost"  lurks about Union Cemetery in Easton, CT.   I'm always fascinated by old, vintage gravestones from a historical point of view, and have visited  century-old graves in Denmark (some from the 1200's or older) and  around the U.S.  I ponder how different the interred lives were from ours today, and what would they think if they knew someone in 2012 was reading their epitaph!   Union cemetery boasts graves dating back to the 1600's, and is encircled by an old, black wrought-iron fence.  Many legends surround the White Lady Ghost, who wears a long white gown; one being that she mourns the baby lost when she died in childbirth.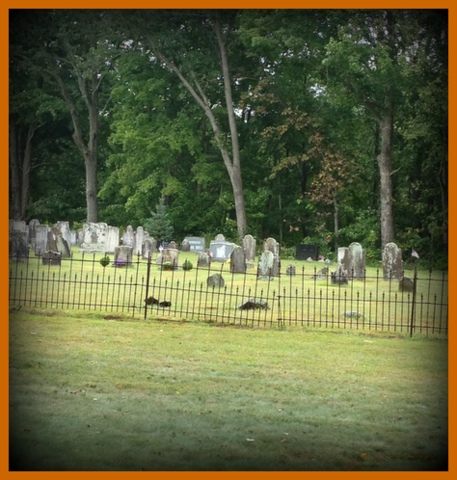 We pass Union Cemetery from time to time.
Carousel Gardens, in Seymour, CT, was built in 1894 by the town's first resident.  This large, Victorian Home had a front room in a circular shape with big, long windows, and in modern times was a restaurant.   If diners inquired about its haunted history, they were treated to a large scrapbook with photos of "orbs" floating amongst diners and along walls. Supposedly, the ghosts didn't care for fur, and it was said  they'd tug at the bottoms of fur coats.  Ed and Lorraine Warren, famed ghost hunters from Connecticut, were regulars. (I met the Warrens accidentally in the early 90's.  Both were quite pleasant, but I slept with the lights on for weeks afterwards due to some of their scary stories).  As for Carousel Gardens, the food was quite good;  many specialties featured heavenly Gorgonzola cheese.  Sadly, it closed and was torn down in 2010.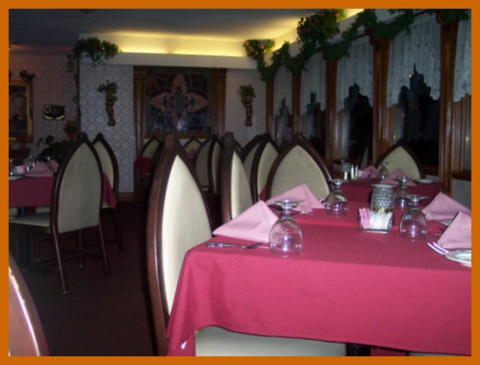 The front, circular-shaped dining room of Carousel Gardens. I snapped this photo when we ate there in 2007.
One of my personal favorites is right in my hometown.  Fairfield Hills was built in 1931. The red brick buildings and underground tunnels were once a state mental hospital,  closed in 1995.  The tunnels were removed, and some buildings were renovated to  state-of-the-art. Others still stand, frozen in time. Many town happenings occur here, including sports and various special events, and there's a weekly Organic Farmers Market in summer and early fall. The site was once used as the set of the movie Sleepers, starring Robin Williams, and rumors abound that the old buildings are haunted.  The walking trails are so seasonally beautiful, but walk the trails when it's not really crowded, and it can be a little creepy.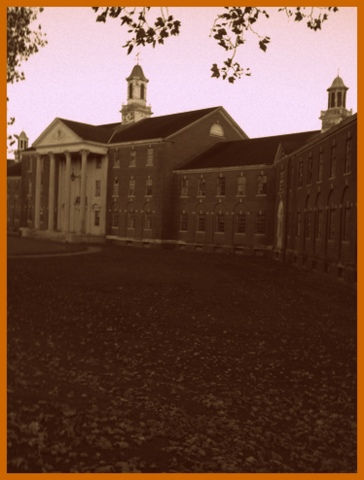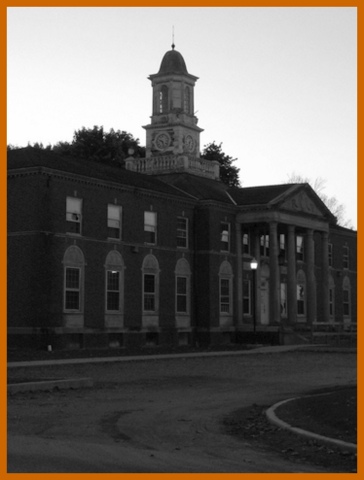 Is that a reflection…or something else?  Oooooooooo…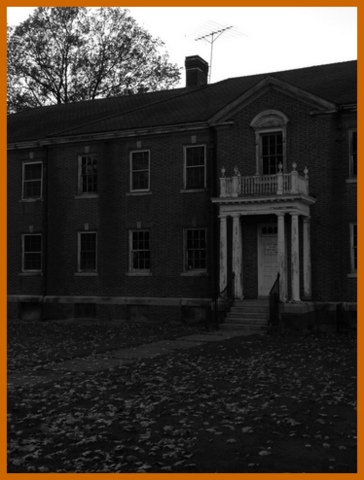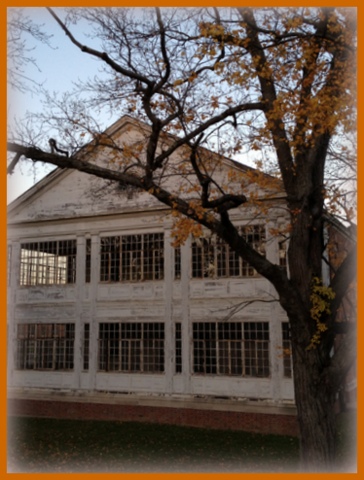 The empty buildings at Fairfield Hills are both spooky and beautiful.  All the photos above and below I took recently on the same fall day.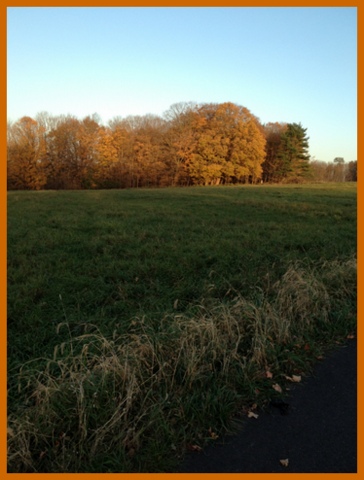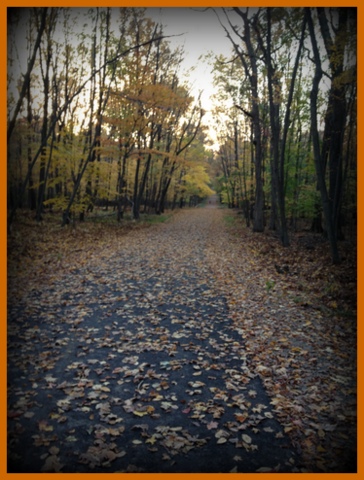 The walking trails are so peaceful and stunning.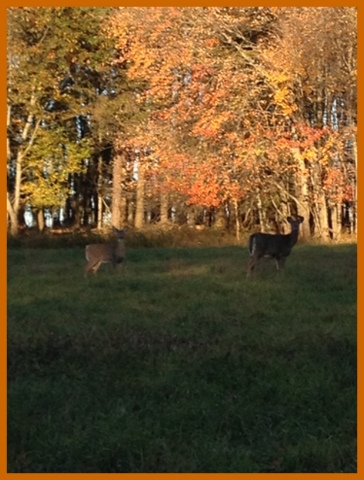 In recent years, one of my favorite museums, the Mark Twain House, has had stories swirling around that it's  haunted.  This amazing brick house in Hartford was the home of one of America's most beloved authors, Samuel Clemens a.k.a Mark Twain.  I've visited more times than I can count, and never tire of going.  Sadly, Mark Twain's daughter Suzy died in the house at 24 in 1896, and the  heartbroken family couldn't bear to return.  The museum's decorated as it would have been when the Clemens family were residents, with many of their personal items.  On one visit, I  and several others felt a cold burst of air near Suzy's room.  Air conditioning or ghost? Who knows, but the Mark Twain house is a must-see for anyone who loves history or literature.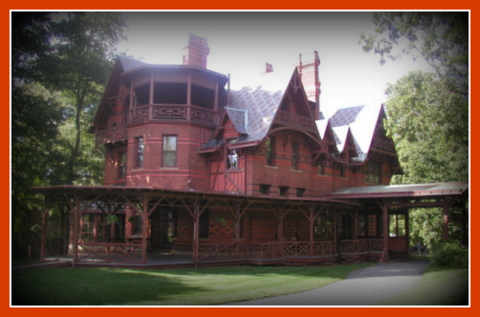 I took this on a visit to the Mark Twain House in the summer of 2003.
Any spooky places or tales from your neck o' the woods? What about Halloween traditions? Share with me in comments!  (Know what else is scary? The amount of candy I'll eat from my daughter's trick or treating, even though it always starts as "Just One")!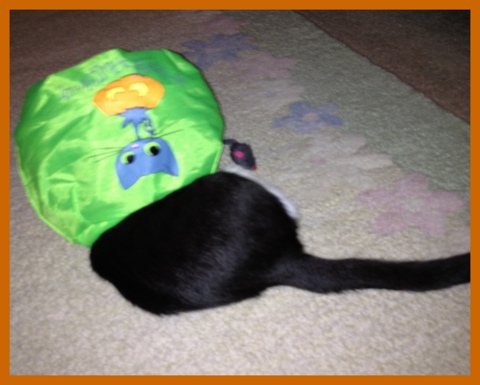 "Any candy from last year in here?"
Happy Halloween!
*Keep your fingers crossed for us…"Frankenstorm Sandy" is headin' our way.  Hopefully Halloween won't be cancelled like last year! Wishing all of you facing the impending storm that you stay safe, warm and dry!