My husband and I just celebrated a milestone: our twentieth wedding anniversary.  Twenty years!  When did that happen!?  How DID a Dane and a Texan end up hitched in New York City and settled in Connecticut? Do you believe in destiny?

In Houston in the early nineties, I was crazy-busy.  Going to school and working a first office job at the same time, I was juggling a lot.  I certainly wasn't planning on meeting my future husband!
In a city of millions, we kept "bumping into" each other: the furniture store where he worked, in a hair salon, and then set up on a blind date!  When he first phoned, thinking he was a wrong number, I hung up!  Thankfully, he called back!  On our first date, he picked me up at my mother's, and I waited upstairs while she went to the door.  Coming up to get me, she half-joked,  "You should marry him!"  Kim and I were halfway through dinner before I realized he was the salesman I'd met in the furniture store, where, when asked if he could help me, I froze and got tongue-tied. From that blind date on, we were inseparable.  He was charming, with a droll Danish sense of humor.  When I asked what they eat in Denmark, he jokingly replied, "Cats".  So, when my dad was to meet him and asked what to make for dinner, I said, "Anything…but  lock the cat up!"  When Kim went back to Denmark for his parent's silver wedding anniversary, we ran their phone bill so high, it would've been cheaper for me to have flown with him!
Young and fearless, just over a year later, we found ourselves in Bucks County, Philadelphia, engaged.  We'd both landed great new jobs, and with no vacation, we couldn't get married back home in Texas. We decided we'd do a small wedding in New York City, and  go home that fall for a Texas reception.
We were on a shoestring budget.  My dress was off the rack at Macy's; found on a lunch break, but beautiful and vintage-looking.  The wedding would be just fourteen people attending. My mom and Kim's parents would fly in the day before the ceremony, and everyone would meet for dinner at the hotel the night before.
We got married at the Danish Seaman's Church,  a historic brownstone in Brooklyn, the Statue of Liberty visible in the horizon. (Kind of ironic, right)?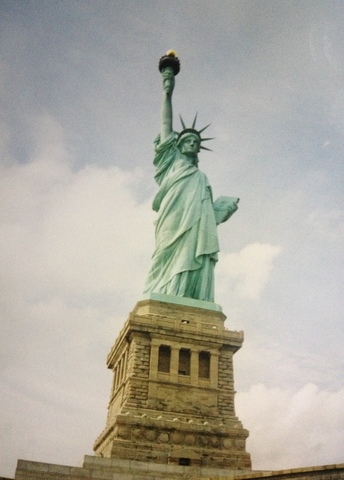 Visible behind the church, the day after our wedding, we visited the Statue of Liberty.
The best man was to drive my mom, my maid of honor, and myself to the church, just over the Brooklyn bridge.  In bumper-to-bumper New York traffic, we were already late when Kim, at the church with guests seated, phoned. (Remember "car phones" in those big black bags)?  In Danish humor style, the best man joked that I was having second thoughts …and hung up!  OH NO!!
We then realized there was some sort of hold up, and the Brooklyn Bridge was closing!  With GPS not yet a reality, we knew no other way to get there!    I spied a patrol car, lights on, in the next lane.  Grabbing all the layers of tulle attached to my head, I hiked up my dress and leaped out, much to the horror of everyone else in the car.  I ran up to the police car, knocked on their window, begging them to help me.  The female officer in the passenger's seat took pity on me, instructing us to follow close behind them.  We arrived with lights flashing and sirens blazing…not many brides get a police escort to their wedding!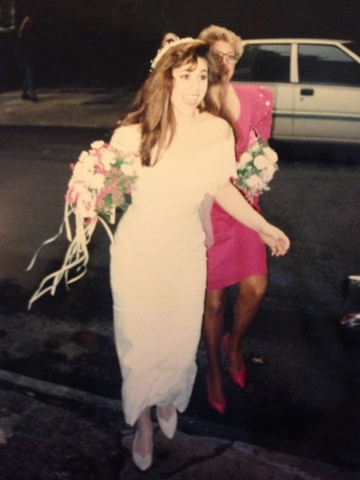 I'm finally here!
The service was held half in English, half in Danish.  (To this day, I'm still not positive what all I  said "I do" to).  We had  dinner in the cozy back room of a chic SoHo jazz restaurant.  There was a piano in the main dining room.  Much to my embarrassment, when it came time to toss the garter, someone opened the divider to the other diners, and someone else swooped me up, plopping me up on top of the piano!  (We later found out the gentleman playing a quick tune on the piano was Paul Shaffer from the David Letterman show)!  Then following Danish tradition, the toes of the groom's socks were cut off.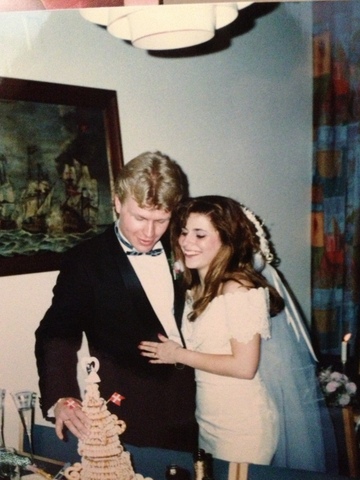 We had a Danish wedding cake, a 'kransekake", at the church.  More like a cookie, it's made with almond paste.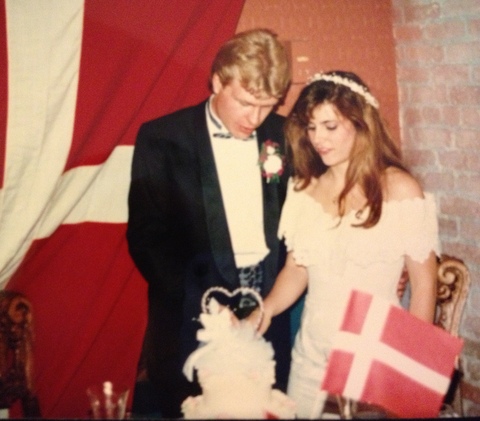 And a traditional American wedding cake at the reception.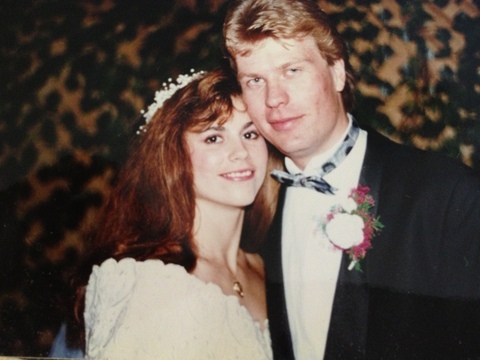 1992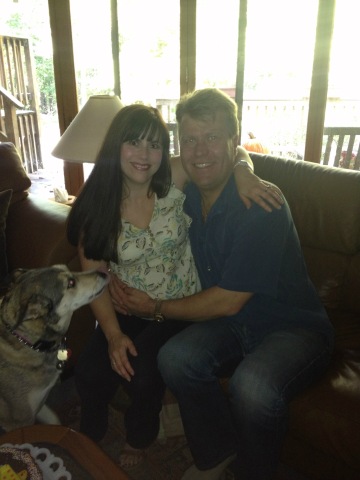 And twenty years later, 2012
Twenty years later, we're settled in Connecticut, originally moving to open our own business, which we ran over a decade.  We've had much happiness and blessings, and our daughter's the light of our life.  Someone asked me the other day how we've done it, when the divorce rate is so high in these modern times.  Oh, we can push each others' buttons!  I'm a headstrong Texan with Irish, French and Greek blood in my veins, and he's from the land of Vikings!  Maybe it's that we've lots of common interests, and lots of different ones, too.  Maybe it's because we have gone through so much.  We've had hurdles, from moving far from family, to going through the Immigration process, to health scares that thankfully, were not reality but  reality checks.  The first of my friends to get married, I used to feel a little wistful attending big weddings surrounded by everyone the couple knew.  In the end, it's not the wedding that matters, it's the marriage. Marry your best friend, and the rest will fall into place, don't ya think?