It's autumn, a magical season for New England…falling leaves, pumpkins, and apple cider…oh my!   Take a "Farmgirl road trip" with me, the Suburban Farmgirl,  and head to a special local farm for some fresh apple pickin'!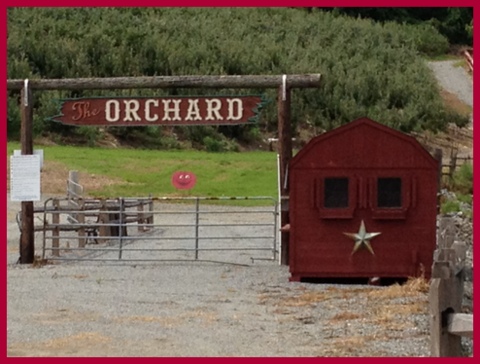 Harvest season makes many folks think of apples, and picking them is a favorite family activity. In Connecticut,  Silverman's Farm is  well-known with all ages. Located in the picturesque town of Easton, this farm is a fun place we love to visit several times a year.  Owned and run by Irv and Nancy Silverman, Silverman's is a true bit of Americana.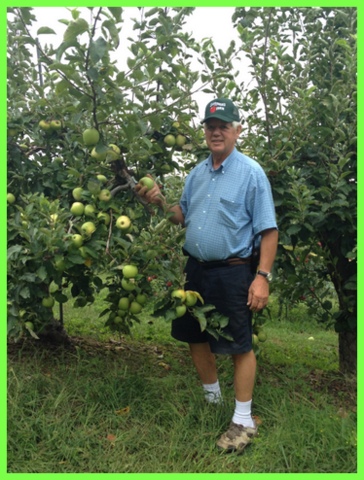 Irv Silverman at Silverman's Farm, Easton, CT
Irv's father, Benjamin Silverman, started the farm in the 1920's, "when there were no box stores".  Irv says back then folks relied on farm stands instead of grocery stores, and "would freeze and can their fruits and vegetables".  Through the years, the farm evolved into the wonderful family fun destination it is today, that Irv calls "agri-tourism". There's always a friendly face at the entrance, offering tractor rides to the ripe-for-picking trees, as well as  instruction on how to pick fruit so as to not harm the tree. We've learned that to pick an apple, you never pull at the fruit, but gently "twist" it, releasing it from the tree.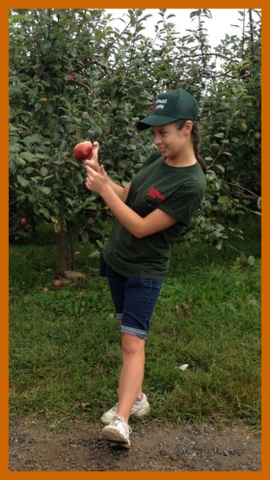 Megan from Silverman's gives a quick lesson on choosing apples ready for picking.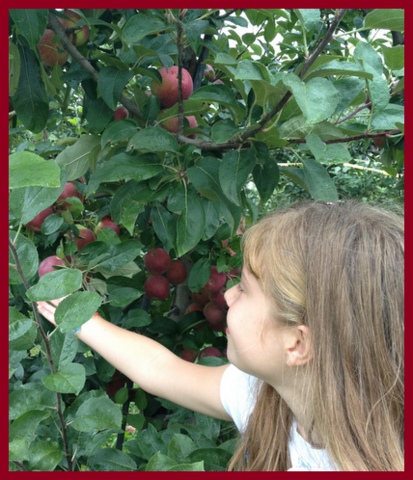 Macintosh and Cortland apples were in season on our early September picking.
It's really picturesque on top of the hill at the Orchard.
It's always interesting to see where everyone sharing the the tractor ride is from! The whole process of being outdoors and picking fruit creates such happy memories.  Irv says he "loves seeing how excited children get from seeing an apple growing on a tree for the first time, as opposed to only seeing it in a grocery store box."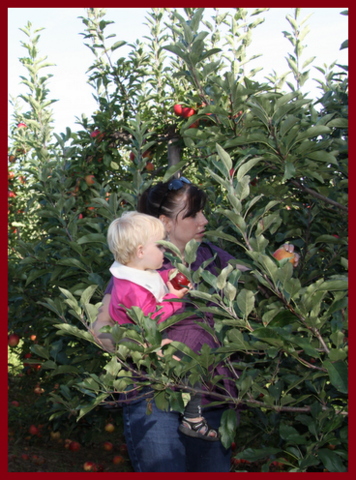 Apple picking with my niece from Denmark, 2011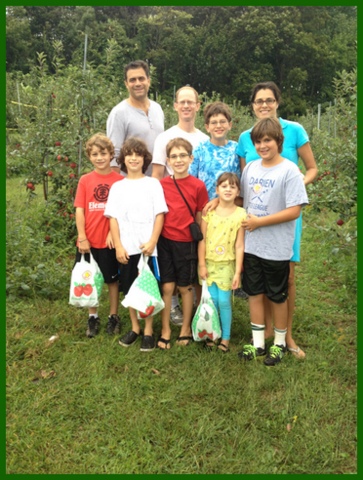 Picking apples is a fun family activity.  Last excursion, we shared a tractor ride with the Devita/Goldsteins from Fairfield and Newtown, CT.  
Officially a fruit farm, Silverman's farm is 95% pick-your-own, with fifty acres and 15,000 trees.  For apples, there's eighteen different varieties, each one with a different picking time. Peaches are available in the summer, as well.  I love to pick a bag of peaches, having some for snacks, and making others into jam.  Silverman's has both "traditional" peaches as well as the "donut" variety.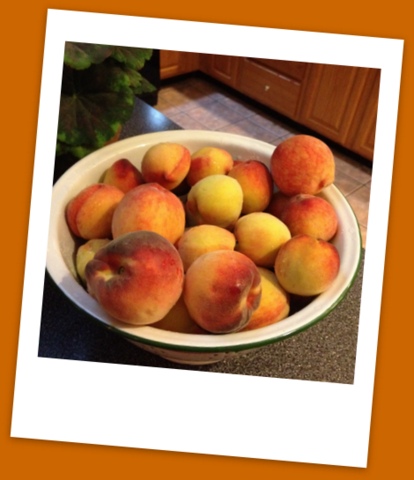 Summer peaches made into jam that we will enjoy all winter.
Next year, Irv says the farm will add pick-your-own blueberries, as well. Our family picks several bags of apples throughout the season.  Apple harvesting starts in late July, depending on the variety, but my favorite time for apple picking  is in the crisp air, when  fall is grabbing at Mother Nature's apron strings.  We love to snack on them, make apple sauce, and cook them in different "fall" recipes.  What's your favorite way to eat them?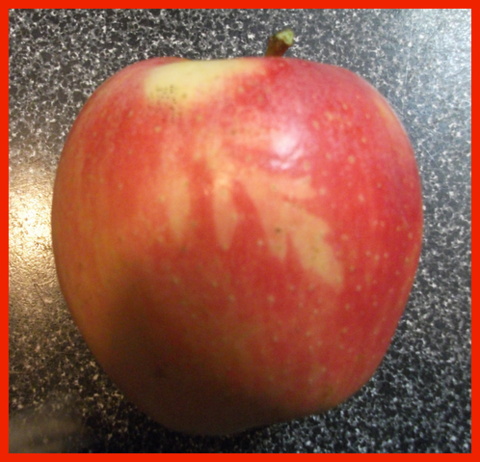 Can you see the outline of a leaf "sun-printed" on this apple? Nature's graffiti!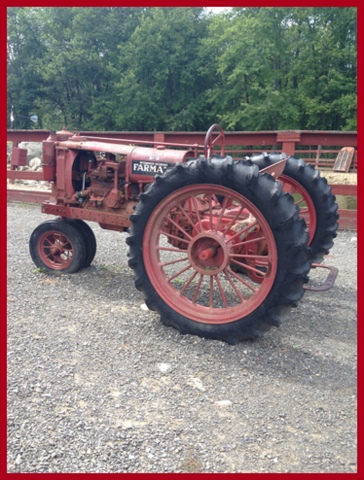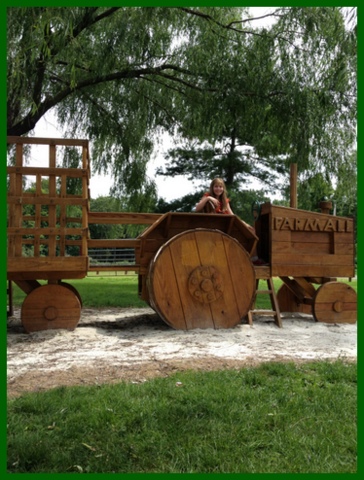 For as long as I can remember, my daughter and I have loved going to Silverman's. She still loves visiting their petting zoo filled with friendly barnyard creatures.  There's a small entrance fee for the zoo, and little paper cups are handed to visitors at the gate.  Inside, you'll find large walking trails lined with beautiful weeping willows. Vintage, red, twenty-five cent candy dispensers found around the park contain cracked corn for feeding the animals.  There's nothing sweeter than hearing the delighted squeals of a child  hand-feeding a gentle animal!  Often times, we'll pack a picnic lunch and dine under the covered pavilion or a shady tree.  Open year round, the petting zoo is  large, with goats, fallow deer, emu,  exotic birds,  sheep, and more.  My personal favorite is the donkey!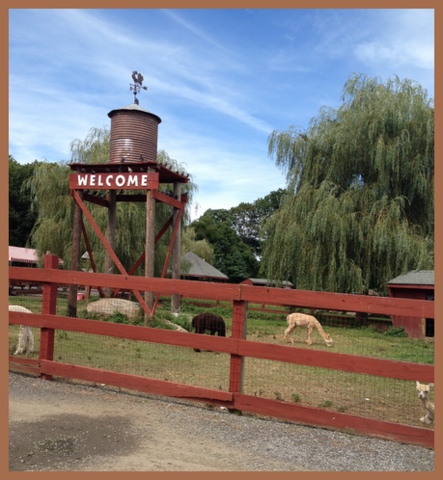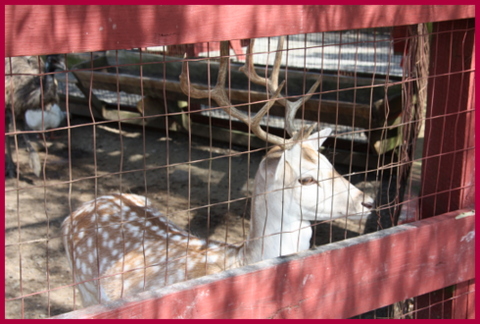 Fallow deer, natural to Southern Europe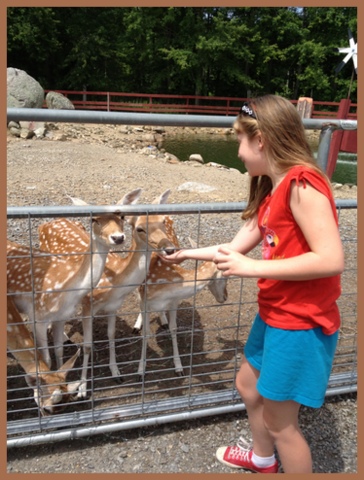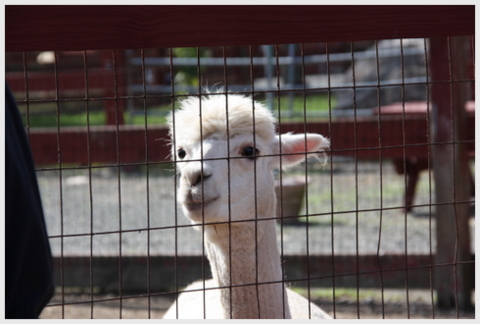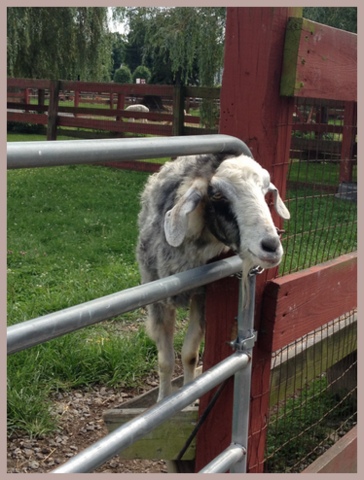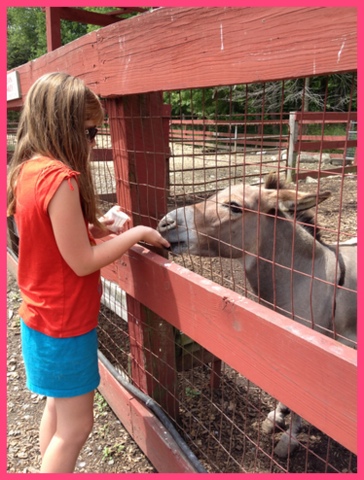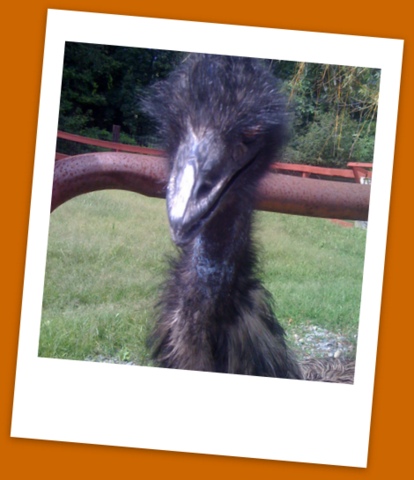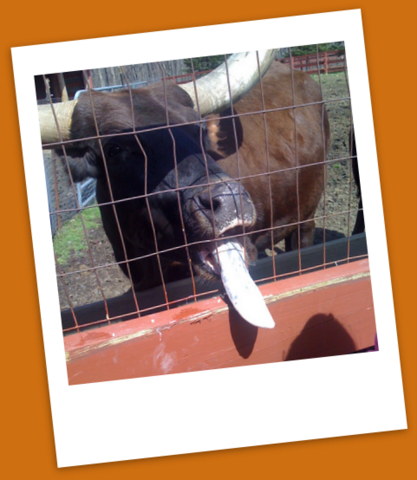 Silly animals mugging for the camera!
In addition, Silverman's Farm also has  a florist, as well as a bakery and gift shop, all open year-round.  They're known for their delicious fresh-baked pies, and one of my friends reports that their croissants are as good as ones she has eaten in Paris, France! We love their apple cider.  In the back of the store, is the wooden apple press, used from the 1940's on, retired around seven years ago. (Parents of little ones will recognize it from "Elmo's Halloween Adventure", as the Sesame Street DVD was filmed at Silverman's in 2004.  I remember the days when my daughter wanted to watch it over and over and over…)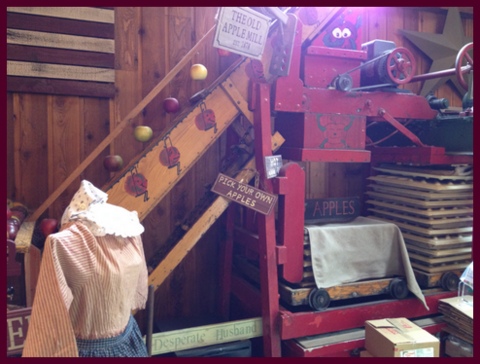 The wooden apple press used for generations at Silverman's.
We'll probably visit another time or two to pick apples before the winter sets in and picking season is over until next year.  I love that picking apples is something all ages enjoy doing together out in the fresh, open air.  I always notice that when picking apples, I see families "unplugged", something I don't see many places anymore.  It's hard to check email on a smartphone when riding on a hayride, or carrying a big bag of apples!  I also appreciate that I am supporting a family-owned, local farm. With a bag of apples, Silverman's has helped us create a trunk full of treasured family memories!  Visit their website here:  http://www.silvermansfarm.com/index.html.
It's time for me to pull the mason jars of applesauce out of the canner on the stove.  Hope you enjoyed our  "visit"…leave me a comment and let me know you stopped by!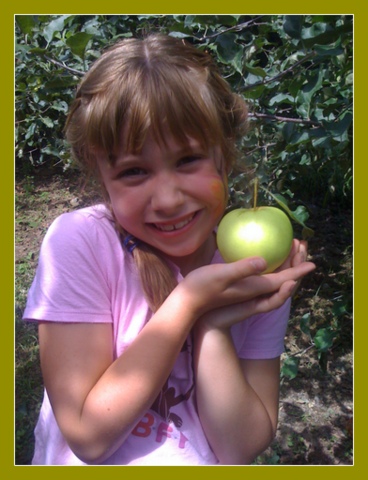 Apple pickin' 2009