It's a beautiful Sunday.  Where can a Farmgirl  enjoy the outdoors, chat with friendly folks from all over, and find everything AND the kitchen sink?  From furniture to plants, glassware to books, jewelry to collectibles…there's treasure for everyone.  Intrigued?  Head with me to one of my favorite spots…

For over a decade, on pretty Sundays, I love to go to The Elephant's Trunk Flea Market!  I first read about New England's largest outdoor flea market when it was recommended in a magazine. Hooked from my first visit, it's my "happy place"…where time seems to stand still.  A few hours there lifts my spirit after a stressful week.  I don't even need to buy something… just walking around, taking it all in makes me smile ('though my home and garden have a lot of flea-market chic).
Located on Route 7 in New Milford, Connecticut, the market's open from early Spring to December (weather permitting).  During the week, the field that houses the market is empty, but on Sunday morning the amazing Elephant's Trunk flea market comes alive, typically hosting 300 to 400 vendors each week, and can have two-to-three thousand visitors!  It's unlike any other flea market I've ever visited!  At the front gates, I'm greeted by friendly smiles.  My mouth waters from the delicious smell of kettle-cooked popcorn and other concessions, and I'm giddy with the anticipation of discovering some sort of treasure or beautiful addition to my garden.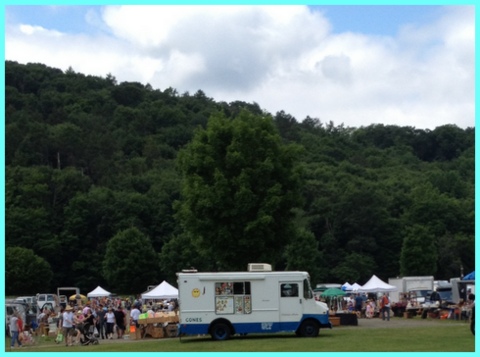 The Elephant's Trunk started in 1976 and has been managed by Gregory Baecker ever since.  You'll find Greg in his trademark Elephant's Trunk shirt every Sunday, either walking the aisles or up at the "big house", the large white Victorian home located at the front of the property, now the business office for the market.  Built in the 1800's, rumor is the home was once a safe hideaway for slaves on the path to freedom.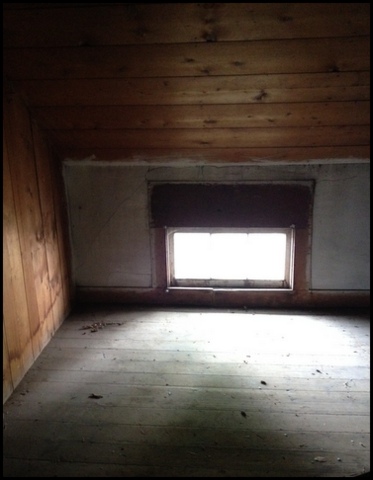 Upstairs in the Victorian house now used as a business office, there are two tiny, almost hidden rooms.  Although not confirmed, the history of the house rumors that it was a safe haven for slaves on the path to freedom.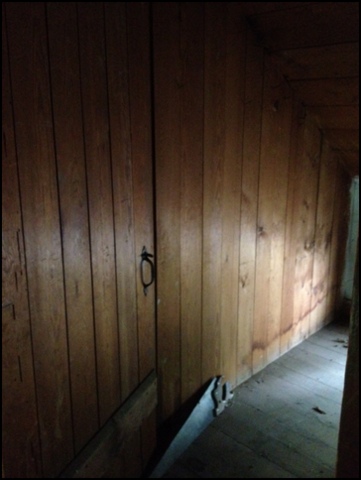 Another view of the tiny upstairs room in the 1800's house.  Look at the heavy, wooden door and wood floors!  If these walls could talk, the stories they might tell…
In the 1970's, a boutique was opened in the home called "The Elephant's Trunk, Too", named after a shop originally in New York state.  When the boutique closed in 1976, the logo of the elephant was given to the flea market.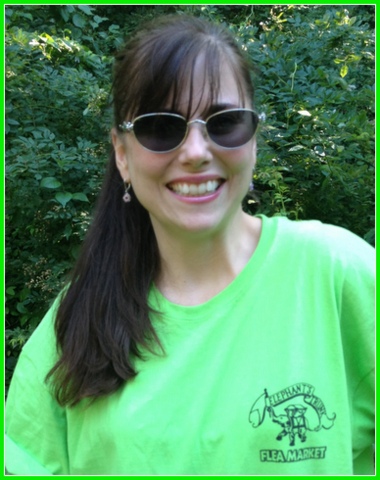 The Elephant's Trunk flea market equals warmer weather fun!  Notice the logo of an elephant with treasure.
In 1976, back when busy Route 7 was just a two-lane road, the flea market was held Sundays on the home's front lawn, with only a handful of vendors. In the 1930's and 1940's, the field was a tobacco field, and by the 1970's, an alfalfa field.  A local farmer would come cut and bale the alfalfa, and as the market grew,  more spaces were created.  Greg says in the early days, when they'd need an additional space, they'd just grab a rotary mower and cut a new spot!
The items for sale each week varies, as vendors come from all over.  Greg says it's about 65% antiques and collectibles; the other parts are wonderful plant vendors, architectural items for the garden, and a "mixed bag" of new and vintage items which can include anything and everything!  There's some "regular" vendors, whom buyers look for each year. When the weather turns cooler, I look for the vendor selling new, beautiful cashmere socks!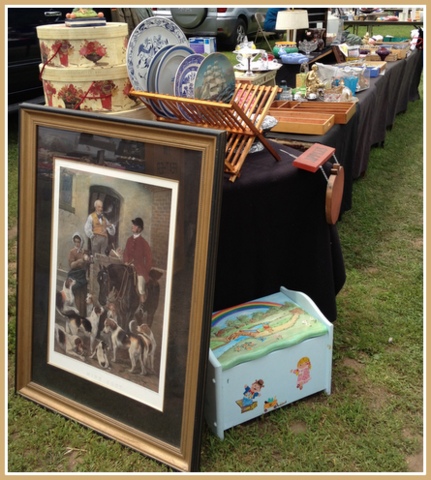 A vendor's colorful booth of treasures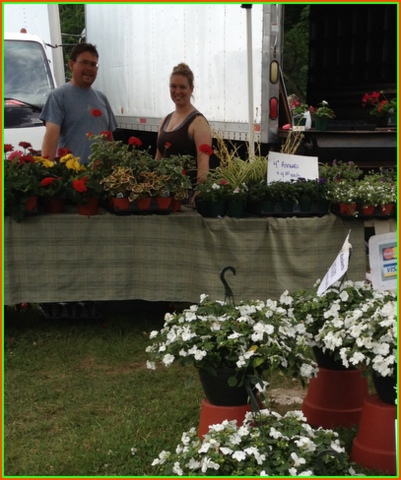 Mike and Amanda, of 'The Farm' in Woodbury, CT, a wholesale farm. http://www.thefarmwoodbury.com/
They have a regular booth each week, and their plants can't be beat!  I especially love their flowers! Their Geraniums are always so lush and full. I picked some up a few weeks ago for my deck rail pots.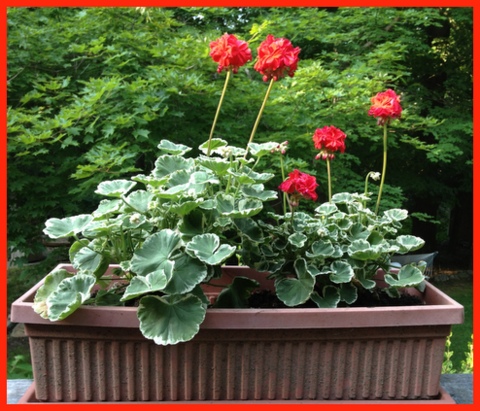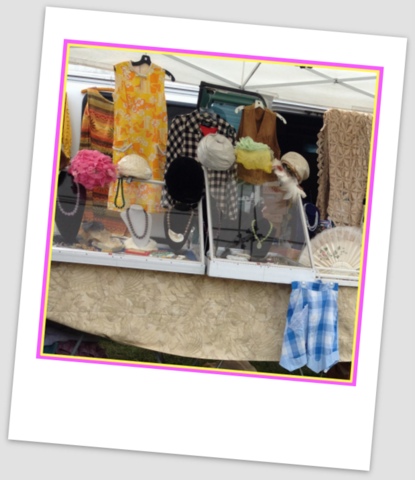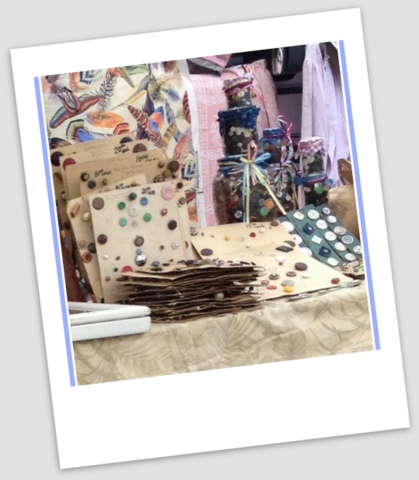 One vendor, "Liz", fills her booth with vintage clothing, hats, and buttons.  She also specializes in one-of-a-kind button bracelets.
I've filled my flower beds with beautiful plants at a fraction of what they would cost elsewhere, built a collection of white milk glass, purchased one-of-a-kind handmade items, and giggled at memories jogged from the sight of something "vintage" for sale that I had as a child (like a "Waltons" metal lunch box from first grade).  Seeing the various antiques is like getting a visual history lesson, and there's nothing better than finding that special "treasure". I once bought a  big box full of vintage strawberry-patterned china dessert plates and accessories for $10.00.  The vendor told me she was happy they found a good home; her aunt had given them to her, they didn't match her decor and she was allergic to strawberries!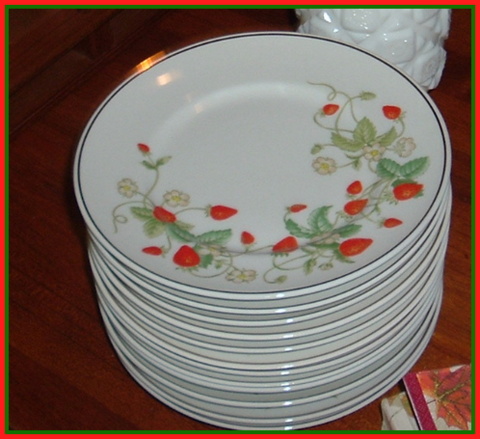 I love Westmoreland "Old Quilt" milk glass, and most of my pieces have come from the Elephant's Trunk.  I love to mix it both casually and formally.  I won't collect or buy anything I can't use.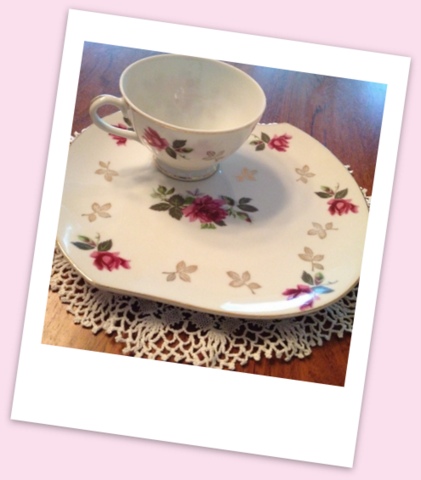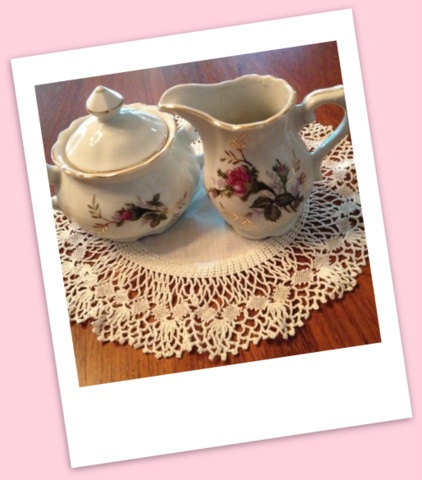 More flea market finds…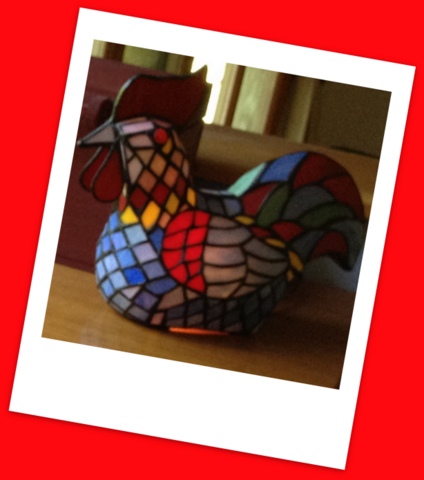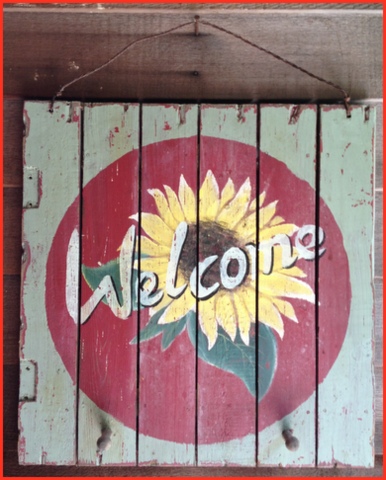 In the early 1980's, the market tried to do Saturday and Sunday, and at first was focused only on antiques.  Since the weather affects the market, Greg says they decided to stick with what works, opening Sundays only.  They do not exclude anyone unless they break the rules, in place because Greg says they want it to be a safe place families can enjoy.  In the almost forty years the Elephant's Trunk market has been open, Greg, (also a longtime teacher and principal who's now retired), has only missed six or seven Sundays in all those years. He says he "loves it, every Sunday is different.  You meet people from all walks of life."  Greg says the goal of the Elephant's Trunk is to be a family destination…a place you "can go and get away from daily life."  I think they've far exceeded that goal!  For more information and directions, check out the Elephant's Trunk website at http://etflea.com.
Browsing  flea markets is right up a Farmgirl's alley!  I love re-purposing things like glassware and jars, and the flea market's a great place to look. Like many farmgirls, I've also been bitten by the collecting bug.  Some visits, I have a "goal", other times, I just see what I might find.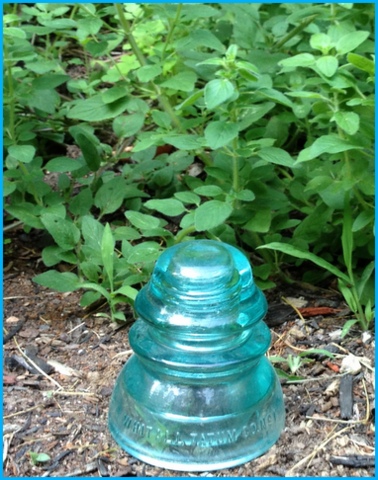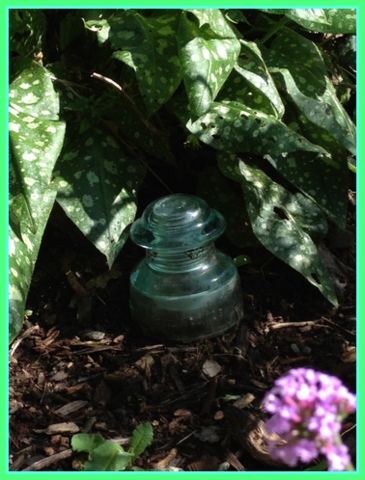 I love tucking vintage glass insulators around my garden as decoration.  I love the way the sun shines through the glass, and all shapes, colors and sizes are found at the flea market.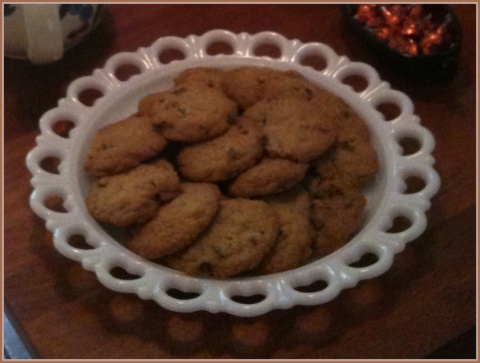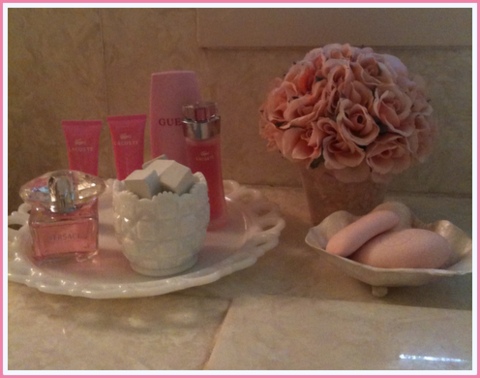 A vintage milk glass cake plate…used two ways.
Do you love hunting flea markets, too? What treasures have you found? Share with me in 'comments' below, and Happy Hunting!