Here in New England, we've been pretty lucky so far with winter this year. Aside from the freak storm in October, the weather's been relatively mild, and we're below the normal level for snow. (Last year at this time, we had almost 39 inches of snow)! We're already dreaming of spring, (got my seed catalogs handy), but it seems so far away. We're always running, but when it's time to take a breather, nothing's better than to snuggle with a pretty throw or blanket. Grab a cup of tea and come take a pause with me!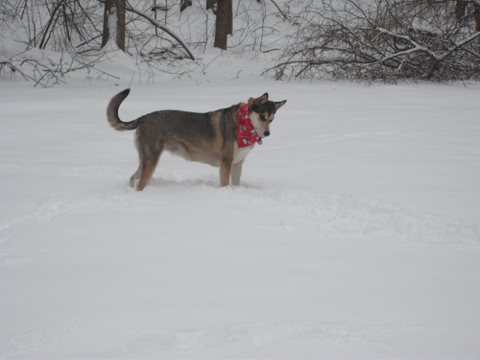 Connecticut winters are a great time to work on craft projects, and some of the best projects are also some of the simplest. One of my favorite quick projects are no-sew fleece blankets and throws. They're such a snap to whip up, and when given as gifts pack plenty of "wow"! Have you ever made one? There's a young family at my church who recently had a baby girl, so this week I made them a cuddly fleece blanket as a baby gift.
You need two pieces of fleece, the same size. For a small size blanket, use ½ yard each. For a larger blanket, use 1 yard each. (I prefer the larger size, as older children can use it. You can make adult-size throws by just increasing your yardage). The blankets look best when made with one patterned fleece and a contrasting solid.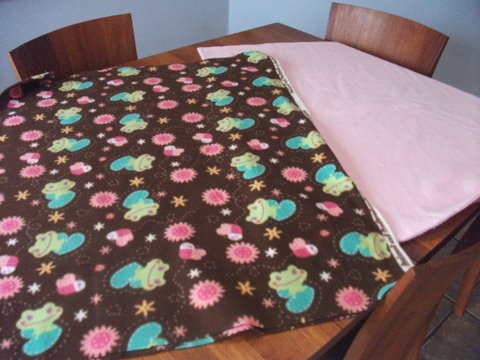 Place the fabric pieces wrong-sides together, with all sides even. Cut a five-inch square piece from each of the four corners of the fabric (cutting through both pieces of fleece at the same time).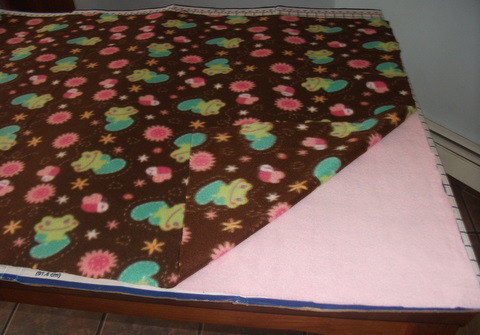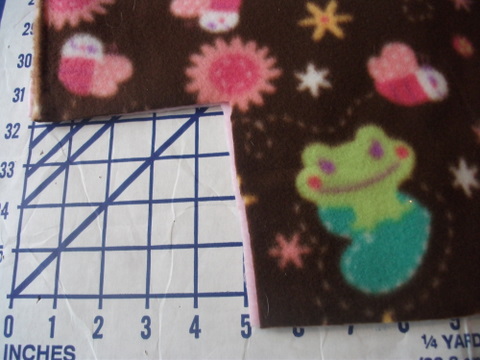 Next, cut one-inch wide "strips" all the way around the entire length of the blanket.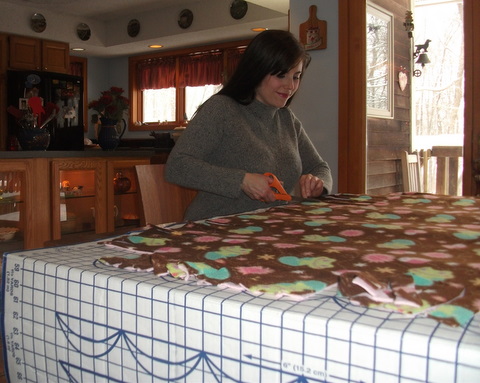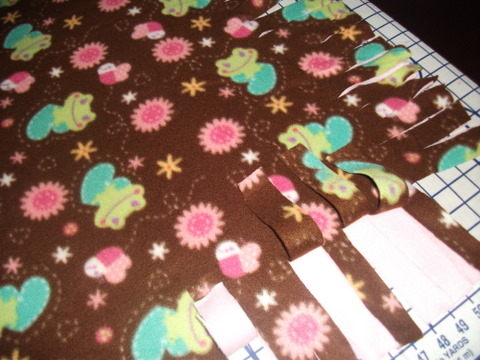 Now tie the strips from the top piece of fleece to the strips on the bottom, making little "knotted" fringe all the way around.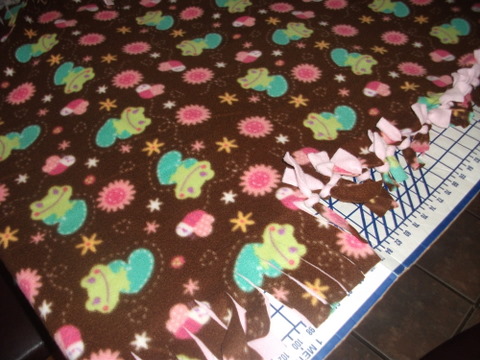 Voila! The double layer of fleece makes it very cozy and soft.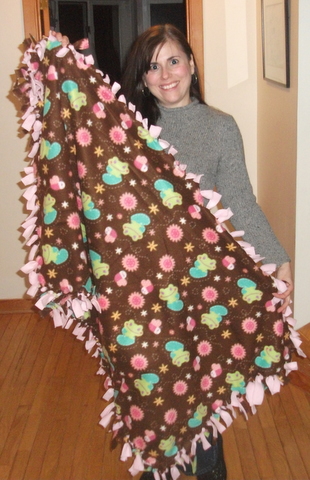 I made one for my niece in Denmark, Christine, when she was born. Her mom Heidi loves elephants, so I was thrilled to find fleece with a pink elephant print. When they came to visit, it warmed my heart to see two years later, it's still one of Christine's favorite blankets!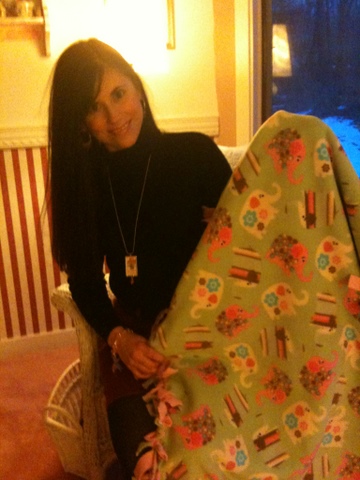 My daughter wanted one for the foot of her bed to snuggle under when she is reading, so a few years ago I made one for her for Christmas, with fairies, to go with her fairy-themed room.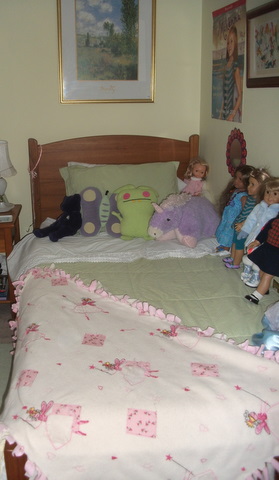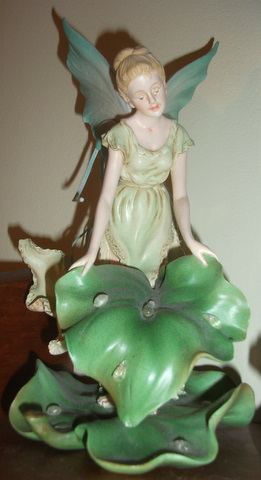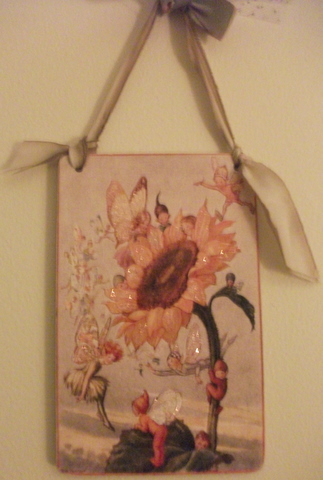 (Speaking of fairies, did you read the latest issue of MaryJanes Farm magazine? I think making "Button Fairies" with my Farmgirl Sisterhood chapter and our daughters sounds like a fun evening)!
For snuggling, well-placed throws and blankets add color, warmth, and coziness to rooms. Accent sofas, chairs, and beds with throws and blankets.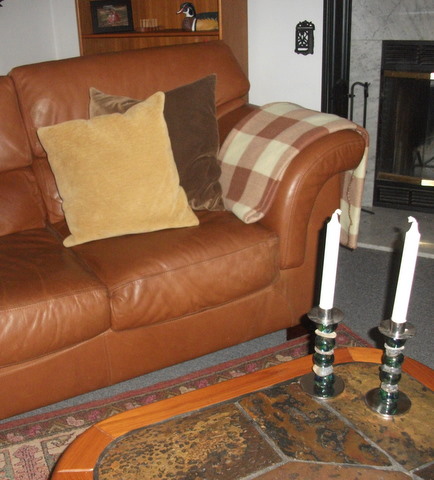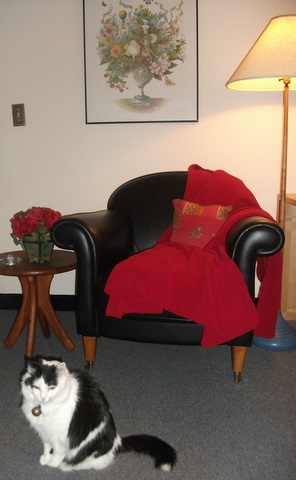 I'm an avid knitter. Several years ago, I made a multi-colored throw to match my bedroom. I hope to give it to my daughter as an heirloom someday. What makes this throw so interesting is it's only knitting and purling, but uses all different types of yarn and fibers, in different weights, and is knit on circular needles horizontally, as opposed to vertically. I put fringe on one end. I love to curl up with my blanket in my lap in my cozy club chair and read.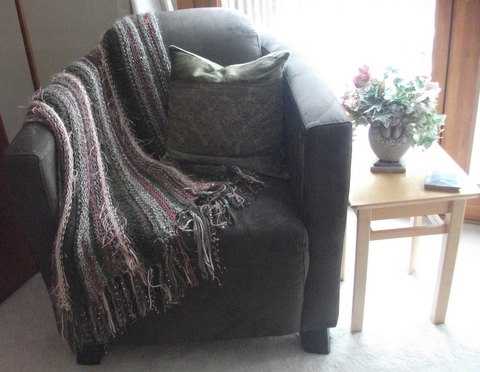 When I was pregnant with my daughter almost ten years ago, I had to be on bed rest for part of the pregnancy. That's when I got really good at knitting! I made these blankets in a checkerboard pattern to pass the time away. Knitting's really good for the soul! I wonder if someday when my baby's all grown up she'll use them for her babies.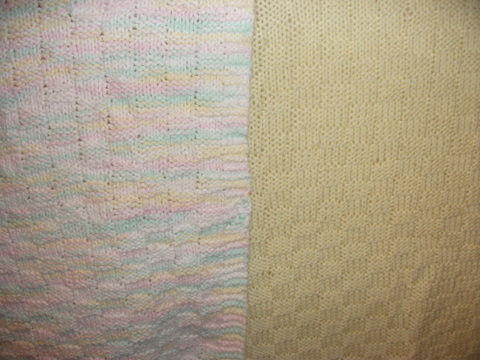 I learned to crochet granny squares, and made this granny-square afghan for my guest/sewing room. It took me a long time to do. I can do both knitting and crochet, but prefer knitting. I find that most people prefer either one or the other. I'm curious if that holds true.  Are there any other "Yarn Goddesses" out there? Which do you prefer, knitting or crochet, or do you enjoy both?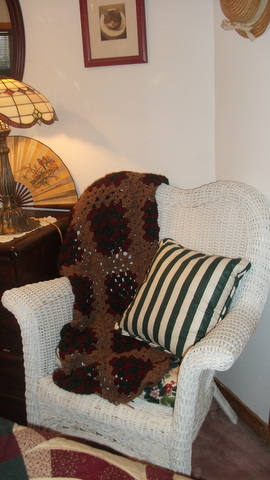 This is the granny square throw I made for the guest room.  The picture above the chair is a reproduction of "The Cat in the Ruff" which sits in the den of the Mark Twain House in Hartford, CT.  Mark Twain used to make up stories for his children using objects in the room, and the stories always included this cat.

When my daughter was four, we took a road trip vacation to Lancaster, Pennsylvania. We had lived in Pennsylvania for a few years when we first got married, so we knew to get off the "beaten path", away from the tourists, and headed instead to the remote areas of Amish farmland. Driving among the beautiful corn fields, we stopped into any farm that advertised goods for sale. We found the Amish to be quite friendly and open to selling their wares to the "English". At one farm, we found beautiful quilts, about a third the price or less of what the "tourist trap" stores were selling them for. I bought this beautiful quilt, which now rests on the foot of the bed in my guest/sewing room. While I dapple in sewing, near the top of my "bucket" list is learning to quilt, but am not sure where to start. Are there any quilters out there? Drop me a comment and give me your advice on how to get started. Where did you learn and from who?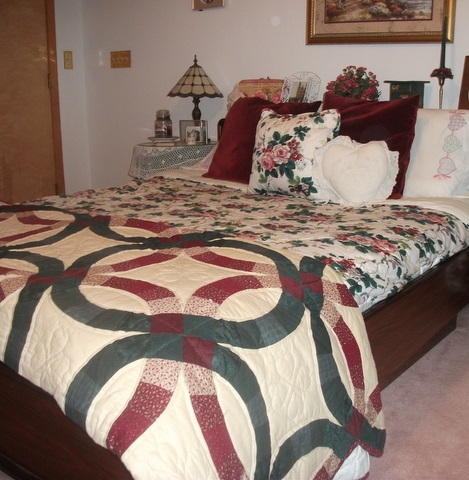 It may be cold as ice cubes outdoors, but indoors we are toasty and warm! Speaking of warm, thank you to all my Farmgirl friends out there…you all warm my heart like the coziest quilt!