I'm off to our library today. My daughter's key chain collection was featured in the glass showcases for October. Our library's a treasured place, and for a small town, it's a great meeting place full of books, activities, and museum-worthy treasures in cases illustrating the town's history. Our townspeople are very proud of it. Stepping inside, I'm reminded of how reading has shaped who I am and where I've been.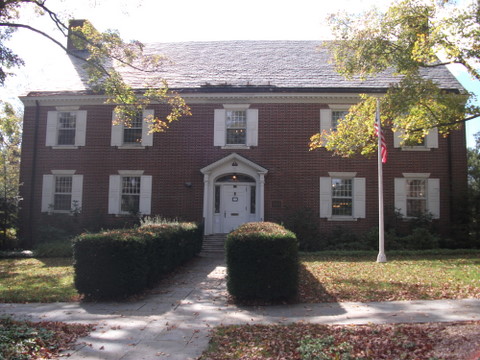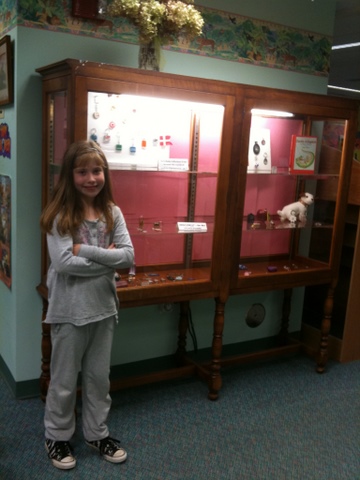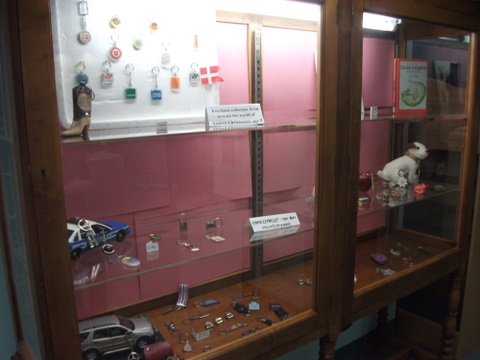 Our library encourages residents to share with one another. My daughter's key chain collection was featured in the Children's Section recently.
As a child, Momma shared with me the only physical thing left from her childhood – a set of "Childcraft" books. If you aren't familiar with them, they were encyclopedia –type books for children, first printed in the 1930's. Each volume had a different theme, like poetry or art. Momma's set were from 1942, hardbound in pumpkin-colored covers. Inside were magical stories and whimsical drawings. On the inside covers of Momma's set were pencil drawings of princesses in fancy gowns – proof my mother was once a little girl, too – a shocking concept to my preschool self! She'd lie on the cool kitchen floor while her mom baked, and read for hours. With those books, I'd do the same. My favorite was Poems of Early Childhood, with its poetry and vintage ink illustrations. When thunderstorms struck, and I couldn't sleep, Momma would remind me of the poem about two Guardian Angels that would watch over sleeping children at night. The illustration shows a child in her bed, with two stunning, glamorous angels with giant wings (one looks like Yvonne de Carlo), sweetly keeping watch and tucking up the blankets. Through the years, that poem came to mind when my daughter would wake at night. I wished I could read it to her, and show her the picture. Momma's books were unfortunately lost in a move over two decades ago. I tried once to purchase another set on EBay. Unfortunately, they were the 1949 set…not the same as the ones I'd loved as a child.
I'd forgotten about it, until one day when our library hosted its annual fundraising book sale. There on one of the tables, was one volume of an old "Childcraft" set. I realized it was the book of poems. Picking it up, I checked the printing date: 1942, the same year as my mother's! (Wish I could say it was the book we had with Momma's childhood scribbles, but it isn't. I've enjoyed sharing it with my daughter, nonetheless).
Other beloved books include the Little House on the Prairie series. I spent many hours as a kid pretending to be Laura Ingalls! I can't wait to share those with my daughter; she's now the right the age.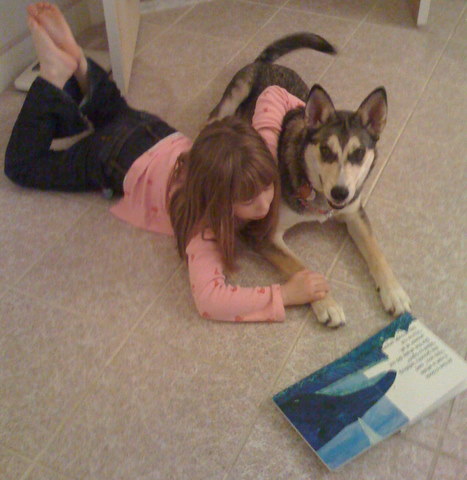 It's always fun to read with a buddy!
Raised to treat books with care, I remember my Daddy's book collection, most of them on nature. He would make his own neat dust covers to keep them nice. As a child, I could read them, as long as I was careful. Visiting Daddy last summer, I smiled when I saw he's still got those books, with their neat little covers, in his office.
Do you have sentimental books? In my daughter's bookcase is copy of The Little Engine that Could. My dad gave it to her when she was two, a reprinting of the original enjoyed by children in our family for generations. I was once able to get her favorite storybook, Jamberry, by Bruce Degan, autographed and she has a few autographed Tractor Mac books from meeting Billy Steers at the Bridgewater County Fair. I hope she shares these with her children someday.
Once, for our anniversary, my husband and I went to the Ridgefield Playhouse for a movie screening starring Christopher Plummer. For the price of a movie ticket, we saw the film, had a question and answer session, and book signing with the acting legend. We don't always celebrate our anniversary, but that was a memorable one.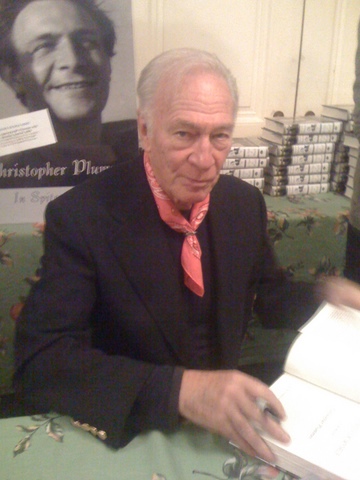 9/26/2009: The talented Mr. Christopher Plummer signing a book for me.  He gave me permission to snap his photo, was ever so charming, and has the most piercing blue eyes I have ever seen.
Favorite books are like dear friends. The Delaney Sisters' Book of Everyday Wisdom with Amy Hill Hearth published in 1994 is full of practical advice and smart musings from two sisters who lived to be over 100 years old. It's an inspiration to live simpler. I reread it each year. Erma Bombeck was one of the funniest and most honest authors ever! Need to laugh? Her writing is still as refreshing as iced tea in summer. Of course, MaryJane's Ideabook, Lifebook, Cookbook is a most special, life-changing, dear-to-my-heart book. I love everything about it…the pictures, advice, crafts, and recipes. I also collect vintage cookbooks.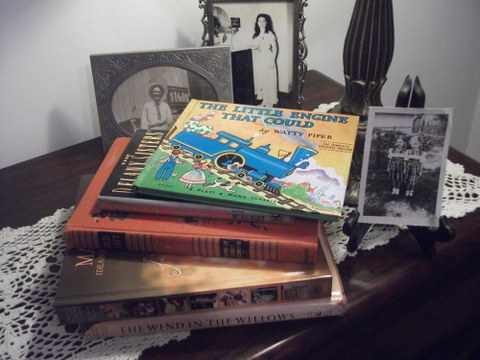 Some favorite sentimental books with sentimental photos…
"Paperless" books we now have are convenient, and green. I've used the application myself, when I was a member of a book club. Yet, I still love a good, old-fashioned book. If all books become "virtual", won't you miss the smell of a book, the excitement of an autographed copy, and the ability to share a treasured book with friends and family? What do you think? What books are close to your heart? Leave me a comment and let me know!