We lost a member of the household today – the pet fish. Dealing with the loss of a pet is a rite of passage for a parent, unfortunately. It's when your heart tugs at you, but you realize, "Yikes! I'm the adult here… I have to keep it together." What do you do when your child's heart is breaking?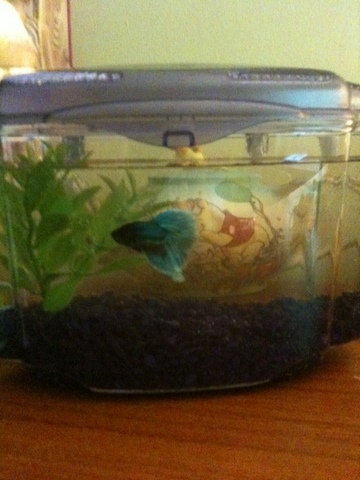 This isn't the first time we've lost a pet. Since my daughter's birth, we've had to explain death and mourn several beloved animals. We've got dogs, a cat, and a pet turtle waiting at the Pearly Gates for us. The last cat passed away unexpectedly the day before my daughter's birthday this summer, while her birthday cake was in the oven. I say unexpectedly, but I'm not sure that's really true. She was twenty years old, human years, by the way. She was deaf and just about totally blind, but in "remarkably good shape for a cat her age", according to our vet. For some reason, she used to find her way into the shower at 3 AM, not find her way out, and run into the glass and meow until one of us woke up to show her the door. She was round, soft, and so sweet. Her little heart just gave out that day, and she passed away in our arms. The house certainly isn't the same without her. So here we are again… with the fish.
My little girl asked repeatedly for a fish for two years. My answer was always "No". I know fish don't live long. All the fish books say NOT to get attached to pet fish, that one can do everything right, and still they may die. When Audrey loves something, she does it with her whole heart. We have a fish game App, if we couldn't keep virtual fish alive, how would we do with a real one?
Mommy said "No". Grandma said "Yes!" That's another rite of parent, or grandparent passage. Who can argue with a doting grandma?
So one day after school last spring, we headed to the pet store and bought a Half-Moon Betta fish, and a starter tank. Audrey kept him in her room, and he became her little buddy. She named him Fin-Fin. We checked out several books on keeping a Betta, kept his water clean, and even figured out what fish food he liked best. Yes, even our fish became spoiled. He really did have a personality, as far as fish go. The books all said males might make "bubble nests", and ours made one every week. He'd get very upset when we'd break them up to clean his water. He'd always come up to the glass when we approached, and Audrey swears he watched TV. I have to admit, I became attached, too. We even grabbed him as we fled down the stairs to the basement during Hurricane Irene, so he was a part of the family.
One thing about Connecticut – the weather and the temperature can change drastically and suddenly. This particular night, a deep cold front came through. We woke up to a chilly house. I think Fin-Fin got too cold, and that morning, he was lying on the bottom, on his side. Not good. Frantically, I called a family member who used to raise Bettas. He told me things to do, that maybe we could save him, but to no avail. Soon, our pet floated belly up. I felt helpless, and my daughter's heart broke.
If I could have done CPR on that little sucker, I would have.
I'm not the only Mom distraught over the death of a fish. One of my friends had her daughter's fish pass one day while her daughter was at school. It was a snowy, cold winter day. Panicked, she put the dead fish in a plastic baggy, loaded her toddler into the car, and drove to the pet store, hoping to find one that looked exactly the same. By the time she got there, the deceased fish was encased in ice, having frozen in the baggy on the drive over. She was able to pull off the (pardon the pun) bait-and-switch for several years, but had to fess up when that fish died, since her daughter started to question whether it had broken a world record by living so long.
So this week was a sad one for us. We held a funeral for Fin-Fin in the yard, burying him in the Hosta bed. To say my daughter was disgusted at the suggestion of a funeral in the bathroom followed by a flushing, is not even close.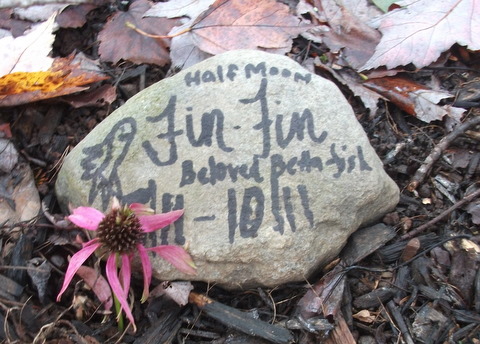 The grandparents were called with the sad news, and a new tank (with a heater) is on its way as we speak. Here we go again.
I know that this isn't the last time I'll feel helpless as my daughter cries over a broken heart. I'm sure her heart will get broken no matter how much I try to avoid it. Life throws punches. Sometimes as parents, our job is to just be there to soften the blows.
Meet "Pumpkin"