Have you ever entered a baking contest? I hadn't, until recently. Grab some coffee (and maybe a slice of pie…you'll crave it soon, for sure), and I'll tell you about my recent pie-baking adventure.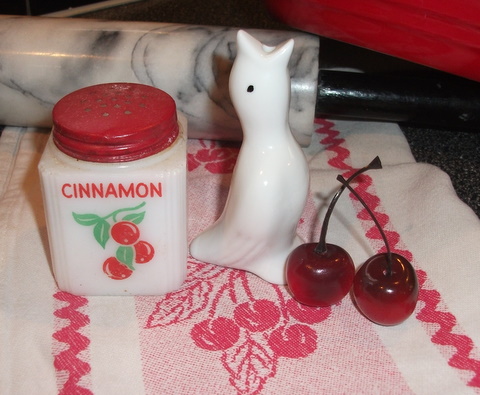 I love pie. All pie: chicken pot pie, shepherd's pie, chocolate cream pie, pumpkin pie…but my hands-down favorite is cherry pie. (My kitchen is even "done up" in a cherry theme, with a few chickens thrown in).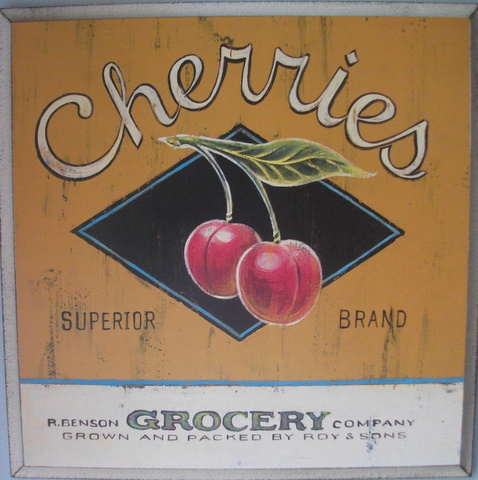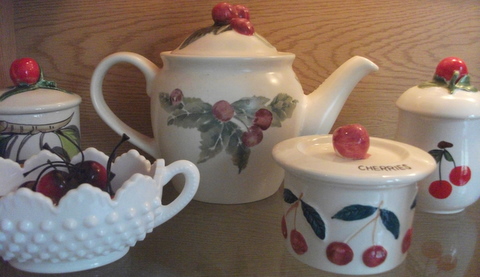 Some of my cherry pieces…
My grandmother, aunt, and mom were all "known" for their cherry pie, a family favorite. I've never tasted one anywhere else as good as our home baked cherry pie. The only thing that ever came close was in 1992, when we visited an Amish restaurant in Lancaster County, Pennsylvania. My mother's pie crust was always phenomenal, and good pie crust can be difficult. Try as I might, I never thought mine was quite right. It either rolled out to short and thin, or too thick and fat. It wouldn't be flaky, but more crumbly, like wet beach sand. Not so appetizing.
One day I had a conversation with my mom as she was fretting that no matter what she did, her pie crusts did not come out the way they used to. We found out that the shortening it called for had changed "formulas" one year, and we attributed it to that. The quest was on for the perfect crust recipe (which I have found).
I love going to the Country Fair every year. I've always wanted to enter one of the contests, pie-baking or jam, but never have. One day, I noticed a flyer on a bulletin board in my community for a pie-baking contest. That was it! I'd enter. It'd be fun to try, anyway. My husband won't eat my cherry pie – he says he dislikes cherries. A pie contest gave me an excuse to bake my favorite pie and actually have it eaten by someone besides myself.
I used my mother's special cherry pie filling recipe, which calls for tart cherries packed in water. For the crust, I used MaryJane's crust recipe from MaryJane's Ideabook, Cookbook, Lifebook. It's on page 238 and uses butter. Yum!
The weekend of the contest, my brother-in-law, his wife and baby were visiting. They agreed to be guinea pigs for my "test" pie, even though Jesper, my brother-in-law, also says he dislikes cherries. They loved it! When my husband came home, they insisted he try a piece. Twenty years together, and Kim never took a bite of my cherry pie. Unwillingly, he tried it – and went for seconds! (He just never knew what he was missing)! My confidence was gaining.
I used my best pie plate – a yellow ceramic one with beautiful red cherries. It's lighter-weight than the stoneware pie dish I made my test pie in, and I found it creates a crispier bottom crust. To keep my edges from burning, I turned a tart pan over my pie, upside down (without the removable bottom). The contest was held at our town hall, an antique building on our beautiful Main Street. I wore my mother's vintage rhinestone cherry pin on my lapel for luck.

Ready to go!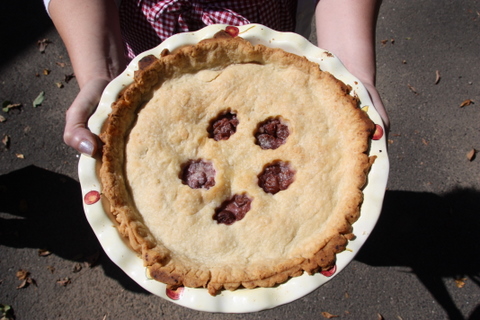 Here comes the pie…
Small town life is nice – seeing people you know for fun events such as this is a joy. The contest was sponsored by a company in town, Senior Helpers, whose owner, Gus Thanasoulis says, "We wanted to give back to the community, do something fun, with a 'slice' of Americana – what better way to do that than with a pie-baking and eating contest?" (The pie-eating contest was hilarious)!
There were several different categories, and a large table of pies to be judged. The judges didn't know who made the pies. All ages attended, and for a contest being held for the first time, it was a great turnout. I didn't care if I won, it was just a fun way to spend a family day, and I was happy I got the nerve up to enter. The long table full of pies with their delicious scents wafting through the air was so mouth-watering.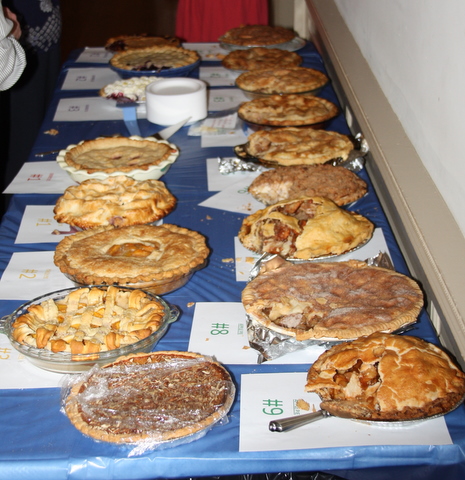 There were winners to be awarded prizes in each pie category. When it came time for the judges to announce the names, I was thrilled to hear my name called! My cherry pie won first place!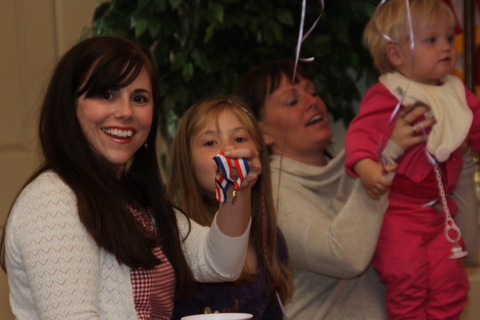 I received a ribbon and a $50.00 gift card to a nice restaurant, but what I took from it was more than that: I realized that I shouldn't let fear of failing keep me from trying.