Summer's midway!  While we've been busy doing some favorite summer activities, sometimes things don't turn out as planned.  Stopped at a light the other day, I noticed a bumper sticker, about the sport of golf.  It read, "I hate golf, I hate golf, nice shot… I love golf!"  Gardening can kinda be that way sometimes, too.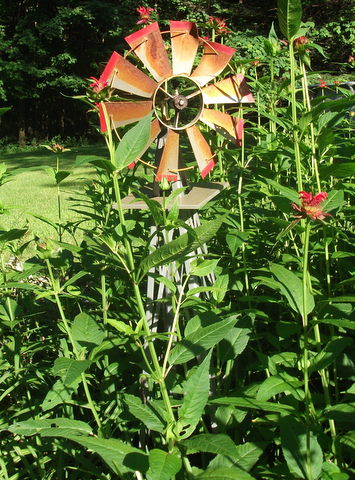 I love my backyard, especially in summer.  This year however, it's been challenging.  If weeds counted, I'd be a "Master Gardener"!  They've kept me busy pulling!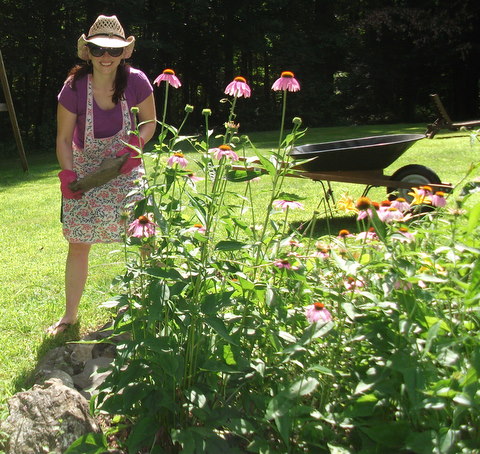 I put in a "cutting garden" many years back. I used naturally occurring rock as my border.  Filled with my favorite flowers, it has to be weeded frequently.

There's my veggie garden.  Last year, we had so many tomatoes, we ate them breakfast, lunch, and dinner. I  recently read on the City Farmgirl's blog that she has an overabundance of yellow tomatoes.  Wish I had that problem!  I have tomatoes, but they won't turn red.  I water, weed, pull off the "suckers", but so far, not a single ripe tomato on the vine has greeted me.  Thought I'd have "killer tomatoes" because the plants are full and flowering.  So much so, they've caused me bodily harm. One evening, in the garden, I bent down to pick something up, and poked myself square in the eye with one of the tomato stakes.  It hurt like…well, a poker in the eye.  Leave it to me to make gardening dangerous!  (Had to go to the eye doctor, but I'm okay).  My friend Ken MacKenzie gave me some bright orange marker tape to put on the tops of the stakes, to make sure I don't do that again!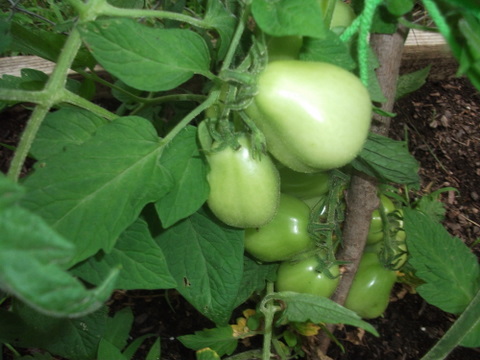 I do love Fried Green Tomatoes, but want some vine-ripened, warm from the sun red ones, too!
Then there's the squash dilemma.  My friend, Valerie, took one look at my veggie garden and declared it Fort Knox.  Although it seems I need tighter security.  Last year, we had so much yellow squash, we dubbed the biggest plant "Squashzilla".   This year, our area had a population explosion of chipmunks.  They're everywhere.  I think they're cute, with their fat little bodies, tiny ears, and chubby cheeks.  They run to and fro in the yard, and happily chase each other.  But I could not figure out what was happening with my squash.  Blossoms would bloom, and then disappear.  Something was munching them!  I knew it couldn't be deer, they can't get past the cyclone fencing.  Then I witnessed Chip (or maybe Dale) run right through the fencing with… you guessed it, a squash blossom.  Sending out an SOS (Save Our Squash) on the Farmgirl Connection, I was given advice such as spray the perimeter with predator urine,  spray the blossoms with dish soap and water, and place dog hair around the plants.  I did all three.  When I went to check them today, I saw chew marks on the plants again, right next to the very large garter snake that slithered within inches of my feet.  Aaah…the joys of gardening!  Aside from a few weird looking (but still tasty) cucumbers, if we were living off my garden, this year, we would surely starve.
We can't get caught up in just the work of the yard, we must enjoy it, too.  It should be a place of rest and reprieve as well.  Inspired by my brother, a Houston policeman, I created an outdoor oasis.  He has one of the most stressful careers I can imagine!  Yet I'm in awe of how relaxed and calm he is.  He owes it to his backyard.  It's filled with plants he loves, a bird feeder to watch the birds, and a comfy place to sit.  While smack dab in one of the biggest cities in the U.S, under his covered patio, even a thunderstorm becomes relaxing!  He makes a point of enjoying it, even if it is to have a cup of coffee or glass of iced tea.  So, I took our partially covered deck, placed an old outdoor table against the wall as a side table, and in the corner placed a wicker chair from a bedroom.  On the table, I re-purposed favorite objects, such as candles and shells.  In the middle, I covered our old  patio table with a bright oilcloth tablecloth, and some beautiful silk flowers I bought for $2.00 at a local business sadly going under.  The result is a relaxing place to eat, knit, and read.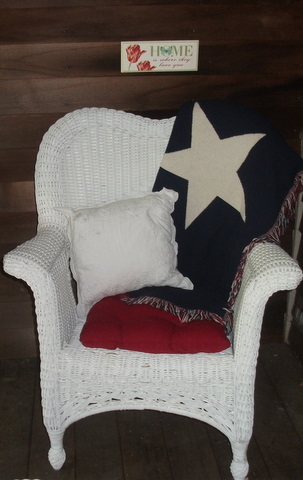 My "Comfy Spot". Everything is re-purposed.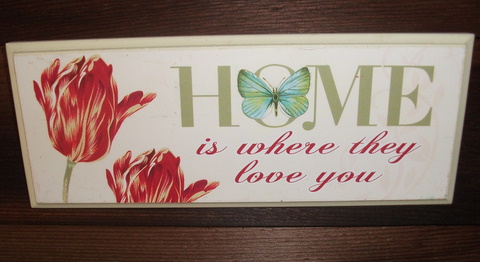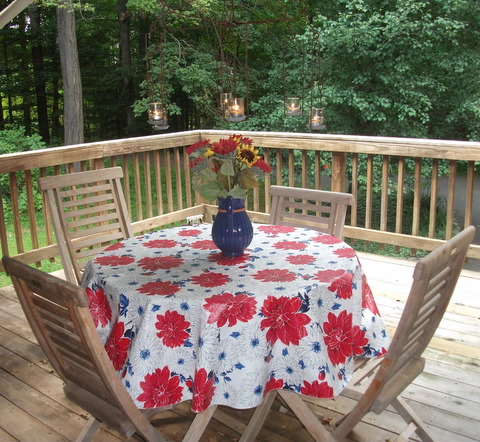 The chandelier is about 15 years old, rusty but charming.  The tablecloth I picked up inexpensively at Walmart.  The pitcher is an old water pitcher, with silk flowers I picked up for about $2.00 at a local store going out of business.  I can change to a fall color cloth in the autumn.
The point is, you don't need a huge space, just a spot where you can be comfortable and relax, even if it is a lawn chair under a shady tree.
Now, we've been grilling and eating outside almost every night.  Our favorite: beef, chicken, or ribs, with "veggie packs".  Take chunks of any kind of favorite veggie, and place in foil "boats".  Add  several tablespoons of  olive oil, and some herbs and salt. Seal them shut and place directly on the grill for twenty minutes, and you have a no mess dinner! (When using potatoes, you do not have to parboil them with this method, just make sure the seal on the foil boats is tight).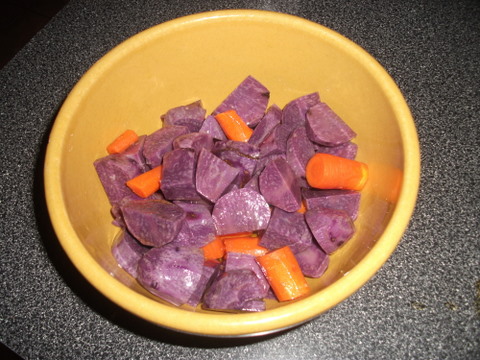 Use any kind of cut up veggie you wish.  They all work: Broccoli, peppers, cherry tomatoes, cauliflower, yams…here we try "blue potatoes" and carrots.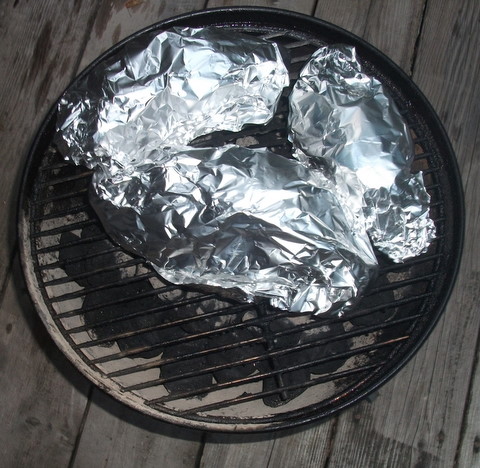 Make sure the foil "boats" are tightly sealed, and do not open them until ready to serve. 
My garden has not kept me without squash, thanks to the organic farmers market. (Although they've complained about this year's growing season, too).  So, until next time, l leave you with a favorite recipe, Squash Casserole, another great side dish.  Now, where did I put those seed catalogs? Here's to backyard bliss!
Yellow Squash Casserole
1 lb. yellow squash, sliced
1 medium onion, chopped
1/2 tsp. sea salt
14 crackers (saltine or buttery, I like to use Late July Organic Crackers)
1 tsp.  sugar
1 cup grated cheddar cheese
2 large eggs, beaten
1 cup milk
1/2 cup butter, melted
Boil squash with onion and salt.  Drain.  Add remaining ingredients, reserving a fourth of the cracker crumbs for the top.  Pour into a 1-1/2 quart, well-buttered dish.  Sprinkle top with remaining crumbs.  Bake at 400 degrees for one hour or until set.  Enjoy!