Are you passionate about a hobby or activity?  One of my favorite hobbies is knitting, an activity that keeps my hands busy and my mind relaxed. I love teaching knitting classes for my town, and knitted items are one of my favorite gifts to give. I really got the "hang" of knitting when I was expecting my daughter, and had complications that required bedrest…torture for someone like me who has to always be doing something!  Knitting makes me happy and centered…it's my "yoga".  Picking out yarn…the textures, the colors, the smell of the fibers, makes me giddy!  I love to head to my favorite yarn store,  located in one of the most beautiful places in Connecticut…the historical and quaint town of Kent.  Come visit this gem of a town with me!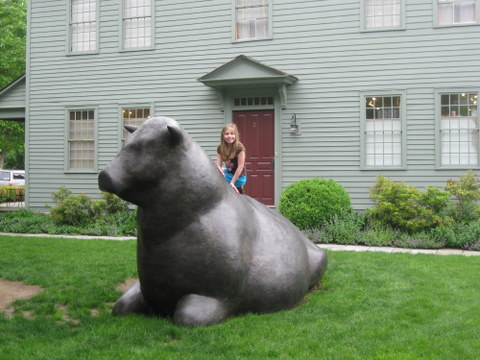 I love browsing in little towns with small businesses. Scattered across the USA are main streets with charm, that really give you local flavor.  Lancaster, Pennsylvania is one I love.  In Texas, it's  Old Town Spring.  In Georgia, I had a great time visiting the historic town of Madison with my mom.  Home in Connecticut, Kent has become my get-away-for-the-day place close to my heart.
Driving South, in about forty minutes I'm in New York City.   Head in a different direction, and in about the same time, I can be in scenic Kent.  Incorporated in 1739, Kent and its surrounding area is rural, historic, and picturesque, with amazing state parks, and postcard-worthy scattered farms.  There's farm-stands and dairies, trees galore and bald eagles soaring overhead. Take a drive over the wooden covered bridge, Bulls Bridge, and you'll see the Kent Falls Waterfall.  It's a thrill to see the rushing water!  We like to park and walk the wooded trails along the river.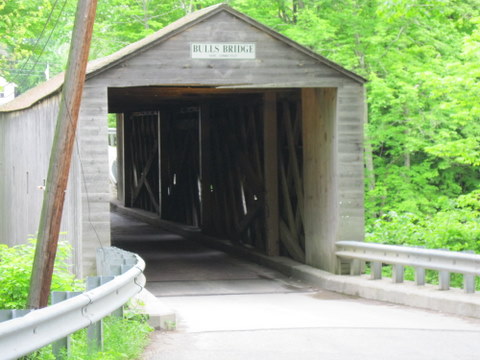 Bulls Bridge takes you over the scenic waterfall in Kent, CT.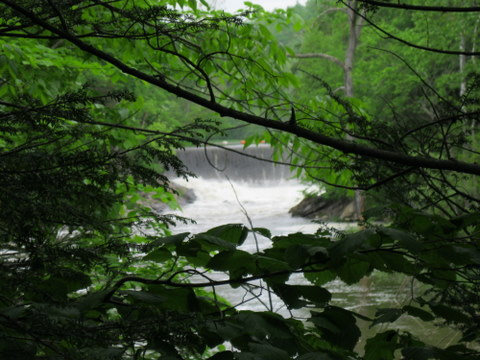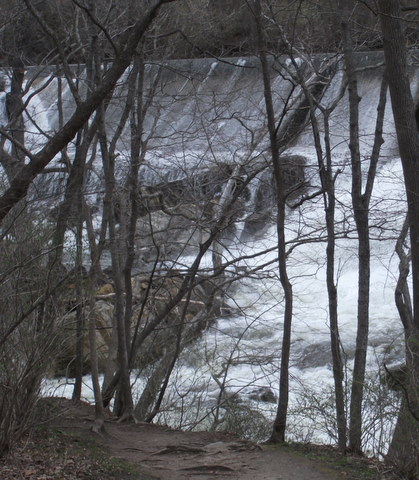 This shot was taken in the Spring before the leaves popped out.  Can't you hear the rushing water?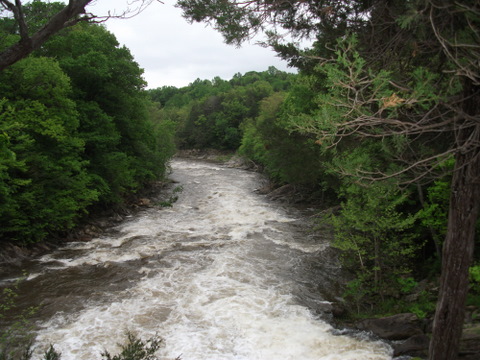 A bit further down, and you'll find the main part of town, filled with cafes and shops.  I love being outside as opposed to a mall, and Kent is home to unique small businesses owned by very friendly folks.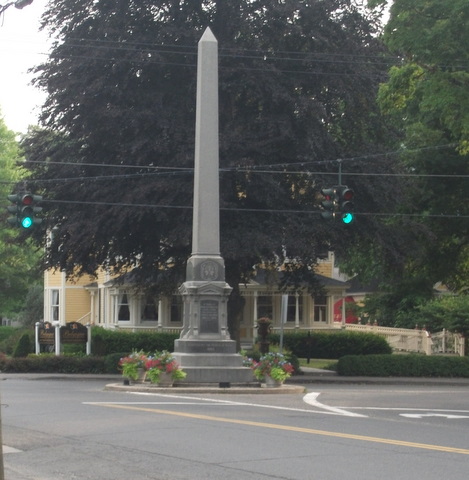 The Civil War memorial sits in the center of the Main Street, (CT Route 7) in the shopping district of Kent. The yellow structure behind it is Belgique, the most exquisite chocolatier!
When I need a new knitting project, I head to my favorite yarn store, Black Sheep Yarns, owned by Nancy Hamilton.  Always smiling, Nancy makes customers feel like they're visiting an old friend,  as her shop has a relaxed and happy atmosphere.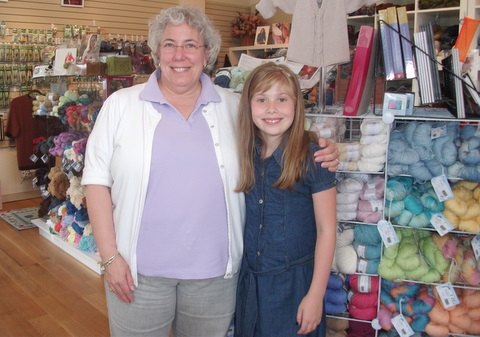 Nancy, and my daughter at Black Sheep Yarns.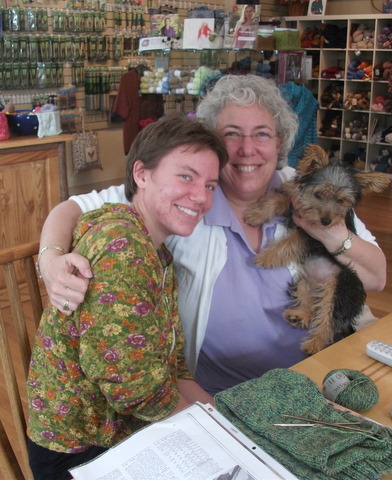 Nancy and her daughter, Nicole, and the store's "mascot", puppy Hannah.
Uncluttered, but stocked full, it's a feast of yarn in the most delicious shades and textures!  Nancy started her store after years of sewing professionally. When her son was in school in Vermont, she fell in love with a Claire Murray boutique, specializing in rug hooking. Nancy tried a rug hooking shop for awhile, in an "upstairs'   location, but the store never quite got off the ground.  Only two years ago, Nancy learned to knit, and was inspired to open her present location as a yarn store, catering to knitters!  As a seasoned knitter, I was shocked, as Nancy knits like a pro who's done so since childhood!  She'll help if you get stuck, and has a keen knack for finding the right project and yarn for the client, with your budget in mind. She feels you don't have to spend a lot to get a good product, and her philosophy is "Love what you're doing, and the money will follow."  Nancy's a warm and giving person.  She's an inspiration as she likes to give back to the community. She makes baby caps for local hospitals, donates items for charities such as  "Warm Up America", and "Caps for Good", and  has also discreetly given yarn to local women going through tough times.  Her store boasts Open Knitting several times a week.  It's a fun way for fellow knitters to bond.  Check her website out at www.blacksheepyarnsct.com.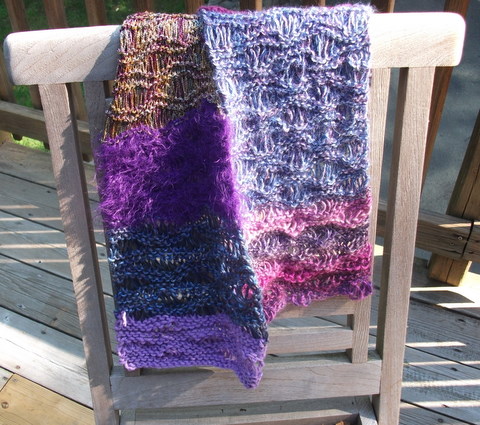 I recently finished this scarf with yarn Nancy helped me pick out.  This is one skein but knits up with different colors, textures and fibers.  The pattern purposely "drops" stitches to create a scalloped, wavy pattern within the scarf.
Kent has many different shops with clothes, accessories, kitchenware, antiques, and gifts.  Another favorite of mine is Foreign Cargo, owned by Jeff Kennedy.  His parents started the store forty-one years ago, and his mother, Olga, still works there, importing their vast array of goods.  Inside, there's clothing, hats, linens, art, and jewelry, imported from all over the world.  Jeff's father, a physician, owned a private practice in Connecticut, but also traveled as a physician for foreign aid for twenty-seven years.  He worked in places like the Pacific Islands, Southeast Asia,  Cambodia, and the African Congo.  Part store and part "museum", upstairs is the Gallery,  where you will see artifacts and traditional African art.  Most of the pieces are for sell, some are part of the family's private collections.  You never know what you'll find here, and is one of the most unique stores I've ever seen.  I love the round baskets, usually found on the front covered porch.  Woven in Ghana by a  Ojoba Widow's Weaving Cooperative, they are beautiful and useful,  a fair trade item enabling the women who make them to support themselves and their children.  Their website is http://www.foreigncargogallery.com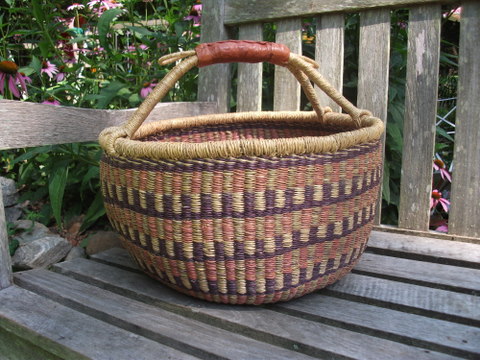 This is the beautiful handmade basket from Ghana my mom bought for me at Foreign Cargo…  I grab it for knitting projects, when I'm in the garden, or when I head to my local farmer's market.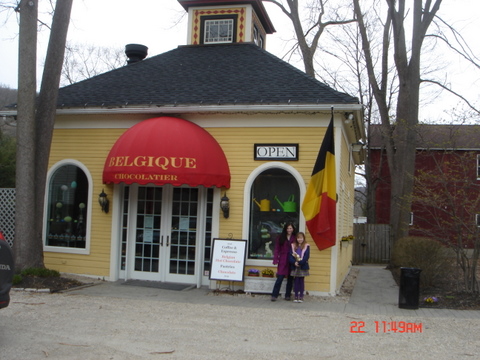 Another favorite spot…Belgique Choloclatier
If you're a chocolate lover, Belgique Chocolatier is Heaven!  Opened in 2000 by Pierre Gilisen and his wife Susan, the store looks and feels as if it could be in Europe.  Pierre was working in Washington, DC for various embassies, when an Ambassador at the UN suggested Litchfield County as a place to open a shop. They're best known for their traditional Belgian chocolate in molded shapes with creamy fillings,  and their handmade bars. Our favorite, though, is their luscious Belgian hot chocolate, which can draw lines of people wanting a cup!  So delicious, there is nothing better on a crisp New England day, piping hot with fresh whipped cream mounded on top.  In summer, we love their rich, creamy handmade ice cream!  It's decadent!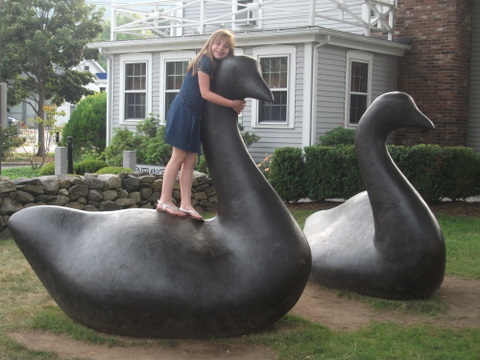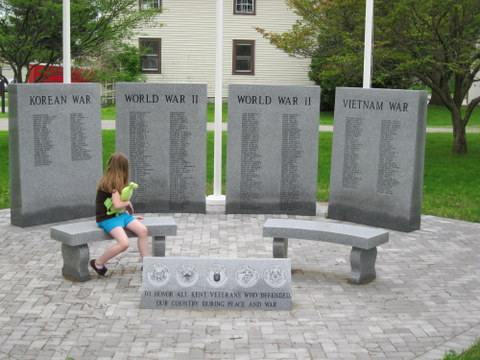 Most of the buildings in Kent are vintage, and the town itself is a work of art with its history. Hope you've enjoyed our "getaway"! What state are you in, and do you have a favorite local square you like to visit?  Leave me a comment  and let me know!