My friends Ken and Karen Mackenzie are busy these days, as the maple trees have been tapped, the sap has been flowing, and it's time to fire up the evaporator and get those bottles filled! Nothing tastes like real, pure maple syrup!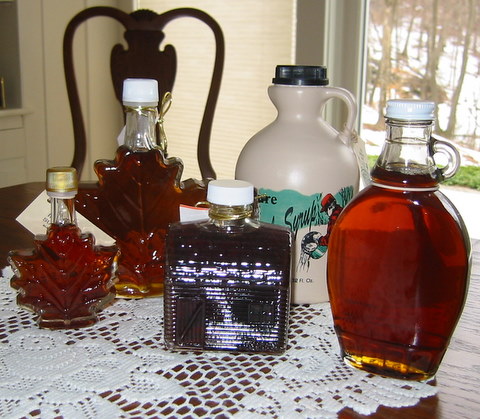 This New England winter was tougher than others, and Ken had to battle not only mass snowfall but also keep ice from forming inside the lines. After tapping the trees, the sap goes into the holding tank, and then on to the Sugar House. The sap collected in buckets is hand-carried, and hand-poured in the tank, a very physical task! My shoulders were sore for several days after helping with this. Maple sugarers are always coming up with ways to make their hobby easier, and Ken is no exception. The funnel at the top of his holding tank is a repurposed chicken waterer!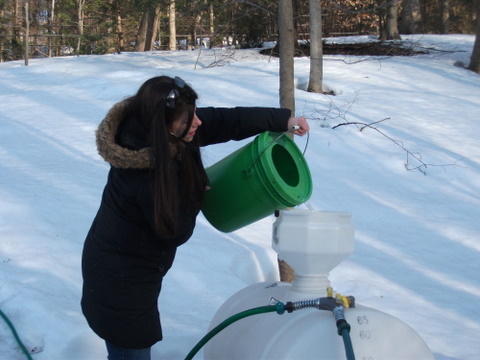 Here I am pouring the sap collected from the metal buckets into the holding tank.
Before the evaporator can be used, Ken must have enough cut wood to keep the wood burning stove heating it hot. Cutting and stacking all that wood is a feat in itself! Once the fire is good and hot, the boiling process begins. The evaporator has four chambers, and a blower makes it burn a little hotter. As water comes out of the sap, it gets darker, the most golden color being in the fourth section. The steam coming off is terrific! Inside the Sugar House with the evaporator boiling, it's like being in a sauna crossed with a bakery! Maple aroma sweetens the air, making your mouth water!
Ken uses a drop of a defoamer to keep things under control.
Temperature is key to good syrup, as well as length of time. Boiled too long, it can crystallize in the jars. Through many years of trial and error, Ken's perfect "pourin' off" temperature is 219.5 degrees, and it takes hours to get there. Ken suggests www.bascommaple.com for supplies, and www.tapmytrees.com for beginner kits and information for the backyard sugarer.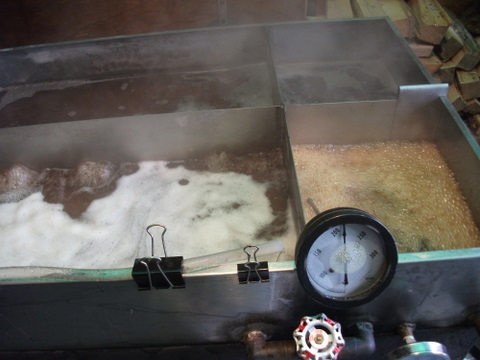 Here is a picture of the large thermometer attached to the evaporator. Notice the darker color of the syrup in the fourth chamber (next to the thermometer).
Forty-five parts of water is boiled off to get just one part of maple syrup! After sap moves into the fourth chamber of the evaporator, it goes into a big coffee urn with two paper filters and a felt filter, and finally into the glass bottles. Gloves are a necessity as the bottle gets very hot!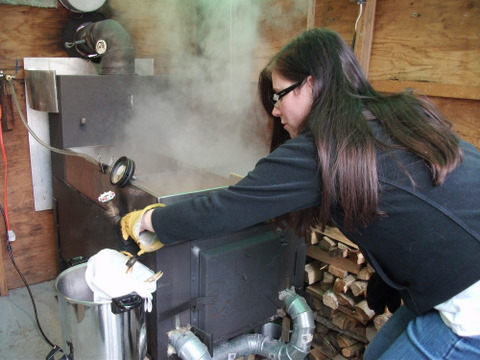 Here I am opening the valve to let the syrup into the coffee urn.  From there, we fill the bottles.
The Mackenzies make bottlin' a special time. Everyone who's been part of the event gets to autograph the inside of the Sugar House. The doors and walls are Ken and Karen's personal history, and my daughter and I joined their friends, family and scout troops who have been there in previous winters. How many bottles Ken has on hand depends on the season. Ken sells syrup by the bottle for $9.00 each (plus shipping and handling to far away customers who love it, too). If you'd like a bottle, contact Ken directly at kmackenzie3@att.net.
Karen uses maple syrup in cooking often, from meat and fish to baked goods. Her favorite recipe is Maple Granola. Mix it with yogurt, for snacking, or as a sweetener for unsweetened cereal.
Karen Mackenzie's Maple Granola
| | |
| --- | --- |
| 3 cups rolled oats | 1-1/2 cups favorite nuts, unsalted |
| 3/4 cup coconut (optional) | 1/4 cup + 2 TBSP maple syrup |
| 1/4 cup vegetable oil | 1/4 tsp. salt |
| 1/4 cup brown sugar | 1 cup unsweetned cereal of your choice,such as oat o's or wheat squares |
Preheat oven to 250. In large bowl, mix in oats,  nuts, coconut, brown sugar, and cereal. In small bowl, whisk syrup, oil and salt. Combine both. On two ungreased cookie sheets, bake for one hour fifteen minutes, turning every 20 minutes. After cooling, you can mix in 1 cup dried fruit of your choice, such as raisins or dried cranberries.
Maple syrup is one of my favorite treats, and now I have a real appreciation of how much effort goes into each delicious drop!