One of the hardest parts of this year's winter was that it kept so many of us stuck indoors!  I really missed my MaryJanesFarm Sisterhood Chapter farmgirls!  For our first get-together of 2011, I decided we'd do a daytime event, a luncheon, featuring something easy but hearty.  What's better winter fare than soup?  Come join us for our first ever "Soup Swap!"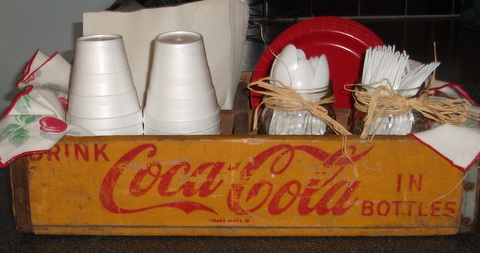 I decided to start a Sisterhood Chapter around a year ago, and christened it "Connecticut Simpler Life Sisters".  Although I have lived in Connecticut for almost two decades, I sometimes found it hard to meet apron wearin', simpler-life-lovin' girls like myself, so my chapter is a blessing.  We usually meet at my house once a month for a potluck and "lapwork" (knitting for example), and we always wear our aprons!  In the last year, we also did some "field trips", as well, taking a canning class, heading to a flea market, and taking a "Rustic Farmgirl" class at a Connecticut farm.  There we learned all sorts of things such as grinding grain and milking a cow!  Instant friends, we have members from several different areas in Connecticut, and one member, Heidi, who drives in from New York City!  We are married, single, some of us are moms, some work, some stay home…all different, but all with the need to harken back to days of "old", when women got together as a group, enjoying each other's company and the simpler things in life.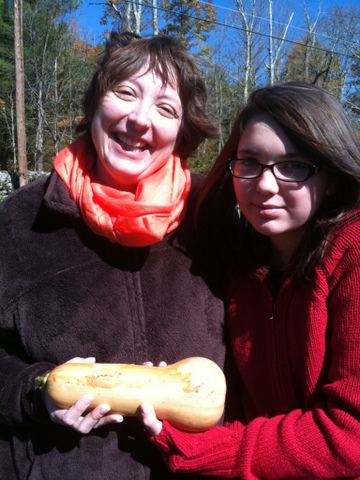 Heidi and her daughter  pick squash at the Rustic Farmgirl Class, October 2010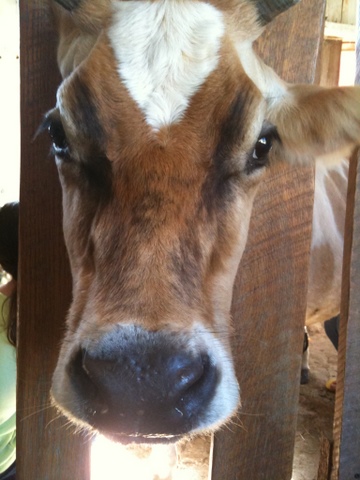 The beautiful, gentle bovine we learned to milk .  You could tell some of us were "city farmgirls" when we said, "Bless you," to her…she wasn't sneezing, she was chewing her cud!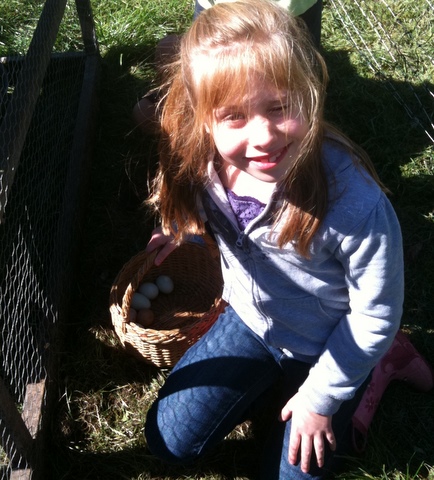 We also learned about chickens. Here my daughter gathers eggs. October '10
Wanting to beat the winter blahs, this month I decided to do something centered around food and warmth.  Voila!  The idea for a "Soup Swap" was born.  Our "Soup Swap" lunch was fun, and I think it could also work for a church gathering, or other group, as well as a chapter activity.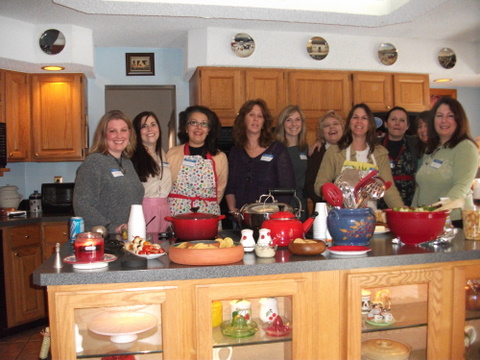 "Connecticut Simpler Life Sisters" 2011
I love to do potlucks for large groups of people. That way, one person does not bear the burden and expense of providing all the food, and it gives everyone attending (including the hostess) a chance to try new things.  To organize the "Soup Swap", I sent an email out explaining the fare, asking each person to bring one pot or crock pot of their favorite soup, a ladle, and copies of the recipe. (Similar to a cookie exchange). Each farmgirl added her name to the bottom of the list with what she would bring, so there weren't "doubles" of the same recipe. A few people brought desserts, as well, such as Teri's decadent Chocolate Rum Cake, and Kathey brought "organic salad and fresh bread for all", also bringing a mason jar of the best homemade dressing ever!  I can't tell you how delicious the kitchen smelled with all those warm, amazing soups simmering all over.
I provided small cups and spoons next to each pot, so everyone could sample each soup. The kitchen was abuzz with all of us going from one pot of soup to the next. "Did you try this one?"  "What's in this one, it's amazing!"  "Who brought the Chicken Tortilla Soup?"  This was also a good ice breaker, as this month, our group had several new girls join.  Pretty soon, everyone was eating, talking, and getting to know each other.  We shared lots of laughs, and all ate until we burst!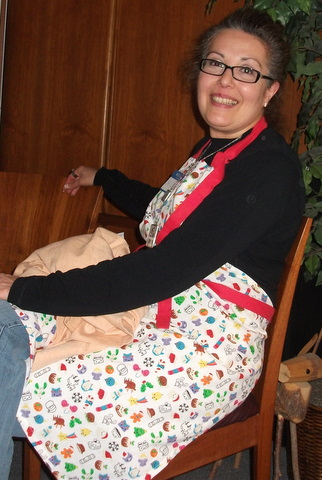 It's always great to see Ali's sweet smilin' face!
Retiring to the family room, we got to know our "new" girls better, caught up with what we all have been up to since the last time we got together, and shared ideas of some fun things to do this year, which I am excited about and looking forward to.  We have done some pretty interesting things together, but my favorite times are those spent just getting together over a meal.  Good food and good friends are two of the best gifts life has to offer!