.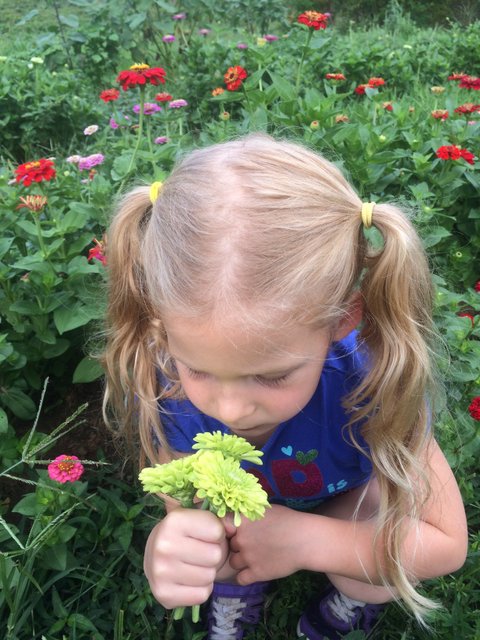 .
I'm not one to dwell on negative things in the news or world events.    It's not that I want to bury my head in the sand either, but I guess I just choose to dwell on positive things.  Things that warm my heart and make my days happier.
.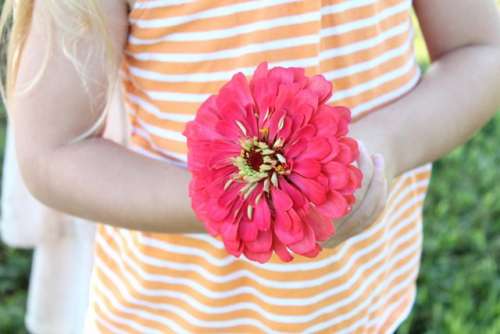 .
Summertime always does that for me.  I love everything about summer.  But honestly the thing that brings me so much joy is the (very small) flower farming business that my daughter and I have together.  And of course my little grand-girls are part of our business too.  They are right by our side; picking and arranging flowers.  (In between butterfly catch and release and playing with their dolls.)
.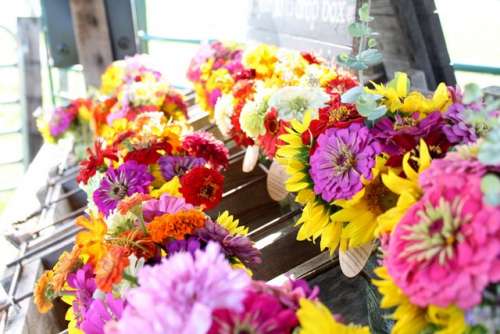 .
The above picture was taken by my daughter and she posted it on her Instagram with the following words, which I love so much and describe our mornings so perfectly:
"Starting each day in the flower garden amongst the bright, cheerful blooms never gets old. It's peaceful and quiet and after we fill our little stand with bouquets, I leave with a smile and a heart filled with thankfulness."
.
Even weeding and mowing in the flower garden is a happy thing!
.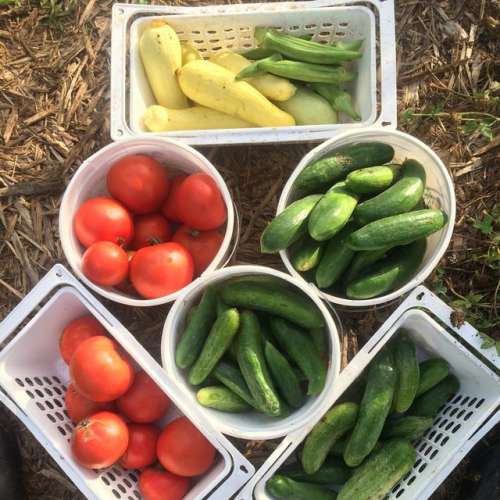 .
My vegetable garden has done amazing this summer and I've had a bumper crop of awesome heirloom cucumbers that I pick by the gallons and make pickles by the quarts!
.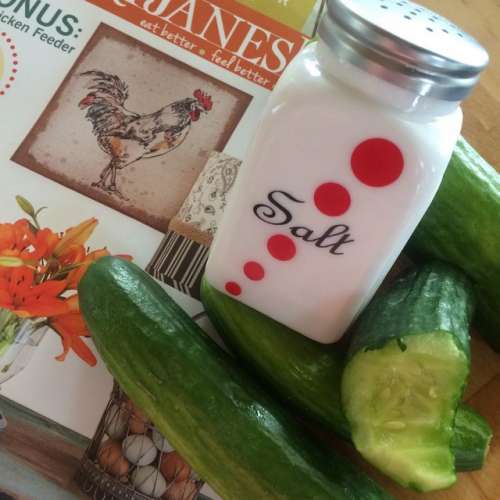 .
And my happiest past time?  A snack of cucumbers right out of the garden, salt in a vintage shaker and MaryJanes magazine of course!
.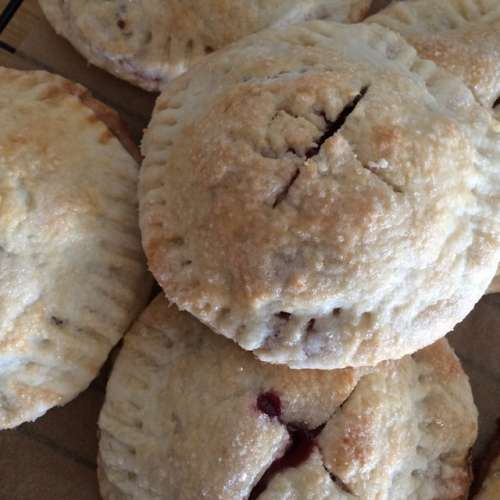 .
I love the early summer of fresh picked fruit:  strawberries from the local farm and wild blackberries all over our farm.  Nothing tastes better than my home-made wild blackberry hand pies.  Right out of the oven… oh my.
.
.
I love that our grand-girls spend one night a week with us all summer long.   I've been teaching my grand-daughter Jillian how to sew  and that brings me so much joy to see her enjoying it as much as I do! (The above sewing project was a picture she drew and then cut it out of fabric and we sewed it together, turning it into a little wall hanging.  It is called Illustrated Sewing and deserves a blog post all of its own!)
.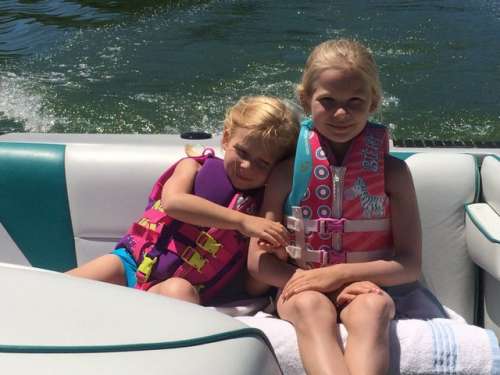 .
And boating.  Oh how we love boating.  We raised our kids boating all summer long and I'm so happy that we get to share that same joy with the next generation.
.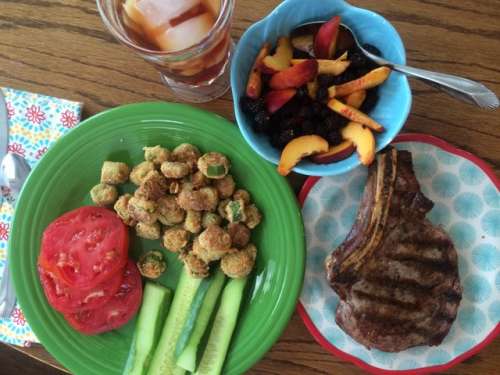 .
Summertime meals that are completely and totally from our farm:  fresh tomatoes, okra, cucumbers, peaches, wild blackberries and our own grass-fed beef!  Seriously, there is no better food than what you've raised yourself.
.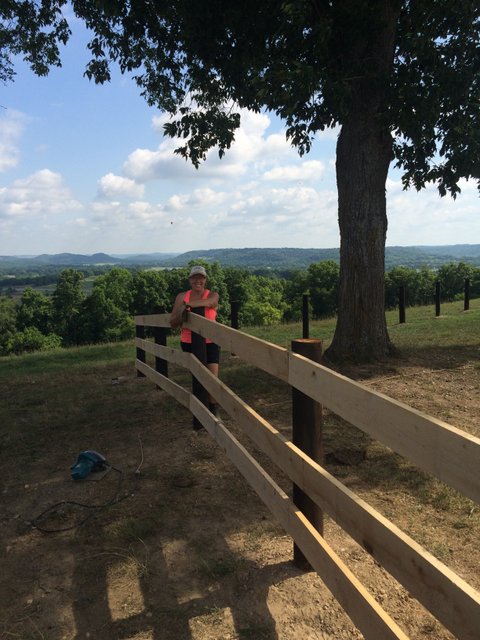 .
And I guess I even have to admit that hard work in the summertime makes me happy.  We are building a post and rail fence around our hilltop.  It is a huge, huge amount of work.  But every bit of the sweat and exhaustion will be worth it.  And when I look at it, I smile.
.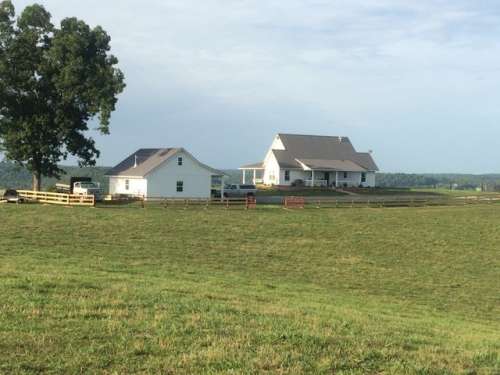 .
And our home on the hilltop.  The place my husband and I have spent the last five years building from the ground up, just the two of us.  It makes me so happy to call it home.
.
In a world of doubt, fears, sadness and unbearable tragedies I choose not to dwell on them.  I choose to be happy.  I choose to think about the things that bring peace and contentment in my life.  I choose kindness.  And I choose to be thankful for every blessing and every moment that I have to enjoy the precious things that surround me.
.
And you, my friends, are one of those things!  Thank you for always reading, commenting, sharing and encouraging.
.
Until our gravel roads cross again… so long.
.
Dori