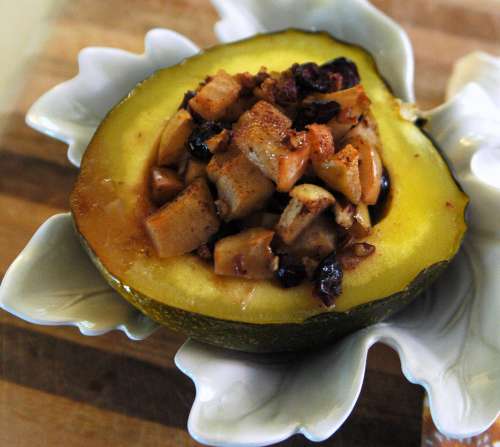 Dear Sisters,
I hope you are all settling into fall and enjoying the bounty of harvest season. It's cranberry season here in New England and I'm feeling inspired to try some new recipes using whole local cranberries, or craisins. Are you a craisin lover? I am CRAZY for craisins! I love adding them to breads, salads, granola, oatmeal, and trail mix.  Ya see, I'm not a fan of raisins. Never have been; so I substitute craisins for raisins every time! Today I'm sharing a delicious acorn squash recipes stuffed to the gills with Autumn goodness. And craisins, of course! When the temperatures dropped to below freezing ( 28 degrees) last week my appetite kicked in and I started craving the flavors of fall. Apples, squash ( of all kinds ) and pumpkin are in abundance and there's nothing better than baked acorn squash on a cold fall day. It'll do as a main meal or served up alongside, roasted chicken or breaded baked pork chops too. YUM!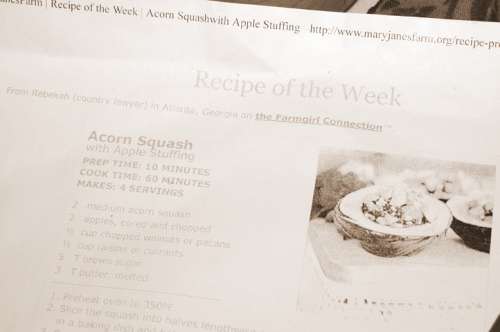 I've got plenty of cookbooks for inspiration but somewhere in the back of my mind I just knew I'd seen a recipe for Stuffed Squash on the Farmgirl Connection, or, in a "recipe of the week" email so I dug into the archives (online) and sure enough, there it was in the 2011 Recipe of the Week file. Rebekah, (our City Farmgirl ) had posted it on the Farmgirl Connection and Maryjane shared it with all of us.
Here is my version of Apple Stuffed Acorn Squash with CRAISINS, ( instead of raisins )

I only tweaked it a little!
PREP TIME: 10 MINUTES
COOK TIME: 60 MINUTES
MAKES:4 SERVINGS
2 medium acorn squash
2 apples, cored and chopped
1/2 cup chopped walnuts or pecans ( I substituted pecans)
1/2 cup raisins or currants ( I substituted craisins )
5 T brown sugar
3 T butter,melted
1 cup water
Nutmeg
1. Preheat oven to 350 F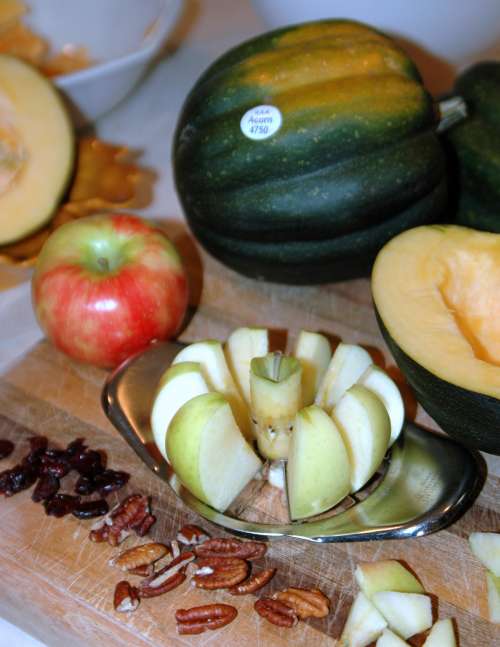 2. Slice squash into halves lengthwise and remove seeds. Place flesh-side down in a baking dish with water 1 1/2 inches deep and bake uncovered for 30 minutes.
3.Combine the apples, nuts, raisins, currents or craisins, and brown sugar in a medium bowl and stir to until all ingredients are evenly coated.
4.Turn Squash over so that it is flesh-side up. Spoon filling equally into squash halves and drizzle with melted butter.
5. Sprinkle with nutmeg or cinnamon.
6. Bake for 30 minutes, or until squash is tender.
Don't forget to save the insides of the squash and apple cores for your compost bin or give your backyard chickens a fall treat!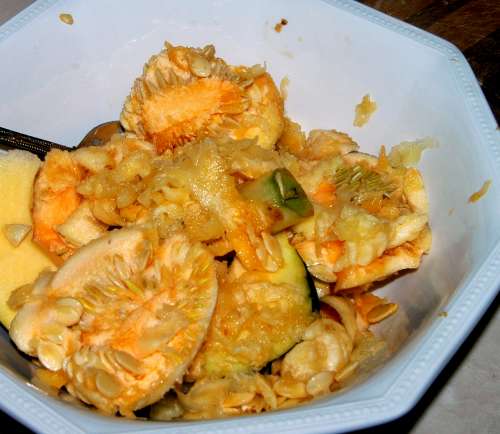 My mouth was watering the whole time this was in the oven! The whole house smelled like a fall day should smell. Homey, sweet and spicy!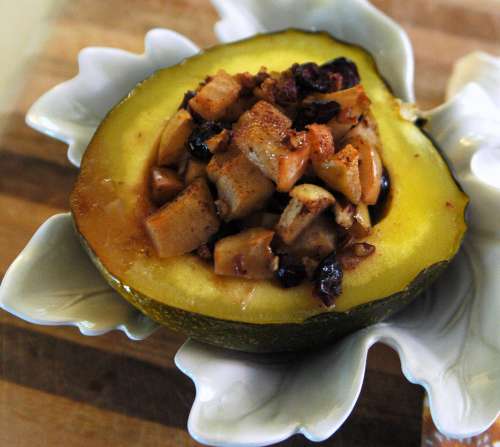 I made myself ( and my family) a promise that I wouldn't get into a menu rut this winter. This delicious Apple Stuffed Acorn Squash with CRAISINS was one of our first new recipes of the season and it earned a repeat performance at our table.
Did I mention baked acorn squash is also yummy doctored up with melted butter and brown sugar minus the fruit and nuts?
Thank goodness we can always count on MaryJanesFarm for providing a heapin' helpin' of healthy, tasty recipes to dip into when the well runs dry.
Thanks for the recipe, Rebekah! 😉 Here's a link to the original recipe so you can print it out and add it to your recipe file. It's a keeper!
More about the delicious and nutritious cranberry here
Until our next shoreline visit~
Happy Fall Y'all!
Beach Blessings and Much Love,
Deb,
Beach Farmgirl #1199