Dear sisters,
It's true! My hen house has a twin. An IDENTICAL twin! And that's not all. My handsome Yankee and I made some new friends to boot! Come on in and meet Donna, Ken and their girls and get a peek their NEW Little Red Hen House.
It's hard to believe that we've been keeping chickens for almost 8 years now. If you've been following this blog for a while now, you already know that my handsome Yankee came up with this clever New England Shed style design for our coop and built it out of reclaimed materials. I just love it and our girls do too! It's been a very cozy and efficient home for three separate flocks of hens so far with more to come in the future. I can't imagine not having my backyard chickens to keep me company in the garden.
I've blogged, face-booked and posted our coop to pinterest numerous times over the years and I've received several emails from wanna-be-chicken keepers asking for rough measurements of our coop. That's how it all started this time around too! Donna reached out to me via email ( by way of a nudge from her sister, Margie ) and shared with me that she had been dreaming of adding chickens to her garden for about 5 years and her hubby, Ken had finally agreed to build her a hen house. After searching the internet high and low she decided on our " Little Red Hen House " design. After learning that we only live about a half an hour away from each other we invited Ken and Donna over to get a good gander at our coop to help Ken out in finalizing his building plans.Meeting the two of them face to face was wonderful. They were so down to earth and very excited about their new coop to be. Besides, their little flock of 6 chicks was fast growing out if the box they were in and it was time for Ken to finish the coop.
Donna sent us photos during the " coop construction"  phase with an invite to breakfast and a garden/coop tour when it was finished.
It poured all the way to their house on the day of our visit but as soon as we arrived at their lovely home the rain slowed enough for the coop and garden tour we had been anticipating for weeks.
I just love walking and talking with people in their gardens and listening closely as the  stories about every little nook and cranny, plant and pot, pour out of them. I think it's a privilege any time a gardener invites you into their sanctuary and we were honored to witness what 40 years of garden dreams and sweat equity and a whole lotta love can do for a small patch of earth.
Ken is a master at working with stone and like all great husbands he's also a master at creating what his wife sees in her head too. Ken built Donna a potting shed that I now covet and lust after. And you will too, once you see inside of it!
Donna stored the lower cupboard in her garage for years until it found the perfect home in her potting shed.
I could get lost for hours putting and potting away in her cozy garden shed, couldn't you?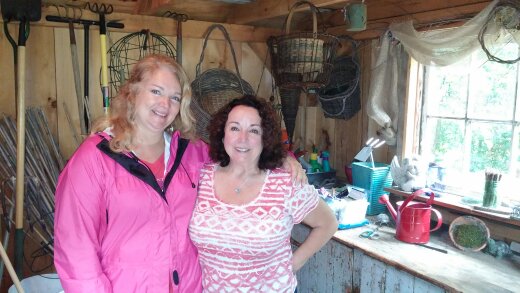 My new friend, Donna and I hamming it up for Boz. The new Little Red Hen House is conveniently located near the potting shed for easy access of poultry supplies and so Donna can visit with her girls while outside puttering of course.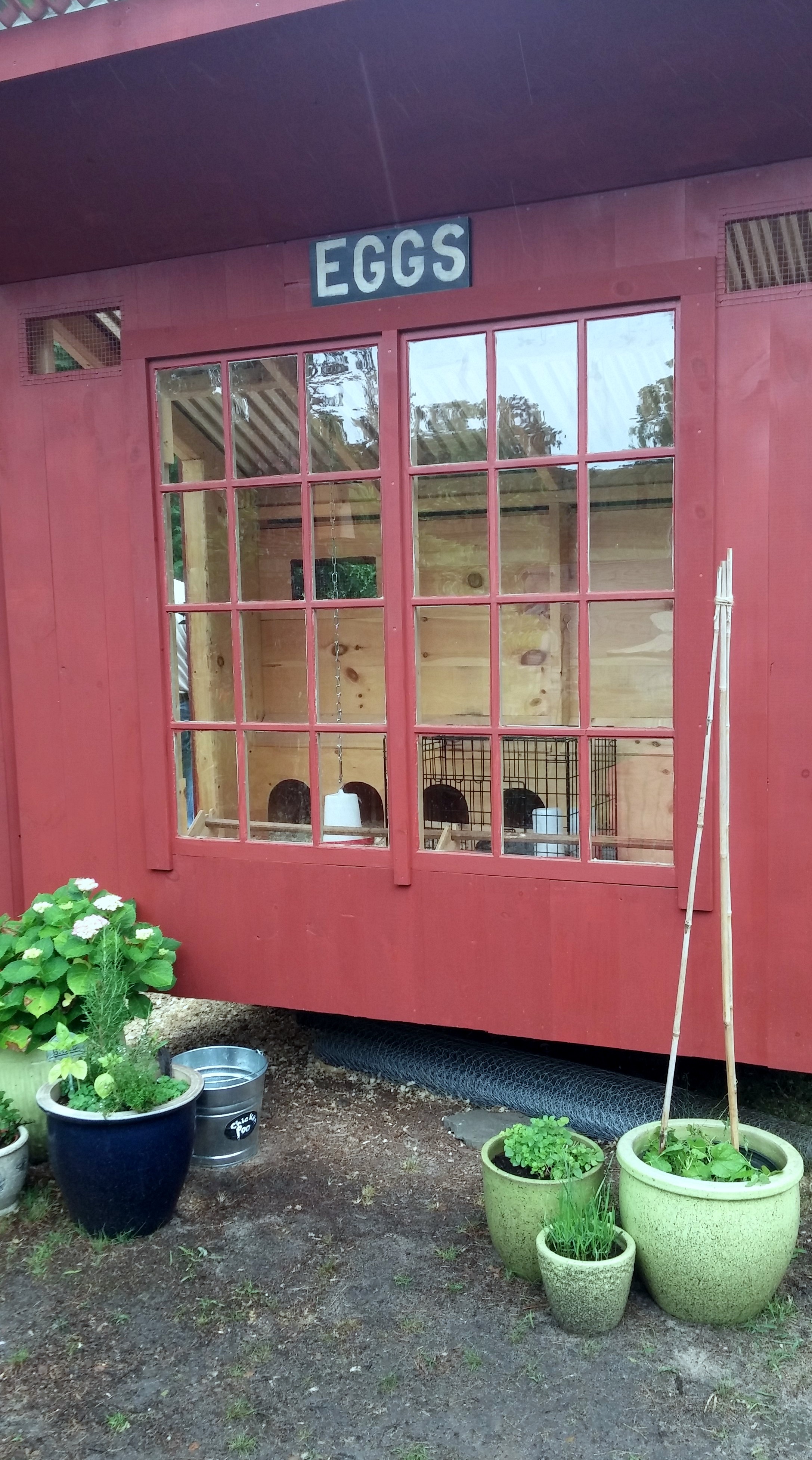 Donna and Ken's " Little Red Hen House" is the spitin' image of ours right down to the Barn Red Paint and the Eggs sign up top!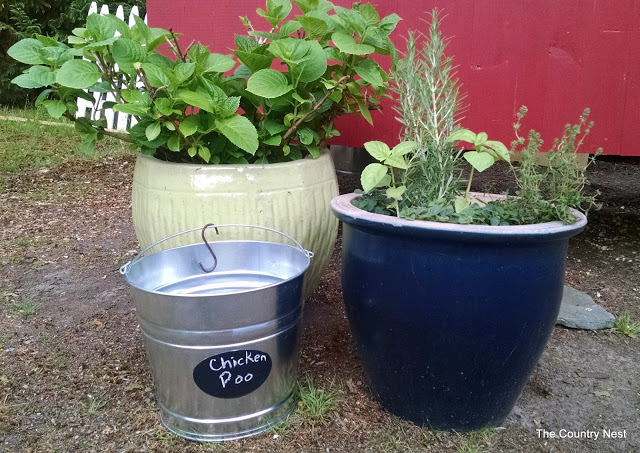 She feeds her girls fresh herbs and she even makes chicken chores cute. Donna takes the guess-work out of where to put the " cock-a-doodle-do " with her adorable bucket labeled "chicken poo".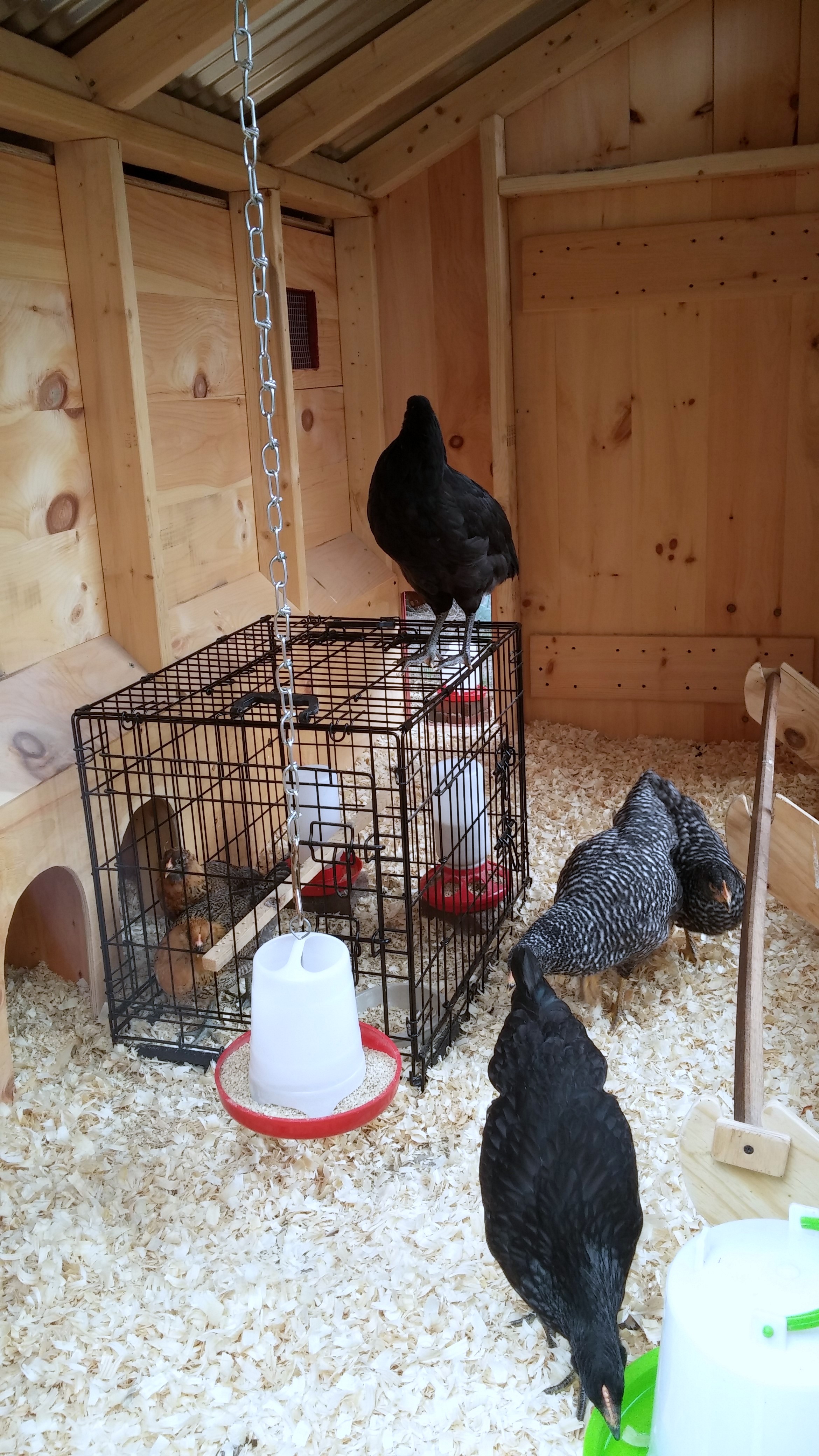 They have a door on each end of the coop to make cleaning a breeze and a shiny metal roof which gives their coop a fresh farm look.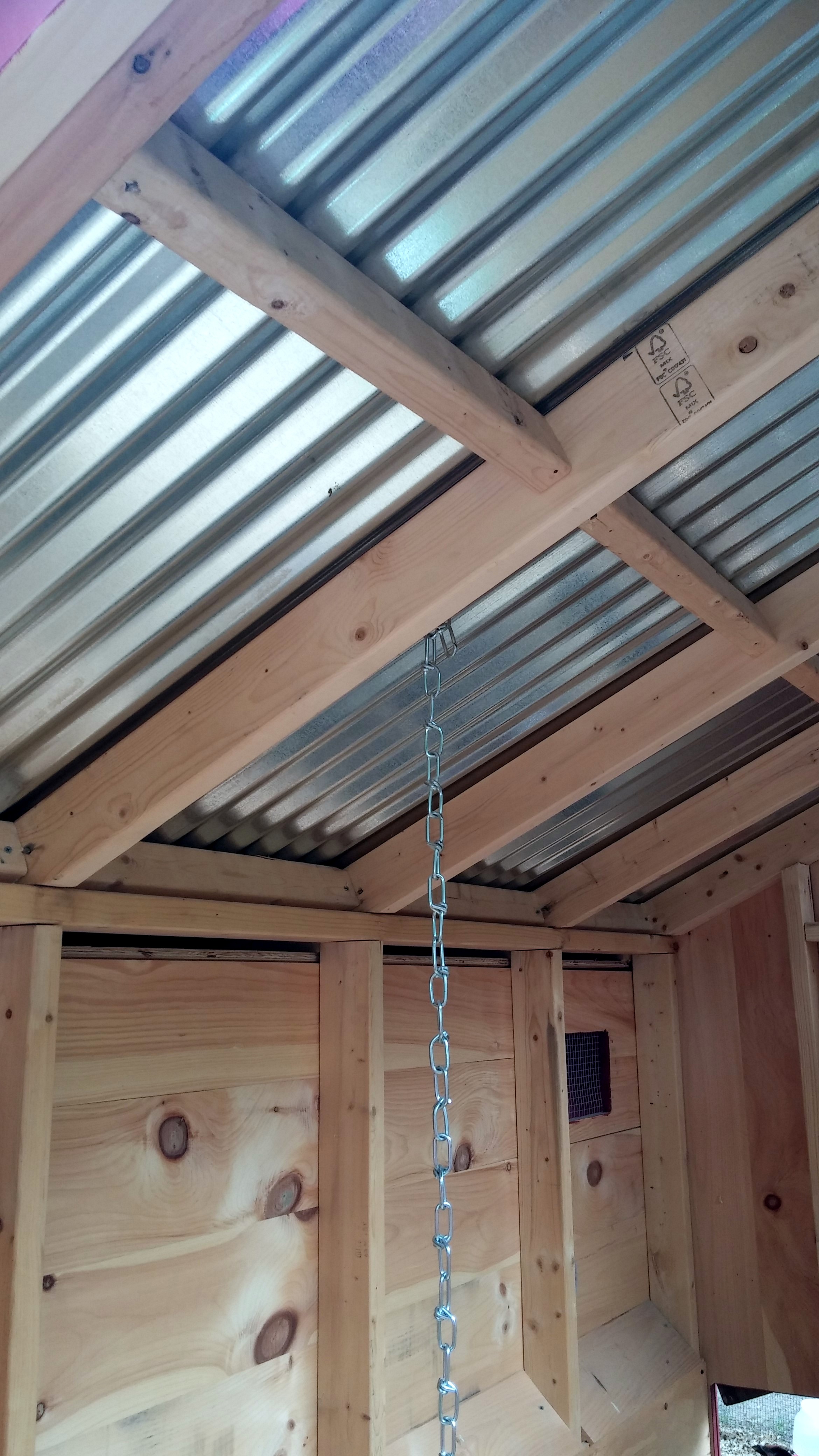 One of the features Donna loved about our coop was the large window on the front that lets in much needed warmth and sunlight during the winter months when the sun is lower on the horizon with the added advantage of being able to watch the girls inside.
Donna's girls have a beautiful view of the many specially chosen trees the Glidden's have added over the years.
Donna has fallen in love with her new chick friends. This Barred Rock is her favorite and loves to cuddle up close to her.
Donna and Ken's Little Red Hen House looks right at home in their beautiful garden. While it's tucked away in the rear of the landscape, the warm glow of the barn red paint welcomes you like an old friend. Hmm? I have a feeling the four of us will be " old friends" one day too. After the tour we went inside for a late brunch and coffee. Time flew as we chatted the rest of the morning and most of the afternoon away in Donna's warm country dining room. If it hadn't been for an evening commitment on our part, I think we would have been there through dinner!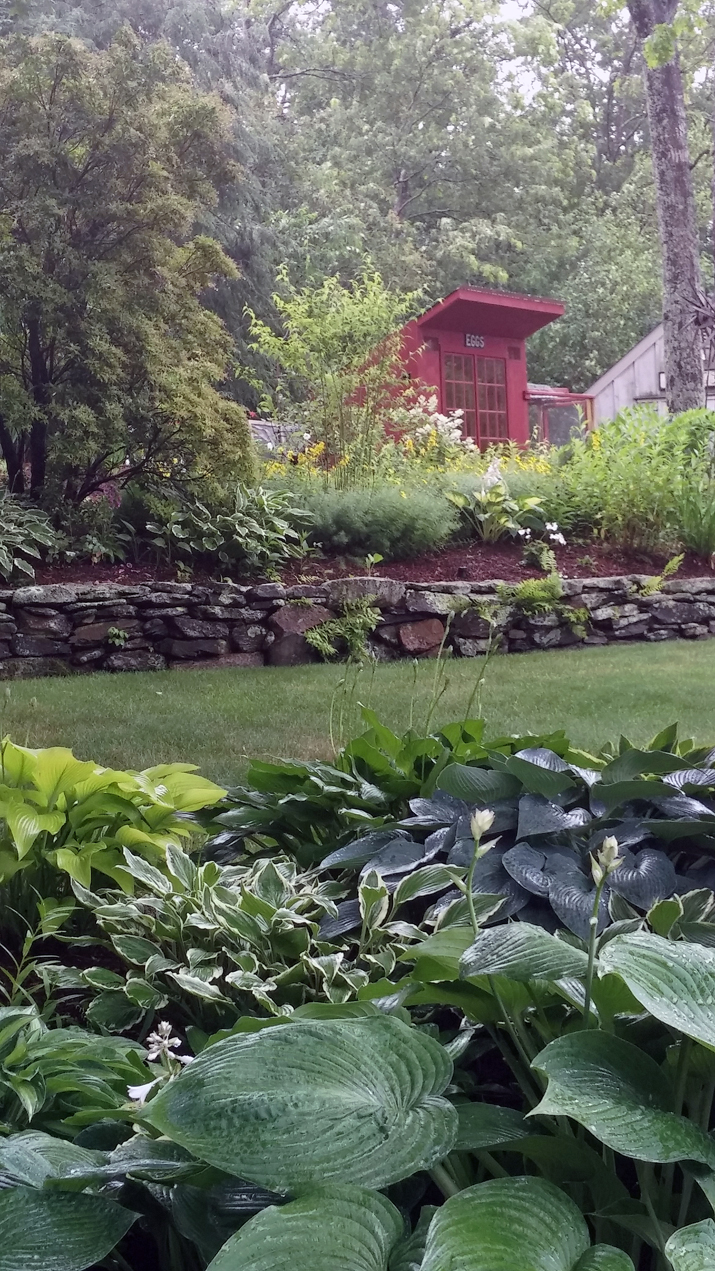 Do you know that some people get testy when others want to copy them and rightly so, when copy rights are violated but that was not the case here. This was a situation where a farmgirl needed another farmgirl to help her out! I was flattered and so thrilled for Donna that she was making her dreams of keeping backyard chickens a reality.The fact that we played a part in her inspiration and helped her bring her vision to life made it that much sweeter.
Go say howdy to farmgirl Donna at The Country Nest blog. Tell her I sent ya!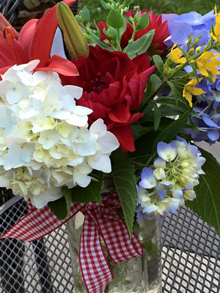 Until our next shoreline visit~ Happy Farmgirlin' and Happy 4th of July!
Beach Blessings and Much Love,
Deb, The Beach Farmgirl
#1199