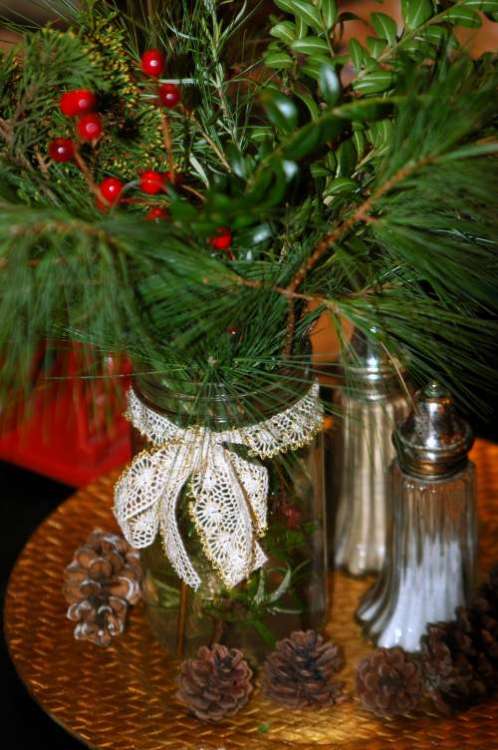 Dear Sisters,
Merry Christmas from the New England shorelines! I'm not a native New England-er ( or Yankee ) as the southerner's call us but even after living here for nearly 12 years I'm still learning new things about the area, local farming and the food culture. No other time of year is as festive or as rich in food traditions ( and tastings ) as the holiday season in New England! I've been digging into my favorite New England Magazine,YANKEE in search of some local flavor to bring to our holiday table ( and to a Christmas Eve gathering ) and I hit the mother lode!
New England is known the world over for it's traditional fare such as roasted turkey, rib-roast, brown bread, bread pudding, gingerbread cakes, cookies, pumpkin pie and pudding. Many of these dishes originated in England and have become staples on New England tables and in restaurants all over the area. Being a westerner, I had never heard of brown bread or bread pudding until I met my husband. Of course I had never heard a water fountain called a ' bubbler' or  blue jeans called dungarees either but that's another story. And, I had never tasted tapioca pudding, rice pudding, or maple grape-nut pudding. One of the first of these that my husband introduced me to was brown bread. Its a moist bread made with molasses and buttermilk, ( with or without raisins)  which gives it a firm texture. Traditionally it's steamed before it's sliced and served with butter. My hubby always served it on the side with franks and beans. A Friday night tradition during his childhood. Over the years I've made variations of bread pudding with cranberries and pineapple, and I've learned to make his favorite pies ( coconut, strawberry/rhubarb, pumpkin, pecan, and apple) but I've never attempted a true New England pudding until today!
He's a pie, pudding and nut guy. I'm a chocolate, cake and cookie gal.
Since my mom moved in he's been reminiscing about some of the puddings his grandmother made when she lived with them. One of his favorites was Maple Grape-Nuts Pudding. He even eats Grape- Nuts ice cream! Any who, I decided to treat him to an old favorite and I'm sharing it with you too!
I'm not sure if the recipe his grandmother used is still in the family so I did a Google search for Yankee Magazine recipes and found it! Ya ready?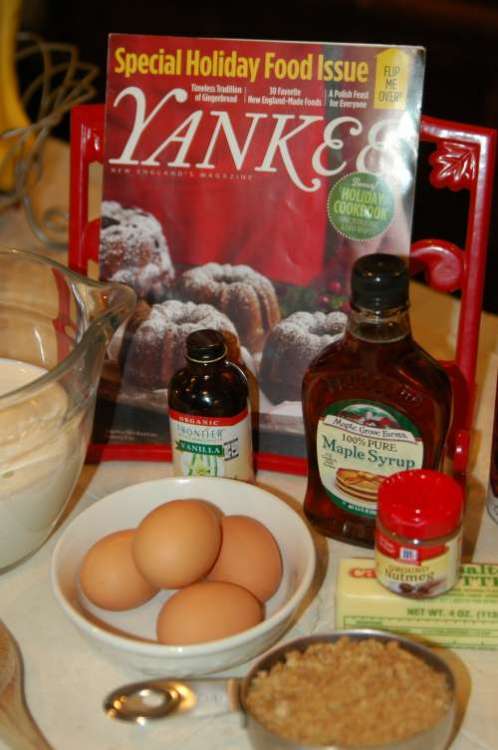 Maple Grape-Nuts Pudding ( yankeemagazine.com )
Ingredients:
Unsalted butter ( for baking dish )
4 cups water
4 cups whole milk, scalded
1 cup Grape-Nuts cereal
4 large eggs
1/3 cup granulated sugar
1/3 cup pure maple syrup
1 tablespoon vanilla extract
1/8 teaspoon kosher or sea salt
Whole nutmeg ( or ground if unavailable)
Whipped cream or vanilla ice cream
Instructions:
Preheat your oven to 350 and set a rack to the middle position. Butter a 2-quart casserole dish. Fill a kettle with about 4 cups of water and bring it to a simmer. While the water is heating up heat the milk to scalding ( not boiling ).
Pour Grape-Nuts into a medium sized bowl and pour the milk over them. Let it sit 5 minutes before adding the remaining ingredients.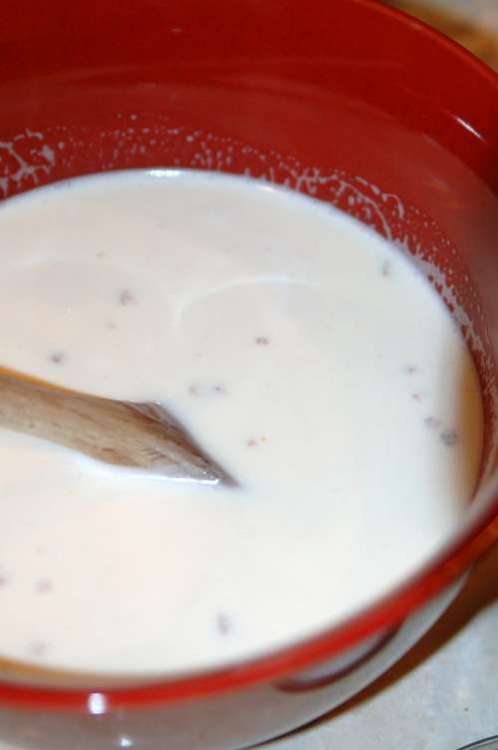 Just the milk and Grape-Nuts above.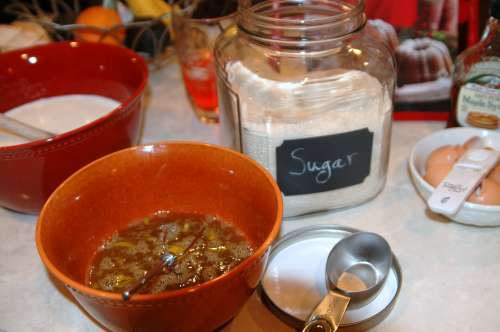 In a second medium-sized bowl ( above) whisk together the eggs, sugar, maple syrup, vanilla, and salt. Add the egg mixture to the milk and Grape-Nuts, and stir to mix the two.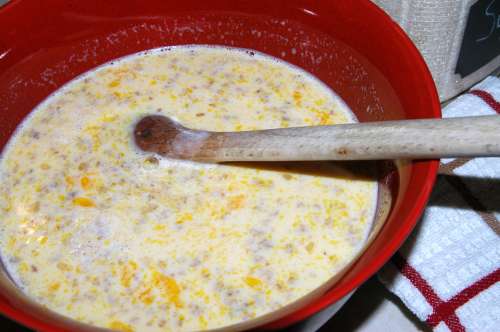 This is where the hot water comes in to play. Pour the pudding mixture into a buttered casserole dish and grate a generous amount of nutmeg over the top. I didn't have whole nutmeg on hand so I just sprinkled some from my spice jar.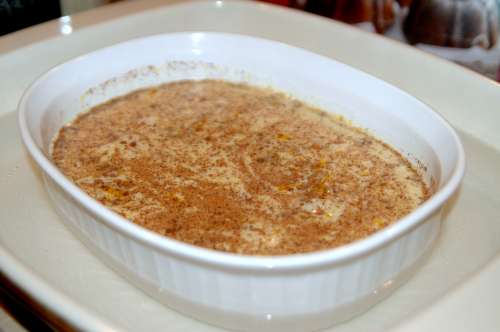 Place the pudding in a large roasting pan and set it in the oven.  Fill the pan with water  until the level reaches half-way up the sides of the dish. I did it the opposite way just to live on the edge a little and luckily I didn't spill it! Bake until the center of the pudding barely jiggles when shaken, 50- 60 minutes. Let it sit 10 minutes after taking it out of the oven then serve warm or at room temperature.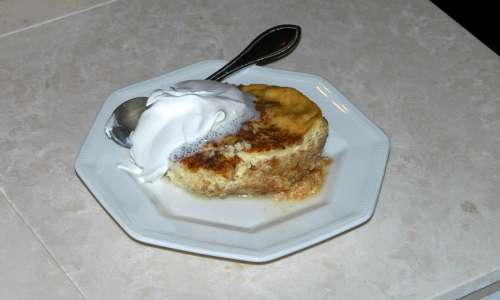 Note:  It's not easy to make a blob of pudding look amazing in a photograph but you get the idea! The baked-in Grape-Nuts give it a soft cake-like bottom topped with smooth maple flavored custard. Surprisingly, it wasn't bland. The pure maple syrup does the trick for giving it its rich flavor and the ( heavily sprinkled ) nutmeg adds just the right amount of spice!
Whipped cream or vanilla ice cream make a wonderful compliment to this delicious New England pudding.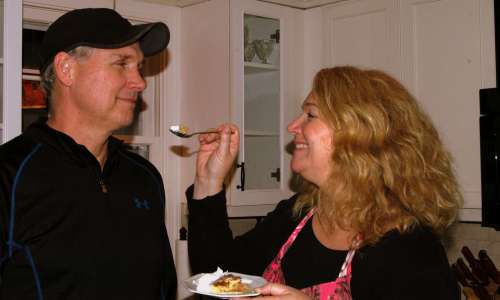 Just ask my handsome Yankee!
Merry Christmas to you and yours dear sisters! It's such an honor and a pleasure to write to you! You're all such a special part of our MaryJanesFarm Family ( and mine too )!
You know I love to hear from you so if you find an extra minute amongst your holiday preparations drop me a note and tell me what your cooking up this Christmas in your neck of the woods or wherever you call home!
Until our next shoreline visit~
May being together ( and yummy pudding ) be enough.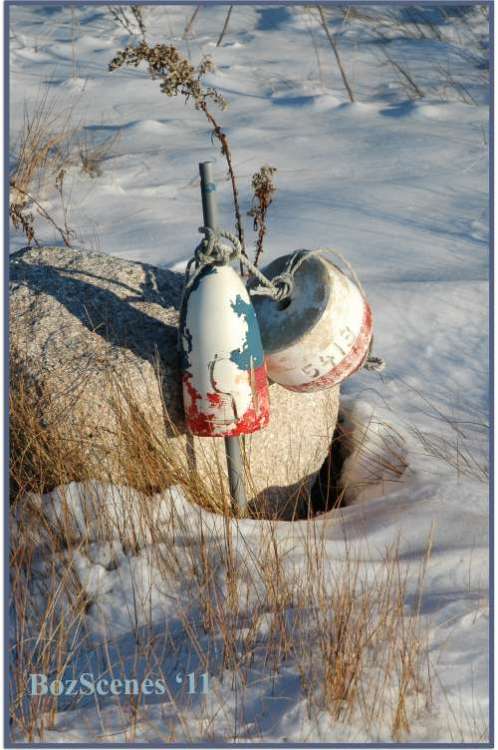 Much love and BEACH BLESSINGS from our family to yours!
Boz, Deb, Zach, Nicolette, Grammy Joy, Max, Barkley and the " girls "!