Noon.
Six-Twenty-Something, Two-Thousand-and Twenty-One
Do you have any idea what these mushrooms are? I found them and THINK I know, but I haven't found anyone who can positively identify them for me. So, alas, they remain growing in the dark earth rather than being in my mouth. (And, I want them in my mouth if they are what I THINK they are.)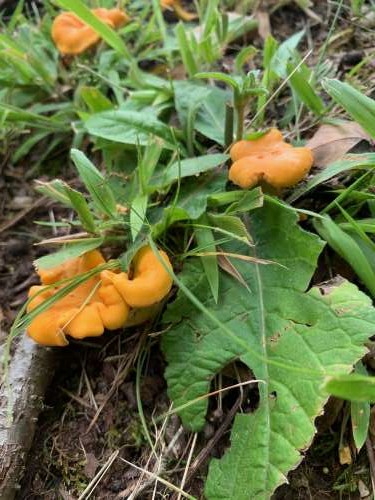 Here's a few more photos. ANYBODY??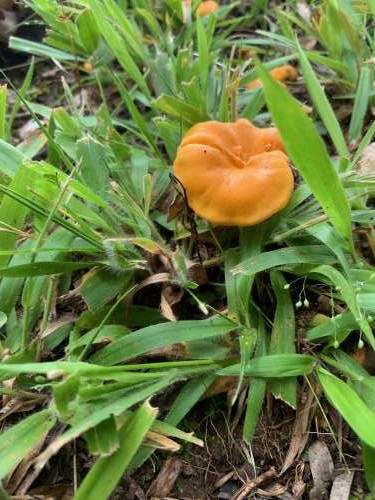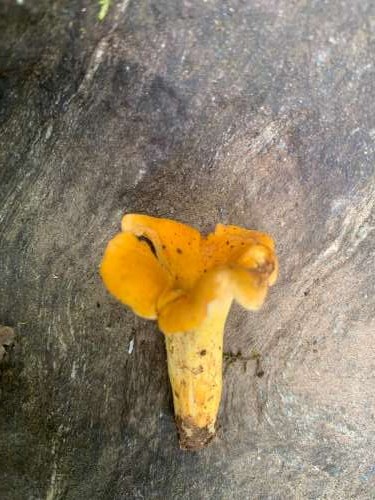 I mindlessly glanced down at my Cup of Earl Grey tea just now and saw tiny, black ashes floating around on the top. Their origin is the campfire by the creek. Note that the tea is just as enjoyable with ashes as without ashes. I could write about it the way we write about wines. A fine black tea blend, with just the right about of Bergamot and an unexpected smokiness that takes you back to childhood memories gathered around a campfire in Autumn. What do you think?
I wish you were here with me, to share tea, to smell the wood smoke, and to enjoy nature on my farm. Wood smoke is one of those therapy aromas for me. I am taken back to a multitude of happy memories in my life, from a young child in front of my Daddy's fireplace to this very moment.
I am burning the 2020 Christmas Tree. I was planning to let it return to the earth without intervention; but as it turns out, for I needed to intervene. So the aroma of this fire is also taking me back to Christmases Past and Future.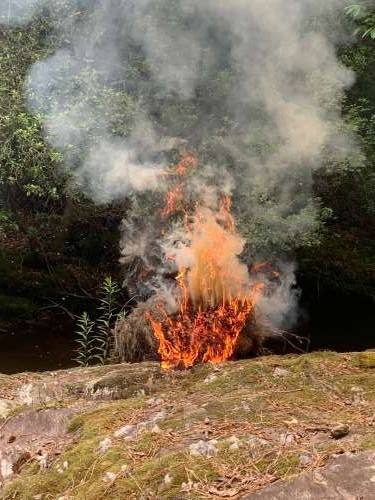 I have more to say about fire; but, I'll save that for another post and hop on the 3 WORDS + 1 ACT that are the subject of this writing.
Earlier this year, I began a new ritual. When I did, I noticed that my gratitude expanded, and it became easier for me to live in the moment. I find that I am more focused with what is important. I am intentional with my moments. I place emphasis on QUALITY of life, rather than the busyness of my days.
How?
This change revolves around my daily To-Do Lists.
You see, my lists are long because every day I tend to pile 10 gallons worth of work into a 5 gallon bucket. You probably do the same thing? (Us women, thinking we can DO.IT.ALL.) I know this leads to exhaustion, feeling overwhelmed, and burn out, but it's how I operate, how I'm wired.
3 WORDS + 1 ACT has helped me be more balanced and intentional. This ritual has made a big difference in the growth and strength of my gratitude muscle.
Let's start with the + 1 ACT. Do you suspect that I'm talking about an act of kindness to a stranger or something like that? Nope, this is an act of kindness to someone you should know and love unconditionally: yourself. 
The act starts with making a list every day. You might already have a daily To-Do list? If so, just add a couple of things to it. If not, start one.
The + 1 ACT is the ritual of spending a few moments at the start of your day to THINK about your day. The 3 WORDS are things that you will THINK about, that you will ADD to your To-Do List.
The first words you will write down is inspired by my Mom.
My Mom is possibly the most thankful person in the whole, entire world. She sits down to drink a glass of water and after taking the first sip, will enthusiastically say, "Mmm, that is good water!" And, she means it every time. My world, then, has always been full of appreciation. But I am more general in my appreciation, never as specific as my Mom is.
So on the top of your To-Do list, before the actual list begins of all you must do, you will write one thing that you APPRECIATE. Something you are THANKFUL for. The thing you write will become your theme for the day and as such, it will the thing you keep in your mind as you go through your day. Like, I wrote "clean drinking water" in one of my previous days.
(And, boy oh boy, you should taste it. My well water is the best tasting water I've ever had in my mouth. It beats all those fancy Italian spring waters. Plain, ole, southern USA well water.)
Remember that there should be only one thing on each day. Believe me, when you begin this, many, many things will pop into your head every single morning for which you are appreciative. You will want to list them all. And, if you're like me, you may feel a little guilty when you pick just one. But for each day, choose only one to keep in the forefront of your mind on that day. And don't worry, you will eventually name all the others you think about on different days.
Okay, so that's the first 2 words, "I appreciate ______."
Why don't you leave a comment right now, telling us what you appreciate at this very moment in time?
The 3rd word is the first item on my To-Do List, "Fun," which I follow by a colon.
1. FUN:___________. 
In the past, I've allowed myself to have FUN only after I completed everything on my To-Do Lists. It has taken me all these years to realize that I am never done with my lists. I make long lists; I spin many plates. As a result, I never get around to the FUN.
So I made it numero uno!
This has helped me beyond belief.
Now, to be clear, the Fun itself doesn't have to be grand or special. It just has to be FUN. I also had to make another rule for myself. My FUN item has to be a PLAY item, not a WORK item that I happen to enjoy. Like, I enjoy working on my farm and have a bunches of fun with many aspects of it (like my time on the tractor); but, because this has work aspects to it, it can't count as my daily FUN. Otherwise, my Fun _______ will always be filled in with WORK/FUN items. But that's just me. Do whatever works for you.
So, here's my To-Do List for today.
Date: June 2x (date still escapes me), 2021
I appreciate FIRE.
FUN: sketch in my nature journal
task 
task 
task
ETC….
I filled in my appreciation blank with the word, "FIRE." I've never thought about appreciating fire before. But I do. I appreciate the warmth, the ability to cook food, the vibes I get sitting by a fire, the community those gathered experience, the way it brings out our stories and songs. And the s'mores. Let's not forget the s'mores around fire.
So today, I will think about and appreciate fire. I will recall all those wonderful and meaningful memories. I may even pop into Google to look at the origins of man's discovery of fire. Sometimes the thing I appreciate is not just one word, like "fire." I picked one word today, "fire." But, the thing I appreciate may take many words to explain or describe. Just remember that it can represent only one thing.
About the FUN. My daily FUN items are pretty simple. Sketch. Read a chapter of a book. Take a stroll. Visit my Soul-Horse, Merlin. Sit among the bee hives in the "apiary."
However, as I have gotten into this habit, I began adding bigger FUN things. Like, I look an  art class that met in the evening for a week. I began learning to play the Djembe, something I've wanted to do for at least 15 years. I returned to writing my book. And I just signed up for a "learn to river kayak" class in July. These are experiences that I would never ever have made the time for before I started adding FUN to my To-Do Lists.
It's as simple as that. I hope you try it and that it serves you as much as it has me!
I've talked too long about my To-Do list additions, and haven't talked about my farm this summer!
I am happy to report that every living creature on my farm is healthy and happy today.
My horses are loving this farm. While July and August are HOT HOT HOT in Georgia, the horses seem to weather that more than they did the cold, snowy winters of the Appalachian Mountains. Especially my Merlin since he is older and retired.
The indigenous black-eyed Susans are in full bloom. Here's a wild patch.
My bees appreciate them because we have entered the season where not many wild plants bloom in July in Georgia.
Check this one out. Battered and worn, but still beautiful and sharing its pollen with an insect. (Insect is not a honey bee in the photo).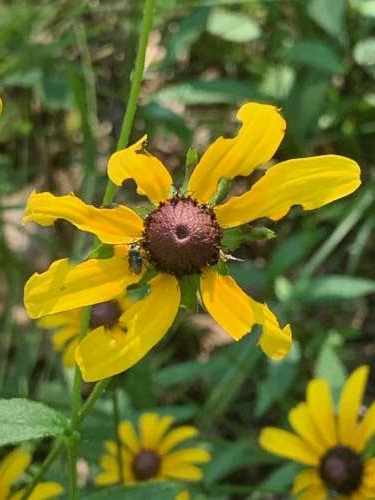 My bees are hangin' in there. The head of the local Farmers Group came and helped me split my two hives. I felt and feel concerned and ambivalent about the split. Was it the thing to do? Only time will tell.
Here is a recent sunset on the farm. For some reason, sunsets have been spectacular and breath-taking this month.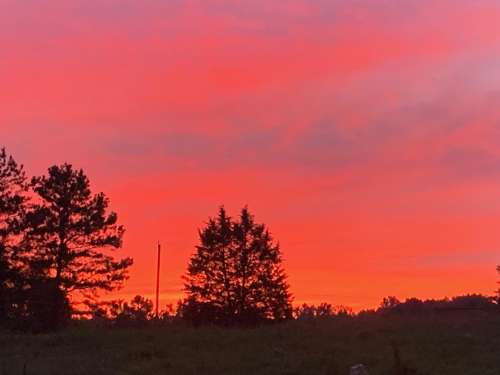 Ah, and I found a surprise on my farm. I yipped with delight. Can you see it buried in there?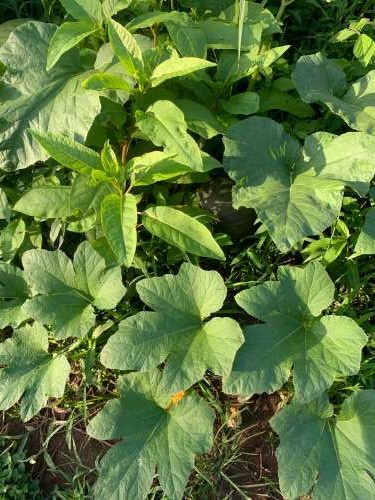 It's a surprise, volunteer pumpkin from last Halloween's pumpkins. I'm glad I didn't have time to roast ALL of the pumpkin seeds. Unfortunately, this volunteer pumpkin patch is growing in the middle of a patch of plosion.
I cross that bridge when I get to it: harvest time.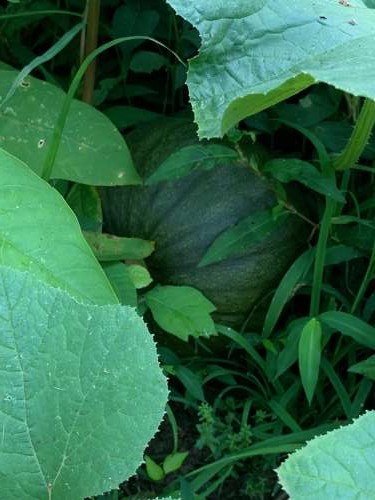 Here's to us finding more fulfillment and joy every single day. To looking and finding surprises.
Until next time, Friends, savor the flavor of life!
Lots of love, Rebekah, The City Farmgirl living in the Country