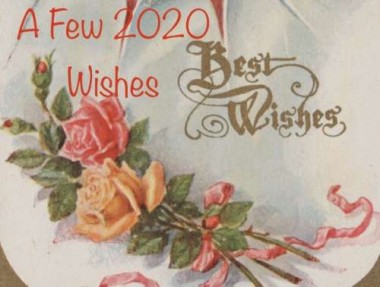 Happy New Year! It's hard to believe it's January again- a new month, year…DECADE! I'm wishing everyone the best year ever! ! 2020 is going to be a memorable one for our family…
The holidays were gone in a flash…I blinked, and POOF! It's a new year. Our holiday season 2019 was good; we hosted our annual Christmas party, visited with friends, and went to see the classic holiday film at our town hall theater (this year's flick was The Shop Around the Corner, with Jimmy Stewart, 1940 – such a cute movie). It was also my turn to hostess a holiday meal on Christmas Eve with my best friend's family.
We "lost" a few days with a snowstorm followed by an earlier-than-usual icestorm, but managed to pull off Christmas despite the weather (thank you, Amazon)!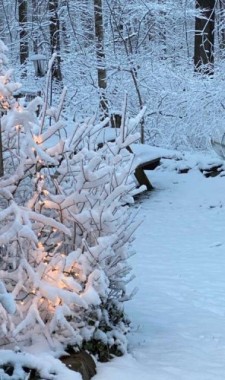 I burned too much midnight oil (staying up to 2:30 AM Christmas Eve to finish a knitting project I wanted to go under the tree). My daughter caught a cold that turned into a bad sinus infection, and I'm currently under my favorite quilt, nursing a nasty monster of a cold, fever, and cough, but getting better every day.
We also have a sick kitty. In the midst of the busiest holiday weekend, our little indoor-only cat became ill suddenly. Several vet visits, special food, and three medicines later, he's improved, but please keep your fingers crossed and say a little prayer for our good boy. Male kitties are prone to UTI's, and things can go downhill quickly.
Despite 2020 starting on a less-than-ideal note, we've much to be thankful for and to look forward to. November 2020 will mark TEN years that I've written the Suburban Farmgirl Blog for MaryJanesFarm. It's hard to believe, as it seems like yesterday I wrote that first post. Finding the happy world of MaryJanesFarm was like finding "home". I'm grateful for each and every Farmgirl friend made through the chat room and here through the blog. You've all shared so much with me; the world seems smaller and cozier. 
2020 brings a big event for our family: our daughter will graduate from high school in June. When I started writing here, she was only seven. Dear readers, you've watched her grow up! I can't begin to tell you what a PROUD MAMA I AM!
My beautiful inside-and-out daughter makes straight A's, takes high honors classes, plays violin in the school orchestra, bass guitar in the school jazz-improv-band, and is a Girl Scout, about to finish and receive her Gold Award- the highest honor a Girl Scout can achieve. She's the President of her school's Tech Club (and the first female president of the club, to boot). My "little buddy" has morphed like a butterfly into this amazing, smart, talented young woman. 
Having a high school senior makes life so busy! Kids (and their parents) have much more stress than previous generations. There's immense pressure to do well in school, there's ACT and SAT tests, college visits, college applications (confusingly done online now), and the pressure to decide if and where they want to go, all while having to deal with the harsh realities of what awful things can happen in life (our town unfortunately experienced this first-hand). 
There's heavy worry as a parent that really kicks in at this age. Watching the school bus leave that first day for kindergarten is awful, but what's worse? Watching your teenager drive away the first time, knowing there's more distracted drivers on the roads now than ever before. We spent last summer getting my daughter her license, and while it gives the "mom taxi" more freedom, it is also brings me a new batch of potent, dye-resistant grey hair.
Then there's the college visits, scary but exciting. We're so proud of our girl for knowing what she wants to do in life, and where she wants to go. 
When I was pregnant, all anyone talked to me about was being pregnant, with this advice, and that advice, not always delivered in a friendly way. I remember getting a manicure in my ninth month. A stranger at the drying table asked when I was due and if I'd have a "natural" birth. When I answered that I had to have a planned c-section because my daughter was breech (we both would have died otherwise, there was no alternative), the woman became angry and berated me for it. (Trust me, there was nothing "convenient" about a c-section).
Later, as a toddler we took daily walks. I ended up changing my route because an overly-nosy stranger would always run over to give me a hard time that the baby was overdressed/underdressed/sunburned (she wasn't, she was covered in spf-one-million-sunscreen and would turn red whenever it was warm). It seemed as though when I was a young mom all anyone would talk to me about was just that: being a mom. Everyone had advice and knew better than me, or so they spoke that way. 
The same thing happens as soon as your child becomes a senior in high school. My daughter is kind, thoughtful, and at 17 can hold a conversation better than some adults twice her age. She's traveled around the world with and without her parents, and has seen a lot of the United States. She's capable and independent, yet has a strong bond to family. As a high school senior, all anyone talks to her about anymore is college. She applied and was accepted to three universities. She has a path in mind (with a double major and a backup plan) of what she wants to do in school and in life. She has chosen to go to a state university nearby and commute. Adults, some she doesn't even know, inquire where she is going to school/what she is going to do, only to knock her school choice or criticize her dreams when she answers. 
Which brings me to my second little request: please, give teenagers a chance. Be kind to them. Let them be the young adults they're turning into. Let them dream, reach for their goals, and try. Congratulate them and let their parents guide them. From the minute our kids our able to walk and talk, they're told they "can be anything they want to be", only then to hear they're going to fail when they try. There's no promises that the paths we take will be easy in life. We were all young teens starting out once. Young adults need the chance to make their own path in life and to also make their own mistakes. We should be lifting them up, not knocking them down. I'm usually polite and try hard to let things roll off of me ("don't sweat the small stuff") but Mama Bear has noticed. I've seen less-than-kind actions happen to my daughter, and her friends, often by acquaintances or strangers. Not all teens are "Rebels Without A Cause" like James Dean, (love my old movies!); some are changing their world for the better. 
In this culture filled with oversharing, we sometimes forget manners and overstate opinions. If you start a sentence to a young adult (that isn't your child) with "you should…", then maybe you shouldn't. My daughter's been told everything from "You should go AWAY to college", to "You won't make a great salary in that industry," (not true; we've researched and know those in that line of work. Anyway, she should do what makes her happy). Life will knock our kids about; that is a given. I'm thrilled my daughter is planning her life the way she is… I hope her dreams all come true.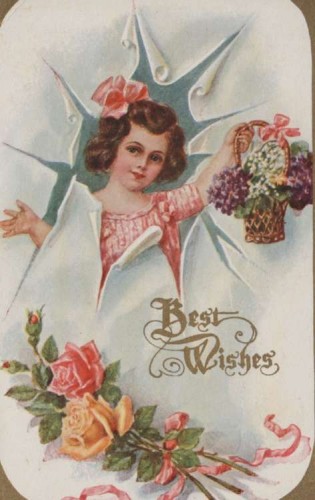 To the parents of young kiddos, cherish every second. Each stage goes so fast. It's made more aware for mamas of "only" children- each milestone is the last. For our little family, the year will fly by. Whatever lays ahead for you and your family in 2020, I wish you the best, and a Happy New Year! Please leave me a comment and let me know you stopped by! Visit again for the next Suburban Farmgirl Blog, online February 11th.
Until Next Time…Farmgirl Hugs, Nicole