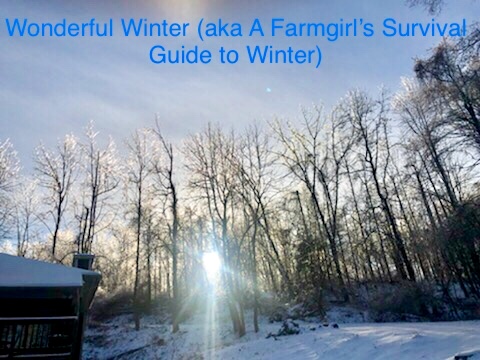 I was raised in Texas heat, but for 25 years, I've lived in the four-season New England suburbs. Family and friends residing in warmer regions often ask how we handle the cold. Long winters can seem dreary, but usually it doesn't bother me.
We've experienced irritating sub-zero temperatures recently, but there's good things about winter, too, that make it (gasp!) enjoyable. Grab a "cuppa" and come warm up!
Connecticut's "weed-y" – there's always weeds popping up in flower beds, or invasive plants to pull out of the ground in less-cultivated areas. In warm seasons, I plant herb and veggie gardens, have several flower beds, and many potted plants, as well. I garden ALOT. Winter gives us a break. When spring does arrive, that long winter makes even mowing less of a chore and something to look forward to.
In winter, we still go about our daily routines, and have some fun outings. I've told my Mama when she calls, worried I'm out in bad weather, "If you never go out when the weather's not perfect here, you'd never go out".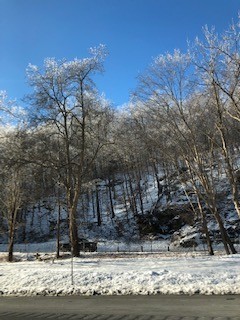 Hot tea on a cold day's a pleasure, and I keep my tea stash stocked. On a fun outing last month, my daughter and I celebrated my best friend's birthday with a wonderful "girls day" at a local tea room. The three of us had "high tea" and enjoyed the surrounding antique shops. Making a point to see friends even in winter keeps spirits high and shortens long, bleary weeks.
Winter wear is a must. I've got a puffy barn coat for "dog duty" or cleaning the chicken coop. (Not a fun chore in sub-zero weather, but a labor of love). My chickens are cold-weather hardy breeds. I make sure they have warm nesting material, and keep an eye on waddles, combs and feet for signs of distress.
Now that days are again growing longer, my chickie-girls are laying again. Fresh eggs in winter are tricky, because left too long in the nest on a really cold day, they freeze and crack! However, hot summer days can actually be harder on chickens than winter's chill, and nothing's sweeter than when they cozy up to each other when it's time to close the coop at night.
Not all my cold-weather clothing is utilitarian. Winter lets me use what I've knitted, or to rock a fun vintage hat or cute retro coat, so I look forward to some frosty weather!
Being prepared is necessary. Winter's easier with stocked freezers, flashlights with fresh batteries, and stacked firewood. Recently, we had a bad ice storm.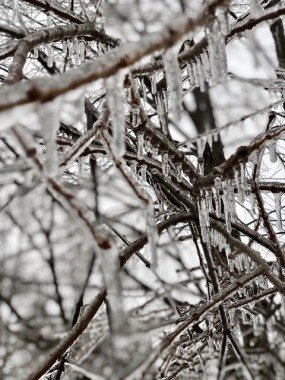 When everything outdoors is covered in a layer of thick ice, it can be treacherous- even taking the dogs out can be dangerous. Two of our dogs are big and could pull,  so we have to mind our footing. (FYI, Hubby ordered a "Pug Life Harness" for our biggest dog, Odin. He's a young, 85-lb. strong boy! The easy-to-put on, comfortable harness makes Odin much easier to walk and he has learned not to pull).
During the storm, we lost power twice. We didn't panic, knowing what to do when that happens. But when the storm subsided, the streets were salted, and the sun came out the next day, everything ice-covered made a winter wonderland! Trees glistened like silver tinsel trees. I'd rather not have ice, but the beauty's breathtaking.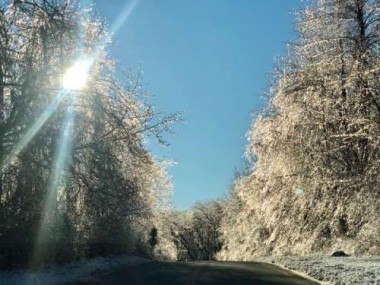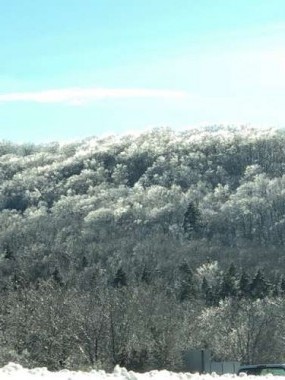 I don't mind grey days so much. Lamps with soft lighting, favorite music playing and a wood stove make home cozy. We get occasional "snow days" – where school and some businesses close. When that happens, we embrace the "down time".
Heaven for me on a blustery day is a good knitting project in my hands, sleepy fur-babies nearby, family home, and something good to binge-watch.
Currently, we're watching The Marvelous Mrs. Maisel on Amazon Prime. It's got great characters (though it's not for kids). It's hilarious, and worth watching just to check out the retro sets, Midge Maisel's Jackie-O style and her cool kitchen stocked with vintage Pyrex!
Speaking of vintage Pyrex, our mothers knew a good thing when they bought the colorful bakeware back in the day! I love that I can mix, bake, serve and refrigerate in one all with style! Vintage casserole dishes make my colorful kitchen happy; I love to bake and cook on a cold day!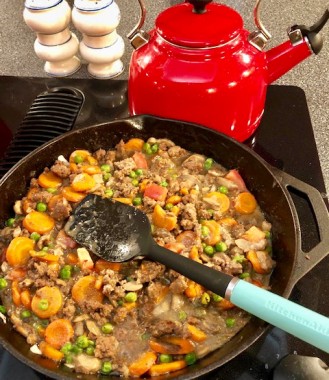 So, dear readers, I leave you with my spin on a classic comfort-food dish. If cold weather's not your thing, don't worry. Make the best of it, look for the beauty, and enjoy the cozy- February brings us to the half-way mark! Remember to scroll down and leave me a comment to let me know you dropped by!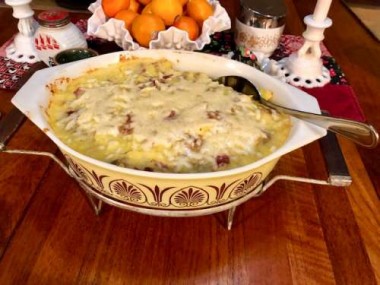 Suburban Farmgirl Pyrex Potted Pie
1 lb. organic ground beef
1 medium organic onion, chopped
1 can organic sliced carrots, drained
1 cup organic frozen peas
1 large chopped, fresh organic tomato, seeds and juice removed
1½ tsp. dried sage
Himalayan Pink salt, to taste
1 tsp. Worcestershire sauce
1 small can sliced mushrooms
1 cup prepared organic beef broth
1 lb. small, washed organic new potatoes, boiled (I like to use a mix of red and white, and leave the skins on)
½ cup organic milk
1 Tbsp. Organic butter
½ cup sharp white cheddar cheese
In a large skillet, brown ground beef and onion. Add next eight ingredients and simmer on low heat until frozen peas are tender, stirring frequently. Transfer to a vintage, lightly greased 2½ quart vintage Pyrex dish, or preferred casserole dish.
In a separate pot, boil potatoes until tender and drain. With a potato masher, mash potatoes with butter and milk (you can substitute prepared organic chicken broth for the milk, if preferred. Potatoes should be thickly mashed, as opposed to fluffy). Spread mashed potatoes on top of meat mixture. Sprinkle with cheddar cheese. Bake at 350 degrees for 20 minutes or until cheese is melted and potatoes are slightly brown.
Until Next Time…Farmgirl Hugs, Nicole