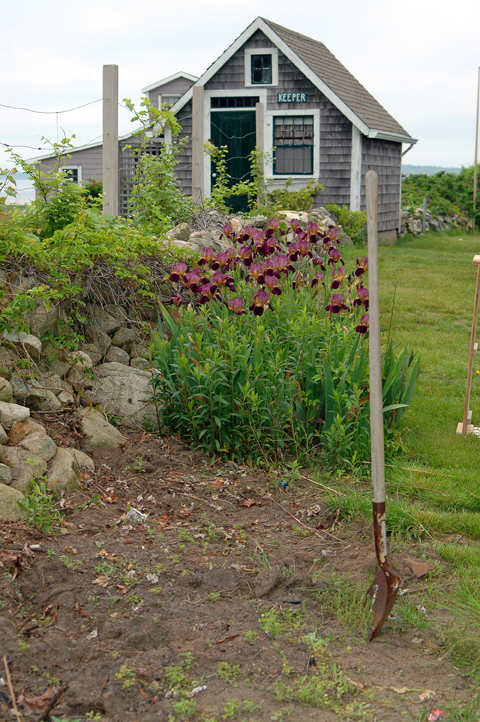 Yep, you read the title right…I've got "dirt" on my mind and not just any dirt. After all, spring planting is right around the corner! If you're a farmgirl who LIKES the smell of damp, dark earth, and you don't mind a little dirt under your nails, dig right into this post for the scoop on getting your hands on some
" Drop Dead Dirt ".
You won't believe how 
SIMPLE
creating your own little 
GARDEN
of
EDEN
can be.
The top photo is an image from our " Seaside Garden " last spring. I knew this wasn't the most hospitable environment for new veggie seedlings because my handsome Yankee had just cleared the area of briars and weeds leaving behind dry, sandy soil. Just look at the difference between the soil in the raised bed and the cleared area.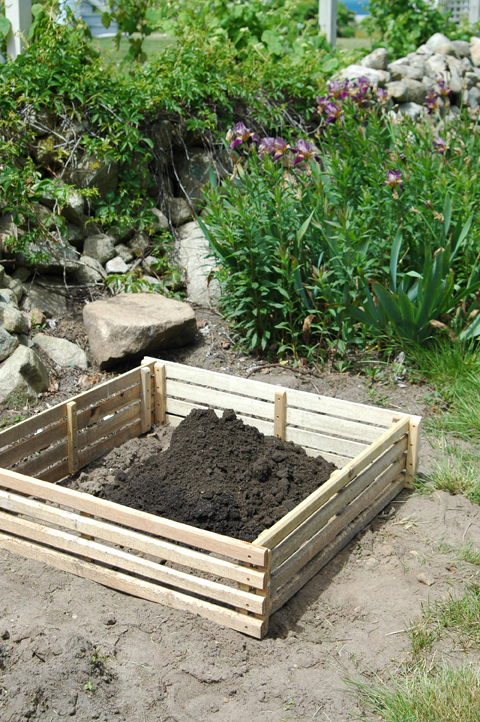 Instead of planting in the ground we filled two small 4×4 raised beds with organic potting soil and planted tomatoes, cucumbers, squash, basil and cilantro all which produced enough fresh veggies to add to our salads through the end of summer and early Fall while we were at the cottage. I transplanted some tiger lilies straight into the dirt because they thrive in other areas of the yard. I'm hoping they fared well over the winter and will be happy in their new "digs "this year!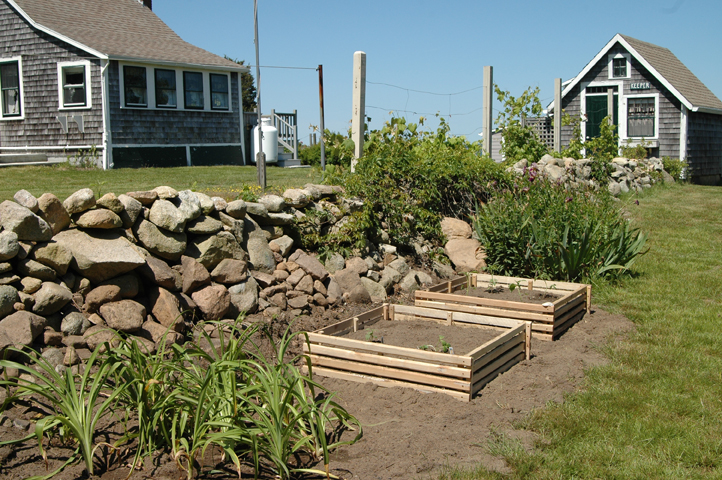 Even small Garden successes are to be celebrated!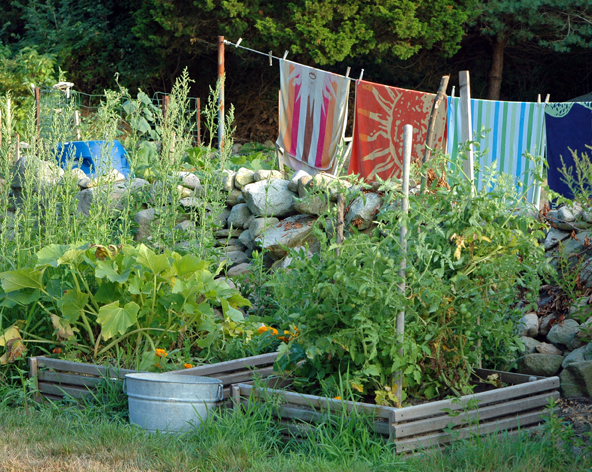 Fresh from the vine cucumbers!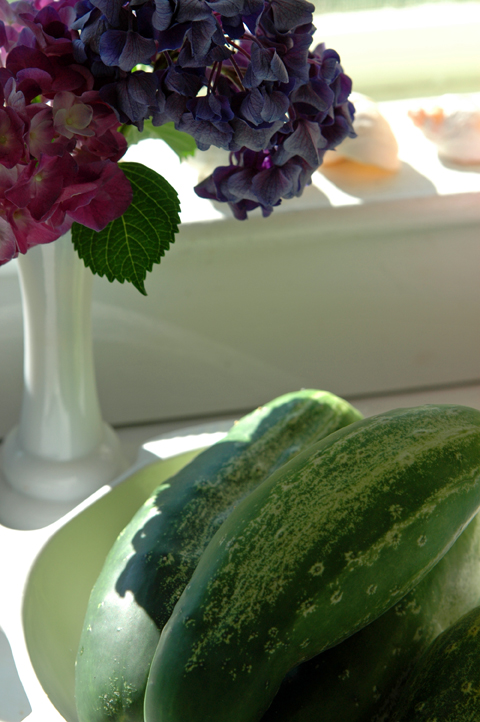 But, a new growing season is upon me and I want to do BETTER than last year! Don't you? I don't mean better just in what I *reap *, but also in how I * sow * my garden too. I want to understand better how to play with Gods ingredients to get the best possible results.
 Because we have chicken's we don't have much in the way of left over composting material. I toss most everything into the chicken run. I'm storing naturally composted dirt dug straight from the chicken run safely inside this composter we purchased from our local dump.
I want to grow more varieties of flowers and herbs for cutting and fresh juicy veggies for our health and well being.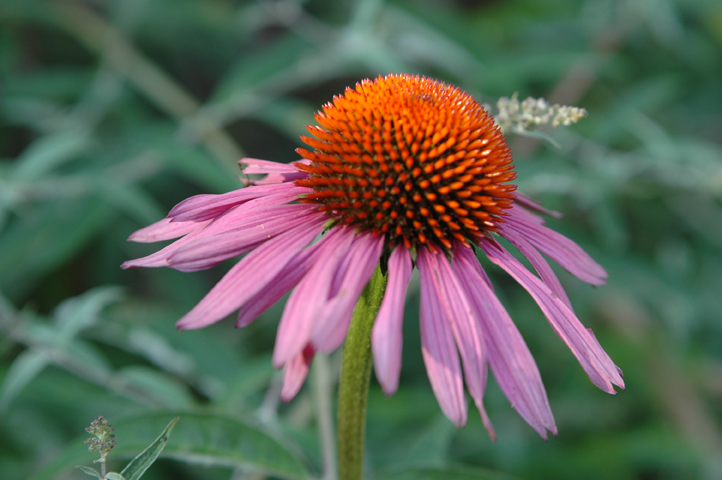 I want to weed less, and I want to conserve my well water at home and at the cottage. I want to incorporate " the offerings " my " girls " give me more effectively into my garden too! We know chickens do amazing things to soil, but making sure it gets out of the run and into the Garden where it belongs is key.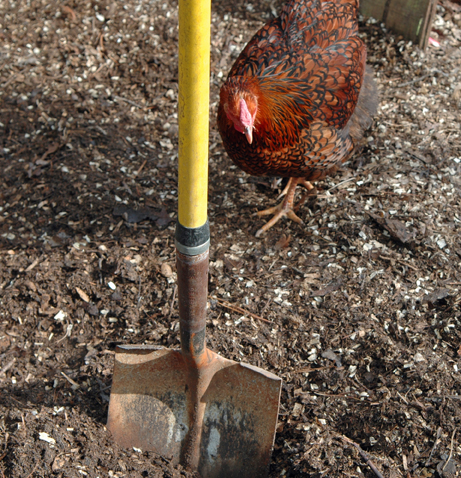 I want an easier daily routine and to feel less overwhelmed about gardening in general. I want to feel the same rush of excitment during the * planning stages * of my Gardens when I'm working in them. What say you farmgirls?  Do you think I'm asking for too much? What I really want is a self- sustainable gardening system! And I believe I've found it!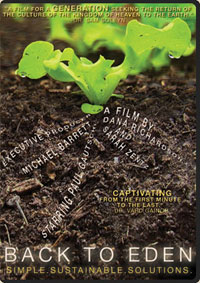 I learned about this revolutionary gardening system from Clint Baker of The Redeemed Gardner blog. He's a" farmboy at heart " who was brave enough to link up to my Farmgirl Friday blog hop a few weeks ago. I'm so glad he did! He's a wonderful asset to our blogging community and an inspiration to boot! Once a farmer on many acres, now living in the burbs, he shares his journey of farming in raised beds on a 2000 square foot patch of UN-used land between his backyard fence and a stretch of railroad tracks.
He's got some serious can-do spirit! You can take the Farmboy out of the country, but you can't take the country out of the Farmboy!
Clint recently shared a video link on his blog called  " Back to Eden "  that quite frankly has me re-thinking most gardening advice I've read about and practiced when it comes to soil prepartion, soil ammendment and how to use organic matter most effectively whether you are a backyard Gardner or the Farmer who grows for market. After I watched it TWO TIMES THROUGH I knew I had to share it with my sisters as well!
Paul Gautschi's story about his talks with God in the Garden will grab you right from the beginning!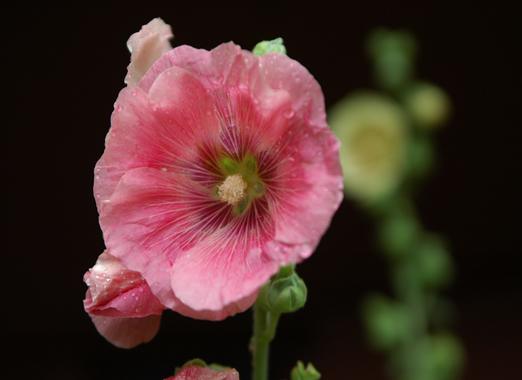 Hollyhock from my garden last summer.
I'm beyond inspired and I know you will be too when you see and hear about these Godly Garden Secrets for yourself! Pour yourself something yummy, sit back and get ready for the garden revelation of the century! Be sure to come back here to finish reading this post and tell me what you think!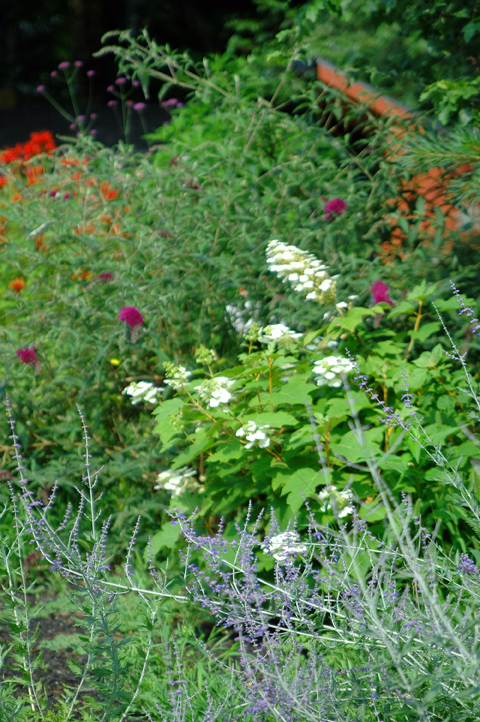 From my largest garden last summer.
Here are a few things I've already decided to do differently in my gardens after watching the video.
1. Use wood chips and garden waste to mulch my existing gardens.
2. Instead of burning our yard waste (we get a lot of leaves, twigs and branches here in New England) from now on we'll chip it and set it aside to be used in the gardens
3. Store the composted soil from the chicken run so I'll have nice fertile soil at the ready for top dressing twice a year and for adding to new plants as well.
4. Make sure I have plenty of " cover " material in all gardens to eliminate weeds, keep moister levels balanced, and provide a home for earthworms; Gods rototiller's!
5. Pay more attention to how God does things in nature and copy HIM more often.
Hmmm? I wonder if chippers come in hot pink or red?
Plans for future Pottager/Cutting Garden are under way! Now that I've got the " scoop " on how to get the most out of my dirt, I'm burying myself in Cut Flower Info. Sarah Raven in particular!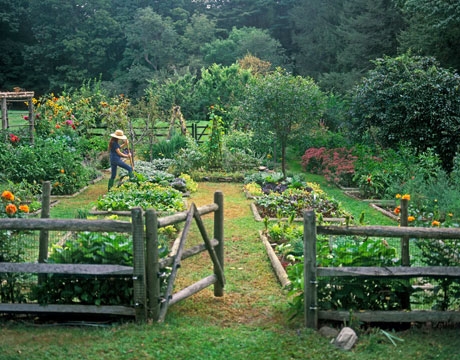 Pinterest Image Inspiration Photo! I AM SO THERE!!!
Here's the before pic. I'll keep you posted as we progress!
"Whatever you can do or dream you can, begin it. Boldness has
genius, power, and magic in it."
Johann Wolfgang von Goethe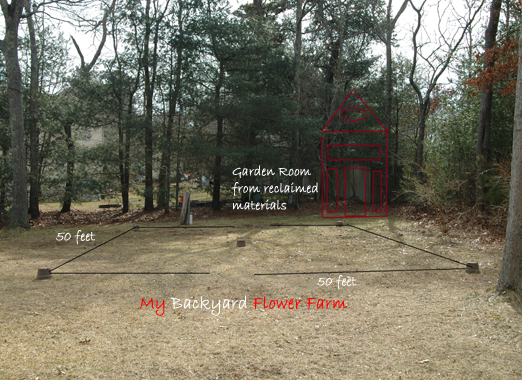 Until our next shoreline visit~
I'm wishing you an abundance of garden revelations and an extra SHOVEL FULL of farmgirl boldness to get going on your GARDEN OF EDEN too!
Beach Blessings,
Love,
Deb