First off Farmgirls, Happy Valentine's Day! For some reason, the holiday has eluded me this year. Yesterday, a few moms of my students asked if it was alright if the kids brought in cards or treats for our class, and it took me a second to realize why. Then I realized–oh yes, we are studying hearts and the circulatory system today for a reason! It is the heart happy holiday. The best thing that came from today was finding out, through the grapevine, that one of my cute students has a crush on another–he displayed his love by proudly giving her a candy heart that had "awesome" etched into it. He can't read very well yet, so he had to ask me what it said (he's seven). "Because you're awesome," he sweetly proclaimed as he handed it over. Ah, young love!
My stepmother collects heart shaped rocks for little decorations, I've taken to snapping pictures of heart shaped boulders.
While my love and I won't be celebrating Valentine's Day this year, our love is still young and this post is about a thing that we love to do together…Repurposing found and otherwise cheap objects. Have you ever heard of repurposing or upcycling? It entails taking another person's trash and transforming it into something useful, possibly beautiful, and definitely better than it previously was.
Repurposing has been a cool thing to do for a while now, there are websites dedicated to DIY tutorials and inspired ideas. Our own Beach Farmgirl, Deb, is a fabulous upcycler, and many issues of MaryJanesFarm have nifty ideas of how to transform common items into wonderful Farmgirl pieces.
My attraction to upcycling is most likely genetic, if such things are a part of our DNA. As a child, my mother was a collector of other's funky discarded items that often became even funkier pieces of art (think bicycles as flower planters, antique glass insulators as decorative accents and antique milk cans as end table bases). We were also very proficient at finding a multitude of uses for egg cartons and other "garbage" for kid friendly art projects.
These things aren't exactly earth shattering. Kids all over have made caterpillars out of egg cartons for years, and the charm of antiques begs to have them put on display in some way. But this early exposure to seeing the value in previously owned and used objects had a lasting impact on me.
As a proud environmentalist, I try to follow these five R's: "Reduce, Reuse, Repair, Repurpose, Recycle." Of these, repurposing is the most fun because of its elements of creativity. While Evan and I haven't been able to repurpose many things together, these are two of our favorite projects:
1. The Ladder Bookshelf.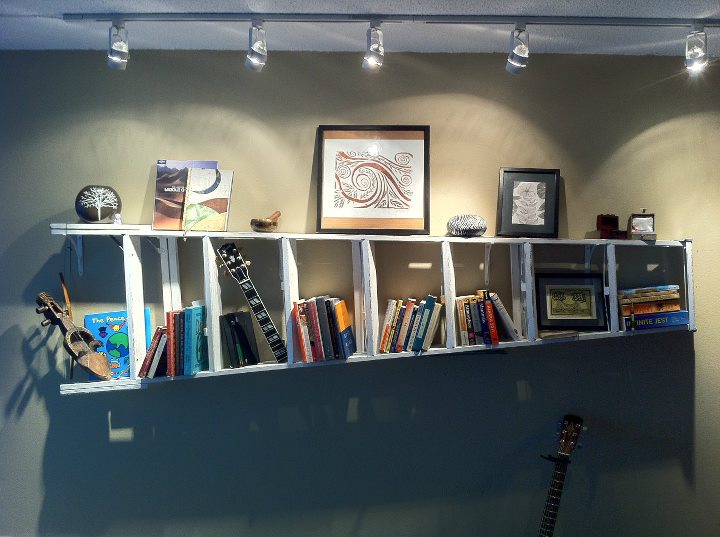 We made this bookshelf from a free, slightly broken, wooden ladder. I picked it up right after we moved to Alaska. I was jobless, broke and bored; and this proved to be a great activity. I had wanted a ladder bookshelf for a while, but hadn't imagined one that would hang on the wall. I painted this one, distressed it and mounted it with L-brackets. It has been a crowd pleaser. I can't think of one person who hasn't commented on it when they first see it in our living room.
Since making this bookshelf, I've seen really cool uses for old ladders. My favorite use is as a pan rack hung from the ceiling and fixed with S-hooks to hold pans above a kitchen island.
2. The Birch Brush Coat Rack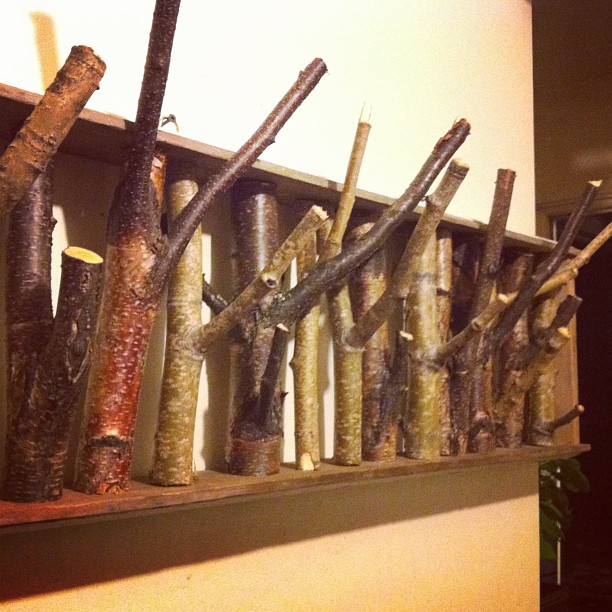 We just made this coat rack at Christmas. We had been yearning for a new coat rack in our house as the winter months proved that our one coat rack with four hooks was insufficient for the four outdoorsy adults in our house. This one was fun to make because we got to scavenge small sections of birch from brush that had just been cut down to clear out some land on the farm. The supporting wooden boards were also salvaged from a nearby building sight. You can't see it in these pictures, but there is still some old paint on the boards. I love the natural, artsy look of this coat rack, and I imagine making a larger piece (with fewer branches sticking out) as a headboard or other larger installment some day.
I often pick up free pallets when there is room in my car and I'm sure the pallets are available. Working with pallets is tricky, because they can be treated with nasty chemicals to keep them from rotting or attracting pests on cargo ships. It is also REALLY hard to remove the tacks/nails that hold them together. Alas, I have cleaned many a pallet and removed some of the boards, but I have never made anything very crafty out of them. I have wanted to make a sofa/day bed from them or a rustic coffee table with a glass top. However, all of the pallets I have collected so far have become sides to compost bins, temporary fencing for chickens or ducks; or they have been given to friends for similar farm uses. Pallets are invaluable to thrifty farmers.
As I continue to embark on my journey into farming, the importance of the middle three R's (Reuse, Repair, Repurpose) is becoming ever more apparent. Farmers aren't traditionally known as wealthy folks, so these tenets are often integral in keeping farms in operating condition. As Farmgirls, we need to hone in on our R's and make the results as beautiful and functional as possible.
Have you repurposed any funky items lately? Or do you have dreams of upcycling another's trash? Share your creations with the rest of us!
Now, how did I begin this post with the wonders of young love and end up with a call to reuse our goods to the last drop?
Until next time, sending you peace and love from Alaska,
Alex, The Rural Farmgirl