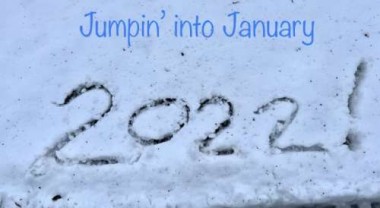 Hi Farmgirl Friends! Welcome to 2022! I hope you all had a great holiday season, and that your January is off to a good start! I have decided not to make any New Year's resolutions this year. Instead, I am going to try to be mindful, and really make an effort to take each day as it comes. There's been just so much worry the last two years! I see it in myself, in posts on social media, and in the general public- out and about. I think we sometimes forget to take in the present, and appreciate the good moments even when things aren't our ideal. We need to remember to not let that stress eat us up, and also to take care of ourselves. So many of us are hardwired to take care of everyone else first, which is great, but sometimes we forget about taking care of ourselves! 
After the last two years (what a wild ride it was), I'm hoping 2022 brings on better things. I'm going to try to focus on the positive! For one, I will be turning fifty this year. When I was a really small child, I remember an entire room at a fiftieth birthday party bursting into laughter when I asked the birthday guest, "You mean you're half of a hundred?!" I was shocked. Back then, it seemed like such a big number and so far away, but here I am; in just a few months, I will officially be "vintage"! Awesome!
I think we are fortunate that nowadays, age is more of a number. It's often how we feel that makes us the age we are. But just like a classic car, we need to take care of ourselves so we don't "rust" prematurely! In the past couple of months, I have found some new-to-me things that I really like, that I think you all might enjoy, as well. Some of them also make great little gifts (Valentine's is less than a month away already)!