[Previous Suburban Farmgirl, October 2009 – October 2010]
What does it mean when we keep our old toys in plain view? I don't mean "toys" in the grown-up gadgets/cars/iPods/iPads sense of the word. I mean real toys, Barbie dolls and sock monkeys, right, um, on our office shelves. (Okay, home office.)
As you know, I'm moving. (Found a lovely, happy-yellow center hall colonial, with turquoise shutters and a screen porch — essential for North Carolina summers — on, yes, a quiet suburban cul de sac.) And moving involves lots of unearthing — excavating drawers and attic, seeing your whole life pass before your eyes. I'm now convinced everybody should move every five to 10 years, if only to sort through your worldly possessions and lighten, lighten your load! This, from someone who's truly change resistant.
My friend Alexis, a sociologist and psychologist, says that by getting rid of stuff, we make mental space for the new. Worrying about old possessions, freighting them around, sucks up mental energy. Fourteen trash bags out of my office alone and I can attest to that. Exciting.
But to reach midlife still clinging to your sock monkey? What's that about?!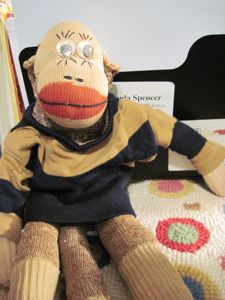 Continue reading →