Dear Sisters,
Happy Spring! And, Happy Easter! Isn't it great to see the greening of the earth again? While that might just be my favorite thing about spring, the next best thing is gathering fresh eggs straight from our backyard coop. I still get a rush at the sight of the first FRESH eggs of the season. And what better way to collect them in than a fashionable Egg Collecting Apron from Fluffy Layers! Tara J.Grier, founder of Fluffy Layers is giving away one or her darling aprons to a lucky farmgirl! Come on in for a chance to win!
You know the old saying, "birds of a feather, flock together?" Well, I think the same goes for chicken peeps too. Ever since we started keeping hens ( nearly 9 years ago, now) it's become somewhat of a side hobby to keep a look out for new products that make chicken keeping even more fun and fashionable. I became familiar with Fluffy Layers when a dear chicken keeping friend brought me one of Tara's aprons as a gift. I knew you would be as delighted as I am with her creations and I'm thankful to Tara for sponsoring this giveaway for you!
Fluffy Layers LLC is inspired by fun, fashionable prints and practical urban agriculture products. Founded by Tara J. Grier in 2015, Fluffy Layers combines Grier's career in the fashion industry with her expertise running a mini farm in Ashton, MD. As graduate of West Virginia University, Grier received a degree in Textiles, Apparel and Merchandising in 2006 before moving to New York to work for several luxury accessory retailers. With more than a decade of fashion and farming experience Fluffy Layers offers exciting new designs and ideas for farmers everywhere. Tara offers a variety of sizes and patterns to suit every taste.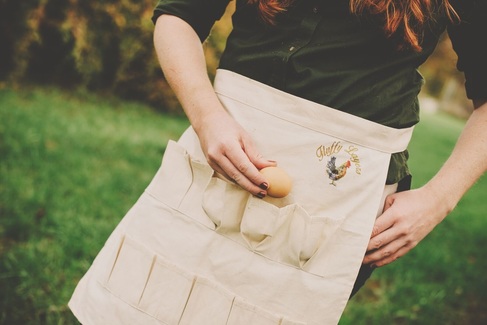 This simple half-apron boasting ten mini-egg pockets is utilitarian and stylish.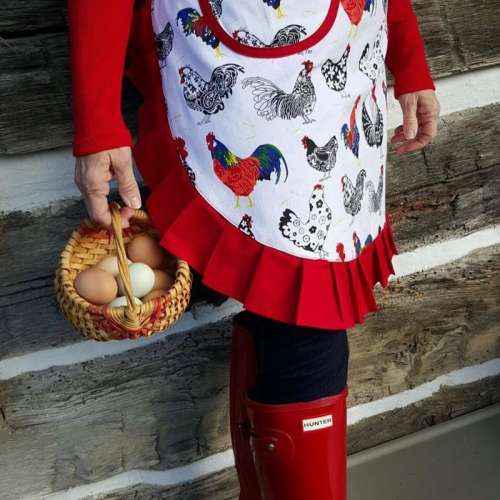 Full apron with a contemporary take on chicken designs and a sassy ruffled bottom to boot!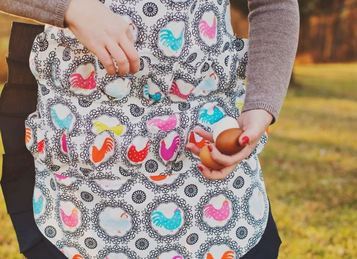 Full apron with ten egg pockets.
To enter the giveaway, leave me a comment and tell me what you think of these ingenious egg collecting aprons from Fluffy Layers.
More Fluffy Layers products here. Get The Fluff on the blog too!
Until out next shoreline visit~ Happy Spring and Happy Easter!
Beach Blessings and Much Love,
The Beach Farmgirl,
Deb # 1199
PS. I'll announce the winner on my next blog at the end of April! *See* you then!
Thank you all so much for entering this fun giveaway!
CONGRATULATIONS TO Vivian Monroe ( Neta) for winning the Fluffy Layers Egg Collecting Apron!