Green. This word conjures up a handful of images. What does it make you think of? The color? An inexperienced person? Money? Envy? New growth? I, along with many of you, my fellow Farmgirls, am inextricably drawn towards shades of green.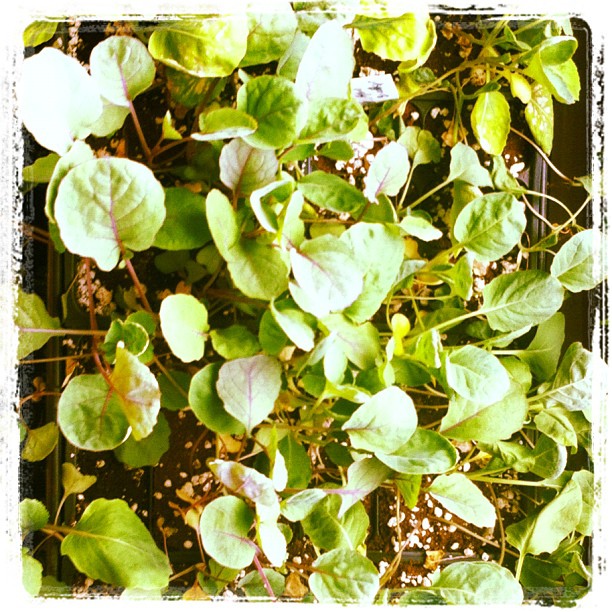 These brussel sprouts want to be outside.
After a long, snowy winter, the hints of green that are finally starting to show in the forests and fields of our little chunk of Alaska bring with them a sense of renewal and reward. The crisp, clean palette of winter has finally started to give way to warmer hues of greens, deep purples, reds and golds (although, we can still see snow from our kitchen window!).
The crocuses have already bloomed and wilted; the rhubarb is poking through the still cold soil with its red, knobby fingers and too scrunched leaves; the buds on the trees and shrubs are about to burst and the fields and gardens are nearly dry enough to be planted.
The Greening of Things
As this growing season has approached, I thought to myself, "Surely the season really starts at the beginning of May…" Even after perusing weather records (and seeing that the average temperatures in May are cold!) and being told by many people that the outdoor growing season really starts on Memorial Day, I still hoped that they were all wrong — history and all.
Well, my gardens are still bare (aside from many lovely weeds and some perennials that have come up), and the temperature has dropped below freezing a few of the last several weeks' nights. However, I have started a full time internship on Spring Creek Farm's CSA with Farmer Amanda and another intern, Corbin. We have planted 280 feet of carrots, as well as a few hundred feet of other cold tolerant seeds. The seedlings inside are so ready to be transplanted! They are practically jumping out of their soil blocks. It is exciting to finally be out in the fields, getting our hands dirty and learning great new techniques from Amanda.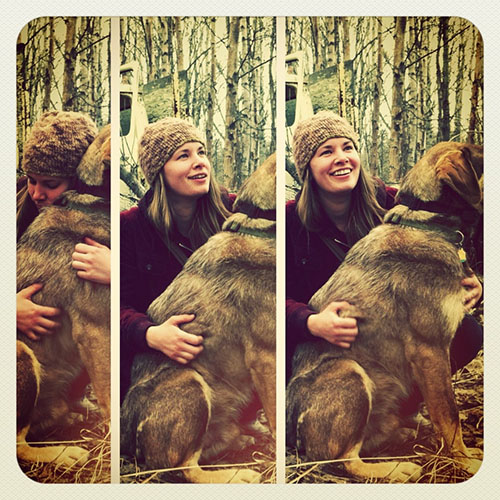 Amanda and Otis — The Other Farm Dog
Speaking of new techniques, this is my first time working on a real market farm. I'm a greenhorn in Alaska to begin with (in Alaska, us newbies are called "cheechakos" which is a Chinook word for "new comer"); and I am totally green when it comes to farming veggies in Alaska. My past produce farming experiences came from a stint at a macaw sanctuary in Costa Rica — we planted about an acre of organic corn for bird feed. I also worked at the Little Sugar River Farm in Wisconsin. It was very small, with most of the produce being used for the farm's bed and breakfast. So, here I am, a green (new) Alaskan practicing green (organic) agriculture with a green (inexperienced) view of farming. Today, I wore a green (the color) jacket. I should probably wear even more green!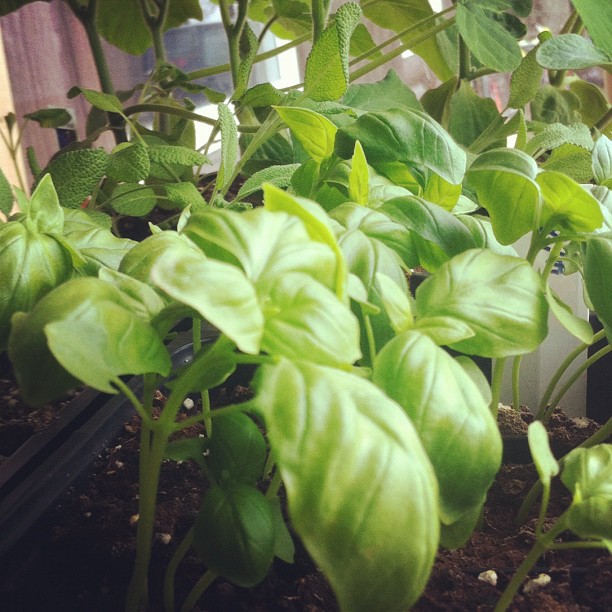 Baby Basil, Yum
Yesterday, I asked Corbin and Amanda what their favorite colors were — their replies? "Green!" It must come with the farming/love of growing things territory. So, while we are still waiting for the GREEN green of spring to make its way here, we are reveling in the green blades of grass that first showed up along the edges of houses, then the sunny parts of fields, and finally are creeping across the landscape.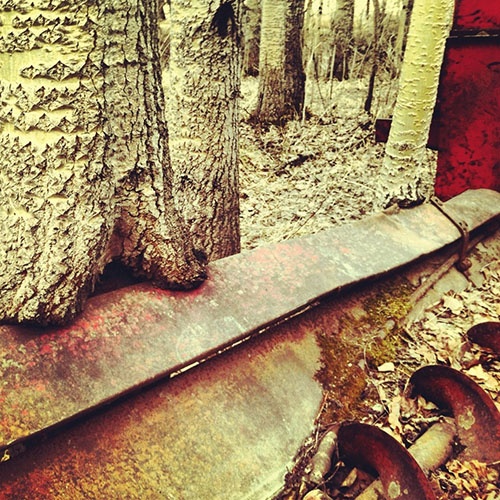 A young cottonwood starts to engulf old machinery…
This interim between the cold whites and grays of winter and the full, green foliage of late spring has revealed some special surprises on the farm. There is an awesome farm vehicle junk yard that has risen from the previously snow covered forest. The cottonwoods are even starting to grow around some of it. Old machinery is cool. We also found a YAK skull (there were yak in the pasture behind our house last year…and apparently a skull was left behind.)
One man's trash…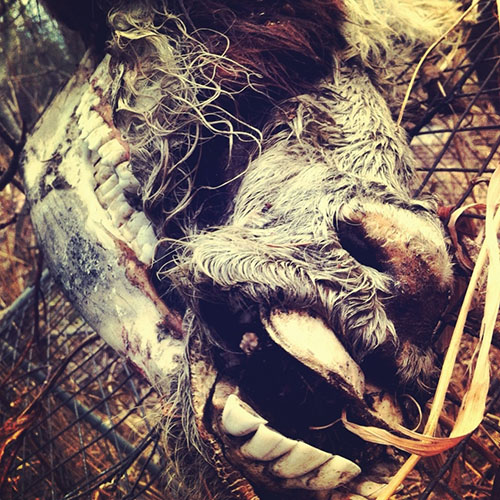 A forgotten yak skull…sorry of this makes you queasy.
So, while we wait for the official greening of things to commence, there are hints of it popping up at an exponential rate; and in the mean time, we can explore the ephemeral period of the naked land (no snow or new growth!).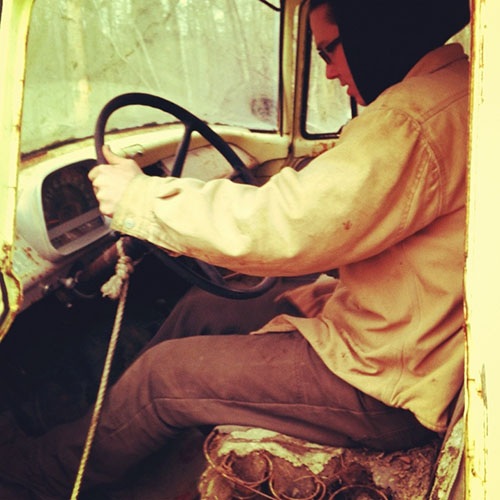 Jared (Amanda's partner) finds a new old ride!
Most of you are now swimming in fields and forests of green — enjoy it! I hope this finds you all well! I am looking forward to writing my next post from the Midwest (my long lost love…).
p.s. Thank you to my lovely partner, Evan, for the amazing photographs. You have a good eye, my love.