Hello Farmgirls, I hope this find you all well and settling into 2016 with kindness to yourselves and celebration of your accomplishments!  I am proud to say that I have taken up an activity that I didn't even know I wanted to learn.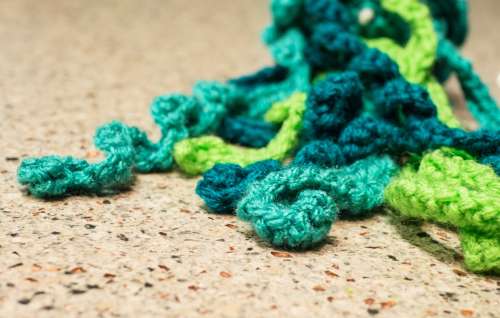 (Re)Learning how to knit has been one of my goals for the last few years.  I had previously learned how to knit in high school and dabbled a bit throughout college, but I hadn't picked up needles in a very long time.  So many people I know in Alaska knit–both young and old.  They make hats, scarves, mittens, toys, booties, and all sorts of unique, made with love, beautiful things.  Plus, a lot of them have knitting groups that they participate in weekly and even go on fun retreats together!  It's such a metaphorical activity–tying together strings to make something beautiful while also knitting together a community of like-minded, creative women.
Since my mother is in town and she is a prolific knitter, we thought it would be the perfect time to hone in on my skills.  After I had recovered a bit from Opal's birth and felt up to some outings, she and I went to the craft store and bought some knitting supplies: a set of common knitting needle sizes and A LOT of yarn!  My mom also suggested that I get some crochet hooks because she could teach me how to do that, as well.  The previous day she had shown me photos of "freeform" crochet projects, and I was very interested in the funky, colorful, directionless projects.
I must divulge something slightly embarrassing: my mom has both knitted and crocheted me many beautiful things, but I had no idea that the crocheted things weren't knitted until I learned how to crochet!  I thought all of the items were knit and that my mom just knew a ton of different techniques.  I even thought that crocheted afghans were knitted…I really only associated crochet with little doilies…Little did I know that crocheting is AWESOME.
So, that first night my mom helped refresh my knitting skills.  It was fun, I made a test strip of knitting, perling and combinations of the two to make ribs of varying width. I planned on making a scarf for Evan.  Then, it got pretty late (time flies when you're using your mind and hands!), so we went to bed.  The next day my mom taught me how to crochet.
We started with learning a basic chain and then learning single and double crochets on that chain, then she had me make a granny square…I tried this square several times and never got much of a square.  One of my attempts resulted in something that actually looks remarkably like a llama. I gifted it to my mother and we joked about how she could show it off as her daughter's first crochet project. We hoped that onlookers would think I had done it as a ten year old, not a thirty something! Haha.
While that first day was a bit disheartening, I loved the act of crocheting.  Knitting is meditative and fun in its own way, but there is something about crochet that calls to me.  I bought a book about amigurumi.  Have you heard of that? Amigurumi supposedly means "Cute small things" in Japanese…but don't quote me on that. They are essentially little crocheted toys!  They are very cute and pretty simple to make once you get the hang of it.  So far I've made several jelly fish.  I think to be true amigurumi I should put some cute faces on them, but I like them without.  I haven't been following any one set of directions to make the jelly fish.  Instead, I found an octopus and used it's middle part as the top of the jelly, the fringe off of an anthropomorphic cupcake and tentacles from an actual jelly fish pattern. They are all turning out differently because I can't keep count, but it's a learning process and I really love them!  It is Ava's birthday today, and we are giving out these Jelly fish as one of the party favors.  I hope the other kids love them as much as Ava loves hers.
The New York Times just had an article about the benefits of knitting. It seems I'm a bit late to the party–thirty percent of women aged 25-35 knit or crochet!  Who knew?  Like I've said before, I'm late to most parties I attend.  However, I almost always have a good time and tend to stick around awhile.  In that light, I hope this new hobby sticks around for awhile, too.  Among its many supposed benefits are greater mental capacity in old age, stress reduction and sustained manual dexterity and strength.  Plus, you and your loved ones get a lot of handmade, unique creations.
I can't wait to continue along my crocheting and knitting journey.  I'm sure I'll amass a huge amount of yarn, it sounds like it is inevitable when one becomes a knitter or crocheter. I've already coveted more yarns than I can imagine doing anything with and it's only been a few weeks…We'll see what the future holds!
Are you a knitter, crocheter or other handiwork-er?  What is your favorite mode of creation?  Share your talents with us.  You might even inspire your fellow Farmgirls to take up a new hobby.
Until next time, keep on being crafty!
Sending peace and love from Alaska,
Alex, the Rural Farmgirl
p.s. Being a mom of two girls is the best!
p.p.s. We had a 7.1 magnitude earthquake in Alaska last week at 1:30 a.m. It was TERRIFYING to wake up to the waves of a quake. It was terrifying because of being a mom of two amazing little ones.  Luckily no one was hurt and we didn't sustain any property damage. It's so hard when scary things happen that our out of our control…Maybe I will crochet them giant hamster balls to keep them protected at all times :).