"Friendship is born at that moment when one person says to another, 'What! You too? I thought I was the only one"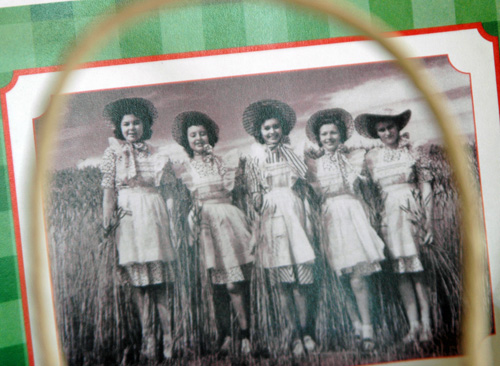 Do you have a flock of farmgirl friends to call your own? The kind of friends who "get " why you LOVE the things you do SO MUCH. I know many of you do, but just in case you find yourself in a new town, city or neighborhood yearning to connect with new farmgirl friends or expand your circle of golden old ones, I'll share with you how I recently gathered a "flock of farmgirl friends" for my Home Town Farmgirl Chapter!
I owe it all to the Queen Bee, Sister # 1, MaryJane. She thinks of everything!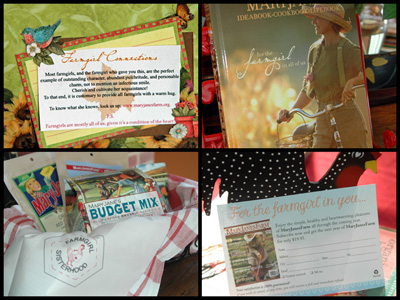 Women have been gathering together since the beginning of time for sewing circles, church groups and bible study, book clubs, Garden clubs, knitting groups, crafting parties, food co-ops, investment groups, mommy and me play times, homeschooling groups, church groups, Red Hat Club and old fashioned Tea Parties too. Homesteading groups are on the rise and so are Farmgirl Chapters.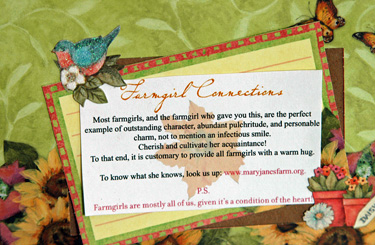 What we are really doing when we gather together is planting the seeds of friendship in hopes they'll take root!
After discovering all things MaryJanesFarm two years ago I dove right in and joined the farmgirl forum, and then I became a sister too. I found myself carrying around some extra sunshine with me everywhere I went. I felt like I was keeping the most wonderful secret. Sure enough, like so many others, it appeared that
I too
had contracted a
whallopin'
case of
FARMGIRL FEVER!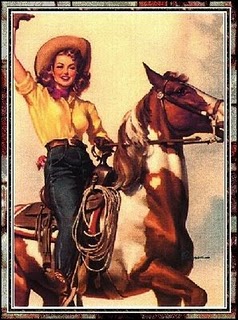 I happily succumbed as I continued to explore more of MaryJanesFarm through my magazine subscription and her "Life Book" for the farmgirl in all of us. I finally signed up as the leader for the
Home Town Farmgirl Chapter
and I couldn't wait for my packet to arrive! When it did, I promptly adhered my "certified FARMGIRL bumper sticker" to the back of my Red Ford Explorer. The first bumper sticker to go on ANY vehicle of mine since I started driving.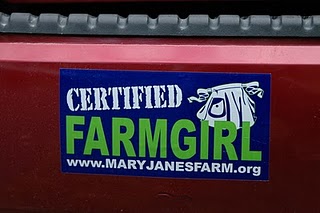 I tucked the packet away and continued to "think" about how I would gather some farmgirls someday. It was through reading about different merit badge requirements that I learned I could host a "Catch the Farmgirl Fever "gathering to introduce my friends and family to MaryJanesFarm and earn a merit badge to boot! With new inspiration I began brainstorming about my gathering. I composed an email invite and sent it out to family and friends.
Here's what it said:
Dear friends,
You knew the day would come when I would have to start a
farmgirl
chapter of my own, didn't you? Well, I've gone and done it! I've dubbed it the
Home Town Farmgirls Chapter
and you're invited to join me in any and all
farmgirl
fun from here on out!
The first
catch the farmgirl fever
meeting is scheduled for Friday, March 18
th
from 6:30 – we poop out P.M.
I'll introduce you to all things MaryJane'sFarm and we'll have fun, eat things then share ideas for future meetings.
So… what is a farmgirl anyway?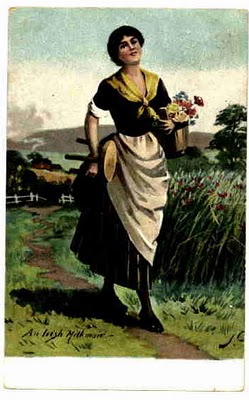 A farmgirl believes in the strong arms of friendship, community and the just plain fun of being together. A farmgirl takes joy in the quiet satisfaction of making things with her own hands. She exudes kindness, grace, humility, gentleness, patience and generosity, and loves the simple pleasures in life. A farmgirl is loyal and caring, especially when it comes to her family, friends and community. She gives generously of her time and talents. Farmgirls love to get together to share their ideas. She can be with or without fields and stock.
Farmgirl is a condition of the heart. ~ MaryJaneButters
Click on the link below to meet MaryJane and I look forward to seeing you soon!
If an old barn smells just as good to you as your husband's cologne, you might be a farmgirl at heart!
Bring one organic snack or dessert to share, along with a recipe. And bring a friend! The more the merrier!
Deb Bosworth ~ sister #1199 and Chapter Leader of the Home Town Farmgirls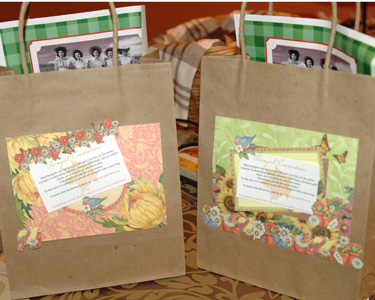 On the day of the gathering, I dusted and fluffed around the house and got ready for the girls. I made MaryJane's organic layered Bean Dip. Sooo yummy! I got out my chapter leader materials and decided I would create a fun gift bag for each "girl" filled with farmgirl goodies.
To decorate the bags I created frames out of scrap book paper for the Farmgirl Connections cards that come with each Chapter Leader Packet.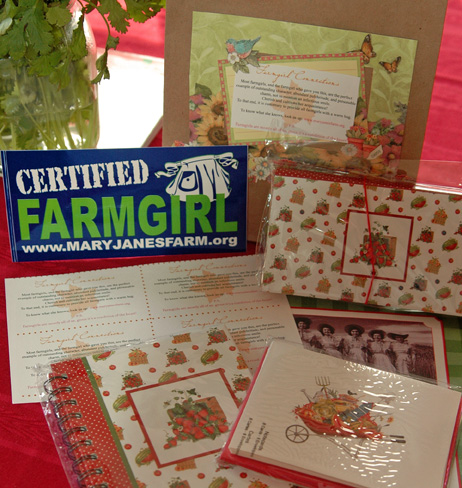 Tucked inside each bag was a chapter member sheet, farmgirl connection cards, fun farmgirlish notecards, a journal and coupon holder. I found them at Michael's craft store for 50 cents each in the bargain bins!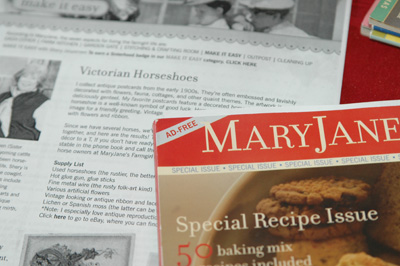 I decked out my buffet with my MJF recipe book, sisterhood info, and a few copies of "The Cluck ".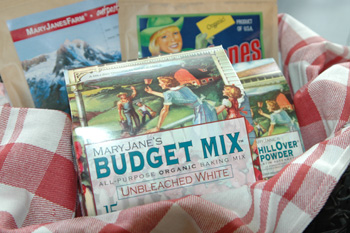 I couldn't resist putting out a basket of some of MaryJane's farmgirl products.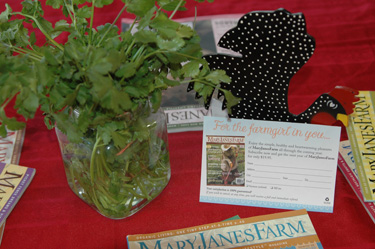 I laid out enough MJF magazines for all to enjoy!
Our first meeting was so much fun! Here are the "girls" getting to know each other.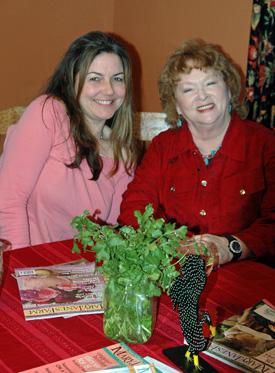 Raymie and my sweet FARMGIRL mom Joy.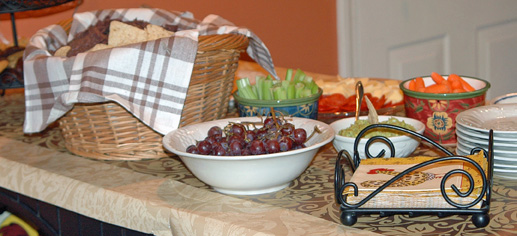 We snacked on organic goodies and chatted about planting veggies in raised beds, raising baby goats, homemade yogurt, and of course baby chicks and children too!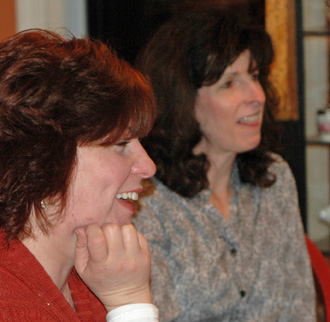 Amy, Pat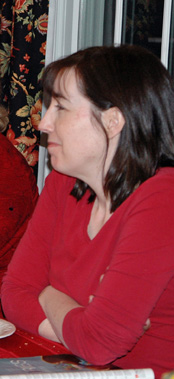 and Heidi!
We're all busy moms with families but making time for gathering together to share some good old fashioned farmgirl fun has been booted to the top of our " to do " lists! After reading this post I hope it rises to the top of yours too! It's just the sort of farmgirl soul food to keep you smiling and looking forward to fun times ahead!
The Home Town Farmgirls are Jammin' in an old-fashioned farmgirl jam kitchen this month.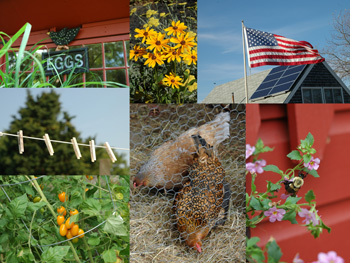 Whether it was luck or fate that I discovered MaryJanesFarm is neither here nor there, but I have a sneaking suspicion who directed me to my first copy of MaryJanesFarm tucked high on a shelf in my local Barns and Noble Book store and brought me here to this space. It's such an honor to be able to share the "farmgirl fever" with YOU here! It's one fever that I hope continues to be contagious!
I like to think farmgirl friends are forever friends, don't you? Have you been yearnin' to start a chapter of your own? If you already have, what sorts of things does " your flock " do for farmgirl fun?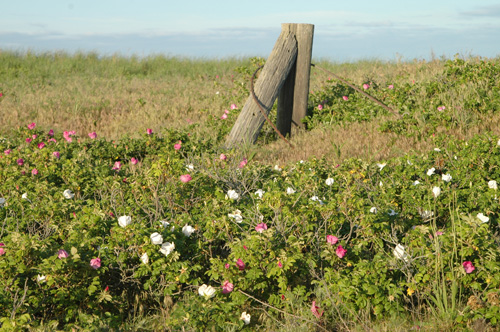 "Lassoed " taken by my sweet husband.
Until our next shoreline visit~
Beach Blessings farmgirl friends!
Love,
Deb
I'm so grateful to MaryJane for all she shares with us (and the world ). Her farmgirl goodness radiates in each one of us.