Driving yourself crazy to have the "perfect" Christmas?
Why?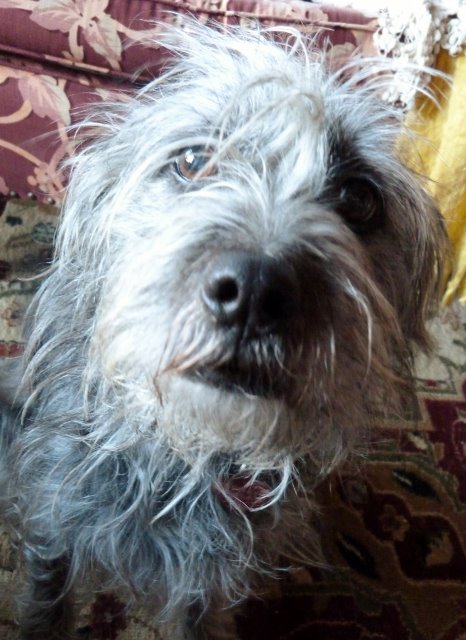 Just. Well. Stop.
Relax! Quit rushing around. Quit expecting magic from the busyness. Quit Over-Christmas-ing. Just let it be. Let this season be what it is. Afterall, it is what it is no matter how many presents you buy. It is what it is no matter how many trees you put up. This is a special, wonderful time of the year. Don't demand perfection from it or yourself or your family.
This year, strive for imperfection.
In that vein. Well, I've been waiting to give you a house tour until my house was "picture perfect." It is not finished. (Will it ever be?) And I know that even when it finally is finished, I'll never have "picture perfection." If you want to see a magazine farmhouse, it is easy enough. Go to Pinterest. You'll see perfect white sofas and organized closets and kitchens with clean sinks. They are very nice and pretty. But that's not where I live.
Come on into my house. It's messy and crooked and lived in. It is imperfect. (As am I.)
This is the side porch, the entrance that everyone uses.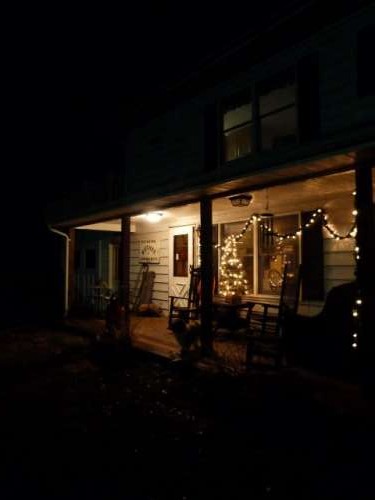 This was decorated in about 10 minutes. Yeah, I see it now. The tree is crooked. Oh well!
When you walk in the side door, you come into our…I don't know exactly what this room is….it is where we eat when there are more than 4 people here. Yeah, I see it now. Something needs to be on the table. Like a table runner or a flower arrangement. Oh well!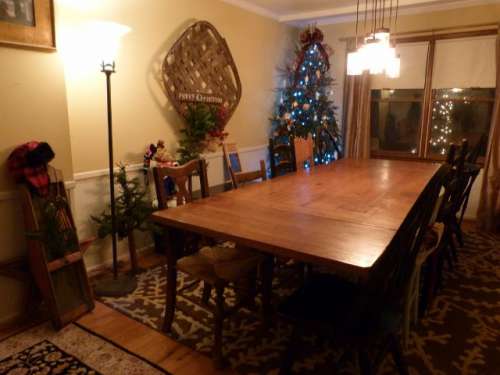 Hanging on the wall is the old tobacco basket I found in the barn.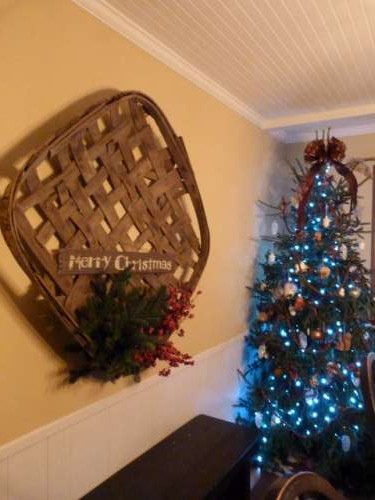 We are still in the eating room here. This is the opposite wall. That mantel is an old one, from a family member's house. That little stove is just a little electric heater. The EGGS sign is where I kept record of the eggs my chickens laid their first year. Oh this year? I have the same chickens but only get one egg every other day. They've molted and I don't use artificial light, so they aren't laying. And that's a dulcimer that I've been meaning to learn to play. Yeah, I see it now. That garland is too heavy for the mantel. Oh well!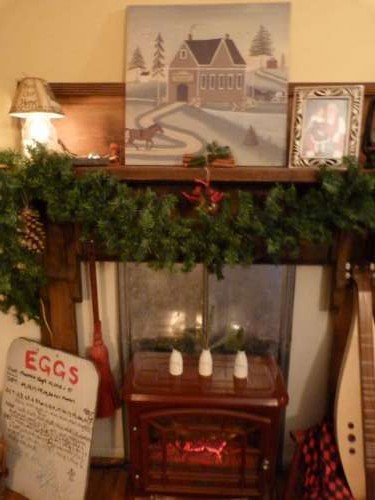 Now, this is where we eat every day. I call this area our "breakfast" nook. It is the old kitchen. We put ventless gas logs in the fireplace. There was just no affordable way to fix the interior of the chimney or put a lining in. I don't like ventless logs, but I do like them better than nothing. Oh, this room is imperfection. Loaded with it. It's just a mess. But whatever. I'm still at a loss of what to do with it. Oh well!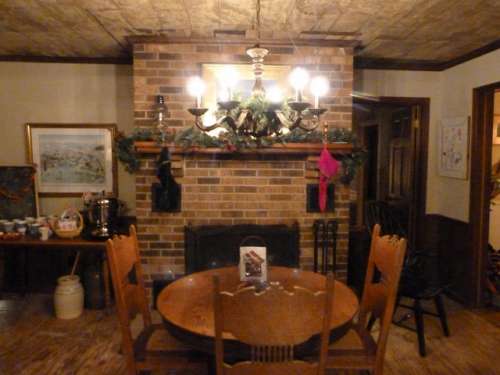 This is a simple hot chocolate bar I set up when some folks came over. It could look better. But oh well! The hot chocolate was delicious and appreciated. And that's really what matters, right!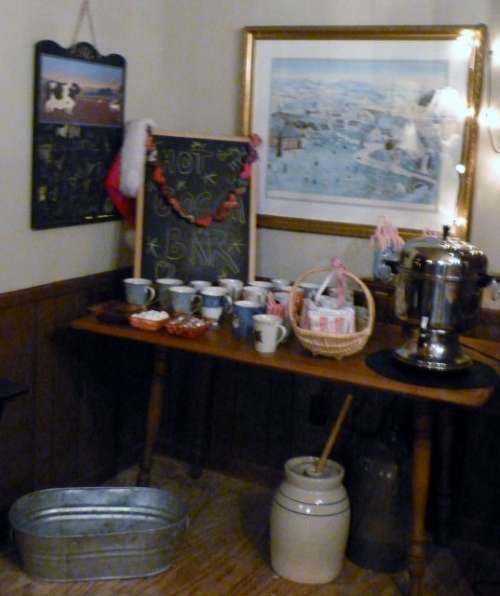 OH NO! We interrupt this post to run outside! Farm life! One of my horses has escaped. Be back soon…..
Well, that took hours. My husband is out of town and it is raining. Our fence across the creek had washed out, so one of my horses crossed the creek and was grazing in an un-fenced hay field right beside the road. I ran out and caught him and walked him down the street, back to our pasture. I then started working on the fence problem. I found two posts and got them into the ground. Then I ran white electric fencing across the creek. It is not electrified, so you know what I did? I ran to the house and grabbed some plastic, dangley, shiny, Christmas party decorations on the line. I'm hoping these will scare the horses away. Horses hate freaky things like plastic bags. Surely they'll hate shiny Christmas decorations. I got soaking wet, standing in the creek hanging Christmas ornaments from the white electric wire. And I was frozen! Cold water in my boots, wet socks, wet blue jeans, wet everything since I spent a long time in the creek. Even my under-roos got wet! (TMI?)  So. What a wild afternoon. And the funny thing? Just as I'm hanging the last decoration on the fence line, a friend and neighbor stopped by to see if he could help me do whatever I was doing. "What exactly are you doing?" he asked me. "Hanging Christmas decorations on this line so the horses won't cross the creek…" You should have seen his face. He is a true farmer, raised in this type of country life. I'm just trying to get by. I'm sure he thought I was crazy. (probably true.) Believe me, I fully understand the entertainment value we provide to our community. Anyway, I came in, took a hot shower. And now I'm back to the tour. Let's go.
Here is my new kitchen. I love this room. Are we finished with it? NOPE! I still haven't decided on a backsplash. My favorite thing in here, I THINK, is my antique sink. The floors are wormy chestnut, as I've written about before. They may be my favorite thing. Oh, and the range. I love that range. Maybe it is my favorite thing. Okay, never mind. I don't have a favorite. This is just a great kitchen. It is pretty perfect actually. Just not done. One day though—-after I get a backsplash and finally decorate it, I'll give you a full tour. There are a couple of surprises in here that make it super fun. I should turn on all the lights in there and take another photo. I see that now. And maybe move the towels on the sink and that trash beside the sink. Oh well!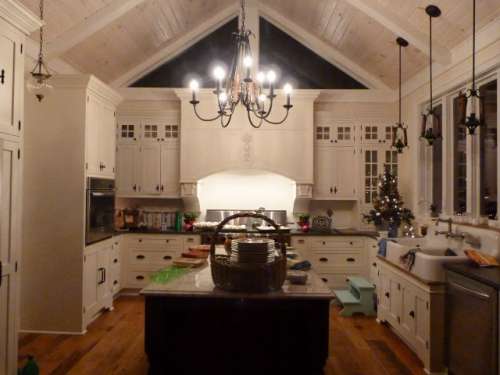 And here's my dining room, which I also love. So vintagey with that wall paper. This is the room that sold me on the house. I haven't done a thing in here except to replace the light fixture.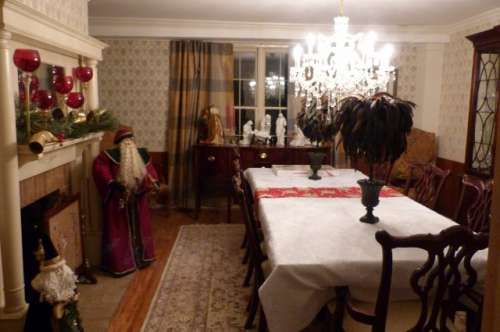 It has become my Santa room at Christmas. Here's the other corner of the room.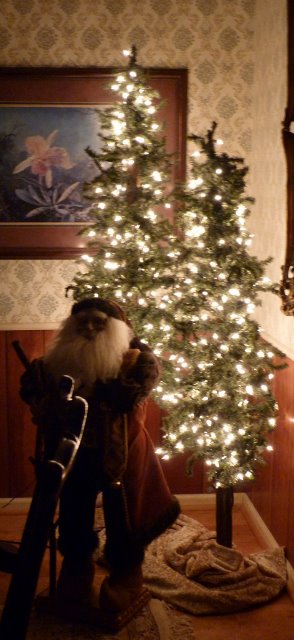 So that's it.
Let's see what's happening outside.
The guys are taking a load of Christmas trees to a 18-wheeler truck. Maybe they are coming to a store near you? I can tell you this. They had a good life here. Everything is done by hand and very carefully. Bye-bye, Trees!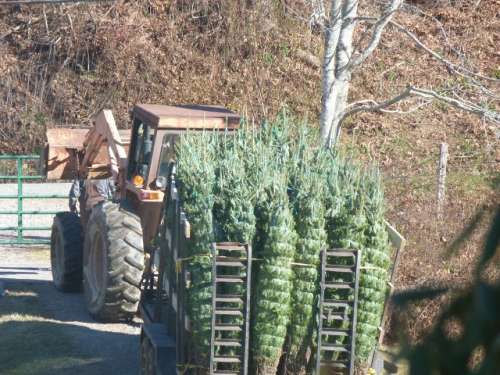 So Merry Christmas season! My favorite bracelet, with a James Taylor song quote, applies to Christmas too. The secret of Christmas is indeed ENJOYING the passage of time. S~l~o~w d~o~w~n the Time and Enjoy. Can you do that this year?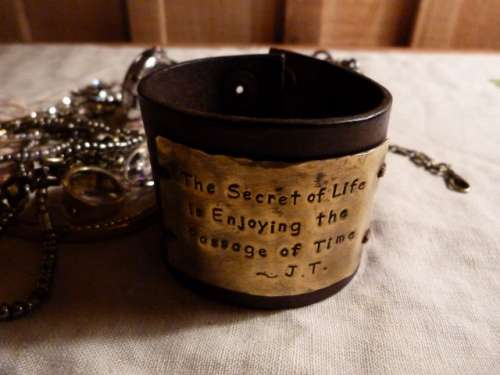 Wait. I have one more thing to share today, but it's from my Sassy Soul-Horse, Merlin.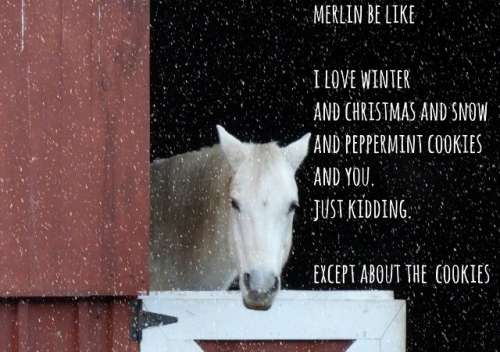 Until next time, Friends, savor the flavor of life!
Lots of love, The City Farmgirl done moved to the Country, Rebekah