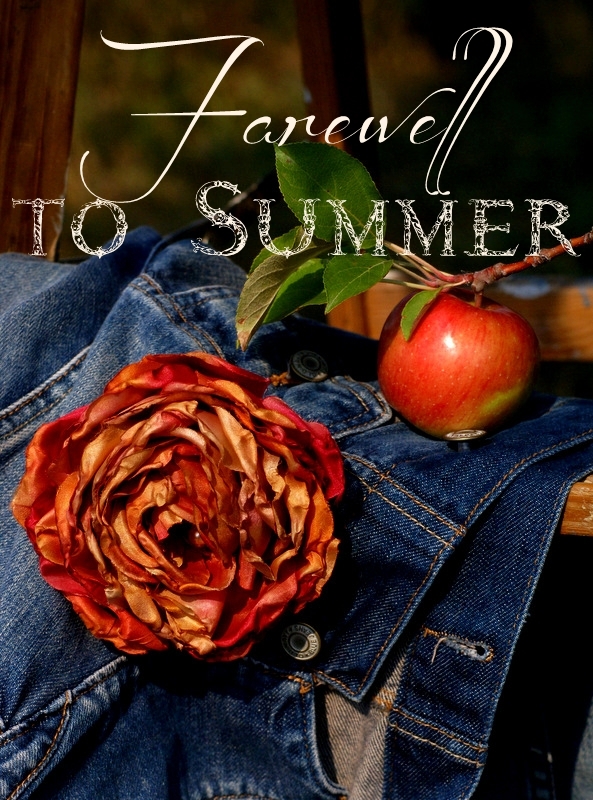 We see Autumn as a different kind of beginning, a prelude, an introduction to what comes next. We also see it as an ending. We gather and harvest the last of what summer produced. Autumn stirs us like the leaves that swirl in it's latter phase. This place in time that find ourselves in … the softening of light, the cooling of night … produces in many of us a quickening. I feel rejuvenated. Faded and ragged tomato plants long for their final sleep. I, on the other hand, wake up!
As I bid farewell to the season that us northerners wait soooo long for, I greet the next one with childlike delight. Hello Autumn, my favorite season! Warning … this posting is photo-rich — it is a long way to the bottom of the page.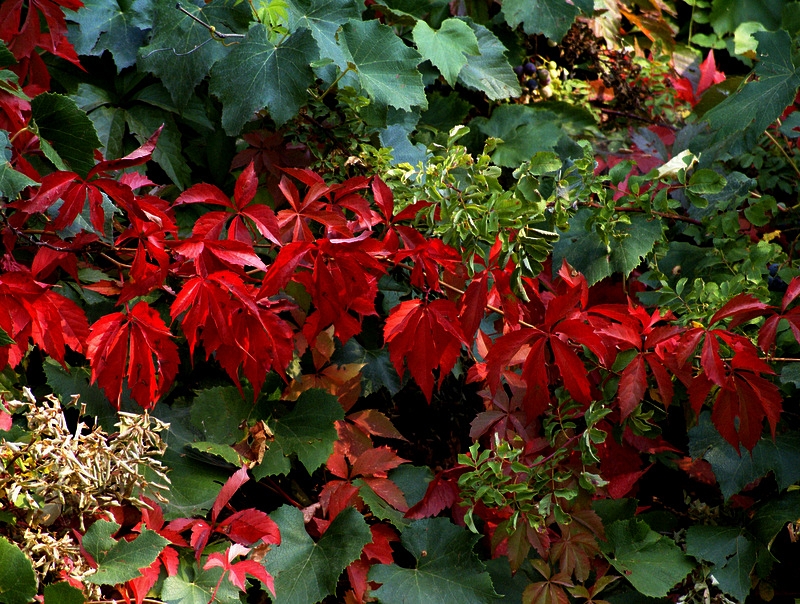 Springtime and early summer busyness is different. In this northern clime, it is a hurry-hurry proposition to get all your green-thumb plans underway and checked off the list. The growing season is short, there is no time to fritter. For ranchers, we're busy calving and branding in spring and early summer. Early autumn involves doing "fall-work" with cattle, but there is a more relaxed attitude involved. We, too, are in harvest mode. Our's is a calf crop and soon they will be sold and shipped. We help our friends, family and neighbors with their fall-work and they return the favor. We're done with the 1st phase. Shipping will come later when autumn segues into fall. So, for now, there is time for taking in the beauty of early autumn.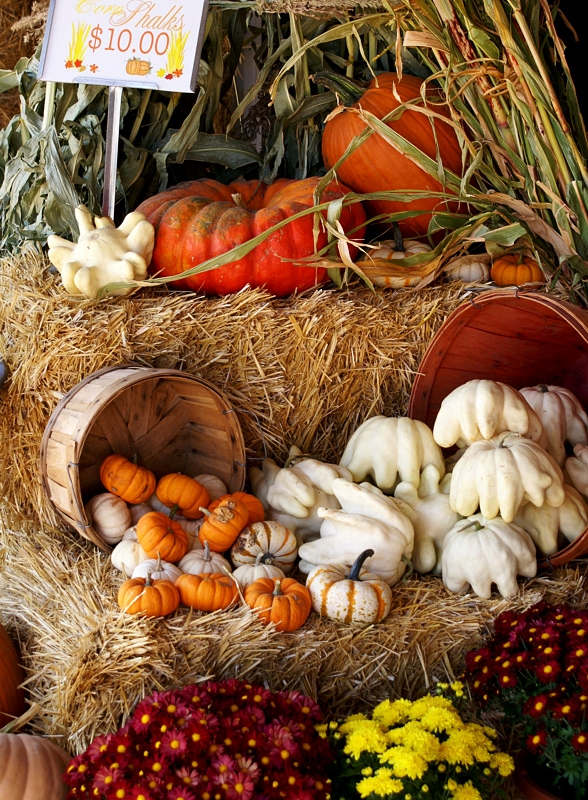 As I write this, we're expecting our first frost tonight (Oct 3) – long overdue. Usually, the first "hard" frost occurs in mid-September. I've been watching the weather forecast closely because I wanted to leave tomatoes on the vine as long as possible. Now, with the inevitable at hand, I picked the last of them yesterday. Last week, I brought all the geraniums in that I want to save. I'm eager to quit watering, I'm ready for my garden to go to sleep. But, as I cleaned a few tanks out, I lingered … and savored. Soon enough, there will be no more green, no more flowers, no more colorful autumn leaves. No more. The last juicy tomato I bite into is even sweeter and tangier than the first because I know how long it will be until we meet again.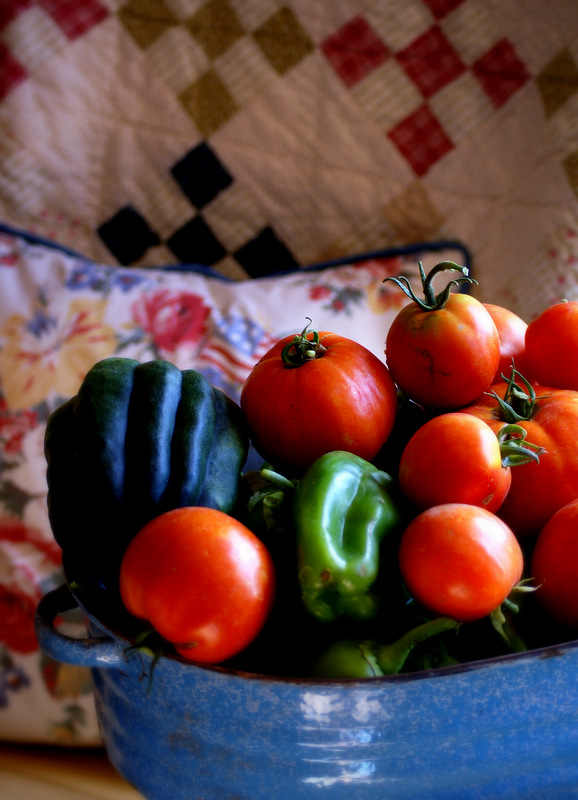 Goodbye my lovely garden, my oasis …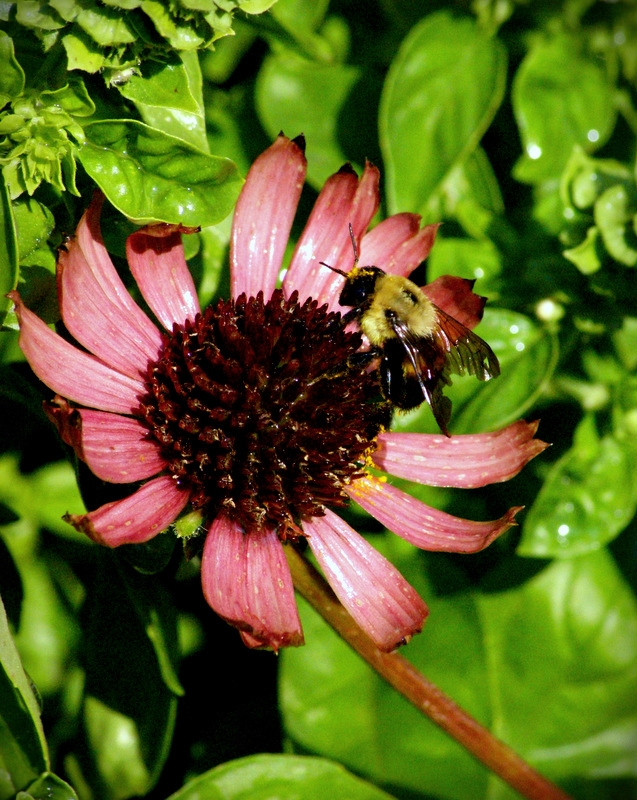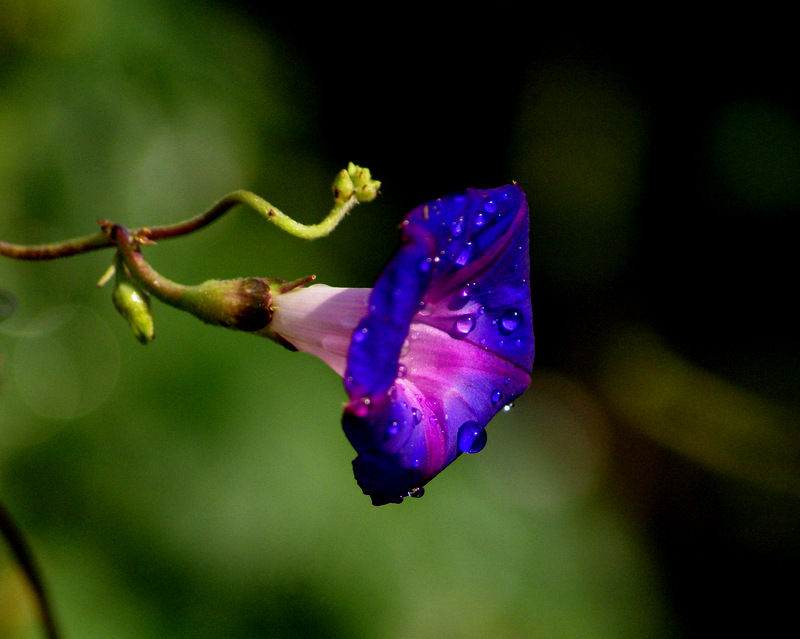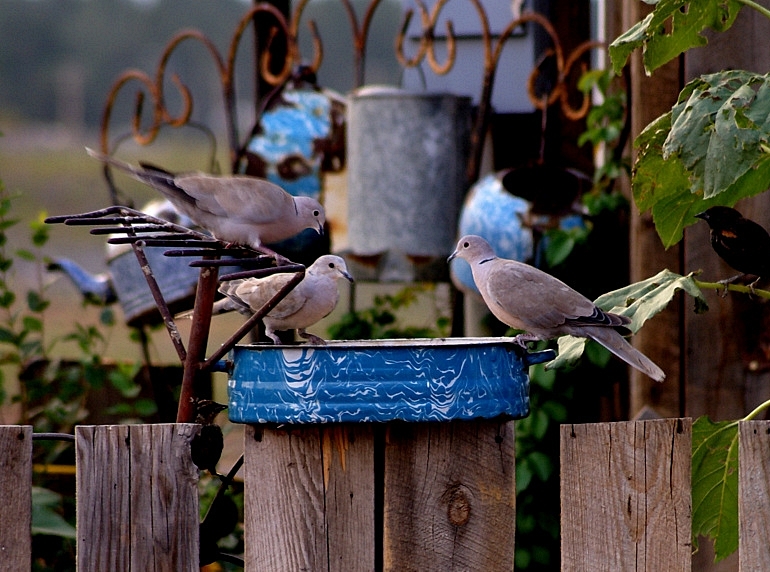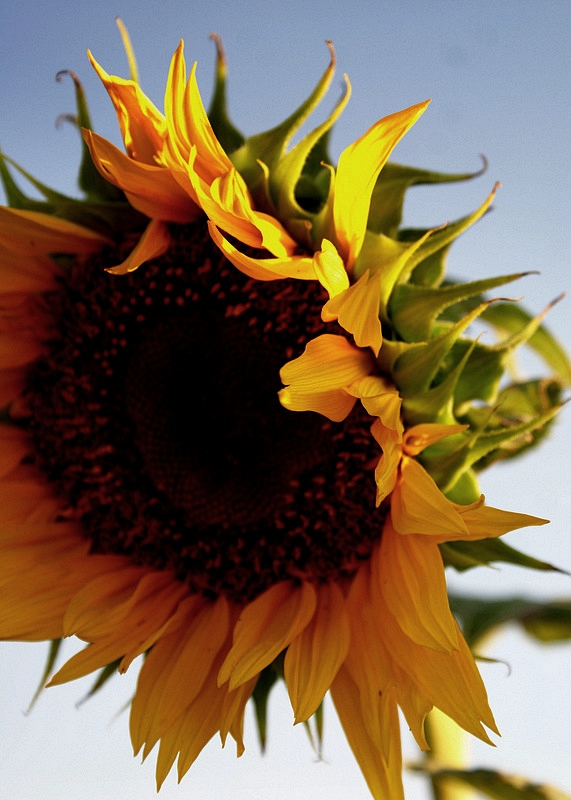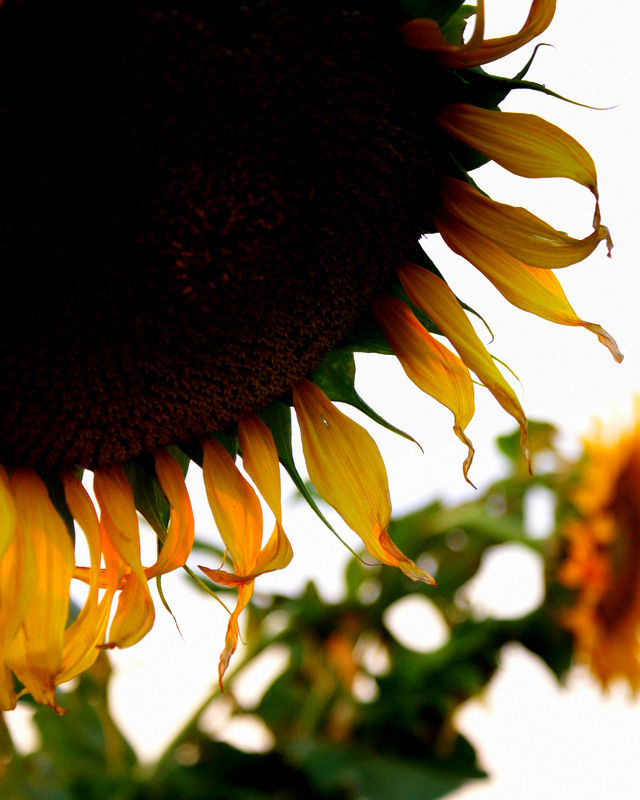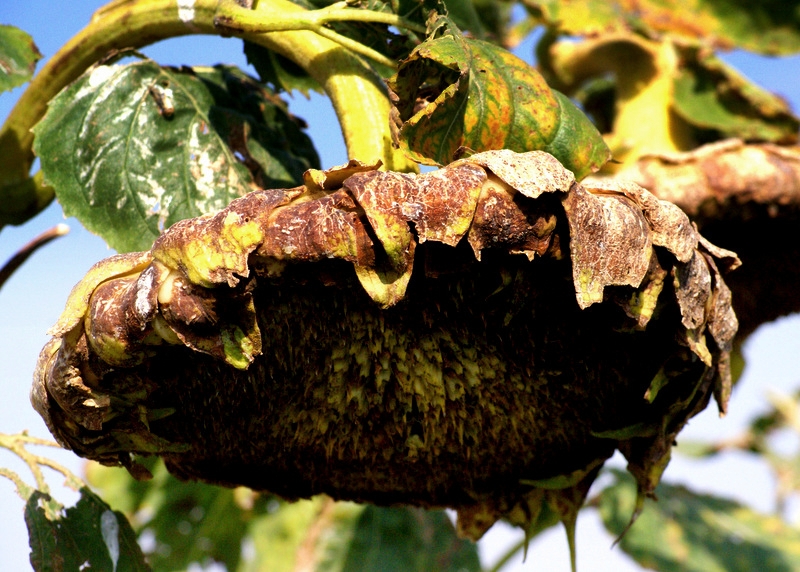 Faithful to the end, Morning Glories provide late season nourishment to the last of the bees. By tomorrow, Petunias will be no more.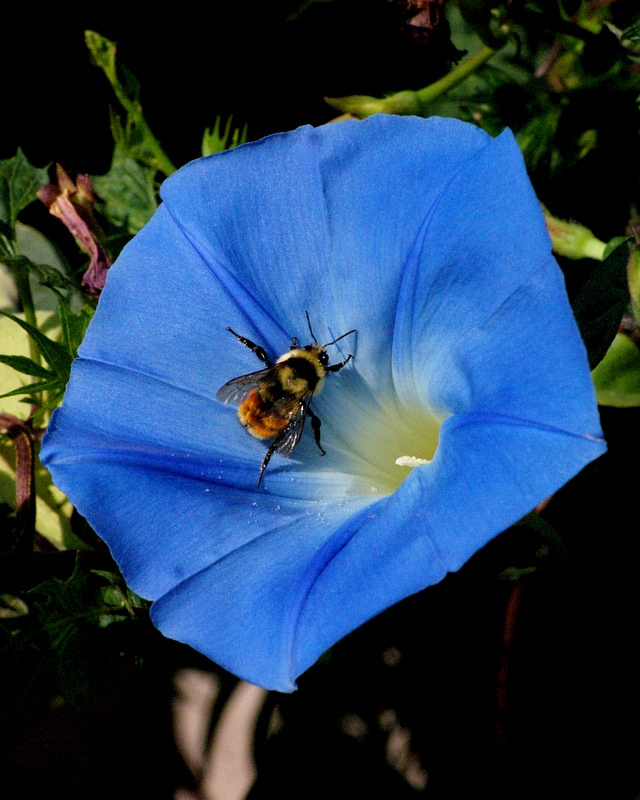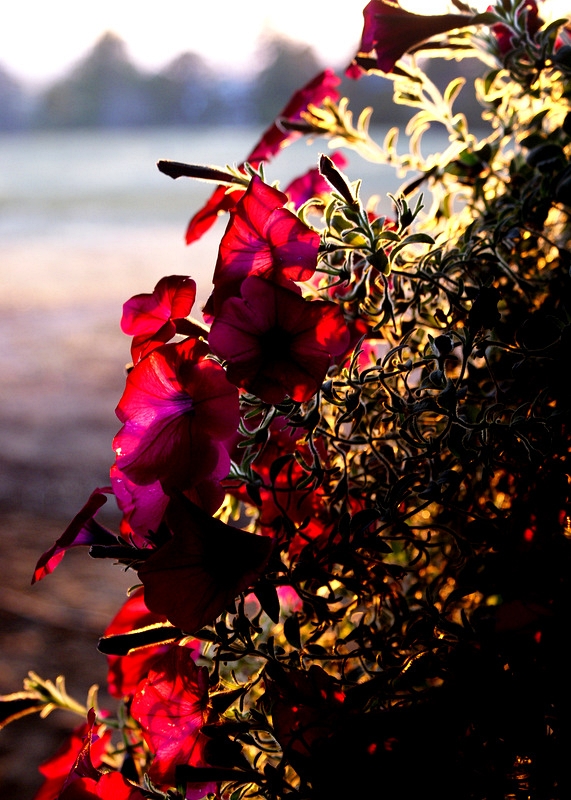 So, now it is pumpkin time … Hurrah! A few days ago, I made a much anticipated annual trip to the nearest farmer's market. Late summer garden goodies fill bushel baskets. The fragrance of fresh apples hangs in the air … and all of the other autumn beauties are arranged 'just so' to entice those of us who eagerly decorate our homes for fall.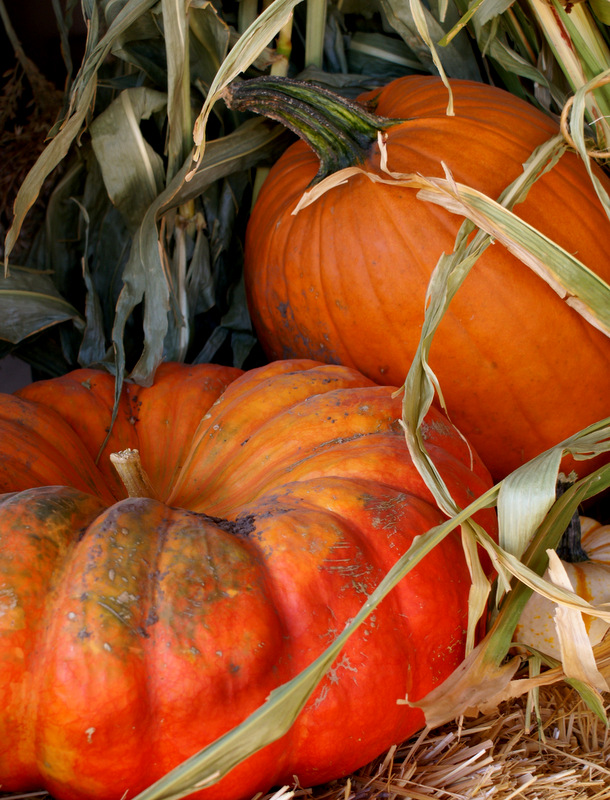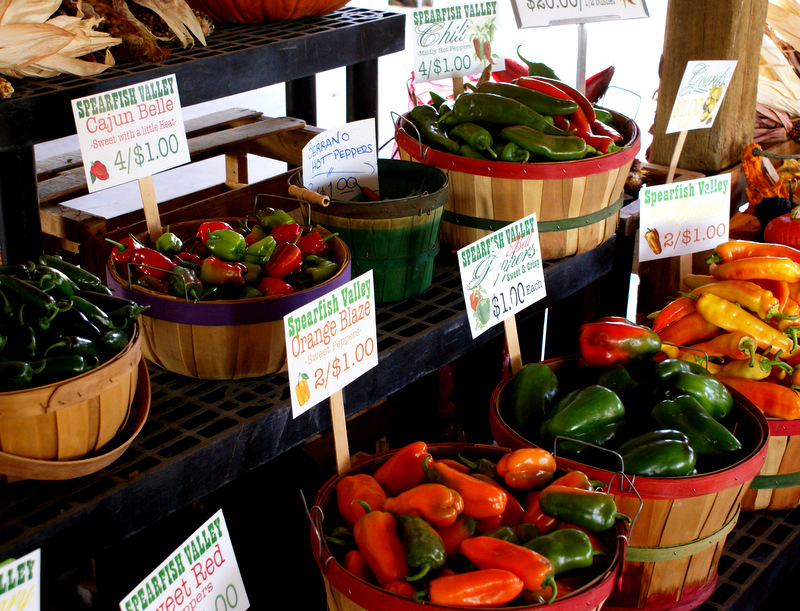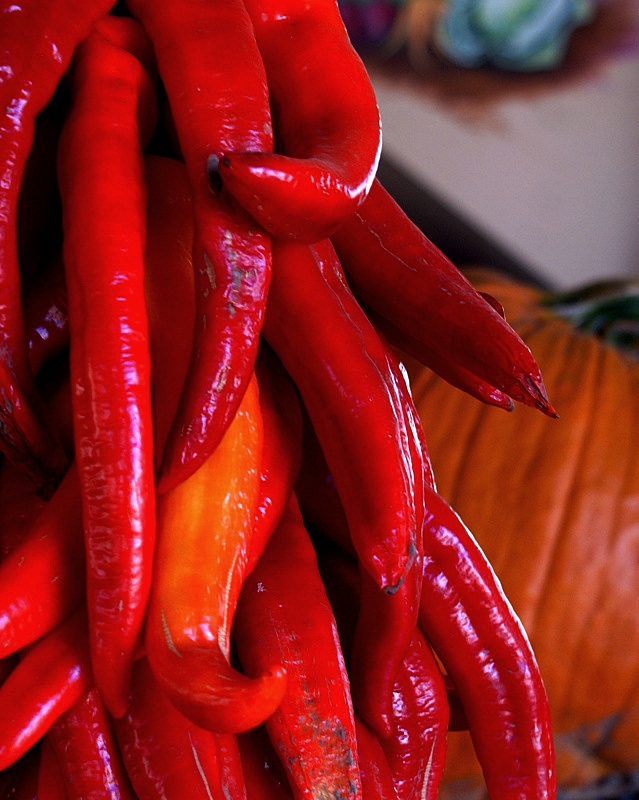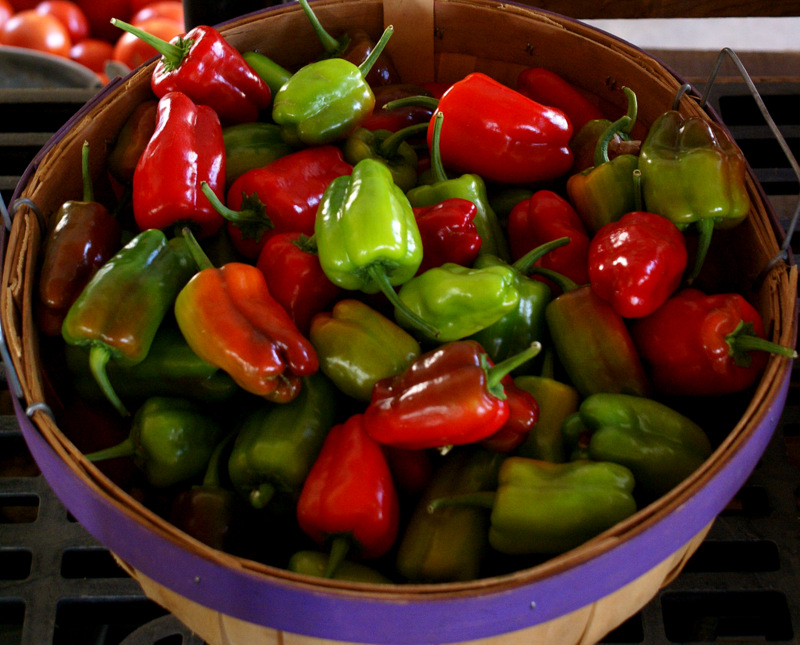 In the same neck of the woods, is a place where my "glampy" farmgirl pals and I are going to go camping in the very near future. We went 'glampsite' scouting recently while on an apple picking expedition – also in the same vacinity, about an hour away in the hill country. We wanted to be near water and in the trees so that we could enjoy the autumn color. We found the perfect spot and the creek runs right by us. We'll even have reason to take our fishing gear since there are brown strout in the stream. Below are photos of the delicious Prairie Spy apples we picked (Anita, Michele and I) and the area where we'll go camping. Michele made apple butter and pie filling with her apples. Anita made the same. I've made pies, crisp and I'm eating them fresh!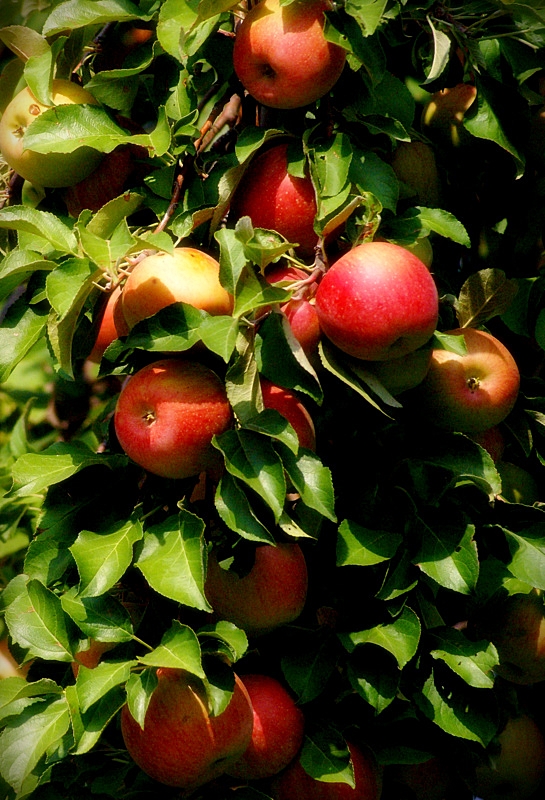 After we had the a pickup bed loaded with apples, we walked down through the willows and along the creek.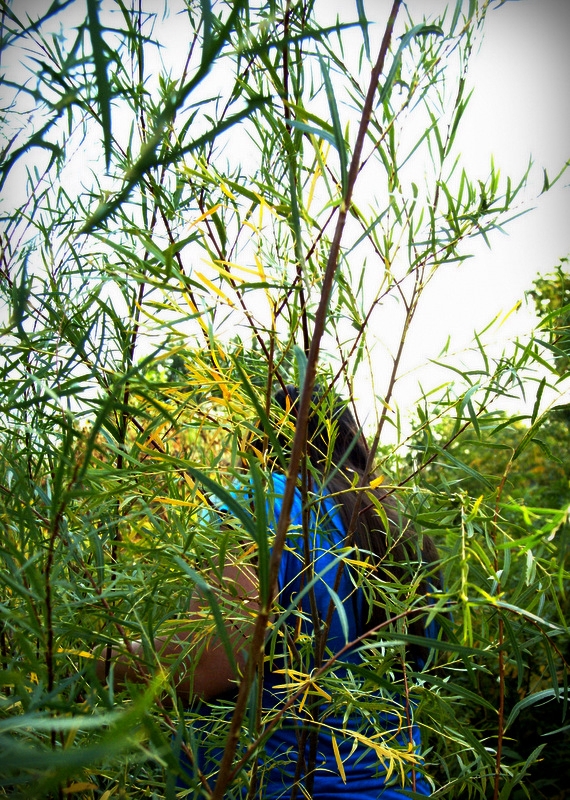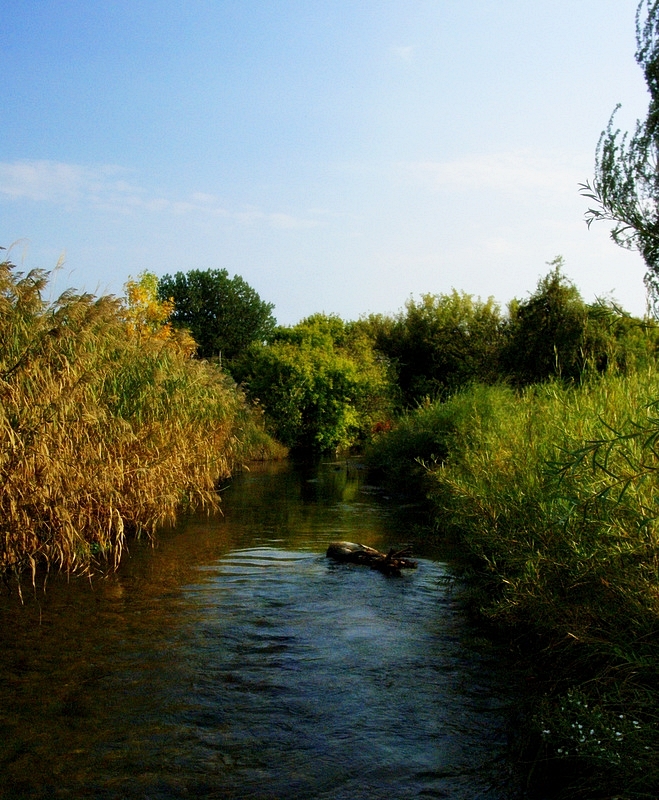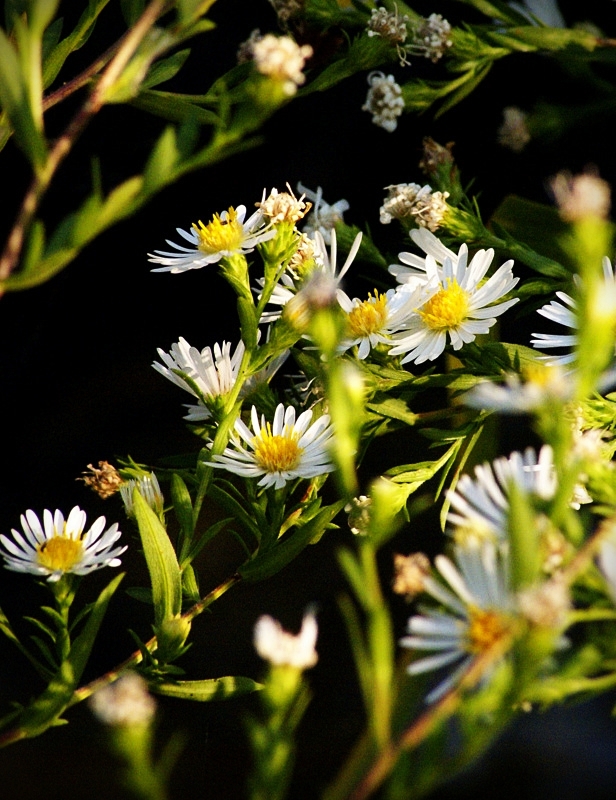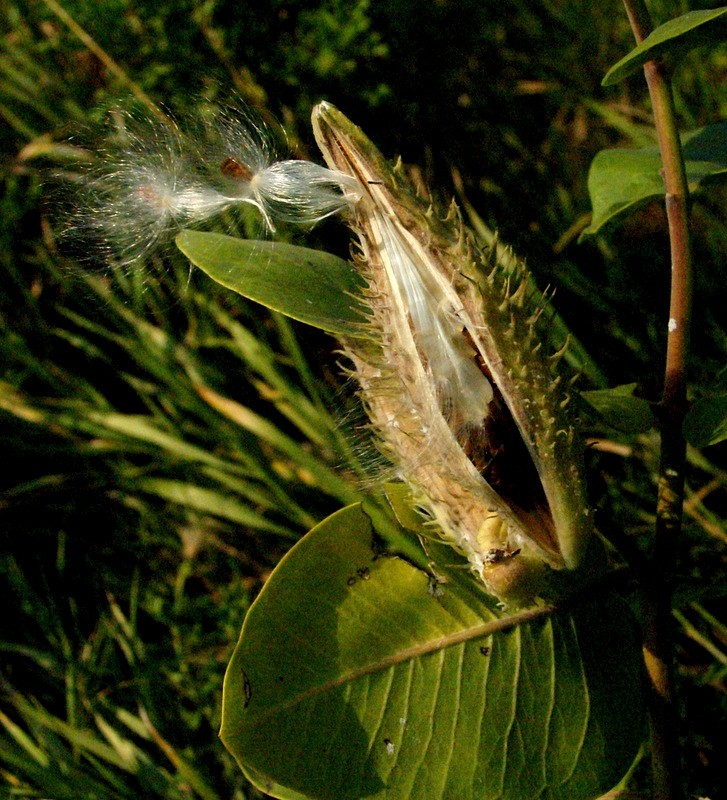 The changing angle of the sun, the softening of light this time of year is the thing I wait for to awaken my senses – shifting me into autumn gear. It is kind of like that one little magical item unique to each one of us that sparks the Christmas spirit within. It happens to me in the fall … you too?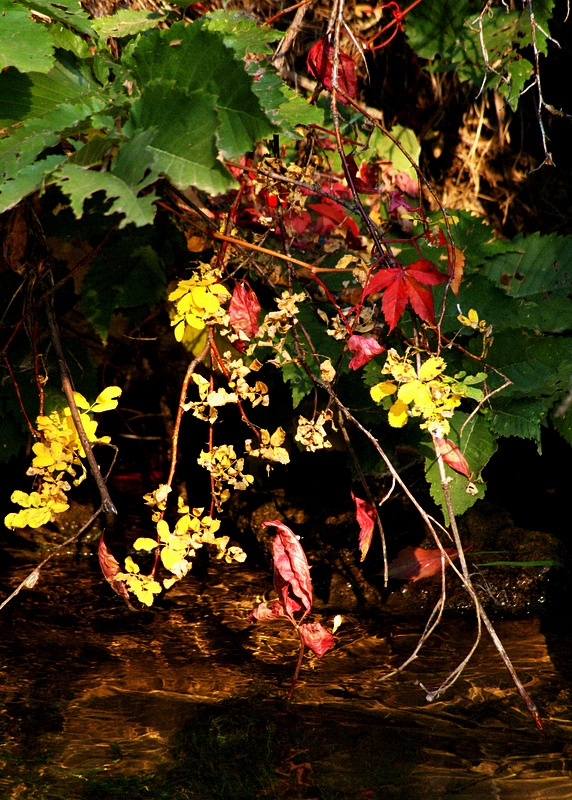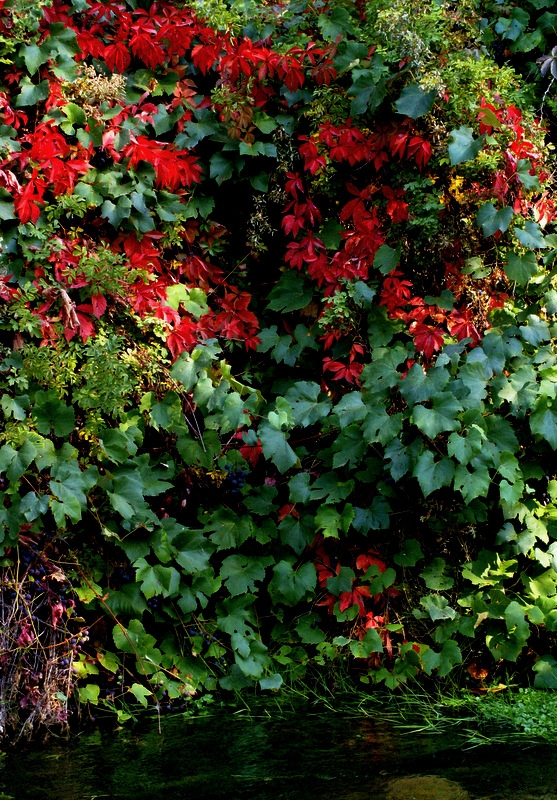 Above: Wild grapes and woodbine are woven together and hang over the creek. A pair of robins were gobbling up the grapes. It was so beautiful along this part the creek, it was hard to walk away. I could have sat there all day, but we had a glampsite to hunt for …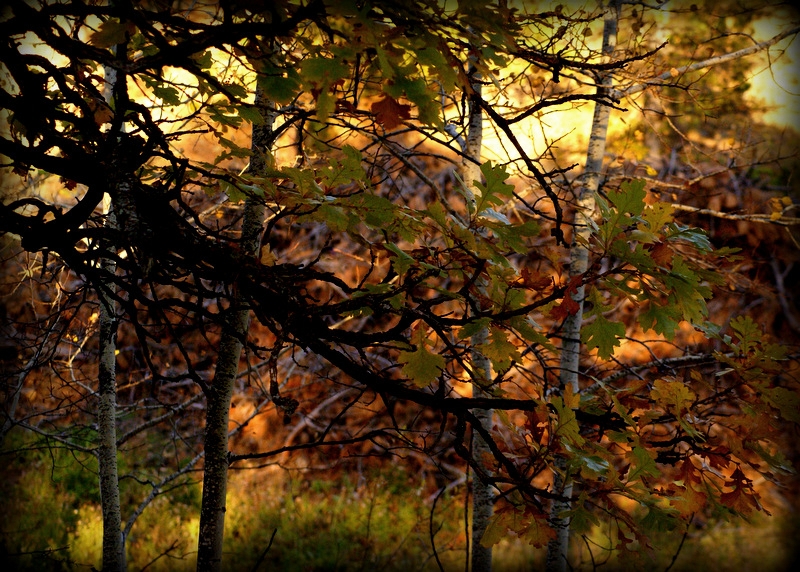 We drove up the winding gravel road into a canyon. Sand Creek runs next to the road for several miles. We found a great campsite and then drove on to enjoy s'more scenery. It was late afternoon. We stopped from time to time to check out possible fishing spots. My grandpa used to bring me to this same area to fish.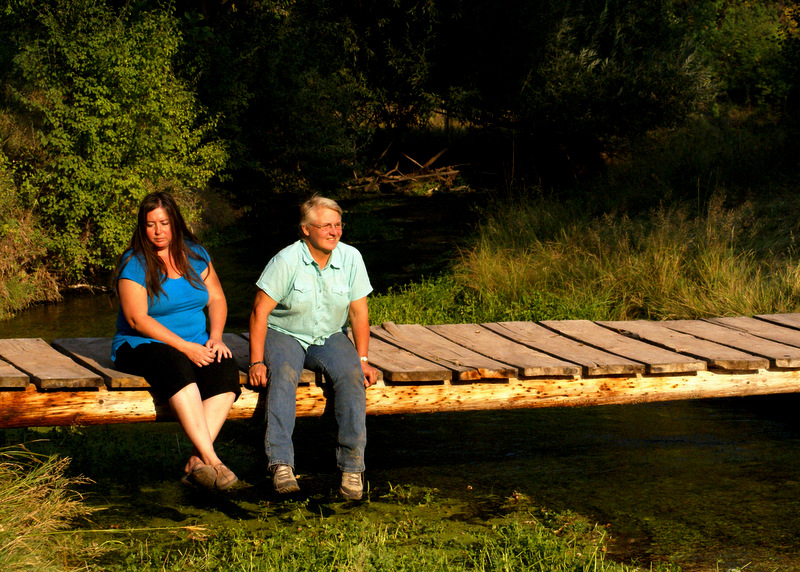 Right in the middle of the photo below, you can see a shadow in the water … and a tiny acorn on the surface. It is one of several Brown Trout that we spotted and they were eagerly eating acorns that we tossed onto the water. This fish was about 12″ in length – pan size! So, that means we're packing lemons for the trip.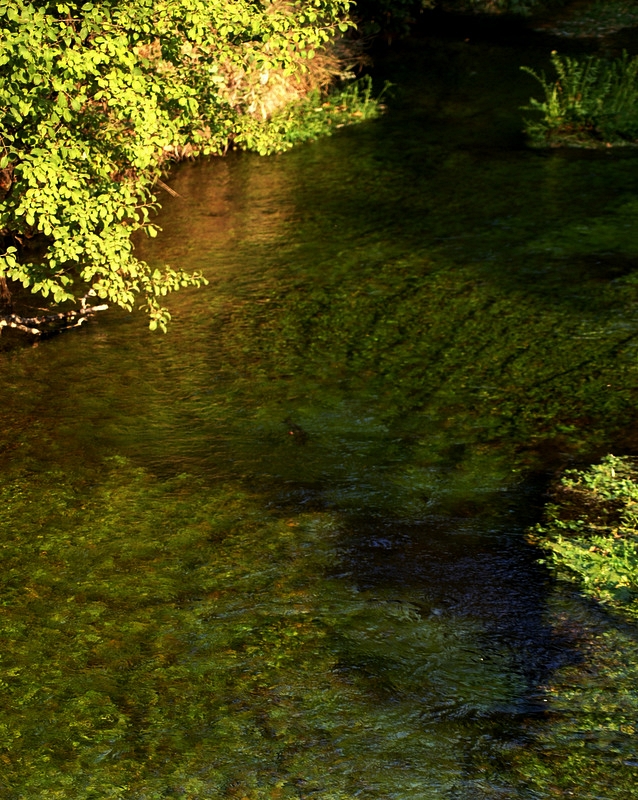 Here is another one…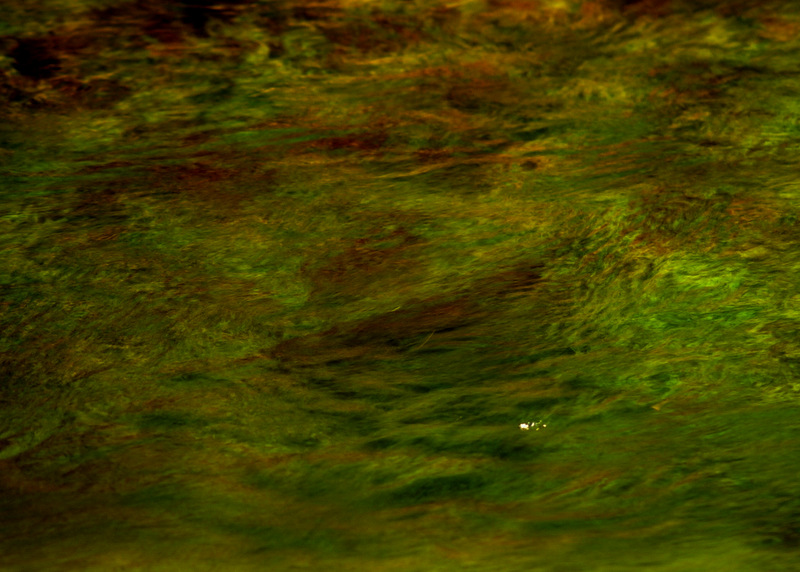 There were several White-tail deer along the way and gobs of wild turkeys. A flash of white and she was gone.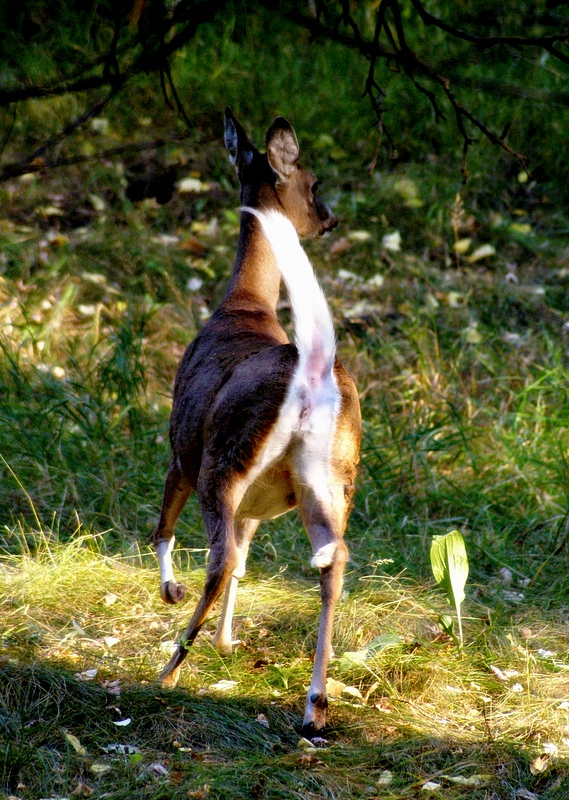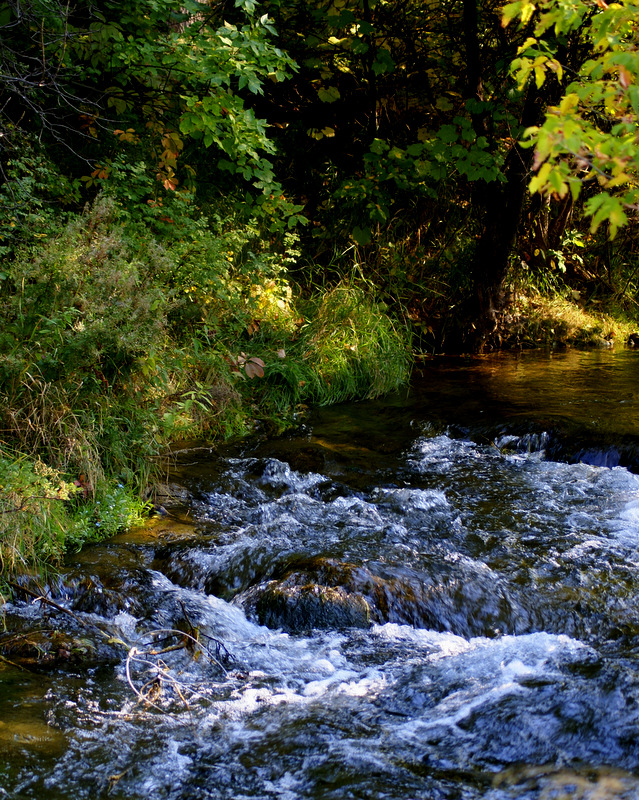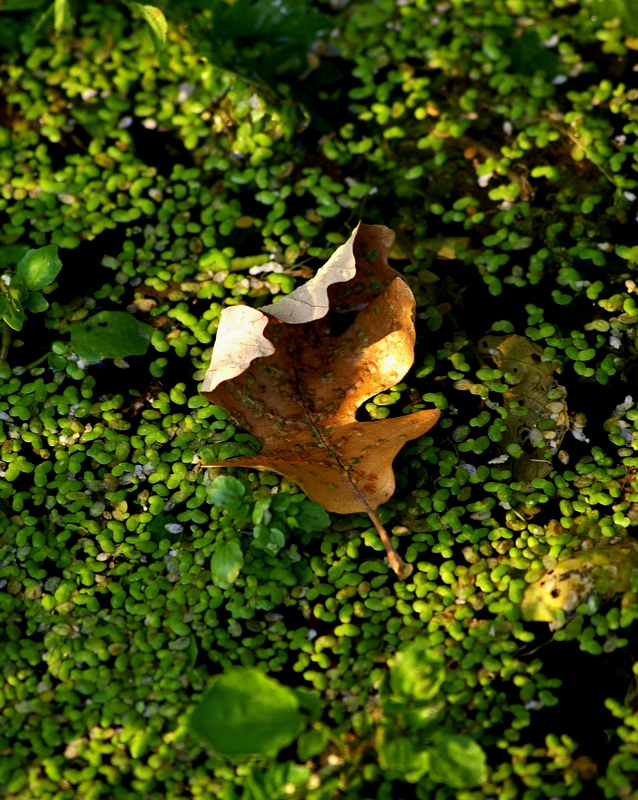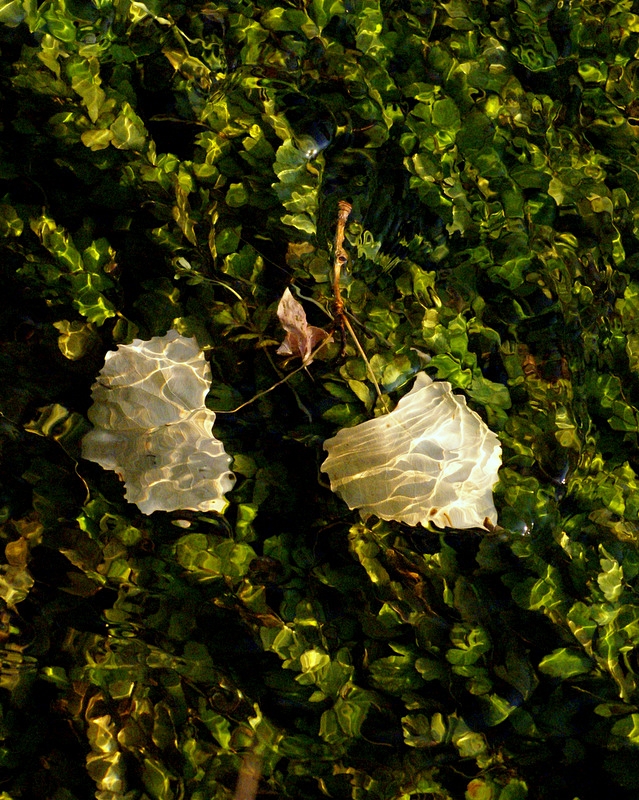 Watercress gently sways to and fro in the current like strings of beads. I'm planning on taking roast beef for sandwiches. MmMmm … roast beef, crusty bread, cream cheese and watercress! Watercress is rather peppery in flavor … similar to Nasturium leaves (also good on sandwiches instead of lettuce).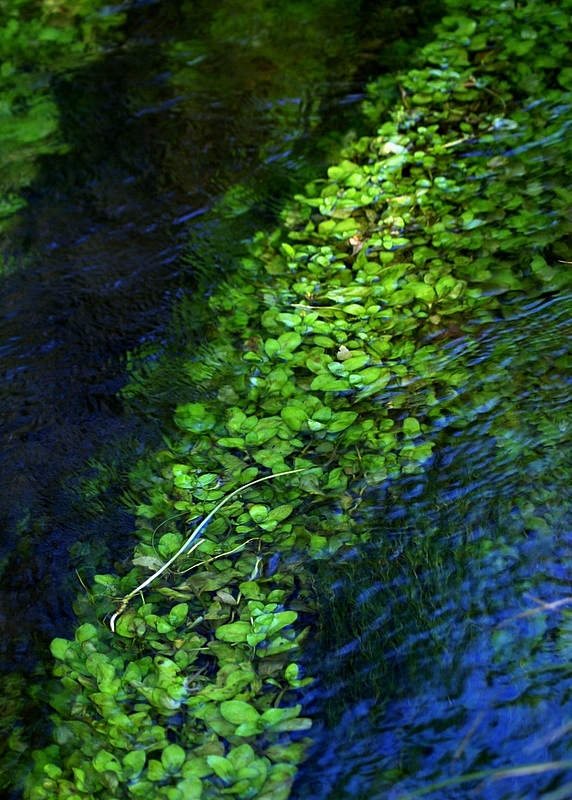 This is what I want to listen to while we're glamping …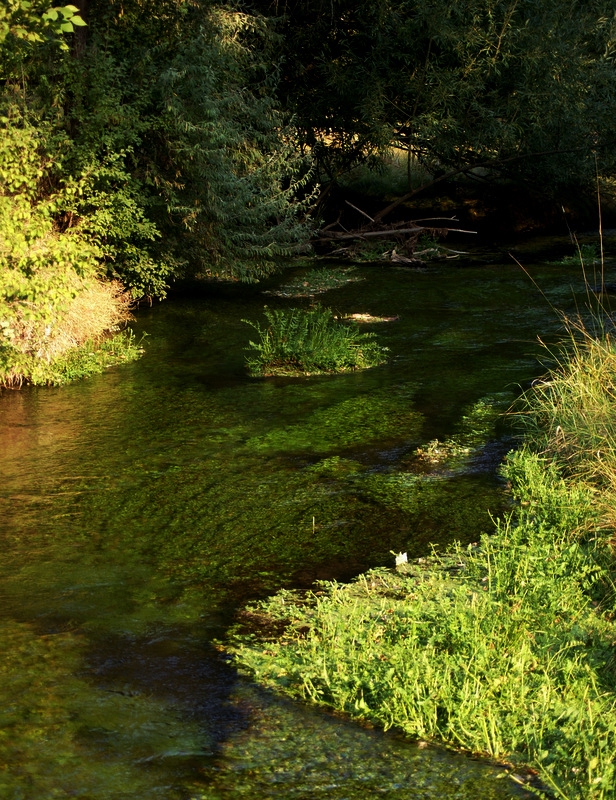 Before we turned back for home, I wanted to see Ranch A – owned for many years by the Parks department, it was once the property of and a "getaway" for a famous easterner. Remember the word getaway … hmmm, maybe hide-away is a better word. The "A" in Ranch A stood for Al Capone, yes, that Al … the mobster. There is another 1920s era gangster hide-out ranch not far from Ranch A. The house there is a castle-like stone mansion. Ranch A also has some beautiful homes and the most beautiful log barn; all the buildings are restored and meticulously maintained. The story is that gangsters came out here to hide from the law when the heat was on. Back then, 'out here' was plenty far enough away from mob infested cities back east.
Lisa (another farmgirl pal) told me that the main lodge at Ranch A is available for rent for educational workshops. It is a massive log home. So, that got me to thinking that a farmgirl retreat needs to be in the works for next year.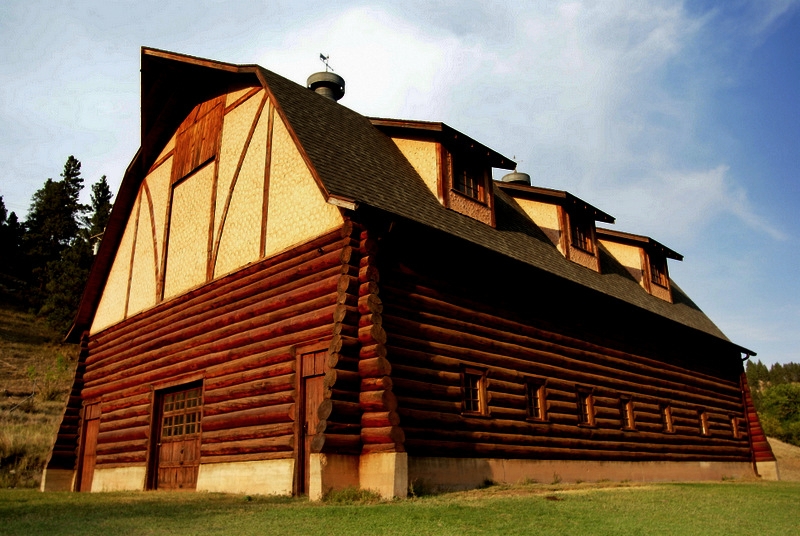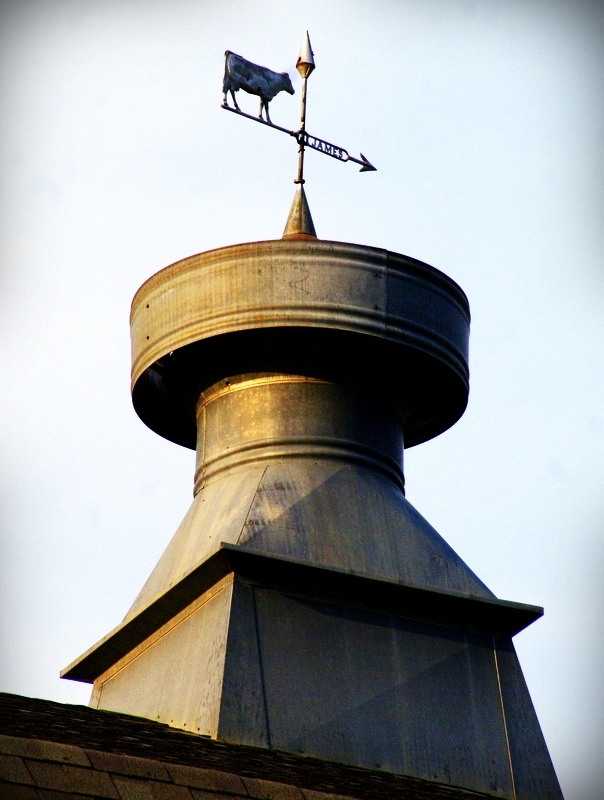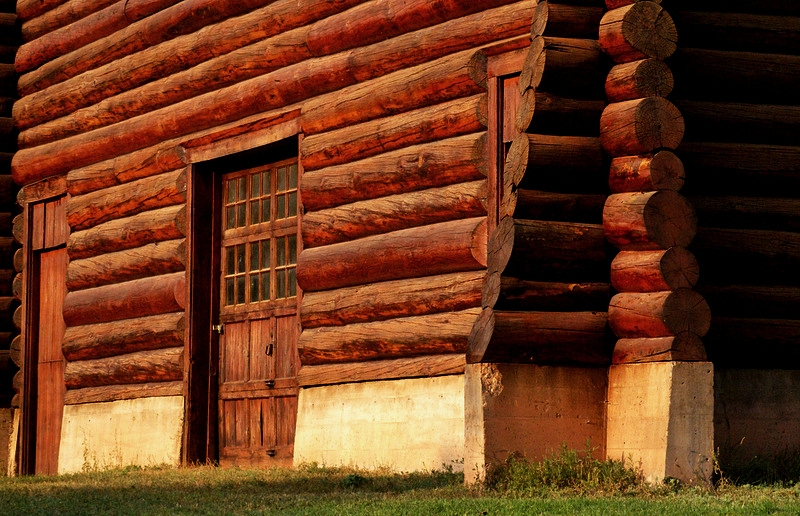 Ranch A was also a fish hatchery at one time and park rangers live in some of the dwellings now. Here is a garden behind a shed where the parks dept. trucks are kept.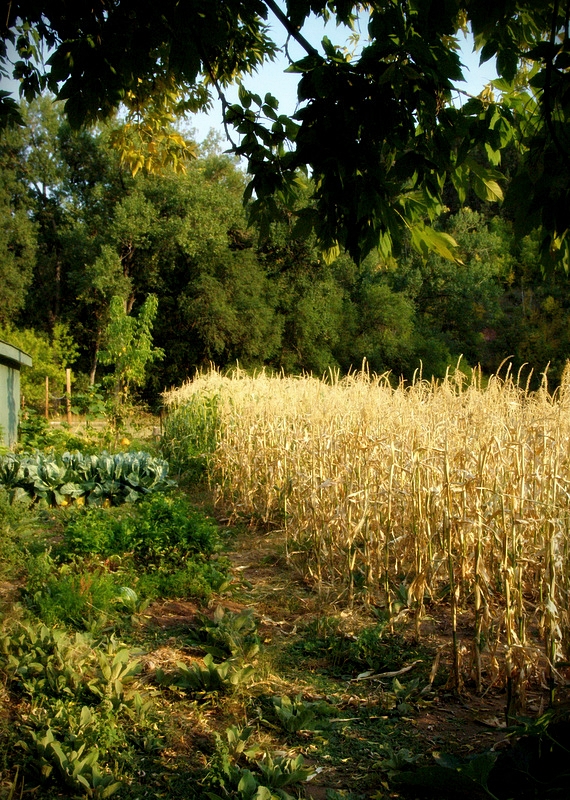 Before nightfall, we headed for home with a truckload of apples. It was the kind of day that doesn't fade from memory.
Because of mild weather this time of year, our little hamlet hosts an annual car show. Hundreds of classic cars migrate here for a day of showing off their GORGEOUS cars in the city park. Also, vintage tractors are brought to it and and now a few glampers! When I walk down the rows of cars, I covet one, then another and another. Music from the 50s & 60s hangs in the air … mixed with the smokey aroma of BBQ and other savory smells from food vendors.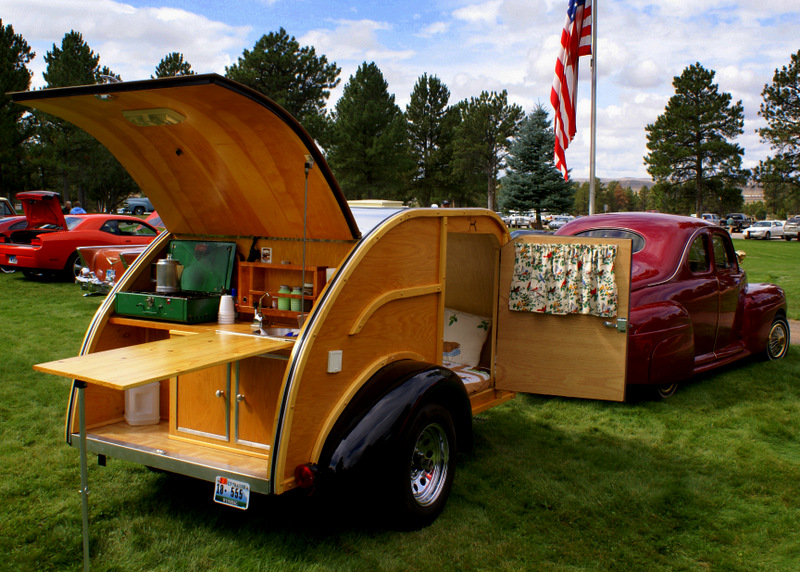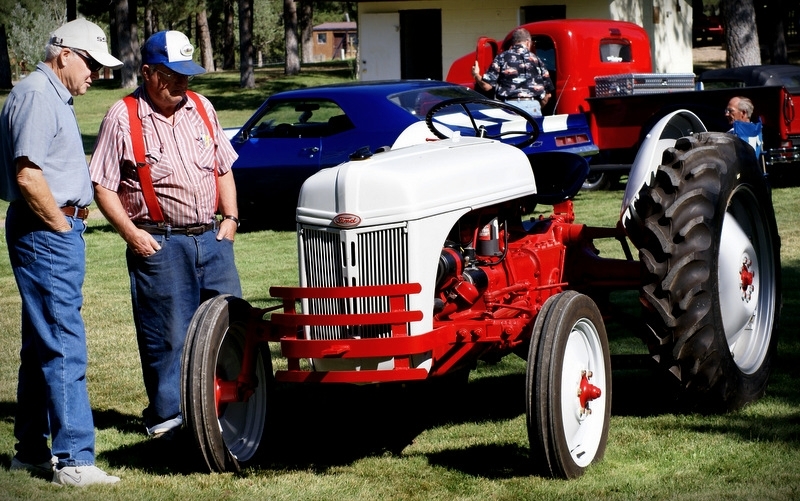 Next year, my fellow glampers & I are going to participate in the show. This year, we were busy doing other things. But, next year, we'll create a Glamperville tour!
Donna, Anita and I are ranch-wives and mid-September is when we get busy with fall-work. Ranchers that run yearling cattle for the summer instead of operating a cow-calf operation (like us), are the first to ship their cattle (below). Most recently, my husband (Lynn) and I helped his brother with fall cattle work – specifically vaccinating calves. The chore of vaccinating calves this time of year is called pre-conditioning and it happens about about 3 weeks (or more) ahead of the shipping/weaning date.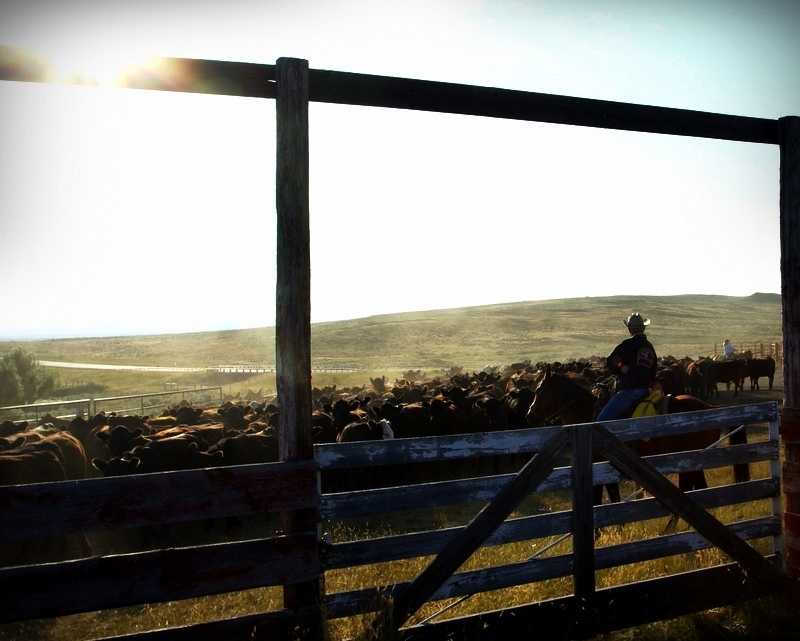 I don't concentrate on writing about ranching, primarily because there is much more to life than "work". However, this occupation and having a background in writing & design is how I came to be a blogger for MaryJanesFarm … and thus acquired my "handle".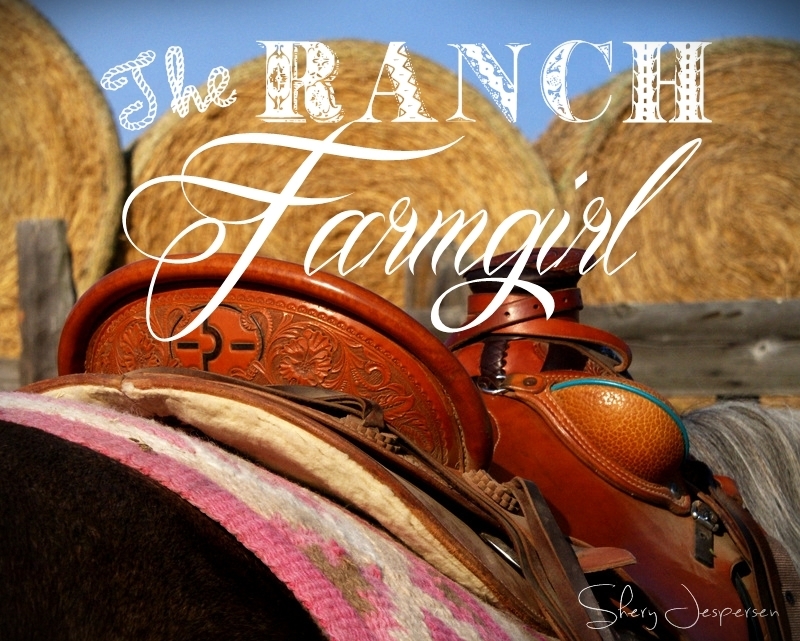 Soooo, ok, we went out to help my BIL. After we gathered the cattle early in the morning, my job was to vaccinate the calves as they came down the chute. Earl ran one gun and I had the other one – two different vaccines. Lynn and a friend moved the calves from the pen into a smaller pen that fed the alley and the chute.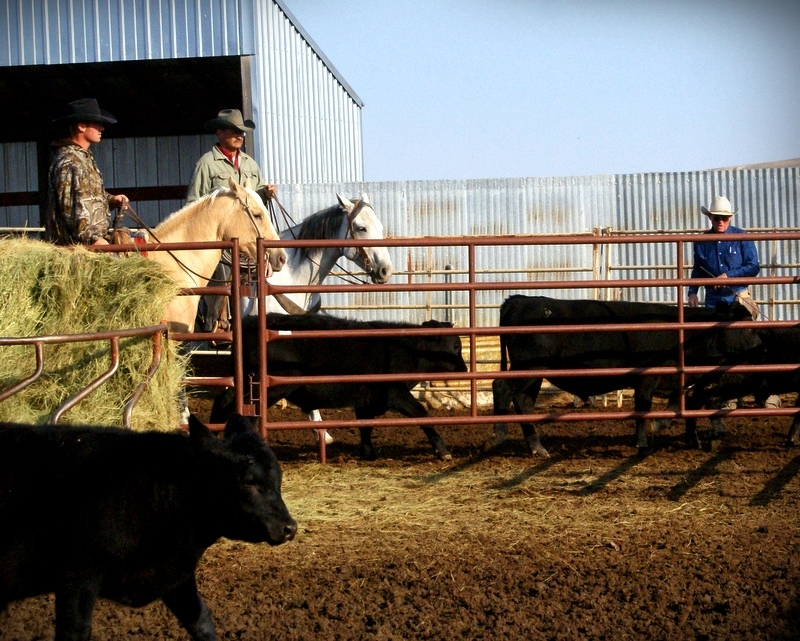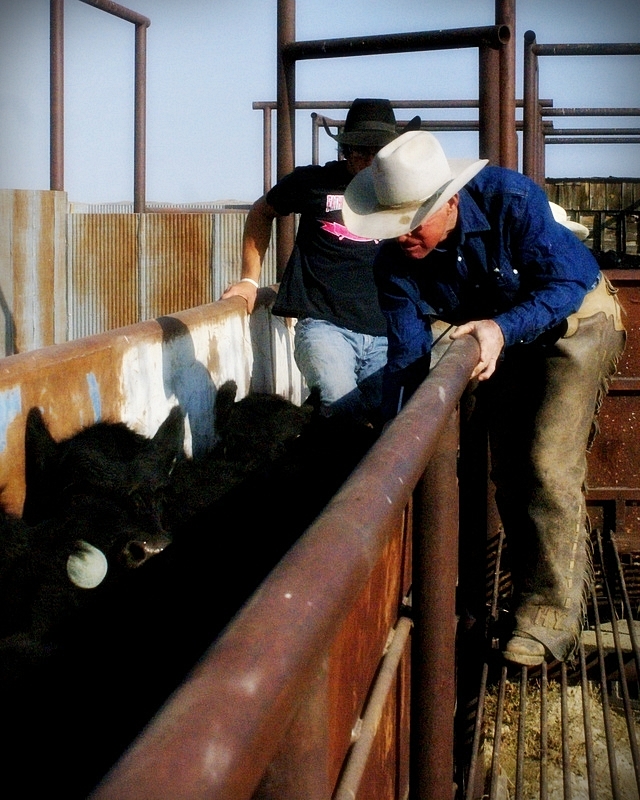 When the horseback work was done, the saddle-horses were unbridled and put into the next corral. This was to be the first time my young mare, Ribbon, was given over to the 'honor system' — that is to hang out unbridled, loose, with the other horses. I figured she was ready to socialize in this manner, with horses she didn't know – without causing problems as well as being able to take care of herself. She did fine, here she is.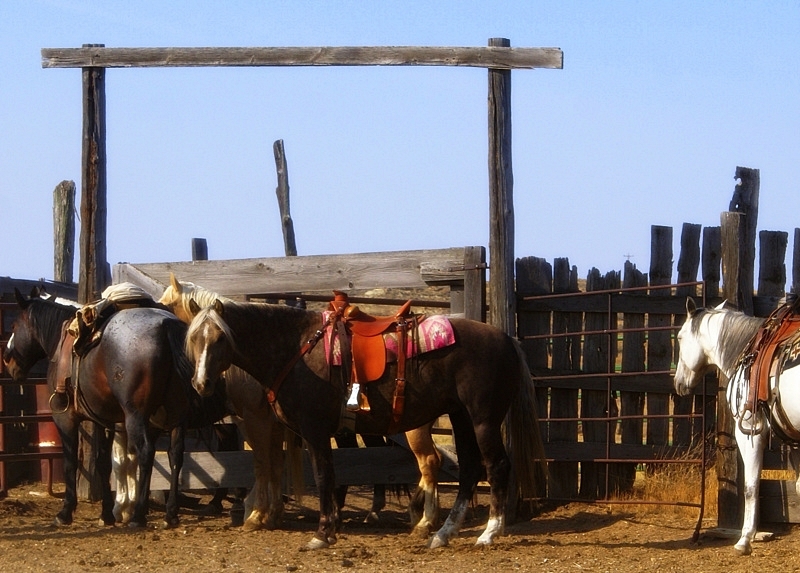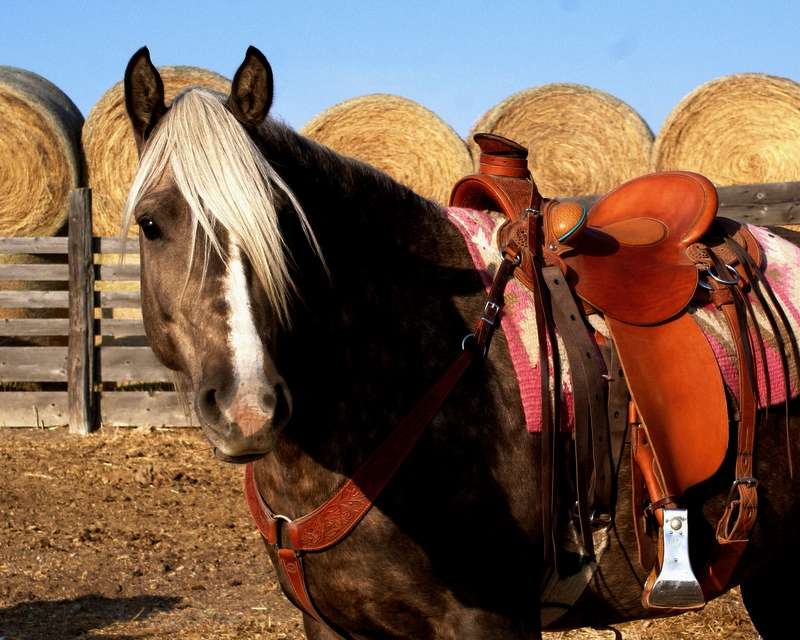 From the chute, the calves were released into the corral and when we were all done, they rejoined their mommas and were turned out to pasture. We were done by mid-day and went home … really dirty and in dire need of a bath.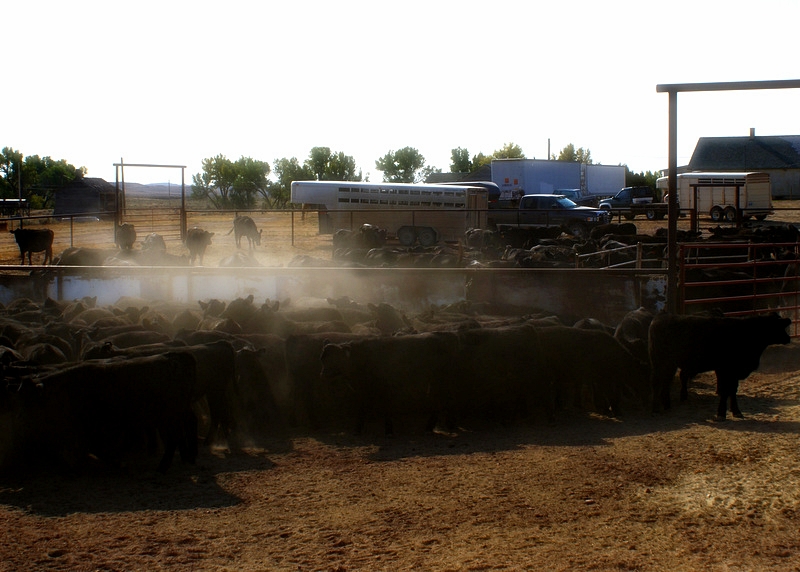 As I pen this, the wind is blowing. Our weather changes are brought here by wind. Today, fall is riding in on the back of a bone chilling wind — the first cold spell we've had. By next week, the horses will be sporting new hair – knitting themselves a new fur coat, so to speak. But, yesterday, we were all enjoying what will be the last hours of Indian Summer.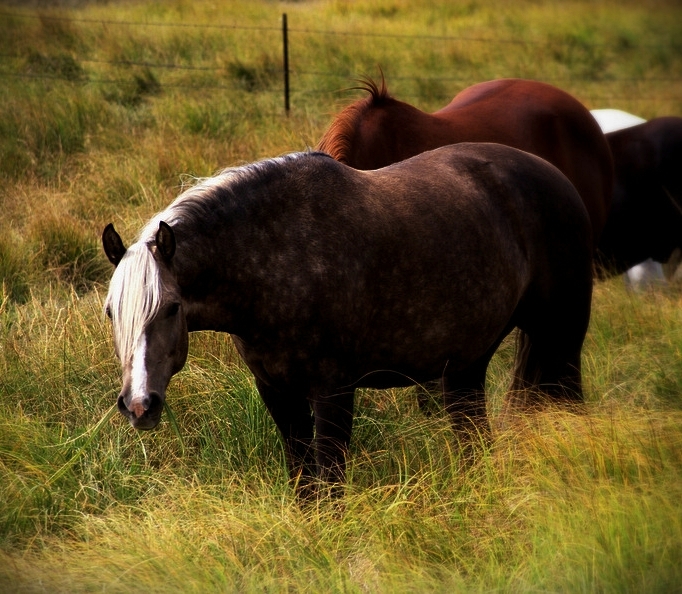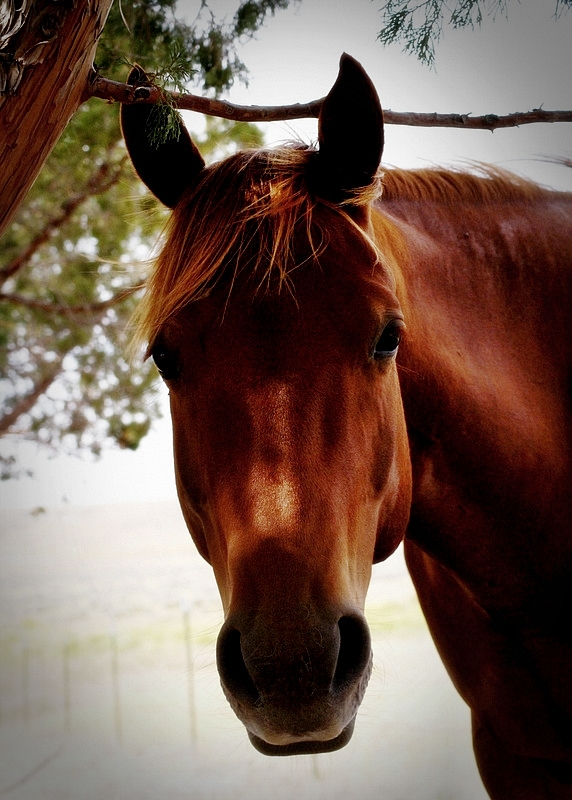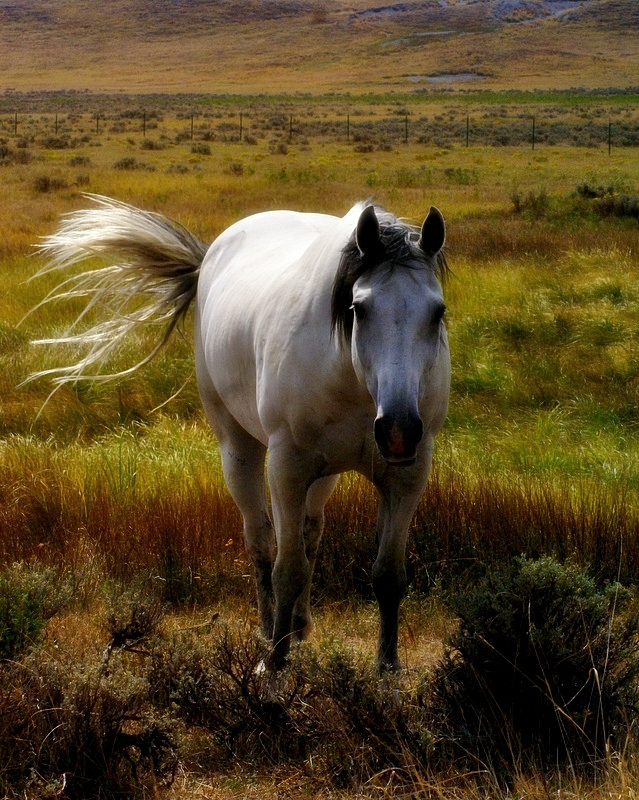 Today is the last day of green leaves. Tonight will dip into the 20s. When I took some scraps out to the chickens this afternoon, I made one last stop in my garden to look around. Tomorrow, the flowers will be no more and the leaves will have withered. No mild frost leading up to a killing frost. This year will see an abrupt end to Indian Summer.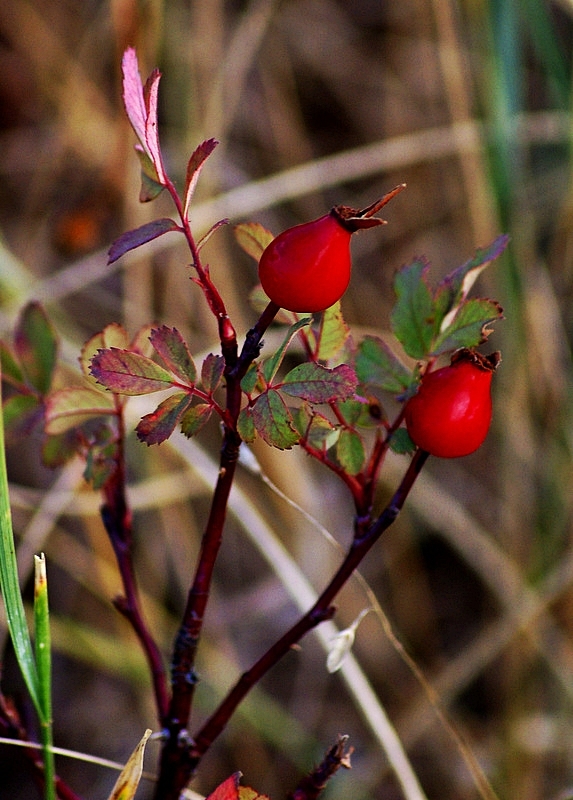 When we meet again, I imagine your part of the world will also look quite different. Enjoy the colors of the season, they last such a short time. I tried to get Ribbon to turn around and say G'bye with me, but she was busy giving herself a rump-rub on a cedar branch. ~~~ Happy Fall Y'all ~~~