What is that old saying about work and play? oh yeah, now I remember. "All work and no play makes Rebekah a very dull Farmgirl."
At some point along the line, I developed a tendency to wait for play. Wait until I have more time, wait until I have more money, wait until I have earned it, wait until—-well, fill in the blank with any excuse. I (used to?) have an adventurous spirit, but rarely take the opportunity to adventure. You've heard of stay-cations? When you vacay at home or close to home? I guess I've been like a stay-venturer. Any adventure I've had has been close to home and a one-nighter at most.
Well, Y'all. I had a rough summer. By fall, I was tired. And dull. I felt like my "free spirit" had been sucked right out of me. So, I headed off. To re-treat and re-create. Just me. I went to a horse camp where I would ride 4 days in a row. I thought I'd feel guilty, leaving my family to do this FOR ME. But I didn't allow that. Nope. I knew that I was frazzled and needed this. It was time for me to play.
And this experience rocked my world. The whole thing. Horses. Outdoors. Nature. New friends. It made me less dull.
To be clear, when I say "horse camp" I don't really mean "camp." I mean cabin, with a bed and a bathroom and hot water. I took a coffee maker, some wine, and my riding helmet. The sunsets were provided.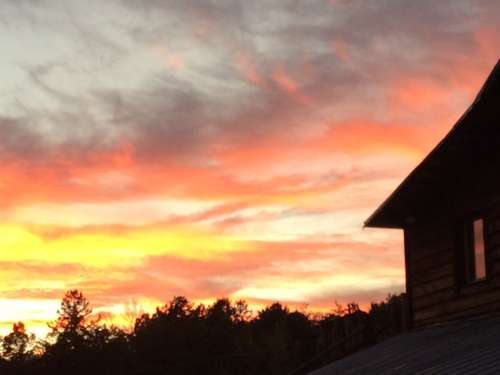 We rode horses every day, mornings and afternoons. We rode on narrow trails through the woods, down tree-lined lanes, in open fields, across country roads. One day we rode at a state park. We rode and rode and rode. We developed a camaraderie with our horses and with each other.
I had my phone camera, but didn't do too well taking photos. Most of them turned out like this: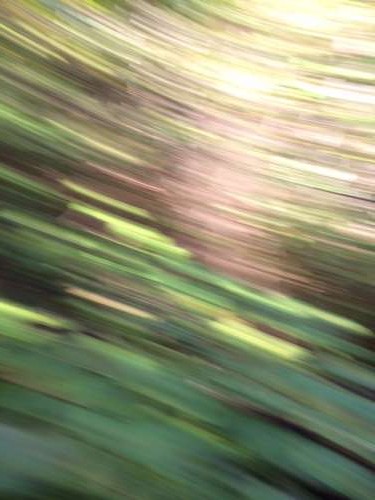 You understand why? I'm not horsewoman enough to be able to take out my phone, take out my reading glasses, put on my reading glasses, and take a photo WHILE staying in the saddle and holding the reins. I did get a few good photos on the trails. I've always liked the "between the ears" shots. Horse people are always posting those pics, so I tried to get the horse's ears in the picture.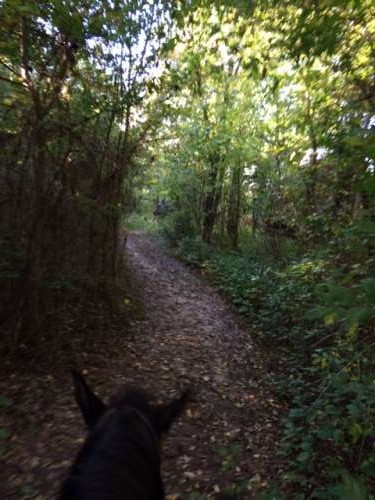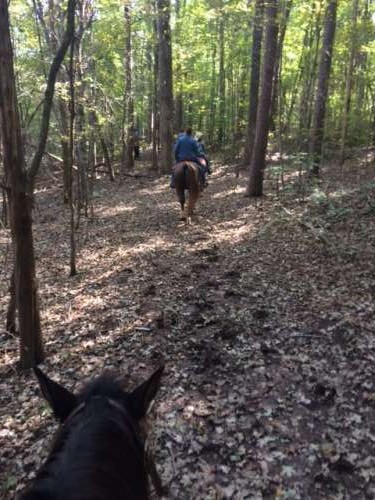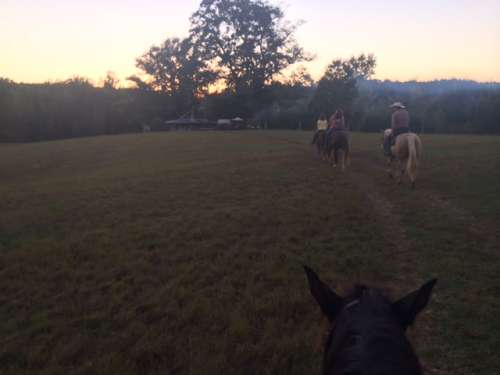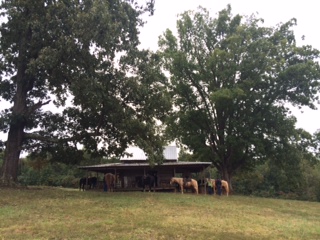 When I rode up to this old log cabin I was by myself. I got to the side of the cabin and there was a LONG black snake there.
Well, I called the guide over. He told me that they had never ever seen a snake there before. Ever. "Is there something with you and snakes?" I'll say! Every. Where. I. Go.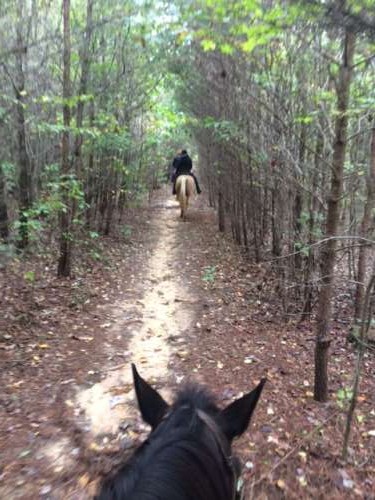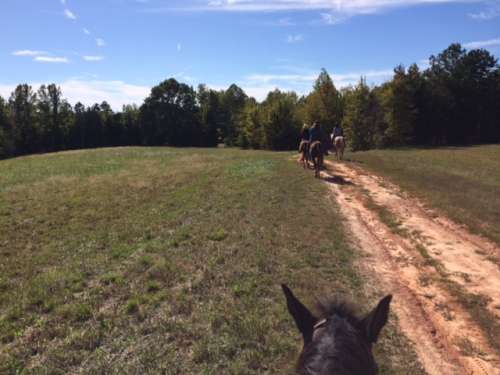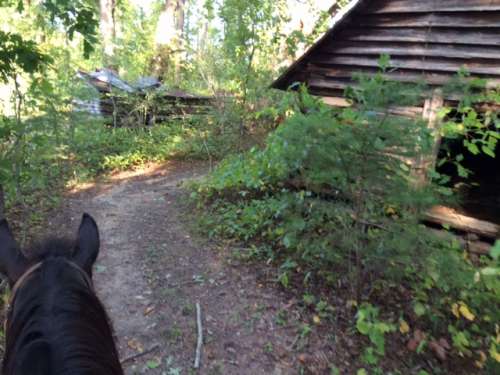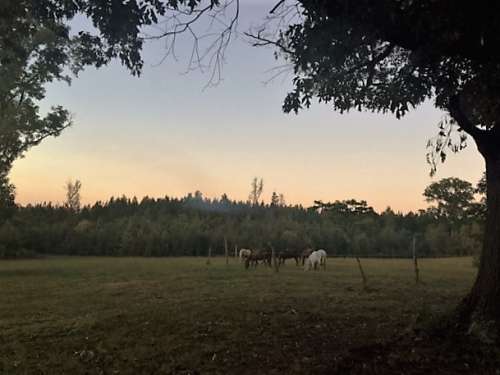 All I did those days was play. No work. Just play. The icing on the cake for this trip was meeting some fantastic new friends. We laughed so much my face hurt.
I took this photo during the most memorable horseback ride of the week. And in my life. Picture this. It is midnight. In a dense forest. No moon. Only stars. In a saddle. On horseback.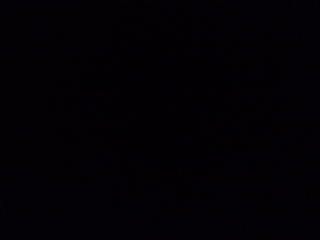 We had to just give the horses their reins and TRUST them completely. Horses see at night; we don't. They knew this trail through the forest; we didn't. We just had to LET GO. I was so afraid. The horse in front of me was light cream-colored, yet I couldn't see him. The night was black and the woods were blacker. The guide had told us to look up if we were uncomfortable. I did and saw the silhouette of the trees against the dark sky. I was nervous and excited. I breathed deeply and tried to find my courage so I could ENJOY this. It happened! I relaxed enough to soak in this once-in-a-lifetime experience. Soon I was caught up in the magical and amazing and wonder-filled thing that this midnight ride through the woods was. At one point, we saw little tiny shining lights on the ground. Foxfire! I'd always heard of it, but had never seen it before. As it turns out, it wasn't foxfire, it was white phosphorous. "Foxfire" is made of living things that glow in the dark, like mushrooms or other plants. These tiny glow-in-the-dark rocks weren't "foxfire" but they were COOL nonetheless. The little glowing lights in the woods made the ride feel even more enchanted and surreal. It was like little twinkle lights on the ground in the woods.
When we made it out of the forest and into an open field, I could see better. I could make out the horses in front of me. I could see the stars. As long as I live, I will never forget that dark night horseback ride. I don't know the words or have the skills to adequately describe the experience.
Once home, I started planning a second adventure: a gathering in our milk house field. This adventure was a stay-venture. The last ATV ride of the season was coming up in our community. My husband and I had volunteered to host the picnic afterwards. We mowed and weed-eated and set up a bonfire spot. I decorated the area with pumpkins and scarecrows. My husband smoked pork all night long the night before for barbeque. I made a special homemade ice cream mix.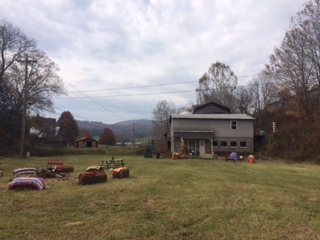 The smoked barbeque was a smash hit.
The homemade ice cream was just a smash. I dropped the container after I poured the mixture into the canister. I was just about to freeze it when I spilled it.
Never cry over spilled ice cream.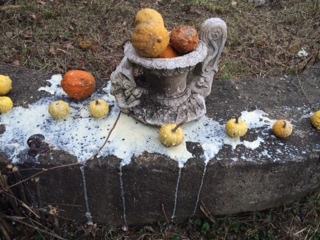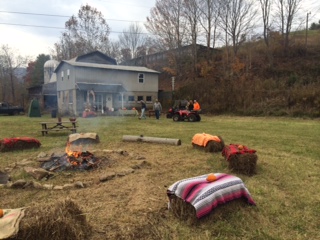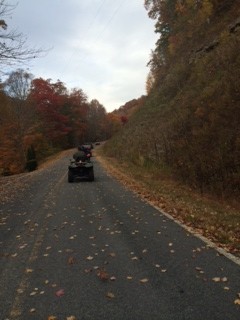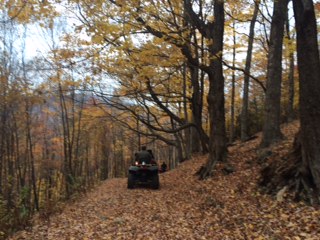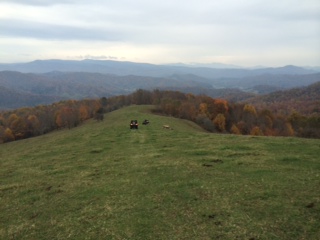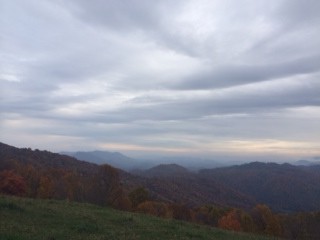 We drove through pastures and saw the breath-taking views that a herd of cows enjoys every day. It was chilly and rainy and wonderful.
Then we got back to the milk house and warmed up by the bonfire. We enjoyed the barbeque and all the fixins. Since my home made ice cream was an EPIC FAIL, we had s'mores instead.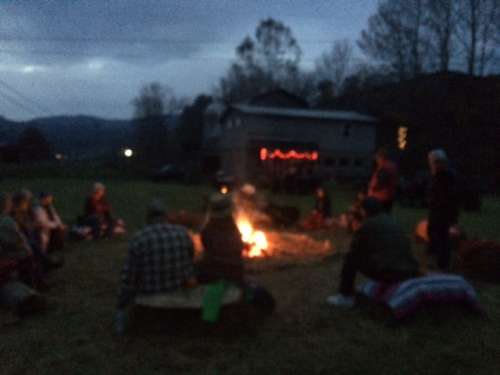 My husband took requests and we sang songs by the campfire. "You've Got A Friend" was one everyone knew.
We live in such a special community, filled with wonderful neighbors. This will definitely become the "First Annual." It was one of the highlights of my autumn.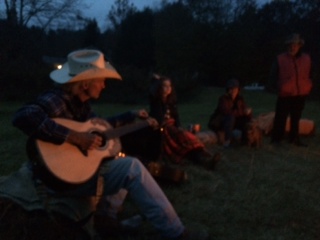 Take time to PLAY. Always. What do you do to PLAY?
Until next time, Friends, savor the flavor of life!
Lots of love, The City Farmgirl in the Country, Rebekah