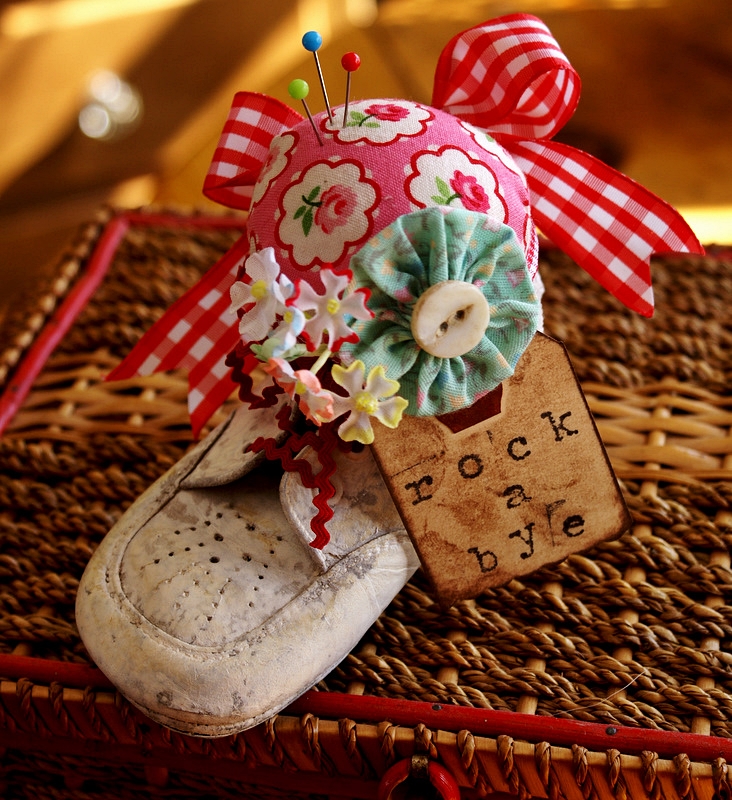 Greetings farmgirls! Spring hasn't sprung in our part of the country yet and I have a raging case of spring fever (an annual occurrence). I have pansies on the brain … among other things. This time of year, I always wonder if perhaps the greenhouses have any in stock yet. I should know better by now, but that doesn't stop feverish visions. I'm afflicted with both spring fever and cabin fever, so, I've been trying to maintain a good mindset by doing a variety of indoor things. If you're a feverish farmgirl too, c'mon in, have a spot of tea & sit a spell.
To begin, I'm sharing an early-bird teaser with you. For the last couple of weeks, the pitter-patter of tiny feet on my work-table has been my theme … kinda sorta. In the next MaryJanesFarm sisterhood newsletter (The Cluck), you'll see my vintage babyshoe pinkeeps. One of them is shown above. Many more will be in the newsletter – different colors, flavors, varied embellishments etc. The Cluck offers you a 'MaryJane 'fix' between issues of the hard copy MJF magazines. The Cluck newsletter is designed for MJF sisterhood members; in it you get a close-up look at what your fellow farmgirl sisters are up to. If you'd like to become an official 'sister hen', click here: http://www.farmgirlsisterhood.org/ Members of the farmgirl sisterhood receive the Cluck every month via email.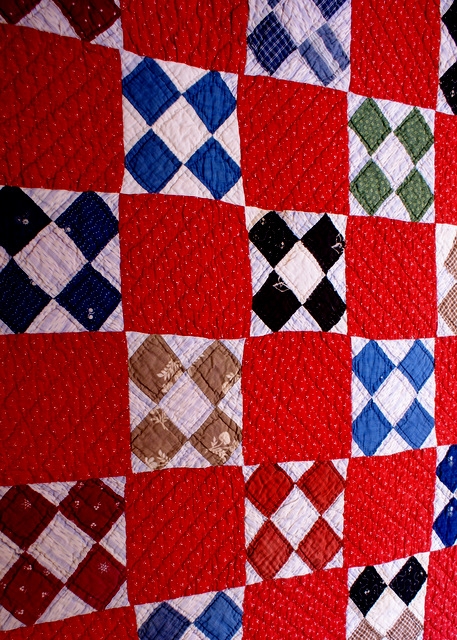 If you follow my blog, you may remember that my husband and I are in the middle(?) of remodeling and adding on to our 18 year old mobile home. I question the use of the word 'middle' because this is going to be a long drawn out affair and I fear that we are, in reality, nowhere near the actual middle. But, we are making progress!! This is a full circle project … inside & out. So, I've been on the hunt for decorative accents for the house as well as for the new porch and covered patio. Above and immediately below are two new acquisitions. I've wanted a really nice antique quilt to hang for many years and I finally found one in the colors I like (and it was affordable). This nine-patch quilt sports a lot of red and that was one of my criteria. The timeframe in which it was made was the late 1800s – maybe 1900. Then, I got lucky and found another from the same era. It is in very good condition and I only paid $65 for this gem!  It will get to live somewhere in the new 'porchy family room/dining room'. And, by the way, since I last wrote to you, the walls in the porch are done. We put up beadboard paneling and they're wearing a fresh coat of barn red paint. My dear husband has the wiring done and he mounted cove heating strips near the ceiling.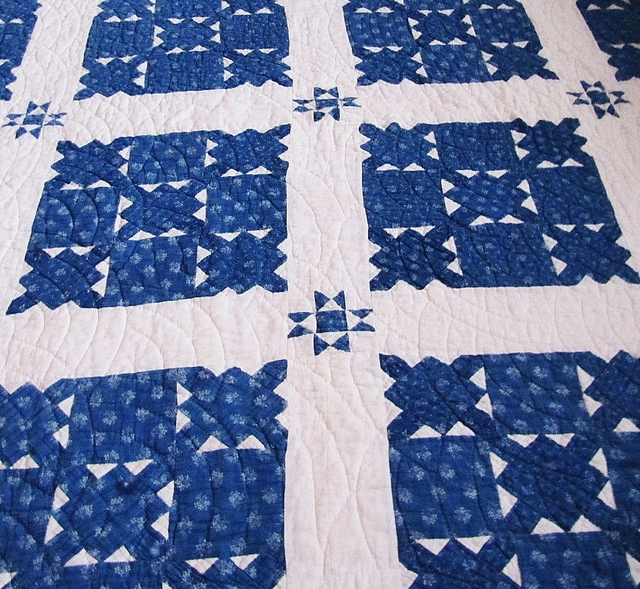 Last weekend, we picked out sheet linoleum for the porch – it looks like slate tile – in shades of gray and dark tan. It won't show dirt and that is important since this room is also supposed to be a working porch as well. I politely (ok, not 100% politely) informed my favorite husband that the term 'mudroom' is a figure of speech. We'll see if furrowed eyebrows and a stern tone produces the desired effect.
Ok, back to staying busy. The porch has been taking care of much of that, but my assignments usually coincide with whatever it is my husband just did or is doing. Lights are next. In the meantime, I've been idea hunting and making a few things. I found the cutest cabinet remnant from an old 'New Home' treadle sewing machine. The raised lettering on it is in a twig font and I thought it would be cute with an eclectic mix of things somewhere in the porch … maybe on a writing desk or on the antique mantel (in storage). Anyway, I wisp-brushed a little off-white paint on the letters so that they show up better. I love helping old 'junk' find a new life. My sister has an antique 'orphan' cupboard top that I think I can talk her out of. I'm thinkin' that I'll place it on top of one of my old tables and make a quaint writing desk center – between two old hutches.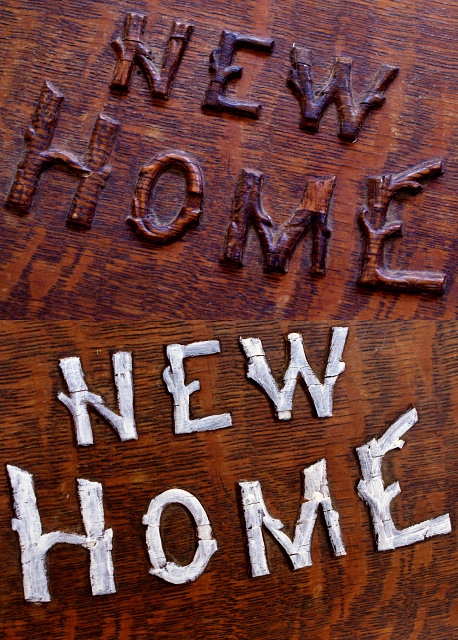 I'm also percolating ideas for all kinds of other things (too much time spent inside, me thinks). I saw the most beautiful dried sunflower heads the other day — they sparkle!! It is so easy to do too. Just spray dried heads generously with glue and sprinkle coarse grain german glass glitter on them. Oh – My – Gosh, are they gorgeous … so pretty for fall decorating and beyond. So, now I have a whole new reason for saving some spent sunflower heads just for this purpose.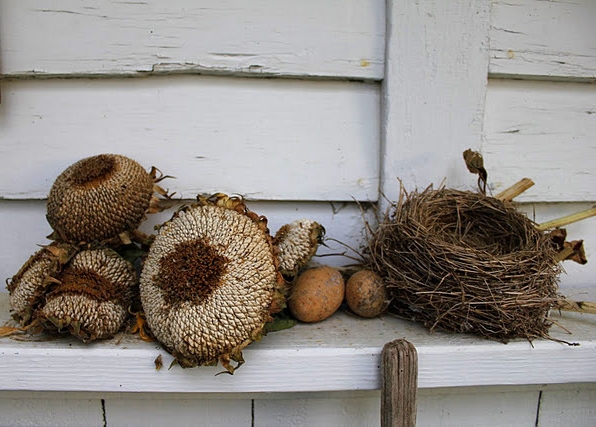 Another little goodie I want to make is a box like this – out of barnwood scraps. I especially like the branch handle. I want to use a Birch branch. This project embodies the full extent of my meager carpentry skill set. Gotta be S. I. M. P. L. E. Wouldn't this gathering box be prim & pretty with evergreens and candles in it at Christmas time … and filled with other assorted 'naturals' for seasonal decor?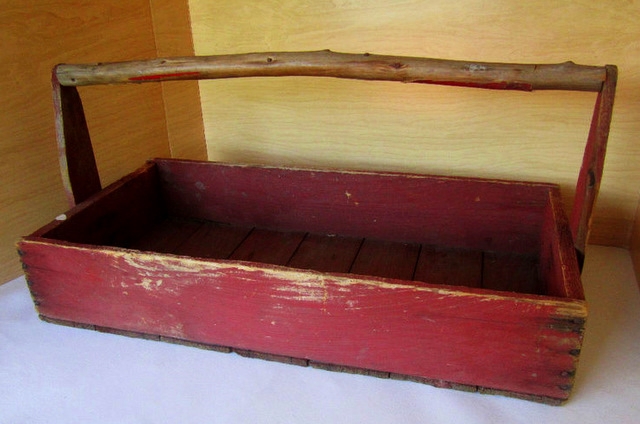 Oh, I almost forgot .. … Back in the late 1980s, when I was a young(er) woman, I fell hard for country decorating. I'd always liked it, but that was the time in my life when I came of age as a homemaker. My mother called the style "Early American" and she too loved it. From 1986 to1990, I was living in Ohio and in that general timeframe, Country decorating really came into it's own. Also, the heartland (as it is known) is an area brimming with country charm and a wealth of old-time arts & crafts. Folkart festivals were hugely popular and my friends and I went to as many as we could that were within striking distance. As we walked to the show from where we parked, you could hear hammered dulcimer folk music dancing on the breeze. I bought very little back then because I was a young military wife on a tight budget. I drooled over the antiques that are so plentiful in that part of the country. I taught myself to make historic, old looking dolls and teddybears (from mohair) because I couldn't afford to buy them.
Another item I hankered for (but couldn't afford) was a hand-carved, folkart style swan 'decoy'. I've always thought Trumpeter Swans are one of the most beautiful animals the good Lord ever created. And, the folkart version really appeals to me because they lend the bird's graceful beauty to a room's decor. I've looked at them over the years with the same old hanker … and then, the other day, there before me in an antique store sat one. Now, I need to say that not just any swan would do – and I wanted hand-carved wood. So many I've seen in the past didn't have a nice head – the set of the eyes wasn't right or they were too stylized or they were made of some kind of plastic composite. Yet, right before my very eyes sat a hand-carved swan that made me draw a quick breath. I almost walked past her, knowing the price would deter me … but, my hand operated independently and turned over the price tag. At last, a price I could live with! She'll reside in the porch, maybe sit on one of my antique cupboards … and look so striking against the red wall. I'm so looking forward to fashioning a fresh wreath of berried juniper for her Christmas dressing. I can now check an old want off of my bucket list :o) How about you, is there an item that you had a longtime hankering for and then finally found 'The One'??
I feel the need to say here that 'things' are just things to me, but, home is my sanctuary and I want it to feel that way. Home decor to some is a matter of going to a showroom and picking out a set. Not for me. I enjoy being surrounded by an eclectic assortment of things from our life or family history. I also find homes decorated in that manner so interesting. You don't just stand in a home like that, you're embraced by the personality of the home and it's family. I am very much a home girl.
One of the other things I like to have in my home is greenery. I don't know for a fact that the presence of green plants in a home actually promotes health, but they sure improve my mental health. I winter-over my favorite gernaniums – how I adore their deep red flowers during the long winter months. One of the plants in our home is over 50 years old. My mother, sister and I have kept my grandmother's Angel Wing Begonia going all these years — taking slips when the plants need pruning. I don't know where it came from originally. As a wee lassie, I played with my horse figurines under it's pink blossoms in my grandparent's living room. Another plant I've come to appreciate is a Ficus tree. It is happy all the time and so easy to care for. Makes me feel like I have some outside inside.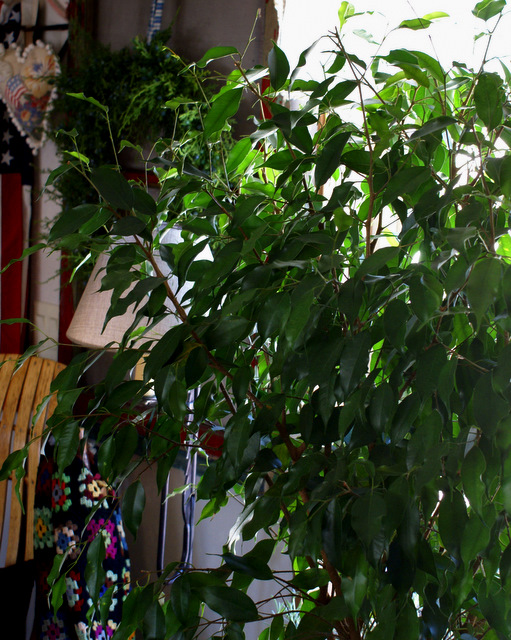 One of the sewing projects I want to pursue further is pillow cases (bedding size). They are so easy and much prettier than storebought. I like to mix & match sheets and bedding. Here's my first attempt at pillow case design — featured in last month's MJF Cluck newsletter. You can get the directions by becoming a 'sister'. For these, I paired a historic reproduction homespun plaid with a Tasha Tudor print (currently available).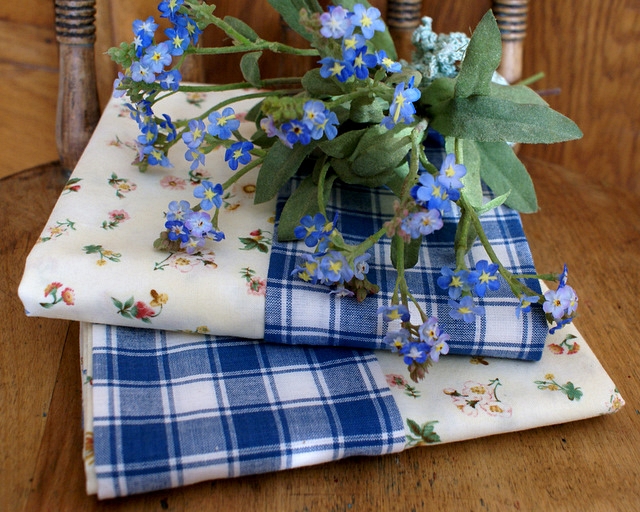 This afternoon, my hens came around for a hand-out. I give them old bread, sunflower hearts, table scraps or a handful of dried meal worms for goodies. In the summer, they can forage for all kinds of things, but this time of year is slim pickins' for forage-loving chickens. They found a nice sunny spot near the haystack and some dry dirt to dust in. You'll find nothing more content than a hen sunning herself after a good dust bath :o) I sat on a bale, soaked up some sun and enjoyed watching them. We are all ready for spring.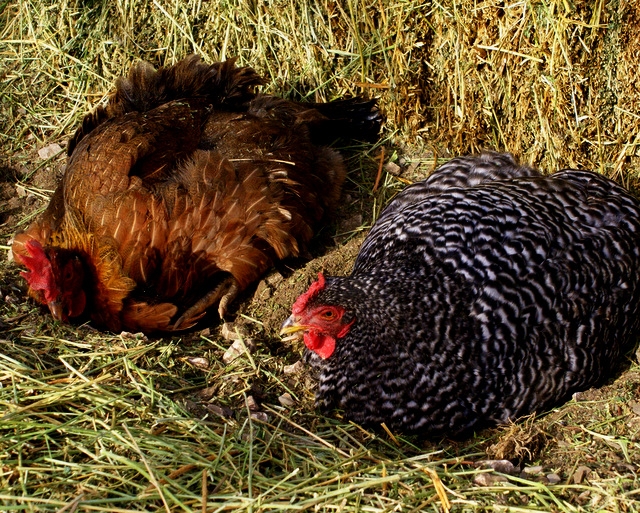 Our horses are still turned out at the ranch (for the winter). Soon, we'll bring them in as we get closer to calving in mid-April; that is when we start the riding season. Here is my golden girl, "Ribbon". I think the photo was taken in early May. Sigh, I'm sooooooo ready for green.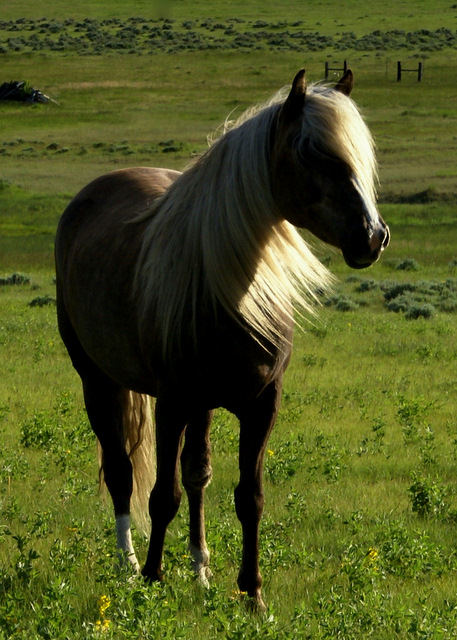 I think the reason people adopt an Irish heritage for St. Patrick's day has something to do with folks being sick & tired of winter. St.Patty's day emphasizes GREEN. We're all hungry for green this time of year when the earth is so drab, dirty and dead looking. Yck. The ice and snow that is left is also filthy. So, you know what color I'll be wearing soon. I'm going to have my farmgirl sisters down for a bit of the blarney too … with a theme of green, 'natch. I planted two pots of Shamrocks a month ago in hopes that they might be blooming for one of my farmgirl pals whose birthday is on the holiday.
Until next time, I hope you find ways to ease your own spring fever. What I wouldn't give for a deep, lingering whiff of a hyacinth in bloom!!